Underground Mining Equipment Market - Key Research Findings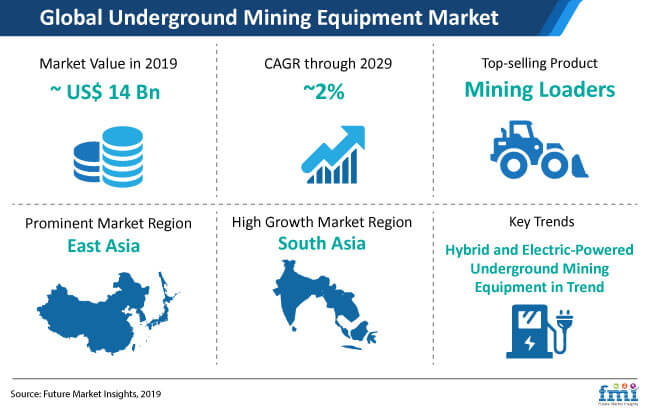 The global underground mining equipment market size estimated in 2019 is ~US$ 14 Bn.
The underground mining equipment market is estimated to grow at a CAGR of ~2% during the forecast period of 2019 and 2029.
Growth of the mining industry and increase in the production rate of minerals are projected to boost the demand for underground mining equipment in the global market.
East Asia and Europe are expected to account for more than half of the value share in the global underground mining equipment market during the forecast period.

East Asia, due to substantial growth of underground mining in China, is anticipated to continue be a prominent regional market for underground mining equipment manufacturers.

Technological advancements and autonomous equipment are expected to remain prime areas of development for underground mining equipment market players.

Nowadays, most of the manufactures are focusing on developing hybrid or electric underground mining equipment to improve the safety and productivity of equipment in underground mines.
The market players are also focusing on developing autonomous equipment for underground mining operations.
Key Factors Shaping the Underground Mining Equipment Market
Recovery and Stabilization of the Mining Industry across the Globe
The global mining industry is cyclical in nature, which means it depends upon the performance of various further downstream end-use sectors. This makes the mining industry rely on the overall worldwide economic scenario. Relatively sluggish economic growth, growing protectionism, etc. are some of the prime factors leading to the low demand for commodities and sapped investor confidence, which, in turn, has resulting in the subdued growth of the mining industry at the global level.
However, the mining industry in Asia Pacific and Latin America, especially countries such as Brazil, Australia, and India, is expected to return to its steady phase in the coming years, thus creating opportunities for mining equipment companies, and translating the positive effect of the same to underground mining equipment manufacturers.
Growing Mineral Production Rate Expected to Support the Market Growth
Growing global mineral production in the market is projected to support the growth of mining equipment in the global market. According to World Mining Data report, the global mineral production rose to 17.2 Bn metric tons in 2017 from 16.9 Billion metric tons in 2016. In addition, in terms of volume, the top 15 mineral production countries hold ~ 80.9% share in the global mineral production. China is a prominent mineral producer of 31 different commodities in the world, and holds a share of ~ 23.9% in the global mineral production.
Moreover, the growing demand for materials such as diamond, uranium, zinc, gold, lead, coal, tin, copper, and nickel, is expected to boost the growth of underground mining, and relatively drive the growth of the underground mining equipment market during the forecast period.
Operation of Equipment in Harsh Conditions Increases the Replacement Rate
In the light of rapid developments in technology, equipment manufacturers are exploring new edges that had hitherto remained untouched. For example, some underground mining equipment, such as shears, jumbo production drills, etc., face very harsh operating conditions. Hence, the life cycle of these products is comparatively short, and they need to be replaced after a specific time period.
Moreover, the high replacement rate of underground mining equipment is expected to create demand for new products in the market. In addition, the growing operations of underground mining in harsh conditions to increase production and the exploration of new materials are among factors expected to boost the growth of the underground mining equipment market during the forecast period.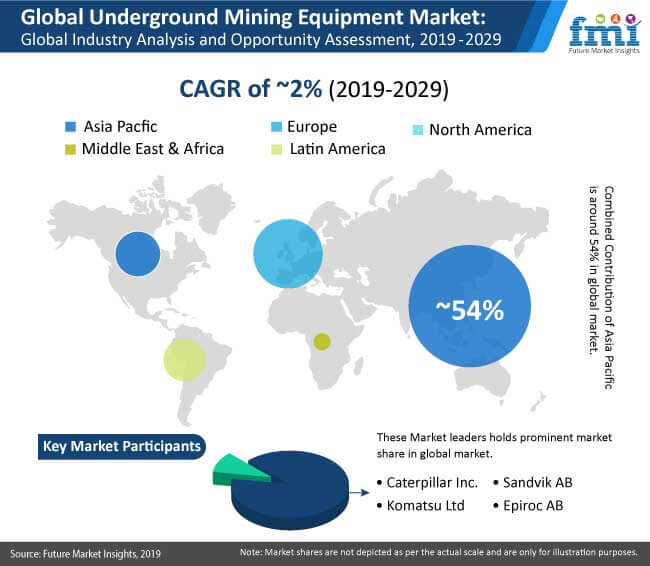 Underground Mining Equipment Market Structure Analysis
The global underground mining equipment market represents a consolidated competition landscape, where a majority of key players maintain their strategic focus on acquisitions as well as the development & launch of new products and technologies in the market.
Prominent manufacturers of underground mining equipment are currently focusing on collaborations and strategic acquisitions to gain an upper hand in the market. They are also focusing on developing new products, such as electric and autonomous equipment, to improve their overall performance in the underground mining equipment market.
Portfolio expansion is also identified to remain as one of the key evolving strategies adopted by underground mining equipment manufacturers.
For a strong traction in target markets, underground mining equipment manufacturers will continue to focus on strategies such as long-term supply contract with mining companies and customer retention.
Profound understanding of the market trends and preferential shifts of end-use segments across several regions are likely to create a bottleneck for prominent players, looking forward to untapped opportunities in the underground mining equipment market.
Electric Equipment Driving Underground Mining Sector towards Sustainability
Underground mining equipment significantly depend on fossil fuels for material management and heating. Inclusion of huge ventilation systems to eliminate unwanted particles from tunnels adds to the costs of mining equipment. To counter the alarming situation, manufacturers are stressing on electrifying their offerings in the underground mining equipment portfolio within the next few years.
Electrification of underground mining equipment dismisses the need of ventilation shafts, thereby cutting the energy costs and reducing diesel emissions by manifolds. In addition, the companies are required to meet the Mine Safe and Health Administration (MSHA) regulations [30 CFR Part 7, Subpart E] according to which miners are supposed to employ MSHA-accepted diesel vehicles in the regions housing underground coal mines.
Underground mining equipment, through marrying indulgence with connected technologies, such as enterprise drone management solutions, and industrial robotics, and others, are facilitating industries to conduct unmanned operations in real time, optimize production management and improve decision-making approach.
Furthermore, underground mining equipment have a relatively fleeting life cycle due to wear and tear in rough settings and require replacement after a definite time period, stressing manufacturers to introduce new equipment with enduring life span.
The Battle between Technological Integration and High Compliance Cost
The demand for underground mining equipment is growing as a majority of miners are taking their operations from open-pits to underground mines. The industry is moving towards limiting human interference in underground mining operations owing to the increasing safety concerns, which is why the adoption of unmanned underground mining equipment is expected to surge rapidly in the coming years.
Manufacturers are expanding their portfolio of unmanned underground mining equipment with the adoption of next-generation technologies to launch new features, such as proximity-detection systems, to sync with the shift towards underground mines. However, autonomous underground mining equipment with cabins for drivers continue to witness significantly high demand, and thus, the mining industry is still to arrive at the point of complete adoption of autonomous and unmanned equipment.
In addition, though advanced technologies are enabling manufacturers to improve the safety of autonomous underground mining vehicles, various governing bodies, including MSHA, in the US, Canada, and most recently, in India and China, have imposed high standards and strict quality regulations. High compliance cost is thus restricting manufacturers from controlling the costs of underground mining equipment, which is reflecting in higher preference for upgrading the current fleet than purchasing new equipment.
Stakeholders Looking East Asia as the Ground Zero
East Asia continues to maintain its lion's share in the market, mainly on account of upsurge in mining activities in China. The total coal mining capacity of China recorded at 3.34 billion tons in 2017 witnessed a 5.6% rise in 2018, reaching 3.53 Bn tons. The National Energy Administration (NEA) recently approved the collective launch of seven additional coal mining ventures with a capacity of 22.5 million tons per year, since the initial phase of 2019.
This has boosted the growth of the underground mining equipment market in the region. Furthermore, the East Asian countries such as Japan and South Korea are focusing on filling the existing technology gaps and leveraging modern extraction methods to meet the potential rise in demand for underground mining equipment in the region.
Marketing Strategies Reflect the Growing Adoption of Technologies
The underground mining equipment market is fairly consolidated wherein the leading market forces hold the majority of the total market revenues. Leading manufacturers are turning to battery-driven electric and hybrid underground mining equipment, for instance, hybrid excavators, amid stringent government regulations that are driving end users away from conventionally fueled vehicles.
Introducing driverless equipment for underground mining operations with improved payload capacity is emerging as a winning strategy for market leaders, as such equipment allow for more efficient load-and-carry operations with reduced fuel consumption. Some of the manufacturers are integrating digital technologies, for instance, 3D imagery, Internet of Things (IoT), and GPS sensing, with next-gen underground mining equipment for data collection and real-time monitoring of the larger mines with lesser accessibility.
How Growth Will Unfold
The underground mining equipment market is anticipated to witness steady growth amid strict legal barriers over the forecast period. Manufacturers are working hard to ensure fully-automated mining operations, such as hauling and crushing, implying that automation will not remain confined to the first world mining countries.
Embracing autonomous mining and technologies, including, artificial intelligence, and machine learning, to avoid human errors and improve operational efficiency will be a quantum leap in the underground mining equipment market.
Mineworkers will utilize high-capacity fiber optic arrangement to allow equipment monitoring, thereby, improving safety and productivity in the mining area. However, some of the remote regions will still persist the use of hydraulic version of the equipment owing to the need of equipment support and maintenance of technically-upgraded machinery. Furthermore, upswing in monetary aid on R&Ds and innovations to ensure better and time-efficient mining activities will expose manufacturers to lucrative prospects.
Key Segment
By Product Type
Mining Loaders
Mining Trucks
Mining Drills
Mining Bolters
Mining Shearer
Continuous Miners
Mining Excavators & Shovels
Mining Scalers
Others
By Mining Technique
Soft Rock Mining
Hard Rock Mining
By End Users
Mining Operators
Rental Service Provider
By Region
North America
Latin America
Europe
South Asia
East Asia
Oceania
Middle East and Africa
Need specific information?