Butyl Glycol Market - Key Research Findings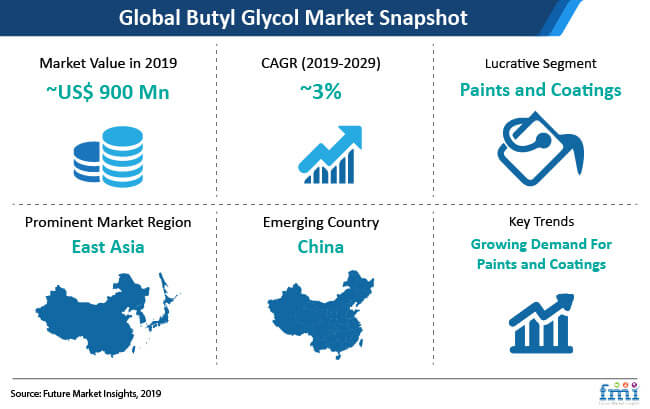 The global butyl glycol market size in 2018 was ~ US$ 900 Mn
The butyl glycol market is foreseeable to grow at a CAGR of ~ 3% during the forecast period.
Growing demand for paints and coatings for various application across several end-use industries such as construction, automotive, and industrial, among others are expected to boost the butyl glycol demand across the globe in the near future.
Collectively, East Asia and North America are estimated to hold ~ half of the revenue share in the global butyl glycol market, throughout the forecast period.

East Asia, attributing to the robust presence of paints and coatings industry, will continue to be a prominent regional market for butyl glycol manufacturers.

Paints and coatings and printing inks are projected to remain as protuberant end-use industries to invest in for the butyl glycol market players.

Paints and coatings industry has witnessed a significant growth in recent years.
Noteworthy application potential of butyl glycol has been identified in the industrial and household cleaners.
Key Factors Shaping the Butyl Glycol Market
Booming Paints & Coatings Industry Anticipated to Drive Butyl Glycol Market Growth
Butyl Glycol is extensively used in the paint & coatings industry as it is more effective in drying applications, and has relatively low cost. Growing population and increasing income levels are expected to propel the construction and residential building activities.
Owing to this, the demand for architectural paint & coatings is likely to increase in countries with high disposable incomes. Increasing demand for paints & coatings from multiple private housing and commercial offices, along with increase in the infrastructure output from all sub-sectors such as water, sewage, roads, and rail are expected to drive the growth of the paints & coatings sector over the forecast period. This factor, in turn, is expected to drive the growth of the butyl glycol market at a steady growth rate.
Industrial coating is one of the major aspects of the coating industry, which is expected to pave the growth of butyl glycol in coming years.
Multitudinous Applications in Solvents Expected to Propel the Demand for Butyl Glycol
Butyl Glycol is used in various end-use industries as solvents. Paints & coatings account for ~ half of the global solvent productions, whereas remaining half of the global solvent production is consumed in adhesives, printing inks, industrial cleaners, and chemical processing, are some other application.
Butyl Glycol also finds applications as a solvent and coupling agent in industrial and household cleaners, hard surface cleaners, rust removers, and disinfectants.
Printing inks and dyes also uses butyl glycol as a coupling agent in water-based printing inks, and as primary solvent in solvent-based printing inks.
Manufacturers also use butyl glycol as a solvent for manufacturing agricultural pesticides.
Butyl glycol is extensively used as a solvent in multiple end-use industries, as solvent plays an important role in widespread production. Increasing demand for solvents is expected to drive the butyl glycol market growth over the forecast period.
Emerging Economies as Gateway to New Opportunities for Butyl Glycol Market
Over the forecast period, the construction industry is expected to witness high growth rate, especially in emerging regions such as Asia Pacific, Middle East, Latin America, Africa, and Eastern Europe. Rapid developments in urban areas, multiple projects of smart cities, and renovations of aging structures are main reasons behind the growth of construction industry.
It bolsters the paints and industry growth, which in turn, propel the expansion of the butyl glycol market. Countries such as India and China have witnessed an increase in construction activities over the recent years which has paved a gateway to the growth of butyl glycol market.
Development: Manufacturers Follow Strategies of Capacity Expansion
In July 2019, BASF SE announced its plans to expand tert-Butylamine capacity at the company's specialty chemicals facility in Nanjing, China.
In June, Eastman Chemical announced to invest ~ US$ 70 million to expand its manufacturing operations in Louisiana, the US.
In May 2019, Lotte Chemical opened shale gas-based ethylene production factory in the US.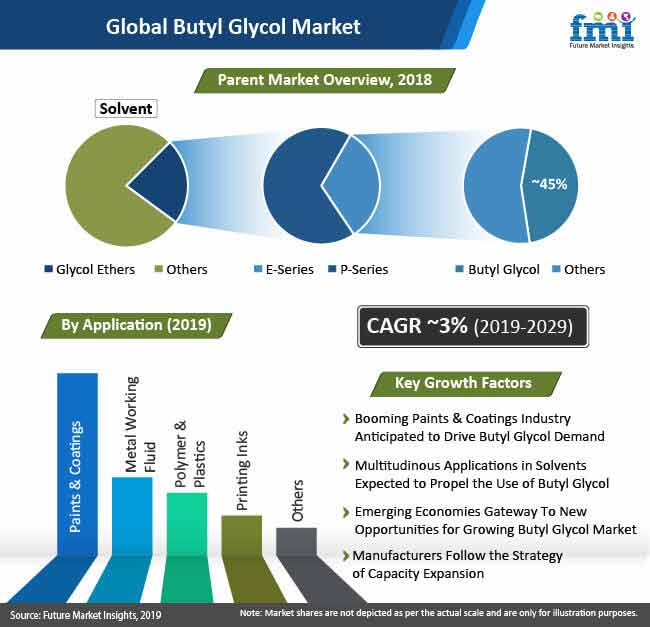 Butyl Glycol Market Structure Analysis
The global butyl glycol market represents a moderately consolidated competition landscape, where majority of the key players maintain their strategic focus on solid distribution partnerships, joint ventures, and expanding their global presence.
The butyl glycol market has been moderate in size, which remains as key factor for its dynamic competitive nature.
Leading manufacturers of butyl glycol are currently focussing on product innovation and prioritizing R&D to propel the consumption of glycol ether in East Asia, Europe, and North America.
Capacity expansion is also identified to remain as one of the key evolving strategies adopted by butyl glycol manufacturers.
For high traction in the target markets, butyl glycol manufacturers are likely to continue focusing on organic strategies, such as capacity expansion, inaugurating new production facility, etc.
Deeper understanding of the market trends and preferential shifts of end-use application across various regions are likely to create a bottleneck for the prominent players in the butyl glycol market.
Painting & Coating Surfaces despite Toxic Health Effects
Butyl glycol can produce peroxides in the presence of atmospheric oxygen, extending the drying time of coatings as well as improve the brushability of alkyd resin paints by decreasing their viscosity. Low evaporation number of butyl glycol enables the enhancement of enamel properties without disturbing the drying period. Further, butyl glycol exhibits solubility with prominent organic solvents and water, making it suitable for waterborne coatings.
However, glycol ethers for instance, butyl glycol, are enlisted under the Toxics Release Inventory (TRI) due to their toxic nature. Short-term exposure to butyl glycol leads to illnesses such as, necrosis, pulmonary edema, and others, while its long-term exposure causes chronic diseases such as, anorexia, nausea, and anemia. Additionally, inhalation and oral exposure of butyl glycol results in adverse reproductive disorders.
Looking at the hazardous effects of butyl glycol, MOFCOM (Ministry of Commerce, People's Republic of China) enforced anti-dumping duty on ethylene glycol monobutyl ether and diethylene glycol monobutyl ether imported from the U.S. and the European Union in 2013. Furthermore, the Brazilian government performed anti-dumping investigations on the import of n-butanol, which is the parent compound of butyl glycol, from South Africa and Russia, thereby inhibiting the demand for butyl ether in near future.
Refining Printing and Cleaning by Fusing with other Agents
The printing industry is harnessing butyl glycol as a solvent for specialty printing inks and ball point pen pastes by acting as a chemical intermediate in the formation of butyl diglycol acetate. Butyl glycol serves as a coupling agent for resins and dyes in water-borne inks for gravure, silk screen, and flexographic printing.
It reverses the evaporation rate of the inks as well as enhances wettability by countering surface tension. In addition, the high solvency of butyl glycol offers good control over viscosity for quality impressions and lowered ink clogging in the screen.
Butyl glycol finds its use in the industrial and residential vertical as a component of the cleaning solution on account of the presence of both the polar and non-polar ends in its molecule, which can eliminate polar and non-polar materials such as, greases, and oils. Further, owing to its surfactant properties, butyl glycol is being incorporated in fracturing solutions for hydraulic fracturing to avoid congealing in petroleum oil wells.
East Asia set to Outdo the North America Market for Butyl Glycol
Despite North America currently gaining an edge over, East Asia is estimated to lead the global butyl glycol market over the forecast period. The quest for highly brushable paints and coating solutions in construction and residential projects for decorative purposes is intensifying in countries including, China, and India.
Demographic of low and middle-income countries (LMIC) are utilizing cleaning solutions containing butyl glycol for housekeeping purposes. Further, China, at present, is the leading producer and consumer of chemicals worldwide, making it the nucleus of lucrative opportunities for the market of butyl glycol.
'Sustainable' Chemical Alternatives to Define Stakeholders' Market Strategies
The global butyl glycol market is moderately consolidated with key market players including, BASF SE, The Dow Chemical Company, and others, accounting for about half of the total market revenue. Chemical manufacturers are synthesizing bio-based p-series glycol ethers, for instance, propylene glycol methyl ether, which are listed as GRAS (generally recognized as safe).
Black-listing of e-series glycol ethers by environmental protection agencies of countries including, the US, and Europe is compelling leading market actors to ramp up the production of p-series glycol ether owing to their relatively lesser toxicity and higher evaporation rate. Furthermore, emerging and mature stakeholders are entering into acquisitions and strategic partnerships to launch polypropylene compounding plants in target countries.
How Growth Will Unfold
The butyl glycol market is anticipated to witness a modest growth amid tight environmental amendments over the foreseeable timeframe. Increasing awareness about the adverse procedural events upon consistent exposure of butyl glycol is appearing to decline its employment.
Nevertheless, the market of butyl glycol is set to reflect gradual progress against the backdrop of rising demands for paints and coating materials across developing and target countries including, the US.
Key Segment
By Function
Solvent
Coalescing Aid
Chemical Intermediate
Plasticizer
By Application
Paints and Coatings
Printing Inks
Metal Working Fluid
Polymer & Plastics
Others
By Region
North America
Latin America
Europe
South Asia & Pacific
East Asia
Middle East & Africa
Need specific information?