Carbon Brush Market - Key Research Findings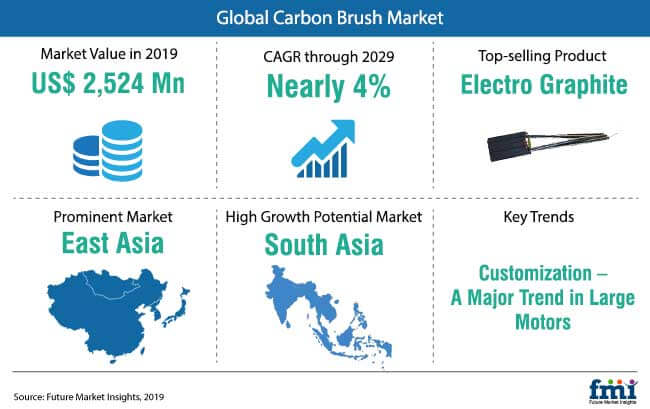 Global carbon brush market size in 2018 – Nearly US$ 2,500 Mn
The carbon brush market is expected to grow at a CAGR of nearly 4% over 2019-2029.
East Asia and North America are expected to remain prominent regional markets in the carbon brush market.

East Asia and North America are the leading regions in the carbon brush market, owing to the increasing adoption of carbon brush products for motors and increasing industrial applications for the development of carbon brush products for different applications.

Distribution and marketing synergies between companies expected to exploit carbon brush market growth prospects.

Major players in the carbon brush market, such as Morgan Advanced Materials, Mersen SA, Robert Bosch GmbH, Schunk GmbH, etc., are employing synergistic methods of product co-marketing and co-promotion, by teaming up with other companies.
The synergistic partnerships between actively operating companies are proven to pose an instant growth impact on the carbon brush industry, when compared to that held by strategic acquisitions and mergers.
In October 2018, Schunk GmBH laid the foundation of its new production facility in Heuchelheim. It invested approximately 30 million Euros in the project.

Electro graphite is expected to remain a highly preferred product type in the carbon brush market.

The demand growth of electro graphite can be primarily attributed to the growth of the global motor market.
Some of the factors such as cost effectiveness and rising awareness about the benefits of carbon brush procedures are expected to propel the growth of the carbon brush market.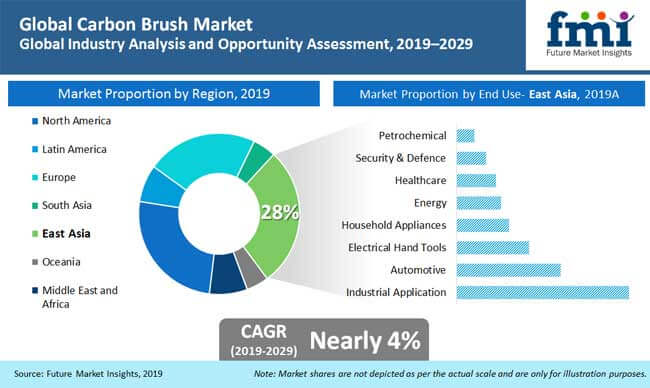 Top 3 Factors Shaping the Carbon Brush Market
Rising Integration of Electronics in Automotive Systems Leading Towards the Rising Demand for Carbon Brushes

Advancing technologies and the integration of electronics with automotive systems are expected to open new grounds for the growth of the market. With consumer interest in passenger cars equipped with advanced technologies and government schemes & regulations boosting the deployment of advanced technologies in commercial vehicles, the integration of electronics is expected to significantly drive market growth, which is expected to result in the robust growth of the carbon brush market.

Introduction of Combination Products Expected to Propel the Growth of the Carbon Brush Market Over the Forecast Period

Manufacturers are constantly improving their pipeline capabilities and enhancing their well-established presence in the motor market with the introduction of new combination electro graphite products.

Launch of New Products and Distribution Agreements are the Major Trends in the Carbon Brush Market

Key market players such as Morgan Advanced Materials, Mersen SA, Robert Bosch GmbH, and Schunk GmbH are focusing on the expansion of their carbon brush product portfolios through distribution agreements and launching of the new products. For example-

In 2018, Mersen SA acquired FTCap, a specialist in the development and production of capacitors.
In March 2019, Schunk Xycarb Technology established its new factory and office in Helmond, The Netherlands. The new plant will also strengthen the company's presence in the opto-electronics, semiconductor, and solar markets.
Carbon Brush Market Structure Analysis
The global carbon brush market is a fragmented market, with a number of big market players and regional players.
Some of the top manufacturers who contribute a higher revenue share to the carbon brush market are Morgan Advanced Materials, Mersen SA, Robert Bosch GmBH, and Schunk GmbH.
A majority of the key players operating in carbon brush industry's competitive landscape maintain strategic focus on the development of stronger distribution partnerships and agreements targeting market footprint expansion at a global level.
Carbon Brush Market: High Replacement Rate Pushing Market Growth
Carbon brushes continue to experience high demand due to the high replacement rate. In recent years, manufacturers have renewed their focus on proper maintenance and on-time replacement of carbon brushes. The global demand for carbon brushes is rising as a result of the growing industrial sector, increasing integration, and rising consumer demand.
Market Set to Grow 1.4x between 2019 and 2029
The carbon brush market is likely to witness steady growth over the course of the forecast period. Gain will be driven by carbon brush demand from the electric and autonomous vehicle sector. Further, the comparatively low cost of carbon brushes is also driving their adoption.
Emerging Countries Promise New Growth Opportunities
East Asia is expected to contribute a high revenue share in the global carbon brush market in 2019. However, healthy growth is expected in developing countries, especially China, India, and Brazil, as governments and private players focus on improving the quality of care in these countries. Among the emerging countries, China is likely to present sustained opportunities of growth for stakeholders in the carbon brush market. Due to China's strong growth, East Asia is likely to emerge as a lucrative market during the forecast period.
The Broader Perspective
Stakeholders in the carbon brush market are adapting to the evolving requirements of the industrial sector and the manufacturers pool. Manufacturers are focusing on offering effective products by using a combination of electro graphite and general graphite. It is highly likely that, R&D investments will continue to grow during the assessment period.
How Growth is Expected to Unfold
Electro graphite is expected to maintain its lead over other variants during the assessment period, whereas general graphite is also expected to gain adoption at a steady pace.
CARBON BRUSH MARKET TAXONOMY
The global Carbon Brush market is segmented in detail to cover every aspect of the market and present a complete market intelligence approach in front of the reader.
By Product Type
General Graphite
Metal Graphite
Carbon Graphite
Electro Graphite
Silver Graphite
Resin- Bonded Graphite
Others (impregnated)
By Application
Motor
Generator & Alternator
Current & Signal transmission
Grounding Devices
Others
By Sales Channel
By End Use
Automotive
Electrical Hand Tools
Industrial Application
Household Appliances
Security & Defense
Petrochemical
Energy
Healthcare
By Region
North America
Latin America
Europe
South Asia
East Asia
Oceania
MEA
Need specific information?