Carbon Mold Market - Key Research Findings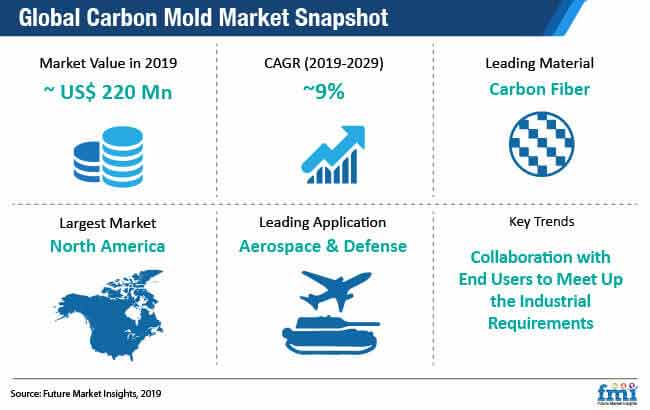 The global carbon mold market was valued at ~US$ 200 Mn in 2018.
The carbon mold market is anticipated to grow at a CAGR of ~9% during the forecast period of 2019-2029.
Carbon fiber is likely to remain highly preferred material in the carbon mold market.

The demand for carbon fiber as a viable material can be primarily attributed to its lightweight nature and high strength.

East Asia is estimated to account for more than one fourth of the revenue share of the carbon mold market by the end of 2029.

East Asia is anticipated to continue to be an opportunistic market for carbon mold manufacturers and distributors, owing to increasing production and demand for carbon composite parts & components.

The female carbon mold continue to gain relatively high traction as compare to its male variants.

Female molds are a cost-effective option for moderate to large-scale production and provide a smooth finish to the final product. Finishing time is considerably reduced because each part is developed with a smooth outer surface.
Key Factors Molding the Growth of the Carbon Mold Market
Popularity of Carbon Composites in the Aerospace Industry
Increasing demand for lightweight materials, for better fuel efficiency, in the aerospace industry is driving the usage of carbon composites in aircraft production. Composites structures account for almost 30-50% of an aircraft, which makes them key components in aircraft manufacturing.
Aircraft manufacturers are looking to modify their aircrafts, and install new lightweight interiors and electronic gadgets with better power efficiency. Weight is a major factor in the performance of any aircraft. Therefore, increased emphasis on lightweight aircraft production is driving the demand for carbon composites. Air passenger traffic has witnessed significant increase across the globe, owing to which, there is rise in the demand for newer aircrafts.
With increasing number of aircrafts in use, the demand for service, repair and maintenance of various components and parts is estimated to drive the growth of the aerospace aftermarket. Therefore, increasing popularity of carbon composites is a prime factor driving the growth of the carbon mold market.
Installations of Wind Turbines Creating an Optimistic Market Scenario
Carbon molds are used in the manufacturing of blades for wind turbines from carbon fibers and composites. Increased environmental awareness has surged the demand for renewable energy, which has propelled the adoption of wind energy as a key source of power. Over the years, global transformation of energy systems towards renewable energy is being witnessed, and wind energy is an important force in this development.
According to World Wind Energy Association (WWEA), in 2018, wind energy installations grew at a rate of 9.1%. The wind energy market witnessed significant growth in countries such as China, India, and Brazil along with other countries in Asia. Increased installations of wind turbines have boosted the demand for carbon composites, which, in turn, is expected to positively influence the growth of the carbon mold market.
Adoption of Lightweight Carbon Composites in the Automotive Industry
Growing electric vehicle production has increased the demand for parts and components made from lightweight and strong carbon fiber and composites, which in turn is likely to contribute to the growth of the carbon mold market.
Lack of Recycling Technologies Pushing Manufacturers toward Innovation
Most of the waste developed during the manufacturing of carbon composites ends up in landfills, and due to increasing environmental concerns across the globe, it can be considered as a potential future threat. Currently, the recycling of carbon fibers/carbon composites is carried out by melting or with the help of chemical processes. However, the increasing adoption of carbon composites across different industries has forced researchers and industries to find solutions to combat this situation.
Diversion of composite waste from landfills to the adoption of recycled carbon composites into automotive and aerospace industries will create significant opportunities for carbon mold manufacturers.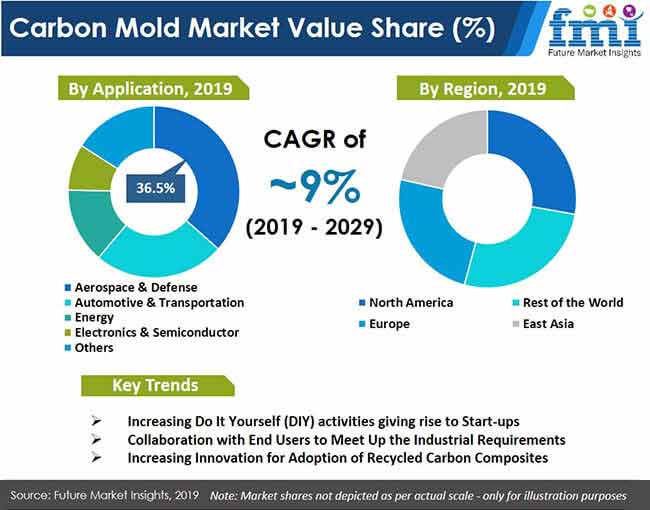 Carbon Mold Market Structure Analysis
The carbon mold market is a moderately competitive and heavily fragmented market across the globe.
Strategies followed by key players in the carbon mold market are expansion of business through partnerships, collaborations, and technological advancements.
Increasing Do It Yourself (DIY) activities are giving rise to start-ups, which is a key trend observed in the carbon mold market.
Major players in the carbon mold market are Jiangsu Xinri E-Vehicle Co. Ltd., Vmoto Limited, GOVECS GmbH, Terra Motors Corp., Hero Electric Vehicles Private Limited, Sanyang Motor Co. Ltd., Gogoro Inc., Piaggio & C. SpA, Bayerische Motoren Werke AG, Honda Motor Co. Ltd., etc.
Polymerizing Materials for Enhanced Shelf Life and Resistance
Carbon mold is carving space in applications where lightweight, and durable properties are paramount, including aerospace & defense. Ultra-high resistance of carbon composite mold against extreme settings are being leveraged in aircraft engine nacelles. Coupled with noise abatement honeycomb, carbon composite molds enable engineers to achieve superlative acoustical performance, including noise reduction during take-off and landing.
Epoxy matrix infused unidirectional carbon fiber - fiber-reinforced plastic (FRP) - mold helps constant flow of resin, weeding off the need for spray adhesive, thereby lowering the risk of contamination of environment. Polymerization of carbon fiber mold with vinyl, ester, or polyester under heat, pressure, or vacuum produces a composite material that exhibits durability and weight-saving features.
The fact that carbon fiber molds are able to be developed at diverse densities in numerous dimensions is intensifying their presence in a broad array of applications in a bid to align with 'supply on demand'. Further, amalgamating carbon FRP mold with metal in automobiles ensures better energy absorption, increased safety, and battery protection in case of accidents. On the contrary, the manufacturing processes of carbon molds, particularly carbon fiber reinforced plastic mold, are highly cost prohibitive, yet the durability factor outweighs the demerit.
Prominence of 'Do It Yourself' with 'Online' Intervention despite 'Recycling' Issues
With abundance of online tutorials and literature regarding mold manufacturing, small and medium-scale startups are indulging into 'Do It Yourself' (DIY) trend. Easy availability of raw materials, including carbon fiber sheets, and prepregs, for developing carbon molds from online and offline retailers is encouraging nascent manufacturers to fabricate carbon molds at native places for specific purposes.
However, recycling carbon fiber mold is a toilsome affair, with a few methods available for complete recycling, including thermal depolymerization, where the carbon fiber mold is superheated in an oxygen-free chamber. The separated carbon is able to be recovered, and reused, while the reinforced substance is exterminated.
Furthermore, carbon fiber molds undergo manual breaking at lower temperatures, yet the resulting product exhibits lesser strength due to the shortened fibers, thereby unlikely to satiate the demands from prominent industries.
East and South Asia in Neck-And-Neck with North America
Despite North America anticipated to lead the market of carbon mold throughout the stipulated timeframe, East and South Asia are showing accelerating progress following upsurge in the production of automobiles, and aircrafts, as well as in the installation capacity of wind turbines.
Countries including the US, China, and India, are holding lion's share in the manufacturing of light commercial vehicles (LCV), and passenger vehicles (PV). In addition, increasing air traffic is compelling manufacturers to boost the production of aircraft fleet with long-lasting and weigh-cutting components - factors grabbing the eye-balls of carbon mold market players.
Viewing Through 'Innovative' Approach to Grab Substantial Share
The global carbon mold market is witnessing high fragmentation among market leaders and followers, with the latter accounting about half of the total market revenue. Compression molding - a low-pressure mold, assures cost-efficient production of multiple cavities, and supports wide range of materials. As such, market players - MDC Mould & Plastic Co. Ltd - are entering into collaborations for the development of carbon fiber parts with autoclave and compression molding technique.
Accelerating imminence of DIY trend is influencing participants to deliver online mold fabrication videos, and tutorials for evolving enterprises. Players, including DEXCRAFT, are providing consultations to customers related to mold design and component manufacturing. Citing significant applications of recycled carbon fiber mold, manufacturers are tapping white spaces in diverse sectors - consumer goods, and sports equipment.
How Growth Will Unfold
The demand for lightweight and prolonged life span properties is predominant among major industries - a tailwind propelling the growth of the global carbon mold market impressively. With countries across the world turning to renewable sources of energy such as, wind energy, amidst environmental amendments, the requirement for corrosion-resistant blades of wind turbines is significantly facing an uplift.
Further, the aerospace industry is set to encounter huge traction for carbon molds to correspond to the expansion of production footprint for satiating the upswing in global air traffic.
Releasing wastes of carbon composites mold manufacturing jeopardizes the surroundings while post-recycled version lacks in strength, making them unsuitable for aerospace, and automotive components. As such, manufacturers will be utilizing recycled carbon molds to penetrate into consumer goods, as well as sports equipment - tennis rackets, and golf clubs - owing to lightweight characteristic.
Key Segments
Material Type
Carbon Fiber
Graphite
Others
Mold Type
Application
Aerospace & Defense
Automotive & Transportation
Electronics
Energy
Others
Region
North America
Latin America
Europe
South Asia
East Asia
Oceania
Middle East and Africa
Emerging Countries
Need specific information?
Talk Show:
The Rise of Intelligent Packaging
Personalized, Connected and Sustainable
November 18, 2021
11:00-11:45 AM PST (USA & Canada)
This is a LIVE session