Carbon Mold Market
Carbon Mold Market by Material Type (Carbon Fiber, Graphite, and others), Mold Type (Male & Female), Application (Aerospance & Defense, Automotive & Transportation, Electronics & Semiconductors, Energy) & Region – Forecast 2022 – 2029
January 2022

REP-GB-10470

250 pages
Carbon Mold Market Snapshot
[250 Pages] The Carbon Mold Market to exhibit an year on year growth of 8.6% in 2022 reaching a value of about US$ 279.9 Mn by 2022 end. Carbon Mold can be manufactured using many materials Carbon fiber and graphite are the examplese of most common materials used in carbon mold. Carbon Molds are used for molding of carbon composite parts used in variety of applications.
| | |
| --- | --- |
| Carbon Mold Market Base Year Value (2021A) | US$ 257.8 Mn |
| Carbon Mold Market Estimated Year Value (2022E) | US$ 279.9 Mn |
| Carbon Mold Market Projected Year Value (2028F) | US$ 501.4 Mn |
| Value CAGR (2022-2028) | 8.6% |
| Collective Value Share: Top 3 Countries (2022E) | 54.2% |
As per the latest study on global carbon mold market conducted by Future Market Insights. North America has emerged as leading consuemer fo carbon molds followed by East Asia and Europe. Owing to strong presence of end-use industries in the regions, this regions creates a robust demand for carbon molds. Demand is expected to witness high growth in emerging economies over the upcoming assessment period of 2022-2029.
2014-2021 Carbon Mold Market Outlook Compared to 2022-2029 Forecast
Asia Pacific region observed a substantial development in automotive industry. According to the China Automobile Dealers Association, around 277,000 luxury cars were retailed in April 2020 perceiving 11.1% increase as compared to previous year. However, manufacturers are converging on more and more innovations to retain their foremost positions in the Carbon Mold Market.
Increase in demand for fuel efficient cars in accordance with rising fuel prices demand for lightweight durable materials is rising at rapid pace which is expected to elevate the sales of carbon composite component eventually benefitting carbon mold market.
Moreover, Aerospace industry is consistently indulged in research and development activities to produce highly durable lightweight components to enhance the aircraft fuel efficiency owing to gorwing fuel scarcity across the globe. Carbon composites has emerged as most viable aerospace lightweight material and is being used by various manufacturers to reduce the weight of their components.
In addition, Following aerospace industry, automotive industry also creates a huge demand for carbon molds where these are utilized to cast innovative lightweight components to enhance the fuel efficiency of vehilces without compromising the strength of vehicle and safety of passengers.
Demand outlook for Carbon Mold Market has witnessed a CAGR of 7.6% during the historical assessment period. The market would have performed better but owing to the drag force in 2020 created by gobal pandemic of COVID-19 the market witnessed sudden drop in growth rate. However, The market is expected to recover fully in early 2022 and gain traction as pre-crisis levels soon.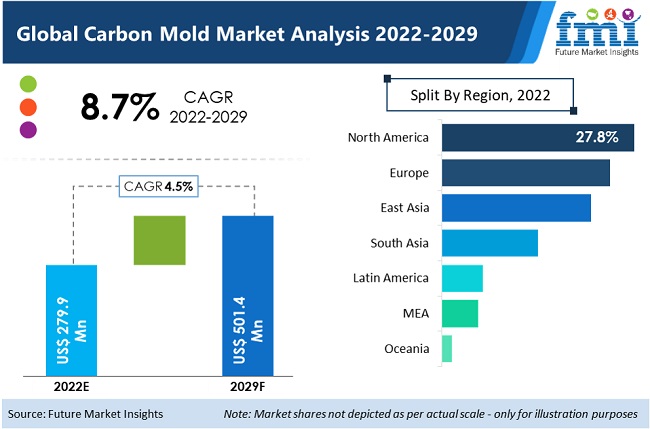 Which Trends Will Influence the Growth of Carbon Mold Market?
There are various trends which have their own significance and level of impact on carbon molds market. Key manfuacturers are engaed in developing new and alternative ideas to recycle the carbon composites to develop products requiring lightweight properties more as compared to strength.
Key manufacters have come up with ideas to manufacture tennis rackets, golf clubs and others sports and leisure activities with recycled carbon composites.
In addition, over some recent years, 'Do It Yourself' mold manufacturing activities have witnessed decent growth owing to the availability of online tutorials and ample of literature regarding mold manufacturing. Do It Yourself activities have led to the emergence of small and medium-scale start-ups. Easy availability of raw materials, is supporting the growth of such activities.
Increasing adoption ofcarbon composites and favorable government polices in emerging markets are supporting the growth of start-ups has emerged as a key trend in global carbon mold market which is expected to elevate the demand for carbon molds over the upcoming assessment period of 2022-2029.
How Wind Turbine Installation Is Related To Carbon Mold Market?
Improved environmental consciousness has elevated the demand for renewable sources of energy, which has surged the adoption of wind powerplants as a key source of energy. Over some recent years, global change of energy systems to renewable energy is being observed, and wind energy is an important force in this development.
According to Gobal Wind Energy Council (GWEC), by the end of 2020, the global wind power capacity reached the mark of 743 Gigawatt (GW) with the addition of 93 GW capacity in 2021. In 2020, wind energy installations grew at a rate of 53%. Growing governmental initiatives and promotion of wind power installation is expected to elevate the installation rate at rapid pace over the forecast period.
While the wind energy markets in key countries of Europe were showing weak development, at the same time the wind energy market witnessed significant growth in countries such as China, India, and Brazil along with other countries in Asia.
Increased installations of wind turbines have boosted the demand for carbon composites, which, in turn, is expected to positively influence the growth of the carbon mold market.
How Growth In Demand For Consumer Electronics Surging Carbon Molds Market?
The electronics industry has witnessed robust growth in recent times owing to the swiftly rising demand for consumer electronic products. The electronic industry has registered swift growth in recent years. Production of computers, PCBs, mobile phones, and other electronic devices, among others, as well as consumer electronics and appliances, displays, etc., accounts for a significant share in the overall electronics output.
Moreover, increasing focus on the adoption of advanced technologies and growing trend of miniaturization, better thermal management, increased speed, and performance of products is increasing the adoption of carbon composites in consumer electronics. One of a kind properties of carbon composites are giving them an upper hand over the traditionally used fiberglass.
Carbon composites have a unique combination of lightweight and high strength, owing to which, they are primarily gaining traction from the electronics industry. Along with weight reduction, carbon composites also offer an aesthetic look to electronic products.
Increased adoption of carbon composites for the development of consumer electronics is estimated to raise the demand for carbon molds.
Country-wise Insights
What Is the Demand Outlook for Carbon Mold Market in U.S.?
In 2022, the U.S. Carbon Mold Market is expected to register 8.4% year on year growth by value. Increase in automotive vehicle production in the country creates significant demand for lightweigh components which in turn fuels the demand for Carbon Mold Market.
The US is the leading consumer of carbon molds across the globe. The country create a huge demand for carbon composite components owing to strong presence of automobile, aerospace, defence, and other end-use industries. Substantial growth in US industries is expected to fuel the demand for carbon molds in the country over the upcoming assessment period of 2022-2029.
What Is Carbon Mold Market Outlook In Germany?
Germany is projected to account for 22% of the Europe Carbon Mold Market share in 2029. High awareness among the population across Europe especially in Germany proves the country as lucrative market for carbon molds. High automotive production capacity across the country and various stringent regulations on proper combustion of fuel and pollution reduction in Germany is elevating the demand for lightweight automotive components which is expected to upsurge the demand for carbon composites and carbon molds in the country during the upcoming assessment period of 2022-2029.
Category-wise Insights
Which of the Material Type segment hold prominent share in Carbon Mold Market?
Based on material type, carbon fiber is the most grossing and widely used material type used in carbon molds. The segment is anticipated to hold more than 45% of global market by value by end of the forecast period.
Various advantages and charecterstics offered by carbon fiber is expected to be the key factor promoting the growth of the segment over some recent years. Graphite is anticipated to hold second larges share in global market.
Why Female Carbon Molds Are Preferred Over Male Carbon Molds?
Although Male molds are of lower cost and are consumed in less time in terms of molding process, but the outer texture is not so smooth and requires external finishing touch for the superior finish. However, on the other hand Female carbon molds are more costly but offer substantial finish over the outer surface. By the use of female molds, the finishing time is significantly reduced.
Owing to this reseason female carbon molds are preferred over male carbon molds and is expected to hold more than 65% market share in global market.
Competitive Landscape
Major market players are working closely with the end users in order to meet consumer requirements. Manufacturers are also providing designing as well as consulting services to the costumers in order to strengthen their market position in global as well as regional markets.
For instance, in October 2018, MDC Mould collaborated with Qiantu Motor company which is electric vehicle manufacturer. The collaboration was formed for designing and manufacturing carbon fiber parts with the help of Autoclave & Compression molding technology
The latest study conducted by Future Market Insights covers all the strategies and success factors of key manufacturers of the market.
Scope of Report
Attribute

Details

Forecast Period

2022-2028

Historical Data Available for

2013-2021

Market Analysis

USD Million for Value and Tons for Volume

Key Regions Covered

North America, Latin America, Europe, South Asia, East Asia, Oceania, and Middle East & Africa

Key Countries Covered

US, Canada, Brazil, Mexico, Germany, U.K., France, Italy, Spain, BENELUX, Russia, ASEAN, India, China, Japan, South Korea, Autralia, New Zealand, GCC Countries, Turkey, and South Africa

Key Segments Covered

Material Type, Mold Type, Application, and Region

Key Companies Profiled

MDC Mould & Plastic Co.,Ltd
Mouldbox
Xiamen Fengjin Mold Industry Co., Ltd.
Composite Mouldings Ltd
DC Composites
MCT Carbon
Curley Specialised Mouldings
CF Composites

Report Coverage

Market Forecast, Company Share Analysis, Competition Intelligence, DROT Analysis, Market Dynamics and Challenges, and Strategic Growth Initiatives

Customization & Pricing

Available upon Request
World's Most Profilic Intelligence Engine
Get Access To The World's Largest Market Research Database.
Sign Up Now
Carbon Mold Market by Category
By Material Type:
Carbon Fiber
Graphite
Others
By Mold Type:
By Application:
Aerospance & Defense
Auotmotive & Transportation
Electronics & Semiconducotr
Energy
Others
By Region:
North America
Latin America
Europe
South Asia
East Asia
Oceania
Middle East and Africa
Key Questions Answered in the Report
What is the current size of global Carbon Mold Market?
The Carbon Mold Market is expected to total US$ 279.9 Mn in 2022.
At what growth rate did the demand for Carbon Mold Market rise in 2022?
The demand for Carbon Mold Market increased by 8.6% in 2022.
Who are the top players in the Carbon Mold Market and what is their total share?
MDC Mould & Plastic Co.,Ltd, DEXCRAFT, Mouldbox, Diversified Plastics, Inc, Xiamen Fengjin Mold Industry Co., Ltd., Composite Mouldings Ltd, DC Composites, MCT Carbon, Curley Specialised Mouldings, and CF Composites are the top players in carbon mold market. They collectively is anticipated to account for 10% to 20% of the global market.
What is the market outlook of Carbon Mold Market in China?
The demand in China is expected to increase by 11.4% CAGR between 2022 and 2029 on value basis.
Which countries are the key consumers of Carbon Mold Market?
U.S., China, and Germany, are the key consumers of Carbon Mold Market.
What are the key strategies shaping the Carbon Mold Market?
The companies are majorly engaged in collaborations and long term strategic partnerships to develop strong base, portfolio, leading position, innovations in the market.
Need specific information?
Our Clients