An Incisive, In-depth Analysis on the Chilled Beam System Market
This study offers a comprehensive, 360 degree analysis on the Chilled Beam System market, bringing to fore insights that can help stakeholders identify the opportunities as well as challenges. It tracks the global Chilled Beam System market across key regions, and offers in-depth commentary and accurate quantitative insights. The study also includes incisive competitive landscape analysis, and provides key recommendations to market players on winning imperatives and successful strategies.
Global chilled beam system market to witness robust growth during the period of forecast (2017-2027)
According to the analysis done by Future Market Insights, the global chilled beam system market is expected to exhibit noteworthy growth rate during the period of assessment (2017-2027). The global market has seen positive growth path since past years. During 2012-2016 period, this market witnessed a 1.2x increase in revenue. As per this analytical research report, there is a high possibility for a higher increase in revenue during the forecast period. The global chilled beam system market in 2017 is valued at around US$ 243.0 Mn and is estimated to reach a valuation of more than US$ 450 Mn by the end of the assessment year. The growth rate reflected by the chilled beam system market touches a higher pace and the global market is poised to register a robust CAGR of 6.4% throughout the period of assessment. This high growth can be attribute to the increasing demand for advanced and innovative cooling technologies across the globe (especially in GCC countries) and higher demand for energy efficient systems owing to stringent building energy codes.
Concealed chilled beam system to witness higher adoption in the years to follow
Concealed segment in the product type category of chilled beam systems is expected to dominate the global market as it reflects high growth potential along with high market share. In 2017, this segment led the global market in terms of high value and is likely to grow in the coming years. It is valued at US$ 129 Mn in 2017 and is estimated to reach a valuation a little under US$ 250 Mn by the end of the period of forecast. It is projected to grow at a comparatively higher pace to register a CAGR of 6.8% throughout the assessment period.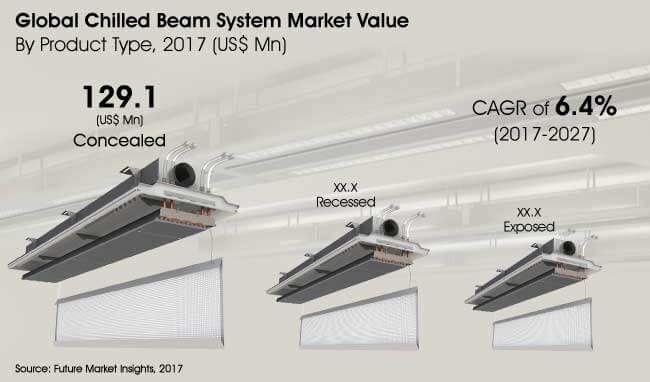 Active and multiservice to highly contribute to the growth of the concealed segment
The product type segments of chilled beam system market are further categorized into active, passive and multiservice sub segments. The growth of the concealed segment is influenced largely by the growing popularity of active and the multiservice sub segments. Multiservice concealed sub segment has a strong demand in Europe and United States. This segment is projected to grow at the highest pace and is expected to reflect a high CAGR of 7.0% throughout the forecast period, 2017-2027. On the other hand, the active sub segment is the largest in terms of market value. By the end of 2027, the active concealed sub segment is estimated to reach a valuation of more than US$ 120 Mn from US$ 64.4 Mn in 2017. It also exhibits a significant CAGR during the forecast period.
Exposed segment likely to witness comparatively less adoption during 2017-2027
Exposed product type segment has been experiencing slow growth pace in comparison to other product type segments. This segment is projected to grow at a CAGR of 5.8% during the period of assessment. It is estimated to reach a valuation of more than US$ 75 Mn by 2027 end. With respect to valuation this segment is last in the line, with concealed segment to lead the global market in the coming years. The growth of the exposed product type segment is influenced by the active sub segment on a large scale. The active exposed segment is estimated to grow to reach around US$ 43 Mn by 2027 end with a 5.9% CAGR during the said period.
Extensive primary and secondary research to glean relevant market insights
Future Market Insights uses a systematic research process that is a strong combination of secondary and in-depth primary research. Extensive primary interviews with key stakeholders, market players, market observers and subject matter experts are carried out to gather necessary information and data relating to various key segments and their scenario across key regions in the globe. The data mining and statistical analysis so performed undergoes multiple stages of validation to garner relevant market insights that could benefit the business by influencing critical decisions. The comprehensive research methodology has been applied to methodically understand and study the market for chilled beam systems and the findings and insights have been skilfully drafted following a systematic structure in the new report titled "Chilled Beam System Market: Global Industry Analysis (2012-2016) and Opportunity Assessment (2017-2027)".
The research report on global chilled beam system market is a fact based market research report that covers global scenario and delivers actionable intelligence on several aspects that have an impact on the market scenario with the help of robust data and statistical scrutiny to project an unbiased view of the global chilled beam system market. The research study reflects the rhythm flowing through the market which can be analysed by the reader to take essential decisions and map progress path. The report starts with an executive summary that covers market overview, global market analysis and recommendations. The next chapter covers market introduction which includes market taxonomy and chilled beam system market definition. Following market introduction, macroeconomic factors are explained that have a potential influence on the market's future. The research report covers historical data analysis on various segments of the market, along with current market position. Based on the trends, developments and changing market dynamics, the future market projections for a period of 10 years has also been sketched in this research study.
The research report on global chilled beam system market covers competitive landscape, which focuses on market share analysis, revenue, growth strategies applied, mergers and acquisitions, product portfolio analysis, distribution channel analysis, expansion in several geographies, marketing strategies, etc., of the various key players in the market. This section is vital to assess future moves to gain advantage over the competition in the coming years. Moreover, decisions regarding expansion strategies such as acquisitions, strategic alliances, mergers etc., can be taken to achieve further expansion across regions.
To give a feel and flavour of the research report on chilled beam system delivers a holistic perspective in front of the reader considering important geographies. Unbiased research data can be directly used to evaluate tactics and chalk decisions from a strategic standpoint. Owing to an exclusive research methodology, the researched data reflects a near to 100 percent accuracy. Efficient forecasting for a period of 10 years can present several opportunities to various business to plan future moves and identify revenue pockets. In-depth analysis on various market segments covers each and every angle of the chilled beam system market, thus making the research report even more versatile to gauge the future chilled beam system market scenario.
Market Segmentation
By Product Type

By Design

By End Use

By Region

Concealed

Active

Passive

Multiservice

Exposed

Active

Passive

Multiservice

Recessed

Active

Passive

Multiservice

Educational Institutions

Healthcare Facilities

Corporate Offices

Hotels/Restaurants

Other Institutions (Military, Residential, Industrial, etc.)

North America

Latin America

Western Europe

Eastern Europe

Asia Pacific excluding Japan (APEJ)

Japan

Middle East and Africa (MEA)
COVID -19 : Impact Analysis
Request the coronavirus impact analysis across industries and markets
Request Covid -19 Impact
CASE STUDIES
See how our work makes an impact.
At FMI, we design strategies that are adaptive, impactful, and implementable.