Chilled Beam System Market Snapshot
Growing demand for energy-efficient and cost-effective cooling systems across various infrastructural projects is driving sales in the global chilled beam system market. Future Market Insights (FMI) in its recent market survey projects the market to expand at a steady 5.5% CAGR over the assessment period 2021 to 2031.
Product customizations in chilled beam systems, along with establishments of robust aftersales market services will continue facilitating growth, as the market reached a valuation of US$ 308.5 Mn in 2021.
Key Points Covered in Chilled Beam System Market Survey
Market estimates and forecast 2021-2031
Key drivers and restraints impacting market growth
Segment-wise, Country-wise, and Region-wise Analysis
Competition Mapping and Benchmarking
Brand share and Market Share Analysis
Key Product Innovations and Regulatory Climate
COVID-19 Impact on Chilled Beam System and how to Navigate
Recommendation on Key Winning Strategies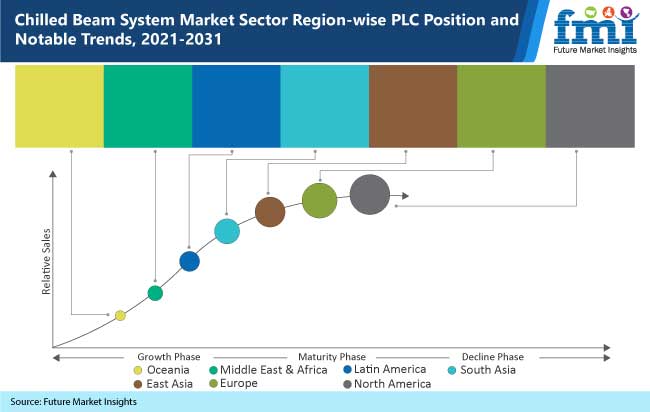 Chilled Beam System Market Historic Sales Compared to 2021-2031 Forecast Outlook
Demand for chilled beam systems rose at a steady pace between 2016-2020, with the market exhibiting a 4.7% CAGR. Rapid expansion in industries such as healthcare, infrastructure, and hospitality are spurring demand for chilled beam systems, and the trend is estimated to prevail in the upcoming years.
Sales of chilled beam systems experienced a downturn at the beginning of 2020 due to stringent lockdown restrictions to control COVID-19. However, as operations in many sectors started gaining ground, growing demand for chilled beam systems was observed.
As the novel coronavirus is airborne, several corporate offices and hotels chains have expressed their interest in incorporating chilled beam systems to prevent the distribution of airborne infectious particles. Owing to these factors, the market experienced year-over-year growth by 3.9% between 2020 and 2021.
Apart from this, emergence of smart cities and the need for efficient cooling systems across the residential sector, educational institutions, and industrial facilities will continue bolstering sales of chilled beam systems during the assessment period. As per FMI, the global chilled beam system sales are forecast to reach 175,000 units between 2021 and 2031
How will Demand for Energy Efficient Solutions Impacting Chilled Beam System Sales?
Rapid urbanization and industrialization in various developed and emerging economies are drastically increasing the rates of energy consumption across numerous diverse sectors. These sectors include residential, commercial, healthcare, education, hospitality, and industrial.
As per the U.S. Energy Information Administration, the electric power sector in the U.S. accounted for 96% of the total utility-scale electricity generation in 2020.
As environment pollution continues to rise, various sectors have shown interest in the usage of chilled beam systems to facilitate overall cooling and heating in buildings without using separate air-conditioning equipment for each room or area.
Chilled beam systems can significantly improve energy efficiency in HVAC systems, reduce excess consumption of energy and maintenance costs. These systems can be upgraded and designed around the existing cooling systems and are able to potentially reduce reheat and fan energy required.
In addition to energy efficiency and cost-effectiveness, chilled beam systems prove space-saving benefits by reducing the surface area used by 50% in supply and return chases. It also reduces carbon footprint by 30-40% and increases the usability of floor space in buildings.
These factors are indicative of high demand for chilled beam systems in the forthcoming years, finds FMI in this rep
Emergence of Multi-Service Chilled Beams To Create Growth Opportunities
Apart from active and passive chilled beam systems, applications of multi-service chilled beam systems are increasingly gaining traction in latest building designs and projects.
Multi-service chilled beam systems (MSCBs) integrate other components into the chilled beam casing such as lighting, cabling, ducts, audio equipment, and sensors. These systems are great alternatives for additional trunking and eliminate the need for a ceiling service void. Fitting directly to the soffit, MSCBs facilitate appropriate lighting and ventilation supply.
With customization, clients can avail hybrid systems that also incorporate a room-facing cooling surface to provide radiant heat exchange in rooms, along with the conducted heat exchange to air passing through coils and across extended ceiling surfaces.
The performance of chilled beam systems is determined by coil-to-air heat transfer, free area for airflow and temperature, and the flow rate of coil water. In terms of active beams, quality, volume flow, induction capability of primary airflow, and resulting diffusion of air is also determined.
In buildings where hybrid beams are applied, radiant heat transfer is the main criteria for performance judgment. The amount of air supplied into the room, whether from active beams or through a separate system, may align with fresh air requirements, latent cooling, and supplement optimal and consistent cooling by the chilled beam.
Multi-service beams can be active and passive while including additional items such as sprinkler opening, cable pathways, lighting, and speakers. Inclusion of these items makes the initial installation cost of multi-service beams a little more expensive. However, as they offer optimal fitting of various other systems, the installation is fairly easier.
Condensation in chilled beam systems can be a deterrent. However, it can be prevented by placing proper control systems. By using dew point sensors, condensation can be detected and later disabled when conditions are favorable for condensation. Apart from this, moisture sensors can also be included.
In addition to easy installation, multi-service beams offer easily accessible spaces for maintenance, sophisticated designs according to the end-users needs, and reduction in time required to construct buildings. These factors are driving application of chilled beam systems across various construction projects such as hotels, universities, corporate offices, and residential complexes.
Risk of Water Leaks and High Set-Up Cost May Impact Market Growth
Applications of chilled beam systems are rising at a considerable pace, however, a lack of awareness regarding the advantages of chilled beam systems in emerging economies may act as a restraining factor for market growth.
Moreover, high initial costs pertaining to the installation and maintenance of chilled beam systems are restricting their adoption. Chilled beam systems save costs in terms of ductworks, fans, and additional controls, but the charges of pipe insulation, pumps, beams, and piping may fall on the expensive side.
As chilled beams are water-based systems, there is a prevailing risk of water leakage through piping and valves, which might cause damage to ceilings and beam systems. In addition, chilled beam systems lack air filters that are present in traditional HVAC systems which increases the chances of dust and particle deposit in valves and piping, leading to water contamination and foul odor.
Country-wise Insights
What is Driving Chilled Beam Systems Market in the U.S.?
Adoption of chilled beam systems in the U.S. is relatively new as compared to European countries. Owing to numerous benefits offered by chilled beam systems such as space-saving and highly sophisticated cooling distribution systems, numerous end-users are expressing their interest in chilled beam systems.
As per FMI's in-depth regional analysis, North America chilled beam systems market is projected to grow at a steady 5.6% CAGR, with a favorable demand outlook in the U.S.
Additionally, rapid development of commercial and residential projects will continue driving adoption of chilled beam systems in the U.S. Rapid industrialization and government-backed initiatives to promote 'green buildings' in the U.S
Chilled beam systems effectively facilitate energy conservation, which in turn is driving its applications in healthcare facilities, research centers, laboratories, airports, shopping malls, and corporate offices.
How Will Chilled Beam Systems Sales Fare Across the U.K.?
Expansion of the tourism sector in the U.K., coupled with growing need for effective cooling and heating systems in boarding complexes and residential projects are anticipated to steer sales of chilled beam systems in forthcoming years.
The adoption of chilled beam systems has beam prevalent in European countries for many years. However, with product improvements and introduction of hybrid chilled beam systems, the applications of chilled beam systems are anticipated to experience significant upticks.
Further, the influx of tourists and students in the U.K. is driving developments in the hospitality and education sector, which in turn is propelling sales of chilled beam systems in the country. FMI projects the European chilled beam systems market to grow at a moderate 5.3% CAGR through 2031.
Why Germany is Considered an Attractive Market for Chilled Beam Systems?
Germany is one of the key exporters and producers of chilled beam systems in the world. The presence of leading players and the demand for technologically advanced heating and cooling systems in Germany are key factors augmenting chilled beam systems market growth.
Apart from this, the presence of robust healthcare infrastructure and increasing tourist population in the country is generating demand for chilled beam systems. These trends will continue prevailing in the upcoming years, which in turn will shape the sales outlook of chilled beam systems positively, opines FMI.
Will India Emerge as a Lucrative Chilled Beam Systems Market?
Rapid urbanization and the development of smart cities in India are creating high demand for chilled beam systems in the country. Modern infrastructure projects are replacing traditional ventilating systems with chilled beam systems to achieve energy efficiency and optimal results, further driving sales of chilled beam systems.
Moreover, growth in the corporate sector and the emergence of smart cities in the country are anticipated to boost the adoption of chilled beam systems in India.
Category-wise Insights
Standard Chilled Beam to Hold Maximum Market Share Based on Design
Based on design, the standard segment is projected to account for maximum sales of chilled beam systems. Cost-effectiveness, convenience, and optimal cooling and heating facilities offered by standard chilled beam systems will continue boosting its adoption in the upcoming years.
Sales of customized chilled beams are also projected to gain traction during the forecast period. Various market players are offering customization according to end-users needs, resulting in specialized cooling systems that are low-maintenance and complement different building structures. These factors will continue augmenting growth of the chilled beam systems in the long run.
Concealed Chilled Beam Systems to Remain Highly Sought After
In terms of product type, sales of concealed chilled beam systems are expected to dominate the segment. Concealed chilled beam systems enhance the décor and aesthetic appeal of buildings and actively facilitate air conditioning in the environment.
Further, concealed chilled beam systems can be easily integrated with retrofit projects where unit ventilators, induction units, and under sill units are being replaced. These systems reduce sound levels as compared to other cooling products and utilize existing piping and ductwork to save costs, which in turn is propelling their adoption.
Applications of Chilled Beam Systems To Increase in Corporate Offices
In recent years, applications of chilled beam systems in corporate offices have increased significantly, and the trend is anticipated to prevail throughout the forecast period.
Growth in this segment can be attributed to growing need for replacing traditional cooling and heating systems such as fans and ventilators with advanced, cost-effective solutions that facilitate hassle-free ventilation.
In addition, chilled beam systems reduce sounds and provide constant cooling and heating, which is imperative in corporate offices. These factors make chilled beam systems an ideal ventilation solution for offices, further driving their adoption in various old and new buildings.
Competitive Landscape
As per FMI's market analysis, top 5 players operating in the chilled beam systems market comprise SAS International Limited, Lindab International AB, Halton Group, Trox GmbH, and Caverion Corporation, holding 58.5% of the total market share.
Prominent players operating in the chilled beam systems market are emphasizing strategic collaborations and partnerships to expand their global footprint. Apart from this, product portfolio expansion and robust aftersales services will remain key growth strategies among leading players. For instance:
In August 2021, Johnson Controls, a global leader in smart and sustainable building solutions, announced a strategic collaboration with Apollo Global Management, a leading global asset manager, to provide sustainable and energy-efficient solutions various sectors to address decarbonization and high operational costs in buildings.
In July 2021, Caverion Corporation acquired GTS Immobilien GmBH, a leading building automation service provider in Austria. Through this acquisition, Caverion is aiming to strengthen its market position in smart technologies and building automation solutions for diverse end-uses.
Scope of Report
Attribute

Details

Forecast Period

2021-2031

Historical Data Available for

2016-2020

Market Analysis

USD Million for Value

Key Regions Covered

North America, Latin America, Europe, East Asia, South Asia, Oceania, and the Middle East & Africa

Key Countries Covered

US, Canada, Germany, U.K., France, Italy, Spain, Russia, China, Japan, South Korea, India, Thailand, Malaysia, Indonesia, Australia, New Zealand, GCC Countries, Turkey, Northern Africa, and South Africa

Key Segments Covered

Product Type, Design Type, End-Use Type and Regions

Key Companies Profiled

Barcol Air Group AG
Dadanco Europe
TROX GmbH
Emco Bau- und Klimatechnik GmbH & Co. KG
LTG Aktiengesellschaft
Roccheggiani S.p.A
FTF Group
Johnson Controls International Plc
Lindab International AB
Caverion Corporation
Halton Group
Mestek, Inc.
FlaktGroup
Price Industries Inc.
NuClimate Air Quality Systems, Inc.
SAS International
Nijburg Industry Group.

Report Coverage

Market Forecast, Company Share Analysis, Competition Intelligence, DROT Analysis, Market Dynamics and Challenges, and Strategic Growth Initiatives

Customization & Pricing

Available upon Request
Chilled Beam System Market by Category
By Product Type:
Concealed

Active
Passive
Multiservice

Exposed

Active
Passive
Multiservice

Recessed

Active
Passive
Multiservice
By Design Type:
By End-User Type:
Educational Institutions
Healthcare Facilities
Corporate Offices
Hotels/Restaurants
Other Institutions (Military, Residential, Industrial, etc.)
By Region:
North America
Latin America
Western Europe
Eastern Europe
Asia Pacific excluding Japan (APEJ)
Japan
Middle East and Africa (MEA)
Need specific information?
Talk Show:
The Rise of Intelligent Packaging
Personalized, Connected and Sustainable
November 18, 2021
11:00-11:45 AM PST (USA & Canada)
This is a LIVE session