Portable Machine Diagnostics to Shape Revenue Growth
Portable machine diagnostics deliver accurate measurements on equipment conditions and performance with greater reliability compared to handheld devices. Owing to their mobility, they are deployed on several components of machinery without being connected to a particular detail of a system.
By 2023, portable machine diagnostics would enter the billion-dollar club, as per the study. Route-based monitoring is an immediate monitoring method to identify vulnerable areas in the machinery. However, the operation provides rough estimates, as such, its application is expected to dip in the near term.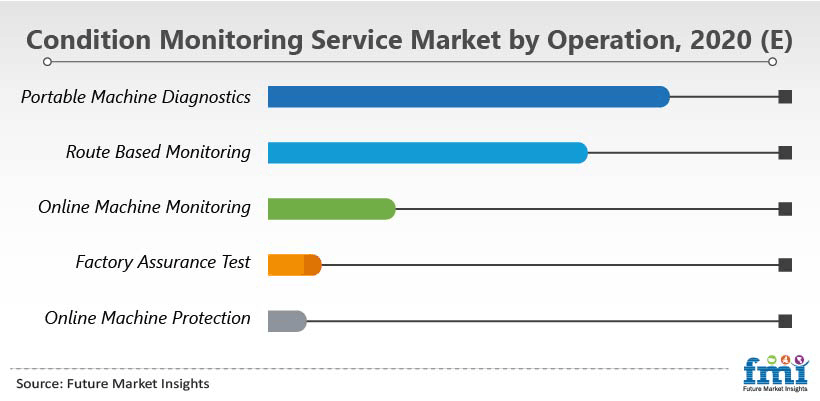 North America at Driver's Seat, South Asia to Reflect Potential Opportunities
North America leads the aerospace and defense industries as well as oil & gas industry. Tech-driven transformations hovering around cybersecurity and efficient monitoring of maritime and aerospace systems are gaining pace. Demand for high-accuracy and real-time in these verticals is propelling the condition monitoring service market in North America.
Market players in the region are following M&A, and allocating substantial capital to R&D in aerospace and defense. South Asia also holds meaningful business prospects, given surging investments in power generation, and petrochemical industries. Governments in the region are urging private sector players to achieve power efficiency, thereby, fueling the need for condition monitoring service.
IoT-enabled Condition Monitoring Service to Gather Center Stage
Internet of Things (IoT) has enabled greater scale of precise monitoring and real-time optimum response to physical equipment in the system. The innovative technology allows condition monitoring service to be executed on all kinds of assets across every industry, thus, creating tech model that is unlock lucrative business opportunities.
IoT-enabled condition monitoring systems help industrials in ensuring better production efficacy, reduced downtime, and regulatory compliance. Amidst the Industrial 4.0, these future-proof IoT testing equipment are becoming essential in delivering data for smart factory use cases such as predictive maintenance (PdM), and digital twin technology.
How Growth will Unfold
The ability of vibrational analysis to predict possible deformities makes it a preferable technique to enhance asset efficiency, plan maintenance, and avoid unscheduled standstill. About 7 out of 10 players in condition monitoring service market are investing in vibrational analysis. On the other hand, devising a proper oil analysis framework is essential in sustaining plant operations.
FMI finds that inefficient lubrication methods result in over 50% of machinery and bearing deformities. Consequently, market players are also shifting capital investments toward oil analysis technique.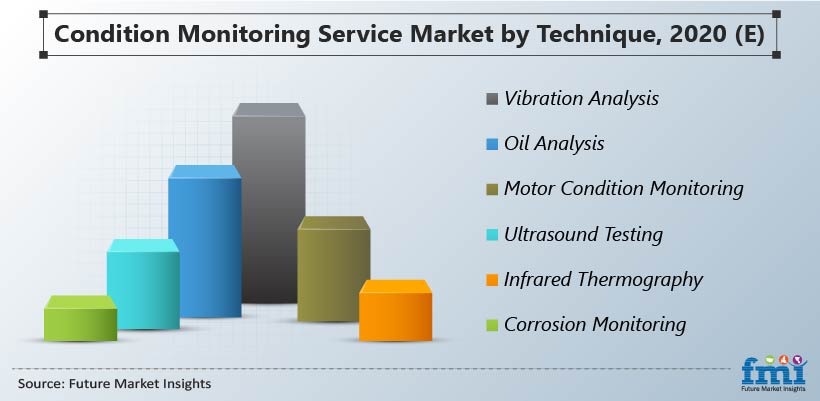 CONDITION MONITORING SERVICE MARKET TAXONOMY
Technique
Vibration Analysis
Corrosion Monitoring
Infrared Thermography
Ultrasound Testing
Motor Condition Monitoring
Oil Analysis
Operation
Route Based Monitoring
Portable Machine Diagnostics
Online Machine Monitoring
Online Machine Protection
Factory Assurance Test
End Use Industry
Oil & Gas
Power Generation
Aerospace & Defense
Automotive & Transportation
Marine
Mining & Metal
Food & Beverage
Chemical & Petrochemical
Region
North America
Latin America
Europe
East Asia
South Asia
Oceania
MEA
Need specific information?
Talk Show:
The Rise of Intelligent Packaging
Personalized, Connected and Sustainable
November 18, 2021
11:00-11:45 AM PST (USA & Canada)
This is a LIVE session