An Incisive, In-depth Analysis on the Ddi Market
This study offers a comprehensive, 360 degree analysis on the Ddi market, bringing to fore insights that can help stakeholders identify the opportunities as well as challenges. It tracks the global Ddi market across key regions, and offers in-depth commentary and accurate quantitative insights. The study also includes incisive competitive landscape analysis, and provides key recommendations to market players on winning imperatives and successful strategies.
COVID -19 : Impact Analysis
Request the coronavirus impact analysis across industries and markets
Request Covid -19 Impact
The DDI (DNS, DHCP, and IPAM) market report by Future Market Insights provides information about market value (US$ Mn) projections, market dynamics, trends, forecast factors and key developments in the global DDI market for the period 2018 to 2028.
Globally, the revenue generated from the sales of DDI solutions and services is projected to reach beyond US$ 1.5 Bn by the end of 2028, witnessing an estimated CAGR of 15.7% between 2018 and 2028.
Rising Adoption of BYOD Trend at Workplaces to Assist DDI Market Growth
Several large enterprises as well as SMEs have implemented the bring-your-own-device (BYOD) policy, setting a popularly growing trend. According to the study, this trend will contribute significantly in the improvement of productivity through flexible utilization of resources with an aim to meet growing business demands. With this trend, enterprises are seeing a large number of connected devices in workplaces, such as smartphones, tablets, and cameras.
Moreover, the Internet of Things (IoT), in addition to a rising tide of billions of new connected devices, is also bringing an onslaught of wireless devices and services to enterprise networks. This growing trend increases the complexity of networks, adding more network management points and more IP addresses consumed per physical machine. All of these virtual and physical devices need reliable and fast connectivity. Enterprises primarily depend on DDI services to provide that connectivity.
DDI Solution and Service Providers Focus on New Launches, Acquisitions to Remain Key Strategy across Value Chain
Key players competing in the global DDI market are likely to maintain their strategic focus on the introduction of new software solutions, besides investments in acquisitions. For instance, Men & Mice has released the latest version of Men & Mice Suite, a cloud-ready solution for the management and automation of DDI operations. Also, Infoblox recently announced an agreement to be acquired by an investment firm.
Large Enterprises – A Key Organization Size Segment for DDI
The global DDI market has been segmented based on organization size into large enterprises and SMEs. Considering the market value, SMEs will register around 4.6X growth during the forecast years. Demand for DDI solutions and services within SMEs is anticipated to surge with the growing criticality of addressing organizational challenges, in form of network management and cost optimization. These organizations must maintain the high level of security, which will continue to generate demand for effective DDI services and solutions.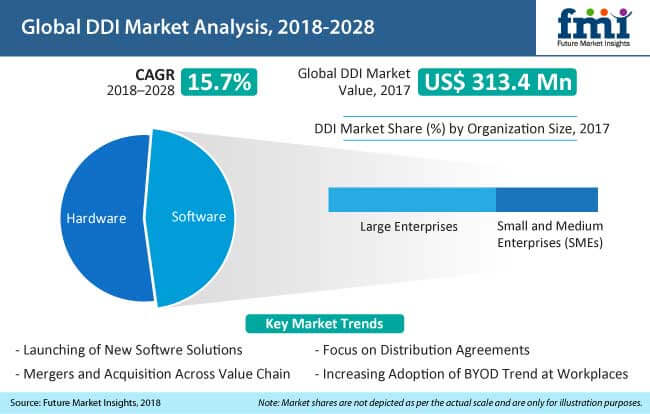 North America Secures a Strong Hold over DDI Market
Rising adoption of Internet Protocol Version 6 and growing need for effective management of IP addresses across various enterprises in North America is anticipated to provide growth opportunities to DDI market players in the region.
In terms of software solution sales and services, North America market is expected to hold a major share in the global DDI marketplace. Middle East and Africa is anticipated to register 6.6X growth in the value terms in the global DDI market while the Oceania DDI market is estimated to account for a very small share over the forecast years.
DDI Market – Competitive Landscape
Some of the key market participants included in this report on the global DDI market are Infoblox, Inc., Cisco Systems, Inc., BlueCat Networks, Inc., Nokia, TCPWave Inc., PC Network Inc., Men & Mice, EfficientIP, ApplianSys, FusionLayer, BT Diamond IP, Microsoft Corporation and NCC Group plc.
The global DDI market is partly fragmented with top 3 players accounting for more than half of the overall market share at the end of 2017.
The global DDI market has witnessed various developments in the recent past. Mergers and acquisitions across the value chain and product launches have been found to be the key strategies employed by solution and service providers of DDI across the globe.
In July 2018, Men & Mice released its latest version of Men & Mice Suite v9.1, a solution for the management and automation of DDI (DNS, DHCP and IPAM) operations.

Infoblox, Inc. announced the entry in a definitive agreement to be acquired by a private investment firm, a couple of years ago, that focused on software and technology-related businesses.
Key Queries Answered in the Report
How has the DDI market evolved in the past four years and what is the outlook for the next decade?

What are the key market trends and strategic developments in the DDI market?

What are the key challenges faced by the DDI solution and service providers?

What are the market dynamics in the global DDI market?

What are the strategies and market positioning of DDI solution and service providers as per the DDI market taxonomy?

What is the DDI market structure at present and how has it evolved in the past few years?
Future Market Insights, in its report titled "DDI Market: Global Industry Analysis 2013–2017 and Opportunity Assessment, 2018–2028", offers detailed insights and in-depth research on the global DDI market for a 10-year forecast period, i.e. from 2018 to 2028. The report covers important factors driving the growth of the global DDI market, untapped opportunities for solution and service providers, trends and developments shaping the dynamics in the global DDI market and other insights across various key segments. As per the findings of the DDI market study and perspectives of industry participants, the global DDI market is projected to grow at a CAGR of 15.7% between 2018 and 2028, in terms of value
Future Market Insights' report on DDI market carefully analyses the market at a global and regional level through segmentation on the basis of key parameters, such as component, application, deployment type, organization size, vertical and region. The primary objective of the report is to offer key insights on competition positioning, market updates, market potential, current trends, growth rates and other relevant information and statistics in a suitable manner to the readers or various stakeholders of the DDI market
The DDI (DNS, DHCP and IPAM) market, as considered under the scope of the research study, includes the market sizing of only DDI based software and services and does not include the market sizing of DDI hardware.
Each section of the report is structured to facilitate the readers to develop a thorough understanding of the behaviour or dynamics of the DDI market. The report begins with the DDI market definitions, followed by DDI market trends, global DDI market analysis, DDI market background, global DDI market analysis by respective segments, regional market analysis and competition landscape section. Each section of the report covers quantitative as well as qualitative assessment of the DDI market on the basis of facts, historical developments and key opinions collected from industry participants in the global DDI market through dedicated interviews.
Global DDI Market Segmentation
To understand and assess opportunities in the global DDI market, we have divided the report into six sections based on market segmentation as below:
By Component

By Application

By Deployment Type

By Organization Size

By Vertical

By Region

Solutions
Services
Managed and Support Services
Professional and Training Services

Network Automation
Virtualization and Cloud
Data Center Transformation
Network Security

Large Enterprises
Small and Medium Enterprises (SMEs)

Information (Telecommunication & IT)
Finance & Insurance
Public Administration
Health Care and Social Assistance
Educational Services
Retail Trade
Manufacturing

North America
Latin America
Europe
Middle East and Africa (MEA)
East Asia
South Asia
Oceania
The market value for all segments has been taken in US$ Mn in the global DDI market. The global DDI market values represented in these sections have been agglomerated by collecting data and information at the regional level. DDI market information, along with key facts and insights, covers various unique analysis frameworks, such as attractiveness analysis and absolute $ opportunity analysis for each of the segment.
The subsequent section of the report presents a summarised view of the global DDI market based on seven prominent regions with market numbers represented for key countries considered in the study. The section discusses growth potential, regional market position, market attractiveness and trends for each of these regions. The DDI market analysis section covers regional trends and market projections for each segment, including Y-o-Y trends, market share analysis, incremental $ opportunity assessment and market attractiveness.
Above mentioned sections gauge the contemporary market scenario and growth prospects in the global DDI market while the forecast presented in the sections assess the market size in terms of value only.
Another crucial feature included in FMI's comprehensive report is the analysis of all key segments in the DDI market and regional adoption, along with revenue forecast in terms of absolute dollar opportunity. This is traditionally overlooked while forecasting the market. However, absolute $ opportunity is critical in assessing the level of opportunity that a provider can look to achieve in the DDI market.
In the last section of the report, a competitive landscape has been included to provide report audiences with a dashboard view categorised on the basis of solution and service providers in the value chain, their presence in the DDI market and key differentiating strategies and factors. The primary category of providers covered in the report include DDI solution and service providers, distributors and end-users.
The report provides detailed market share analysis of the DDI market on the basis of tier structure. Detailed profiles of manufacturers have also been included within the scope of the report to evaluate strategies, key offerings and recent developments in the global DDI market.
Akshay Godge
Client Partner - Global Business Development
CASE STUDIES
See how our work makes an impact.
At FMI, we design strategies that are adaptive, impactful, and implementable.