Global Defence Communication System Market- Key Research Findings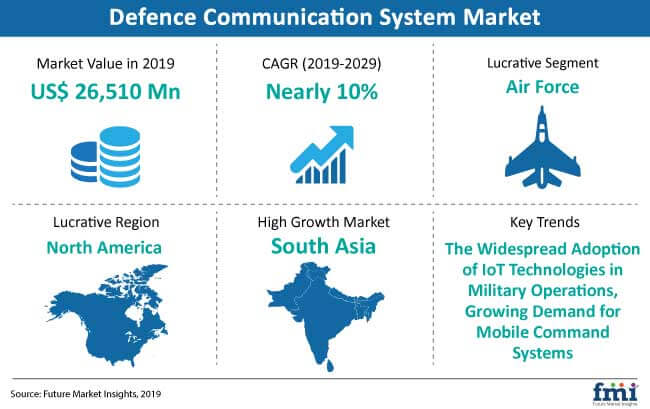 The global defence communication system market is estimated to be valued at approximately US$ 26,500 Mn in 2019
The defence communication system market is projected to expand at a CAGR of approximately 9.5% during the forecast period (2019-2029)
The emergence of IoT within the military network environment and the growing demand for mobile command systems are among factors that are expected to support the growth of the global defence communication system market during the forecast period
North America is a prominent regional market for defence communication systems as of 2019

Significant expenditure on military and defence, rigorous R&D activities across the region, and increase in the penetration of advanced technologies has boosted the defence communication system market in North America.

South Asia holds a high growth potential for the defence communication system market

South Asian countries, such as India and Thailand, are witnessing technological advancements in the fields of military & defence and others. Moreover, the government of India is encouraging foreign investors to invest in different sectors. Due to these factors, there are lucrative opportunities for the providers of defence communication system solutions in the region.
Key Factor Influencing Growth of Defence Communication System Market
IoT in the military network environment
The widespread adoption of IoT technologies is significantly affecting many aspects of military operations. The growing number of battlefield assets are now becoming networked entities, due to capillary and high-density personal & environment sensor systems. The adoption of IoT technologies in military operations significantly benefits military intelligence, surveillance, and reconnaissance operations.
Moreover, the exponential growth of the IoT market is producing more powerful and energy-efficient defence communication devices. Furthermore, advancements in miniaturisation, radio frequency identification, low-power computing, and machine-to-machine communication are also among factors that are creating potential growth opportunities for the defence communication system market.
Defence Communication System Market Structure Analysis
Increasing military reliance on commercial wireless technologies, and the rising demand for satellite communication equipment are among the major factors driving the growth of the global defence communication system market. However, continuous developments in defence infrastructure are some of the recent trends in the defence communication system market. Leading market players are focusing on the development of space infrastructure in emerging economies.
The Rise of Next-Gen Defence Communication Systems
The military & defence communication systems landscape is witnessing the rise of next generation solutions. Integration of text and data capability in the traditional voice-only systems have facilitated data delivery, which range from videos and images, to mapping in the battlegrounds. Innovation across the spectrum of engineering disciplines are likely to stave off challenges in modernising defence communication systems, while enabling upgradation to future waveforms.
Market Set to Grow 2.5X through 2029
Defence communication systems are witnessing increased deployments, ensued by operational requisites in integrating modern communication systems into reconnaissance architectures. The urging need for new terrestrial networks for enhancing the operational agility will add to demand for defence communication systems.
Attractiveness of Developed Markets Intact
Opportunities for defence communication system developers remains robust in developed markets, as the technology continues to evolve past standard two-way to multiple device communication, with point-to-point wireless link having low latency. The leverage of software defined radios and interoperable communication, which facilitate operations at distinct frequencies and protocols, will further create lucrative opportunities for the market stakeholders.
The Broader Outlook
The move toward switched digital services is evident in defence communication systems industry, alongside component-based advances to cater high performance requirements. Developments in the microwave radio technology, to covert transmission facilities from analogue to digital, will augur well for growth of the defence communication systems market.
What Does it Mean for Stakeholders?
Demand for defence communication systems in North America and Europe remain relatively higher, owing to growing military dependency on commercial wireless technology. However, South Asia and East Asia present lucrative opportunities for defence communication system developers, as government investment in military & defence grows unabated in these regions.
DEFENCE COMMUNICATION SYSTEM MARKET TAXONOMY
The global Defence Communication System market is segmented in detail to cover every aspect of the market and present a complete market intelligence approach in front of the reader.
By Product Type
Systems

Satellite Communication Systems
Radar &Sonar Systems
Radio Systems

Services

Consulting
Testing & Integration
Support & Maintenance
By Application
ISR (Intelligence, Surveillance, and Reconnaissance)
Situational Awareness
Command & Control
By Military Branch
Air Force
Land Force
Naval Force
Need specific information?