Marine Communication Market By Product (Marine Radio Devices, Marine Multifunction Displays, Automatic Identification Systems, Vessel Monitoring System Terminals), Service (Consulting Services, Integration & Installation Services), Application (Fishing Boats/Vessels, Merchant Ships) & Region - Forecast to 2021 - 2031
Marine Communication Market - Analysis, Outlook, Growth, Trends, Forecasts
March 2021

REP-GB-13029

386 pages
About the Report
The global marine communication market is expected to surpass US$ 8.6 billion in 2031, according to a latest study by market research firm Future Market Insights (FMI). Growing need for high-quality, secure and reliable communication between shores and ships has increased the demand for marine communication systems and its solutions.
Moreover, as demand for global freight increases, maritime trade volumes are set to triple to 2050. Thus, the increasing ocean trade activities across several countries of the world has increased the demand for marine communication systems on merchant ships and cargo vessels.
In its new study, ESOMAR-certified market research and consulting firm Future Market Insights (FMI) offers insights about key factors driving adoption of marine communication. The report tracks global sales of marine communication products in 20+ high-growth markets, along with analyzing the impact of COVID-19 on the global adoption of marine communication solutions, along with the pre-COVID and post-COVID market growth analysis.
Historical & Future Projections
Between 2016 and 2020, sales of marine communication grew at a CAGR of 7.3%. Increasing adoption of satellite-based equipment has fueled the demand for marine communications systems.
Satellite communication plays a critical role in managing the integration of modern satellite communication into existing communications and reconnaissance architectures. The development of satellite communication infrastructure helps in providing new terrestrial communication networks to increase operational agility.
Various vendors are developing advance satellite systems to reduce the time gaps and cover a wider geographical location.
For instance, Inmarsat a global satellite communication provider, offers a geostationary system that has four operational satellites. One each is mounted over the Pacific and Indian Oceans and a further two cover the Atlantic Ocean for faster and reliable land and marine communication.
Owing to these broad factors, the marine communication demand is likely to increase, expanding at a CAGR exceeding 7.8% throughout the 2021-2031 assessment period.
How Demand from Defense Sector will Impact Adoption Rate?
The Coast Guard and the Army Corps of Engineers are pioneering the future of riverine, intra-coastal, and coastal navigation. To increase coastal safety and security, the Coast Guard Office of Navigation Systems and Coast Guard Research and Development Center are working with the Army Corps of Engineers Research and Development Center.
Defense sectors in many countries are continuously focusing on the improvement of navigation and communication for autonomous and continuous broadcast systems that exchange safety and security information between participating vessels and shore stations. This continuous research and development by the defense sector is creating a huge competition among vendors for technological advancements in the communication system, and contributing to the growth of the market.
Emergence of 5G in Marine Communication
The current marine communication operates through VSAT support and legacy voice and data communication. 5G is expected to open up infinite possibilities in maritime communication. The emergence of 5G based communication satellite system gradually taking their place in the maritime sector, 5G based communication systems will improve high-quality voice and data communications and cybersecurity will be available at a lower price point.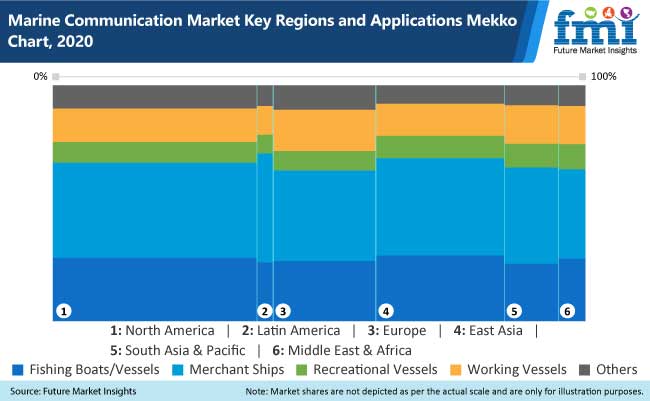 The 5G will also strengthen connectivity and cyber security, for shipping companies and vessels as well. Furthermore, maritime 5G will also facilitate the adoption of autonomous vessels with low latency connectivity for remote operation and hasten the use of Internet-of-Things sensors during search-and-rescue for real-time communications and accurate positioning.
How Government Regulations and Compliances is Boosting Adoption of Marine Communication Systems
The growing concerns of safety & security, search & rescue, and aid to navigation and monitoring of marine transportation has increased the use of marine electronic devices. For instance, Governments are implementing various regulations for mandatory installation of AIS in ships and boats.
In March 2016, the U.S. government introduced new United States Coast Guard regulations for commercial vessels working near the U.S. coast. These new regulations will mandate all U.S. flag and foreign flag commercial vessels to install and operate USCG type approved AIS transceivers.
The USCG's new AIS rules and requirements are intrinsic to the international development of e-Navigation, an effort adopted by the International Maritime Organization (IMO) and the International Association of Marine Aid to Navigation and Light House Authorities (IALA).
What Factors Are Affecting the Adoption of Marine Communications?
One of the key factors hampering growth and adoption of marine communications is the insecure mode of data transmission. Since communication systems totally rely on wireless systems for the transmission of information, a number of new attacks on wireless transmission of information are evolving in order to misguide ships.
Attacks such as denial of service prevent the accurate information about the position and speed of a ship from being received at the destination. Also, these days, attackers modify the information of ships in order to capture them by navigating them into hostile and attacker controlled sea space. As a result, insecure transmission of information may hamper the market growth for marine communication systems.
Continuous Innovations and the Development of Marine Communication Systems
New technologies are continuously being developed related to communication and navigation. Furthermore, the integration of IT in communication has paved the way for usage of electronic devices in a large number of applications, thereby greatly enhancing its utility.
For instance, the use of Big Data Analytics on AIS helps vessels and shipping companies to predict and detect anti-national activities with the support of domain awareness and maritime intelligence. As a result, the development of advanced AIS is expected to result in enhanced utility and productivity, thereby leading to the growth of marine communication systems.
Also, in past few years, it has been observed that key players are focusing on entering into partnership with other players in the market to offer advanced products and solutions to the customers.
For instance, in July 2018, SRT Marine entered into the partnership with Japan Radio Co. in order to offer customized AIS solutions to its customers.
Market Share Analysis of Marine Communication Vendors
The marine communication market is highly concentrated and the concentration may be attributed to the majority share held by local and emerging marine communication providers. The companies that hold market share of 10% to 12% are tier-1 companies and this group includes players like Inmarsat, FURUNO ELECTRIC, and Icom, Inc.
The companies above 7% and below 10% are the promising players. These companies are likely to showcase a quick growth trend and harness the opportunities that the global market has to offer to accommodate business expansion and revenue generation. This group includes Garmin Ltd, Cobham SATCOM, and Intellian Technologies.
Companies that have a relatively lower size with a market share worth less than 7% are strategizing to attract new clientele in foreign markets. The companies in this group are Samyung ENC, Standard Horizon, and Jotron.
Country-wise Analysis
U.S. Marine Communication Adoption Trend
Until 2020, marine communication value across the United States experienced a Y-o-Y growth of over 9.1% to reach US$ 835.7 Mn. The market is set to further aggrandize at a CAGR of nearly 8.4% through 2031.
FMI has projected U.S. to remain one of the most lucrative markets throughout the course of the forecast period, owing to continuous developments in satellite-based communication systems. According to estimates, the marine communication shipment in U.S. has increased by 4% due to rise in maritime tourism and increase in U.S. seaborne trade.
Moreover, increased demand for enriched content from seafarers, crew and passenger has caused a major spike in the growth of U.S. marine communication market.
Moreover, heightened demand, specifically from the oil and gas vessels, merchant shipping, mining ships, and passenger shipping sectors has propelled the growth of U.S. marine communication market.
U.K. Maritime Shipping and Communication Trends
The UK has strong international standing as a center for design, engineering, marine equipment and research, coupled with its position as the world's leading maritime financial, professional and business services hub. Also, U.K. has a geographical comparative advantage when it comes to Arctic shipping.
In coming years, U.K. is expected to see increase in demand for maritime communication systems and infrastructure, from the development of remotely operated vessels to the need for increased satellite coverage of remote areas like the Arctic.
Moreover, the government of U.K. and the maritime communication tech players are collaborating to develop advance communication system for shipping and autonomous vessels. The growing demand for marine communication products from shipping companies is driving the growth of UK marine communication market. The U.K. marine communication market is estimated to reach a valuation of 228.7 Mn by the end of 2031 by registering a CAGR of 9%.
China Remains a Key Market
China is estimated to record an incremental opportunity worth US$ 425.2 Mn during the forecast period. Chinese government is continuously focusing on development of advanced satellite communication systems to ensure secure and reliable communication in land and maritime industries.
For instance, Amid COVID-19, in July 2020, China has successfully launched its APSTAR-6D telecommunication satellite. The satellite can be used for maritime communications, aviation airborne communications, land vehicle communications, and fixed satellite broadband Internet access.
Moreover, the South China Sea is a prominent shipping passage with $5.3 trillion worth of trade cruising through its waters every year. That's nearly one-third of all global maritime trade. As the second-largest economy in the world with over 60 percent of its trade in value traveling by sea, China's economic security is closely tied to South China Sea.
Thus, to enhance the communication in marine tread activities, China government is continuously focusing on investing on construction of new marine communications systems and infrastructure, which in return, would drive the growth of China marine communication systems market.
India Marine Communication Market Overview
India is estimated to register a high growth with a CAGR of 10.9% during the forecast period owing to rise in India's Navy defense spending along with the government's initiative towards development of quality broadband services to the maritime sector would drive the market growth in India.
Government of India is continuously focusing towards enhancing the marine communication systems by introducing advanced communication technologies to enable high-end support to employees/passengers travelling on sailing vessels, cruise liners and ships in India by making use of satellite technology and provide access to voice, data and video services.
For instance, in September 2019, the government has announced that, NELCO Ltd, the leading VSAT solutions provider of India to launch maritime communication services that will provide quality broadband services to the maritime sector.
The maritime sat phone & internet device segment in India is witnessing the high growth with a CAGR of 15% and is estimated to record the incremental opportunity worth US$ 78.9 Mn during the forecast period.
Category-wise Insights
Which Marine Communication Products have Higher Demand?
The maritime sat phones & internet devices are expected to show significant growth rates in the coming years, owing to increasing maritime satellite developments and adoption of new generation broadband satellite services.
Globalization has opened the doors for trade across the world and it has thus become necessary for ships to be equipped with the latest forms of communication and technology. Maintaining strong communication is perhaps the most important part of ensuring the safety of vessels in the maritime industry.
To ensure the smooth facilitation of trades and other services, it is essential for all the ships and vessels on the water to maintain proper maritime communication. Satellite communication enables the crew onboard ships to be able to connect with other ships and teams to keep them updated with the current situations on-board in real-time, which helps reducing errors and thereby increasing efficiency. The segment is witnessing the high growth with a CAGR of 11% and is estimated to reach USD 1,214.5 Mn by 2031.
How Big is the Opportunity in Shipping Sector?
Merchant shipping is mainly used for carrying passengers or cargo for commercial purposes. To stay updated with the changing communication trends, shipping companies are accordingly designing and manufacturing ships and passenger vessels to ensure crew and passenger loyalty and satisfaction.
In recent years, satellite communication technology has been adopted by several shipping companies for the development of advanced ships and vessels. This technological advancement helps merchants gain higher profit through reliable communication services that maintain operational efficiency.
What is the Market Share for Marine Radio Devices?
By product, marine radio devices are estimated to hold a largest market share of 25.2% in 2020, owing to huge adoption of recreational boating in several countries of the world opens new possibilities for VHF radio equipment manufactures since boaters must use the finest channel when communicating on VHF radio.
Players are focusing on offering high standard VHF radio systems to ensure passenger safety and fast communication. Equipment's like Marine VHF Radios and GPS Systems have become the core necessity of any kind of marine traveling, as these systems offers the ability to extend the range of communication at the time of crucial in unexpected situations.
Competition Landscape
FMI has profiled the following prominent marine communication providers in its report:
Icom Inc
Inmarsat
Furuno Electric Co., Ltd.
Garmin Ltd.
FLIR Systems, Inc.
Cobham SATCOM
Navico
Jotron
Intellian Technologies
Bochi Corporation
Avatec Marine
HZH Marine Group Co., Ltd.
Matsutec
The aforementioned players rely on multiple expansion strategies to deepen penetration across lucrative markets. These strategies include product launches, collaborations with key players, partnerships, acquisitions and strengthening of regional and global distribution networks.
In March 2019, Icom Inc. releases the IC-M37 VHF marine transceiver. The IC-M37 is designed for professional users in waterfront areas or on-board staffs. The 6 W output power is well-suited for long-distance communication, and the powerful 700 mW audio output provides clear communication even in noisy environments.
In January 2020, Inmarsat entered into strategic collaboration with ITC Global to help organizations to combine their highly complementary services to offer broadband connectivity, paired with high-value connectivity solutions to customers in the maritime, yachting and offshore energy sectors.
In June 2020, Cobham entered into partnership with GRUPO ARBULU, a global leading group of specialized companies in the tech marine solutions sector, designed to further the provision of high performing and reliable connectivity in key marine verticals.
Marine communication Market Report Scope
Attribute

Details

Forecast Period

2021-2031

Historical Data Available for

2016-2020

Market Analysis

US$ Mn for Value & Units for Volume

Key Regions Covered

North America, Latin America, Europe, East Asia, South Asia & Pacific, and Middle East & Africa

Key Countries Covered

U.S., Canada, Germany, Italy, France, U.K., Spain, GCC and South Africa

Key Segments Covered

Products, Services, Applications, and Region

Key Companies Profiled

Icom Inc
Inmarsat
Furuno Electric Co., Ltd.
Garmin Ltd.
FLIR Systems, Inc.
Cobham SATCOM
Navico
Jotron
Intellian Technologies
Bochi Corporation
Avatec Marine
HZH Marine Group Co., Ltd.
Matsutec

Customization & Pricing
World's Most Profilic Intelligence Engine
Get Access To The World's Largest Market Research Database.
Sign Up Now
Key Segments Covered of the Data center Market
Product
Marine Radio Devices

Fixed-Mount VHF Marine Radios
Handheld Marine VHF Radios
MF/HF Radios

Marine Multifunction Displays (MFDs)
Automatic Identification Systems (AIS)

AIS Transponders
AIS Receivers

Vessel Monitoring System (VMS) Terminals
Marine Radars
VHF Data Exchange System (VDES)
Maritime Sat Phone & Internet Devices
Others
Service
Consulting Services
Integration & Installation Services
After-Sales Support & Maintenance Services
Application
Fishing Boats/Vessels
Merchant Ships
Recreational Vessels
Working Vessels
Others
Region
North America
Latin America
Europe
East Asia
South Asia & Pacific
Middle East & Africa (MEA)
Key Questions Answered in the Report
How will Marine Communication market expand until 2031?
FMI projects the global marine communication market to register a CAGR worth 7.8% across the 2021-2031 assessment period. Increasing demand for high-quality communication in maritime industry is expected to drive the growth in a positive direction.
Which is the most lucrative market for marine communication?
US is the most lucrative region in the global marine communication market and the trend is likely to continue until the near future. This region is growing due to continuous developments in satellite-based communication systems and increased demand for enriched content from seafarers, crew and passengers in this region.
Who are the leading players in marine communication market?
Prominent players operating in the global marine communication landscape include Icom Inc, Inmarsat, Furuno Electric Co., Ltd., Garmin Ltd., and among others
Need specific information?
Our Clients