Communications Platform as a Service (CPaaS) Market By Solution (Communications Platform as a Service (CPaaS) Software, Services), Enterprise Size (Small & Medium Enterprises, Large Enterprises), Industry (IT & Telecom, BFSI, Manufacturing, Healthcare, Retail & CPG) & Region - Forecast to 2021 - 2031
Communications Platform as a Service (CPaaS) Market - Analysis, Outlook, Growth, Trends, Forecasts
February 2021

REP-GB-12953

340 pages
Communications Platform as a Service (CPaaS) Market - About the Report
[340 Pages Report] The increasing demand for contextual communications that can improve the overall customer experience is expected to propel growth of communications platform as a service (CPaaS) market between 2021 and 2031. The CPaaS market is projected to witness significant growth during the forecast period, due to several factors such as growing need for reliable and cost-effective communication services, easy migration to hybrid model, highly available, and improved quality of service offered through CPaaS.
In its new study, ESOMAR-certified market research and consulting firm Future Market Insights (FMI) offers insights about key factors driving demand for Communications Platform as a Service (CPaaS) market. The report tracks the global sales of CPaaS providers in 20+ high-growth markets, along with analyzing the impact COVID-19 has had on the telecommunication industry in general, and CPaaS software and services in particular.
What is the Future Outlook for CPaaS Market in Comparison to Historic Pattern of Growth?
FMI has projected the global CPaaS market to reach US$ 46,465.0 Mn by 2031 from US$ 5,283.5 Mn in 2021. In past few years the CPaaS market has gained an enormous interest due to improvement in the cloud computing services and technology. According to FMI, the market exhibited around 14.5% CAGR between 2016 and 2020.
CPaaS enables organizations to embed collaboration functionalities into their enterprise industries and create customized versions of UC solutions, instead of using traditional UC solutions. CPaaS is a cloud-based delivery platform that enables businesses to add real-time communication channels including SMS, voice, Email, chat apps, and more to their industries with the use of APIs.
CPaaS companies are entering into a new era of exponential growth. In order to capitalize on existing opportunities, these companies piquing the interest of various enterprises with innovative digital solutions to allow customer engagement. Spurred by this factor, the market is project to register a CAGR of 24.3% between 2021 and 2031.
How Cloud Communication Solutions help in Driving CPaaS Market?
Continuous innovation in cloud communication is resulting in greater choice, flexibility, and cost-saving solutions for conferencing in enterprises. By adopting cloud communication solutions, the enterprises are gaining from standardized capabilities and total interoperability across different locations of an enterprise.
Nowadays, enterprises across the globe are adopting cloud communication solutions for video and web conferencing to reduce the complexity of the implementation and maintenance processes.
A key point to consider here is that enterprises have functioning out of multiple locations, which further increase the number of mobile workers due to this factor, the need for adopting advanced connectivity and unified communication solutions is driving the growth of the CPaaS market.
What is the Scope for Technological Advancements in CPaaS Market?
The demand for development and implementation of new technologies such as communication tools, collaboration technologies, and cloud-based technology for various applications has been consistently rising within enterprises. This increases accessibility of documents and resources and cultivates a team environment among others, which are creating opportunities for growth of CPaaS solutions spending.
Advantages such as increased business productivity, greater flexibility, and reduced costs are the primary factors encouraging innovations among CPaaS software solution providers. The integration of technologies such as the Internet of Things (IoT), machine learning, artificial intelligence (AI), and others are expected to lead to the expansion of the market.
Why Are CPaaS Market Players Focusing on Mergers & Acquisition?
CPaaS software and service providers have a strong focus on inorganic investments in technology and innovation and are continuously focusing on acquiring technologies and businesses that helps in the growth of vendor solution portfolio. In recent times, vendors have completed various acquisitions, which complement its solution offerings and coverage in its strategic markets.
Mergers & acquisitions with key players in the market is a major trend observed in the global CPaaS market. For instance, in October 2019, Bandwidth acquired international cloud communications leader Voxbone to simplify global communications for businesses by providing compliant, quality coverage that can be integrated with any contact center, conferencing platform or voice application.
Apart from this, government organizations across the globe are taking various steps to initiate CPaaS project and are mergers & acquisition with major technology companies for implementing cloud communication technology across urban cities. These mergers and acquisition with cloud computing technology vendors for the development of cloud communication applications are generating potential growth opportunities for the CPaaS market.
What is The Prospect for Advanced API's in CPaaS?
Enterprises are adopting advanced APIs that will transform their business processes in order to make communication and collaboration available to their employees. This communication and collaboration functionality will be accessible from employee's personal devices such as mobile and web-based applications to enhance productivity and overall business processes.
This factor is expected to drive growth of the CPaaS market over the forecast period. For instance, in August 2019, Twilio launched AI-Centric APIs to Enhance CX. The API does all this while maintaining the integrity of infrastructure that supports group messaging and cross-channel conversations. This approach to AI creates a context-rich conversation that can be useful for improving CX.
What are the Key Challenges for CPaaS Software and Service Providers?
As the CPaaS market continues to evolve, IT teams are facing various challenges related to the potential enterprise size of new, integrated, and cost-effective communication technologies, while maintaining a positive user experience. Also, network capability issues in adding real-time communication across personal devices and workspaces often require additional network investment. Thus, high enterprise size and maintenance costs are some of the factors, which may limit the adoption of CPaaS solution across the globe
Communications Platform as a Service (CPaaS) Market Market - Country-wise Insights
How Big is the Opportunity in US?
North America will be the largest market for CPaaS, due to the strong presence of CPaaS solution and service provider, especially in the U.S. This is attributable to the increase in demand for CPaaS among healthcare, retail, telecom & IT, and other industries. According to report, the overall CPaaS spending in the United States alone is likely to increase at 18.1% CAGR between 2021 and 2031, with the market value of US$ 1,391.5 Mn in 2021.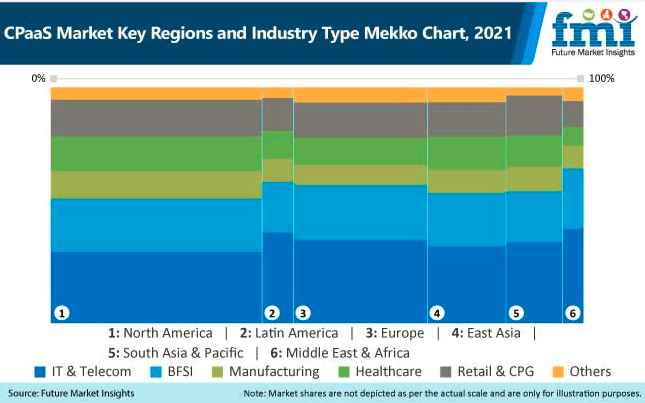 Furthermore, the U.S. is the dominant country in global CPaaS market accounting for around 25%-30% of the market share in 2021. The increasing number of collaboration with the U.S. government, and the presence of various key players in the region are the factors which are driving the growth of CPaaS market in the region. The U.S. based CPaaS solution providers focused on offering cost effectiveness of cloud communication solutions across the U.S. market.
What Drives Germany CPaaS Market?
The adoption of cloud communication technology is expected to rise considerably across small and medium size businesses in Germany. Moreover, CPaaS solution offered in the Germany market are integrated with AI and cloud computing technology enable organizations get actionable insights and thereby focus on reducing organizational risks. The CPaaS market in Germany is projected to expand from US$ 311.6 Mn in 2021 to US$ 1,735.5 Mn by 2031.
Reports suggesting that government of Germany is planning to roll out 5G by 2025 are doing rounds. If this happens, growth prospects for CPaaS will improve. Besides this, digitization of healthcare, public transport, and other industries will create opportunities for expansion of the market in Germany.
According to Germany Works, a website provided by the Germany Trade and Invest (GTAI) agency, the country represents the largest software market in Europe, representing nearly a fourth of the European market value. This makes Germany one of the highly lucrative pockets for CPaaS solution providers.
How is Digital Transformation Gaining in Retail and Media & Entertainment Sectors Affecting Growth in China?
China presents lucrative opportunities for the expansion of CPaaS market. Favorable government policies related to spectrum allocation, debris mitigation standards, and transition and implications for international business will drive growth in China. The retail and media & entertainment sectors are growing rapidly in China, once again paving way for the expansion of the CPaaS market.
China has built a wide-ranging digital infrastructure to improve engagement with customers and employees and provide unrivaled customer experience. Digital transformation will reform some of the business activities that will transform business processes and provide new revenue models using digital technologies, which includes big data and analytics, cloud technologies, social media, and mobility.
The retail industry in China is an early adopter of digitalization, whereas social media tools have been most commonly embraced platform for Internet marketing, collaboration, and customer interaction. Various enterprises are adopting high-performance conferencing solutions, which helps them enhance their communication networks, and drives increased productivity and greater visibility across all the parts of the enterprise.
What is Driving India CPaaS Market?
Increasing of unified communication and collaboration spending is expected to strengthen various verticals such as BFSI and IT & Telecom. Enterprises are focusing on the adoption of software-based CPaaS solutions to minimize their IT infrastructural cost.
Hence there is increasing focus on the adoption of CPaaS solutions from third party vendors. Moreover, with increasing growth of workforce optimization and interaction, demand for Web and voice conferencing, mobility, unified messaging and team collaboration has become important part for an enterprise.
Driven by ongoing trends, the IT spending in India is set to grow considerably in 2021. According to the India Brand and Equity Foundation (IBEF), the number of internet subscribers is set to double in India by 2021, reaching 829 million and the overall IP traffic is projected to grow at 30% CAGR. This makes India one of the highly lucrative markets for CPaaS in South Asia & Pacific
Switching Enterprise Infrastructure towards Cloud in U.K Reshaping the Communications Platform as a Service (CPaaS) Software Market?
Several enterprises in the U.K. are shifting their data centers, applications, and network infrastructure towards cloud, which helps to minimize infrastructure cost and allows quick data access.
Moreover, enterprises are opting cloud communication applications in order to manage and enable new technologies effectively and aids in addressing several complexities in integration and service assurance in order to maintain consistent operational performance. Such factors fueling the growth for U.K based Communications Platform as a Service (CPaaS) software market.
Communications Platform as a Service (CPaaS) Market Market - Category-wise Insights
What's the Market Share of CPaaS Software?
The CPaaS market can be broadly bifurcated into software, and services. Of these, the services segment accounted for relatively higher CAGR of 27.6% during the forecast period. While CPaaS software currently holds dominance, tables are expected to turn in favor of the services segment, catapulting it to the forefront by the end of the forecast period.
A CPaaS software is a cloud-based platform that enables developers to add real-time communications features to their own applications without needing to build backend infrastructure and interfaces. Due to this factor, many countries around the globe are moving forward towards the development of CPaaS software and thus, creating opportunities for the CPaaS market.
Why Small & Medium Enterprises (SMEs) Segment Registers Highest Growth?
The small & medium enterprises (SMEs) segment is expected to register a CAGR of 27.2% during the forecast period. Also, the small & medium enterprises (SMEs) segment is expected to create an incremental opportunity of US$ 21,814.9 Mn between 2021 and 2031.
CPaaS solutions are ideal for SME businesses requiring highly scalable and customizable collection of communications capabilities that integrate with the organization's apps, products, and services. Such factors boost the small & medium enterprises (SMEs) segment for CPaaS market.
What's the Market Share of IT & Telecom Sector for Communications Platform as a Service (CPaaS) Software Market?
In terms of industry, the market is segmented into IT & telecom, BFSI, manufacturing, healthcare, retail & CPG, and others. Of these, the IT & Telecom industry dominates the global CPaaS market and it is estimated to account for 33.4% of the total market value share by the end of 2021. With the growth of workforce interaction and optimization, mobility, voice and Web conferencing, and real-time communications, unified messaging, team collaboration have become significant part for an IT & Telecom industry. Such factors are drives the Communications platform as a service (CPaaS) market.
However, the healthcare industry is forecast to exhibit a higher CAGR of 31.8% during the forecast period. The increasing demand for cloud communication solutions in healthcare sectors is creating new growth opportunities for global CPaaS market.
The market share of the CPaaS market in terms of industry varies in key regions. The above figure shows the view of CPaaS market share in the key regions including, North America, Europe, East Asia, South Asia & Pacific, Middle East & Africa, and Latin America. On the basis of industry, the IT & Telecom holds the largest share of the CPaaS market due to the telecom operator develop CPaaS solutions to help their business customers to adopt B2C cloud communications capabilities which will open new growth avenues. The demand from the healthcare segment is expected to grow at the fastest rate, owing to high adoption of CPaaS for better patient care and streamlined processes, which is facilitating the growth of the CPaaS market.
Competitive Landscape
Strategic partnerships are highly sought-after among top players in the CPaaS market. This is intended to increase their business revenue. Besides this, CPaaS providers are focusing on innovation in software/services to improve their market shares.
For instance, in May 2019, Mitel launched wholesale enterprise communications and collaboration solution built on Google cloud. MiCloud Flex on Google Cloud delivers optimal performance for mid-market and enterprise organizations and offers new revenue streams for channel community.
Some of the players are focusing on strategic partnership with other telecom & IT solution providers for the development of new technologies and solution. For instance, in December 2020, Vonage and Yameo announced strategic partnership to offer custom video solutions throughout Europe, Africa, and the Middle East. The Vonage Video API makes it easy for businesses to build a custom video experience within any mobile, web or desktop application
Some of the leading companies operating in the market are:
Avaya Inc.
Bandwidth Inc.
Twilio Inc.
Vonage
Infobip ltd.
Mitel Networks Corporation
TeleSign Corporation
Telnyx LLC
MessageBird
IMIconnect
*The list is not exhaustive, and only for representational purposes. Full competitive intelligence with SWOT analysis available in the report.
Scope of the Report
Attribute

Details

Forecast Period

2021-2031

Historical Data Available for

2016-2021

Market Analysis

USD Million for value and Units for Volume

Key Regions Covered

North America, Latin America, Europe, East Asia, South Asia & Pacific, Middle East & Africa

Key Countries Covered

US, Canada, Germany, U.K., France, Italy, Spain, Poland, Russia, China, Japan, South Korea, India, Thailand, Malaysia, Vietnam, Indonesia, Australia, New Zealand, GCC Countries, Turkey, Northern Africa, South Africa

Key Segments Covered

Solution, Enterprise Size, Industry and Region

Key Companies Profiled

Avaya Inc.
Bandwidth Inc.
Twilio Inc.
Vonage
Infobip ltd.
Mitel Networks Corporation
TeleSign Corporation

Report Coverage

Market Forecast, Vendor share analysis, competition intelligence, DROT analysis, Market Dynamics and Challenges, Strategic Growth Initiatives

Customization & Pricing
World's Most Profilic Intelligence Engine
Get Access To The World's Largest Market Research Database.
Sign Up Now
Communications Platform as a Service (CPaaS) Market Market - Key Segments
Solution
Communications Platform as a Service (CPaaS) Software
Services

Professional Services

Integration & Implementation
Consulting
Support & Maintenance

Managed Services
Enterprise Size
Small & Medium Enterprises
Large Enterprises
Industry
IT & Telecom
BFSI
Manufacturing
Healthcare
Retail & CPG
Others
Region
North America
Latin America
Europe
East Asia
South Asia & Pacific
Middle East and Africa (MEA)
Key Questions Answered in the Report
Q1. What are the technologies are provided by Communications Platform as a Service (CPaaS) Market?
The CPaaS technologies such as cloud communication technology, AI, and cloud-based solutions are highly sought-after by businesses around the world
Q2. What are key challenges for CPaaS market?
Enterprises mostly face several issues at the time of deploying CPaaS technology and inadequate awareness regarding new CPaaS solutions might slow down the growth of the CPaaS market.
Q3. Which CPaaS Solution is in High Demand?
CPaaS services are highly preferred among diverse industries. While CPaaS software currently holds dominance, FMI projects increasing demand for services to catapult the services segment to the forefront of the market by the end of 2031.
Q4. Which are some of the leading companies offering Enterprise VSAT Hardware and Service Provider?
Some of the leading companies offering CPaaS software and service providers are Avaya Inc., Bandwidth Inc., Twilio Inc., Vonage, Infobip ltd., Mitel Networks Corporation, TeleSign Corporation, and others.
Q5. Which region is expected to be at forefront in the CPaaS market?
According to FMI Analysis, with the growing adoption of cloud computing solutions and improved cloud readiness ranking of South Asia & Pacific based countries such as India, Indonesia, and Australia, the CPaaS market is expected to witness potential growth opportunities in this region. Also, this region is witnessing rapid growth in IT infrastructure and rising penetration of smart devices and internet. Therefore, CPaaS solution providers can focus on expanding their operations in this regio
Need specific information?
Our Clients