This Dental Irrigation Devices Market market study offers a comprehensive analysis of the business models, key strategies, and respective market shares of some of the most prominent players in this landscape. Along with an in-depth commentary on the key influencing factors, market statistics in terms of revenues, segment-wise data, region-wise data, and country-wise data are offered in the full study. This study is one of the most comprehensive documentation that captures all the facets of the evolving Dental Irrigation Devices Market market.
Dental irrigation or oral irrigator is devices use to remove plaque and debris between the teeth. This process is done by using stream of pulsating water which release from the tip of dental irrigator. Recently dental irrigator is gaining recent appeal and increased use in homecare aids especially for patients with periodontal diseases. Over the years, dental irrigation devices were mainly recommended to the orthodontic patients as the brackets prevent from cleaning teeth properly. People with sensitive gums, diabetes, dental implants, sensitive gums, orthodontic appliances and non-compliance, dental irrigation devices are effective to use. The primary purpose of dental irrigation devices is to reduce harmful bacteria and reduce risk of periodontal disease. Dental irrigation devices has demonstrated a significant reduction in gingivitis, periodontal disease, bleeding and probing depths.
Dental irrigation devices used in daily routine works by directing high pressure from the nozzle. Commonly the devices comes with build in pump which generates the pressure and other devices attached to water faucet. Dental irrigation devices have proven to reduce overall amount of bacteria which increased risk for developing gum disease, help control gingivitis, remove 99% of plaque, reduce incidence of gum bleeding and improve bad breath. According to centers for disease control and prevention (CDC) 47.2% of American adults have mild, moderate or severe periodontitis. The prevalence rate for periodontitis disease has increase to 70.1%. Growing trend of using dental irrigation devices in many countries, awareness about the various dental disease, and others are some of the factors expected to fuel the Dental irrigation devices market.
Market Growth Analysis
Disclaimer: This data is only a representation. Actual data may vary and will be available in the report.
Need granular data and specific insights that are hard to get?
Dental Irrigation Devices Market Assessment by Product Type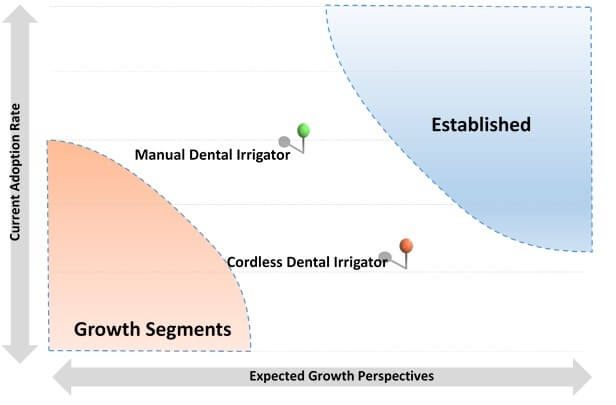 Factor driving dental irrigation devices
The rise in incidence of periodontal disease in adults and geriatric population, technological advancement in dental irrigation devices and increasing adoption of dental irrigation devices use in homecare and travel drive the dental irrigation devices market. Increasing number of dental clinics and practitioners, unhealthy diet and poor oral hygiene are some of the factor which drive the dental irrigation devices market. The challenge associated with the dental irrigation devices are lack of consumer awareness in developing countries and high cost of advance equipment's are some of the factors restraining the growth of the dental irrigation devices market
Increase use of cordless dental irrigator
Increase awareness and adoption of dental irrigation devices drive the market of dental irrigation devices in near future. Among all the product type, cordless dental irrigator contributes to the largest share in dental irrigation devices market owing to increase use in homecare and travel purpose, portable and easy to use and cost effective devices.
Adoption of dental irrigation in homecare
Rising adoption of dental irrigation devices owing to increase in awareness among people regarding oral hygiene and increase in use of technologically advance dental irrigation devices which are portable and easy to use and cost effective used in homecare settings drive the market of dental irrigation devices. Commercial availability of dental irrigation devices on various distribution channel further increase the growth of dental irrigation
Increase in oral hygiene
Oral hygiene has become important parts which health to avoid dental problems. Periodontal and dental caries disease are the condition which affect majority of population. Increasing demand of use of dental irrigation devices and widespread implementation of advancement in the technology will significantly drive the market of dental irrigation devices market.
Regional Market Outlook
On the basis of regional presence, global dental irrigation devices market can be segmented into five key regions viz. North America, Latin America, Europe, Asia Pacific, and Middle East & Africa. North America and Europe collectively expected to dominate the global dental irrigation devices market due to increasing awareness and geriatric population. However, APAC to show rapid growth owing to increase in number of clinics and practitioners and awareness about oral hygiene, adoption of innovative technologies and growing medical tourism.
Competition Outlook
| Small and Medium Scale Manufacturers/Providers | Large Scale Manufacturers/Providers |
| --- | --- |
| | |
Market Segmentation
Research Methodology
The market sizing of veterinary dental products will be done by the adoption data triangulation approach. The demand-side approach will be followed to assess the actual market size of dental irrigation devices market. Secondary research will be performed at the initial phase to identify the feasibility of the target product/technology categories and its respective segments, product and service offerings, equipment installed base in end-use facilities, adoption rate and future impact of new technologies. Each piece of information will be eventually analyzed during the entire research project, which will help to build a strong base for the primary research information.
The primary research participants include demand-side respondents such as veterinary clinics, procurement managers, as well as key opinion leaders in addition to supply-side respondents such as equipment manufacturers, service providers who provide valuable insights on trends, research application of products and technologies, purchasing patterns, services offered and associated pricing.
Key Data Points Covered in the Report
NOTE - All statements of fact, opinion, or analysis expressed in reports are those of the respective analysts. They do not necessarily reflect formal positions or views of Future Market Insights.
Unique Requirements? Customize this Report
Customize by Region, Country, Application, Product, & other segments
Integrate our Insights with your Existing Data
Determine the scope of the study to suit your requirements
Gain Insights on Key Dental Irrigation Devices Market Impacting Forces
Know the Winning Strategies of Market Leaders
Get Deep-Dive Analysis on Each Segment
Identify the Sources that will Drive Top-Line Revenue
Examples of some of the key participants in the dental irrigation devices market are Water Pik., h2ofloss limited, Koninklijke Philips N.V, Panasonic Corporation, Jetpik, Oral-B, Shenzhen Relish Technology Co.,Ltd, Aquapick, Hydro Floss, Candeon Technologies Co. Ltd, Water pik, inc, Oratec Corp.
Small and Medium Scale Manufacturers/Providers

Large Scale Manufacturers/Providers

h2ofloss limited
Jetpik
Shenzhen Relish Technology Co.,Ltd
Aquapick
Hydro Floss
Candeon Technologies Co. Ltd
Water pik, inc
Oratec Corp

Water Pik
Koninklijke Philips N.V
Panasonic Corporation
Oral-B
Market by product type
Manual dental irrigator
Cordless Dental Irrigator
Countertop Dental Irrigator
Market by Distribution Channel
Hospitals
Ambulatory Surgical Centers
Nursing Homes
Others
Market by Region
North America
Latin America
Europe
Asia Pacific Excluding Japan
Japan
Middle East & Africa
The report covers exhaustive analysis on:
Dental Irrigation Devices products market by product type, distribution channel and regions
By product type, distribution channel segments and country
Dental Irrigation Devices market dynamics & opportunity assessment
Report Highlights:
Shifting industry dynamics
Harish Tiwari
Global Head - Business Development