Desktop as a Service - The Much Needed Push for Startups and Small Businesses
With the dawn of 21st century, businesses are seeking novel ways to develop applications without any limitations in terms of location. With the advent of desktop as a service, businesses are aiming to deliver optimum user experience, coupled with security measures. The last few years witnessed considerable growth in adoption of DaaS as it provides virtual access to desktop and other applications from any device and location. Further, DaaS is playing a key role in enhancing infrastructure management for small & medium businesses (SMBs). In addition, as DaaS revolution continues to gather pace, market players are expected to improve various aspects of their services such as data backup, storage, software security, and more. In recent years, desktop as a service has emerged as a cost-effective cloud computing solution for startups and small businesses in comparison to conventional alternatives such as virtual desktop infrastructure (VDI). At present, businesses are eyeing opportunities in cloud transformation that constitute different services including software as a service (SaaS), platform as a service (PaaS), and infrastructure as a service (IaaS) as their best foot forward to gain a competitive advantage.
Desktop as a Service Market - Key Research Findings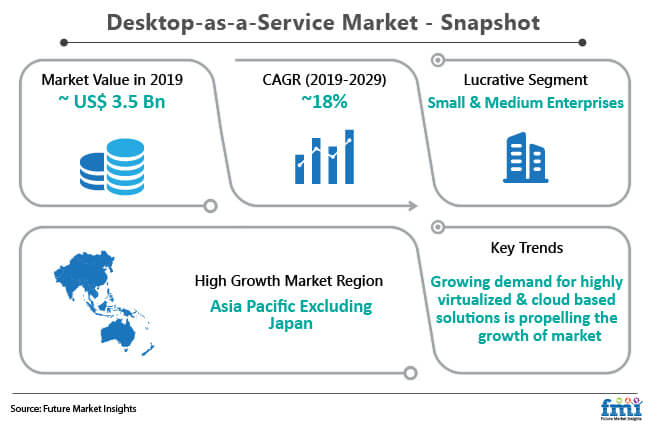 The global desktop as a service (DaaS) market was valued at ~US$ 3 Bn in 2018.
The desktop as a service market is expected to grow at a CAGR of ~18% during the forecast period of 2019-2029.
Increasing number of smart devices, along with the growing trend of IT centralization are key factors that are boosting the growth of the desktop as a service market. Moreover, increasing adoption of cloud-based solutions and services in various emerging countries such as China, India, and Indonesia is propelling the growth of the desktop as a service market.
North America is a prominent region in terms of value in the desktop as a service market. It is expected to account for a market share of ~37% in 2019. However, APEJ (Asia-Pacific excluding Japan) is expected to witness high growth rate and expand at a CAGR of ~23% during 2019-2029.

Countries in Asia Pacific Excluding Japan such as India, China, and ASEAN are expected to create potential growth opportunities for the desktop as a service market, owing to the strong economic growth of these countries, increasing investments for IT infrastructure, and rising digitalization.

Adoption of desktop as a service is mostly done by small- and medium-sized organizations through evolution of their service partners who deliver hosting and managed desktop services. According to FMI Analysis, most of the desktop as a service providers are focusing on partnerships with hyper-scale vendors to leverage platform agility and offer customers with wide range of choices.

In May 2019, Citrix Systems entered into the partnership with Blue Jeans Network, Inc., in order to provide the Citrix ready validated solution, BlueJeans Meetings for users of Citrix's desktop as a service solution - Workspace.
Key Factors Shaping Desktop as a service Market
Rising Digitalization and Continuous Growth in IT Infrastructure
Businesses and organizations find themselves in an increasingly complex network. As the tides of data continue to rise, businesses are focusing on adopting DaaS solutions in order to transform their businesses through virtualization and automation. DaaS solutions also help businesses in optimizing the cost and scale of experiences that they want to create. Moreover, enterprises are moving beyond being desktop-centric to a multi-device anywhere, anytime workplace which is creating potential growth opportunities for desktop as a service market. Apart from this, increasing investments by government of various regions in transforming and digitalizing IT infrastructure are also supporting the growth of the desktop as a service market
Adoption of Advanced Solutions to Increase Productivity
As the time is progressing and technology is advancing, all types of businesses and companies are taking further steps to achieve newer technologies. Desktop as a service is being seen as a perfect solution for improving productivity, mobility, and flexibility of a business. In addition, increasing penetrations of internet technologies, smartphones, laptops, and tablets in businesses have significantly accelerated the bring-your-own-device (BYOD) trends, which in turn, are driving the growth of the desktop as a service market. Apart from this, rising adoption of cloud platform is also expected to create potential growth opportunities for the desktop as a service market.
Data Privacy and Security Still a Major Concern
Concerns over the integrity of applications and data stored in virtual desktops, which are hosted in cloud infrastructure are major factors responsible for hampering the growth of the desktop as a service market. Moreover, security and loss of control continue to be the major stumbling blocks in the adoption of desktop as a service as most enterprises believe that in-house solution is more secure than the one hosted by third-party. Thus, security and data sovereignty remains as a critical concern while adopting DaaS solutions.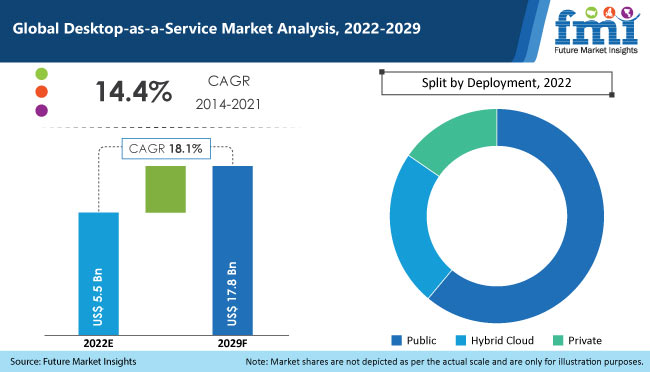 Desktop as a service Market Structure Analysis
The global desktop as a service market has a moderately concentrated competition landscape, and most of key players in the desktop as a service market are focusing on offering new and upgraded solutions to meet the growing demand for advanced solutions from customers. Moreover, various desktop as a service solution providers are also focusing on partnership with other players in the market to strengthen their market position and target a stronger global footprint.
Tier-1 desktop as a service vendors account for ~55% of the overall market share. Players in this tier such as Amazon Web Services, VMware, IBM, Microsoft, and Citrix Systems are the largest and most experienced in the industry and have a significant regional coverage across the global.
Virtual Desktop Infrastructure - Leaning towards DaaS
Although VDI is highly sought-after among large businesses, current trends suggest that alternative desktop hosting services such as DaaS are gaining ground. Key benefits offered by DaaS to SMBs include enhanced flexibility and management which eliminate the need for management of back-end infrastructure. Moreover, organizations that earlier opted for virtual desktop infrastructure are observed to be at the front line when it comes to shifting to DaaS. Growing demand for convenient access to data and other critical applications will continue to influence adoption of DaaS in the near future. One of the most recent and captivating developments in DaaS space was the advent of Microsoft's Windows Virtual Desktop. Further, with Windows Virtual Desktop, end users can access Windows 10 or Windows 7 desktops on Azure instead of other server operating systems. Moreover, by gaining access to Windows desktops, the risk of running into compatibility problems for applications and other services is largely minimized for the end-user.
Investments in IT Infrastructure Peaking
North America continues to race ahead in terms of the adoption of desktop as a service. The presence of established market players in the region including Microsoft and Amazon has widened the prospects of the DaaS market in this region. Moreover, growing demand for cloud computing services such as DaaS from the BFSI sector in the U.S. and Canada has presented service providers a plethora of opportunities. Asia Pacific excluding Japan (APEJ), on the other side, has recently emerged lucrative for service providers. Growing market attractiveness of APEJ can be attributed to rapid growth of IT industry, buckling digitalization, and exponential growth of startups in fast-developing economies such as India and China
Businesses Heading to a Software-defined Era
As desktop hosting and cloud computing technologies continue to evolve at a blazing speed, the need to scale the growing number of platforms and devices in a workplace is critical. desktop as a service steps in to address this challenge along with other end-user computing solutions including virtual desktop infrastructure. In addition, PC platforms put forward various security challenges that can be effectively tackled by virtual desktop infrastructure. However, as the architecture of VDI is complex and expensive, the adoption of DaaS is on rise and expected to grow in the foreseeable future. However, as each platform has its own share of benefits and limitations, adoption of a hybrid approach that combines DaaS and VDI is likely to gain momentum in workplaces.
High demand for desktop as a service solution ?
Adoption of services to gain momentum
Demand from large enterprises to grow
BFSI likely to hold major market share
Applicability in healthcare to grow
How Growth will Unfold
The growth of the global DaaS market will primarily rely on the growing adoption of cloud computing solutions by small to medium businesses especially in the finance and insurance domain. Service providers are entering into strategic alliances with hyper-scale vendors to improve the overall performance and versatility of their services. Furthermore, the future of the DaaS market is staring at promising prospects in the future as a significant number of businesses are shifting from a desktop-centric workplace towards a multi-device workplace that enables users to work from any location at any given time. Government initiatives coupled with a strong focus on digitizing IT infrastructure will create abundant opportunities for market players in the near future.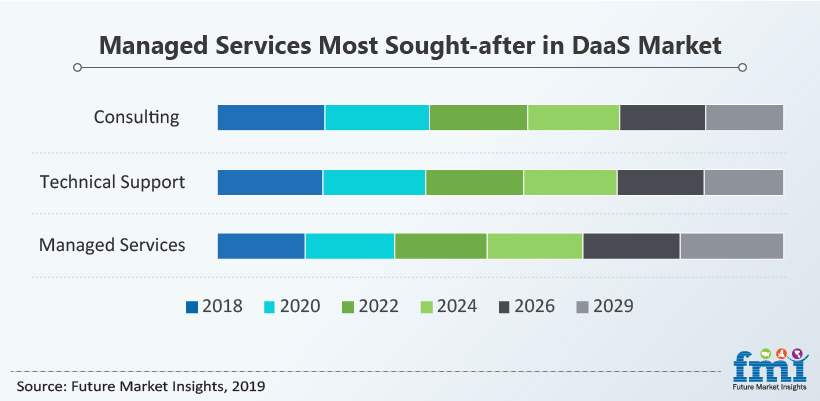 * This data is only a representation. Actual data may vary and will be available in report.
Click Here To Know How The Growth Will Unfold
Custom Market Research Services
FMI offers custom market research services that help clients to get information on their business scenario required where syndicated solutions are not enough.
Overview
Desktop-as-a-Service Market Analysis 2019 - 2029
A recent market study published by FMI on the desktop-as-a-service market includes a global industry analysis 2014-2018 and an opportunity assessment 2019-2029, and delivers a comprehensive assessment of the most important market dynamics. After conducting thorough research on the historical as well as current growth parameters of this market, growth prospects of the market are obtained with maximum precision.
Desktop as a Service (DaaS) Market Taxonomy
The global desktop-as-a-service market is segmented in detail to cover every aspect of the market and present a complete market intelligence approach to the reader.
Solution
Desktop-as-a-Service Solution
Services

Consulting
Technical Support
Managed Services
Enterprise Size
Small & Medium Enterprises
Large Enterprises
Deployment
Public
Private
Hybrid Cloud
Industry
BFSI
Media & Entertainment
Government
IT & Telecom
Healthcare
Manufacturing
Education
Others
Region
North America
Latin America
Western Europe
Eastern Europe
Asia Pacific excluding Japan
Japan
Middle East & Africa
How the research was conducted?
Primary Research
C - Level Executives
Marketing Directors
Sales Heads
Sales Executives
Technical Advisor
Desktop-as-a-service Providers
Service Providers
Industry Experts
End Users
Current Market Dynamics and Challenges
Market Characteristics
Market Performance and Growth Quadrants
Competition Structure and Market Structure
Strategic Growth Initiatives
Near term and long term market growth prospects
Market Segment Splits and Authenticity
Opinions on market projections and validity of assumptions
Secondary Research
Company's white papers
Annual Reports and Investor Presentations
Research Papers
Company Press Release
Government Websites and Publications
Primary Interview Splits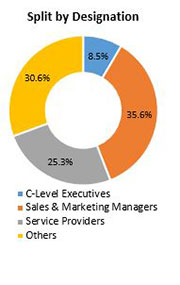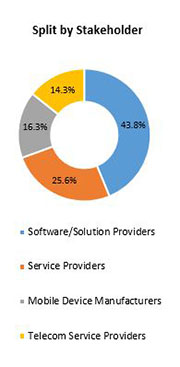 To Learn More About our Comprehensive Perspective on Desktop as a Service (DaaS) Market,
Get in touch
COVID -19 : Impact Analysis
Request the coronavirus impact analysis across industries and markets
Request Covid -19 Impact
CASE STUDIES
See how our work makes an impact.
At FMI, we design strategies that are adaptive, impactful, and implementable.