Down and Feather Market Snapshot
The growing importance of sustainable approaches and public awareness of sound environmental practices has aided the sales of down and feather products. Direct-to-consumer bedding brands use higher-quality down and feathers at affordable costs that are contributing towards market growth. Future Market Insights (FMI) has forecast the market to register a year-on-year growth rate of 6.0% in 2021.
As per the FMI analysis, the down and feather market size will surpass US$ 6.6 Bn in 2021. Between 2021 and 2031, the market is expected to exhibit a compound annual growth rate (CAGR) of 7.7%. Down is set to reflect a positive growth trajectory with an above average CAGR of 8.5% through the assessment period.
Key Points Covered in the Down and Feather Market Report
Market estimates and forecast 2016-2031
Key drivers and restraints impacting market growth
Segment-wise, country-wise, and region-wise analysis
Competition mapping and benchmarking
Brand share and market share analysis
Key product innovations and regulatory climate
COVID-19 impact on Down and Feather Market and how to navigate
Recommendation on key winning strategies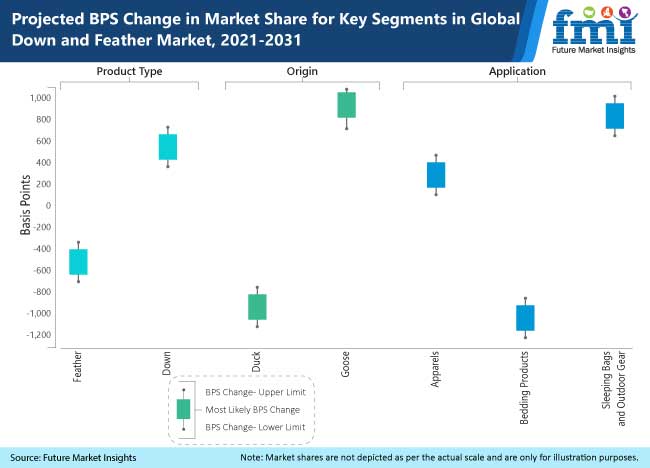 2021-2031 Down and Feather Market Outlook in Comparison to Sales Registered in 2016-2020
Advancements in raw material processing methods and the proliferation of new technologies are key factors driving growth. FMI has forecast the down and feather demand to rise at 7.7% CAGR between 2021 and 2031 in comparison to the 5.0% CAGR registered during 2016-2020.
Consumers are increasingly choosing sustainable and environment-friendly products, which has led to an increase in demand for down and feather bedding. This aspect is projected to increase demand for down and feathers in the near future. The ability to reuse down and feather fillings in products like pillows and bedding is expected to boost industry prospects.
In order to meet consumer demand, recycling and reusing is performed by sterilising and washing of down and feathers. These practices are used to make handicrafts, clothing, and bedding products among other things.
In 2018, Heinric Häussling GmbH & Co. constructed a new 1200 square metre warehouse to accommodate increasing down and feather manufacturing capacity.
Higher-quality items created with environment-friendly procedures are valued more than alternative products made with chemicals and raw materials that are hazardous to the environment. Down and feather bedding that is chemical-free and animal cruelty-free is gaining popularity.
A number of corporations are cooperating with environment-protection organizations to promote social action, such as planting trees for every purchase, exploring alternative energy choices, or reducing water consumption, in addition to making luxury eco-friendly products.
How are Changing Consumer Preferences Affecting Developments?
The global market for down and feathers has skyrocketed in recent years. Rising demand for down and feather items, particularly in emerging economies, is creating lucrative opportunities. Consumer purchasing power and preference for luxury and comfort items, are all expected to have an impact on the demand for down and feathers.
As a result of greater urbanisation, standards of living have improved in the residential and commercial sectors. Consumers are being pushed to choose similar interior designs and natural furnishing materials, which are free of synthetics.
What is the Impact of the COVID-19 Crisis on the Market?
Due to retail closures in many locations during the covid-19 outbreak, the global down and feather market value has encountered significant obstacles to growth. The transition from brick-and-mortar to online shopping, has created new sales prospects for online retail platforms.
Down and feather price has been affected by a lack of labor in the sector, with lower consumption, high production costs, and a scarcity of raw materials, hindering market players.
Covid-19 has had a negative impact on the world economy, particularly for manufacturing plants. Abrupt restrictions affecting operations in the down and feather sector, the global and regional supply chain, and imports and exports, have brought the industry to a standstill.
The market is anticipated to witness a resurgence through 2021. The side effects of the pandemic on trading might result in changes such as the preference for online retail platforms and a focus of businesses on differentiating strategies
Country-wise Insights
How is the Current Status of Down and Feather Market in China?
East Asia is predicted to be one of the most lucrative markets during the forecast period, according to Future Market Insights. China is expected to account for over 40.4% of market share in East Asia through 2021.
China produces 70 per cent of world's feather and down products, earns more than US$ 150 Mn from raising poultry and processing feathers every year. Europe is one of the key importer of down and feather from china. But that trade was adversely affected due to the pandemic across regions and the market declined in 2020 hampering the manufacturers as well as suppliers tremendously.
In 2021, goose and duck down prices in China remained stable, aided by a resurgence in jacket sales after a sharp drop in 2020 due to the pandemic. The market is currently on a steady upward trend toward regaining its trades and transactions, reviving from its earlier declined phase.
Why Does the U.S. Play a Vital Role in Growth of the Market?
The U.S. is expected to account for 82.9% of the overall value share in North America through 2021 owing to easy access to the latest technologies along with the high penetration of key players in the region.
Modern bedding styles and sales of products containing feather and down as an insulation are rising strongly. Duvets are in high demand due to the popularity of soft, luxurious, and fully unique personalized beddings in addition to the extra warmth and comfort of down.
Targeted shopping has become popular in the country, with a variety of retail outlets popping up. Manufacturers are creating items that cater to a specific demographic of customers. Lightweight down and feather items are being promoted in regions with warmer climes.
Classic cooling bedding is available from Brooklinen, Casper, Buffy Breeze, and Pottery Barn across the U.S. However, down filling retains its client base, and testing laboratories authorized by the International Down and Feather Bureau (IDFB) have been created around the country to ensure standardized quality for consumers.
Why is the Demand for Down and Feathers Increasing in India?
In 2021, India will account for a 24.8% market share in South Asia. As urbanization in the country grows, the Indian population is expected to play an active role in facilitating and regulating the overall industry.
Remodeling and decorating practices have become fashionable, especially in developing countries like India. Interior decorating and home conceptualizing practices are on the rise, and people are gravitating toward stylish, comfortable, and fashionable bedding products such as comforters, in turn, fueling market growth.
Social media has reshaped house styling and fashion trends in the region, resulting in an overabundance of attention on the raw materials and products used in apparel and bedding products.
Category-wise Insights
Why are Down Products Preferred by Consumers?
Down-based products hold the lead, accounting for 64% of the market in 2021. This can be broadly attributed to superior insulation properties. Down delivers significantly more warmth per ounce than feathers and has a considerably larger market and has attracted a large pool of consumers due to these characteristics.
Why is Goose Down Gaining Prominence in End Use Verticals?
Goose products accounted for around 1/4th of the global down and feather sales in 2021, and are expected to exhibit fastest growth, registering a CAGR of 11.4% over the forecast period. Goose down clusters are larger than duck down clusters on average.
European goose down is preferred because it is pure white in color and is larger than most down clusters. Hungarian goose down is the best quality down available. It's soft and light, and it offers good insulation without overheating.
Why are Sleeping Bags and Outdoor Gears Applications Fueling Market Growth?
The convenience offered by online platforms is likely to add impetus to growth, reflecting a CAGR of 17.2%. COVID-19 lockdowns have further promoted the use of e-commerce websites due to the closure of retail stores.Players in the market have taken this opportunity to strengthen their presence through online channels amidst the pandemic.
On a global scale, the growing enthusiasm of millennials for outdoor activities has resulted in increased awareness about outdoor products such as sleeping bags, apparel, and other items, which is expected to promote the use of down and feather as insulation for maintaining warmth in cold climates.
These products are expected to drive demand with a CAGR of 13.2% for sleeping bags and outdoor gear.
Competitive Landscape
Companies operating in the down and feather market are aiming for strategic collaborations and partnerships with other manufacturers to expand their product portfolio to address the demand of an expanding pool of consumers.
In 2020, Chun Li International Co., Ltd. partnered with Ohio Feather Co. The Company is a supplier to the Ohio Feather Co., and has successfully provided with down and feather fillings based on the needs of the company.
ROHDEX Bettfedern GmbH & Co. KG partnered with Down-Lite International Inc., that has carried out 3 loose goods shipments in a period of 2 years from 2019-2021.
Allied Feather & Down company has directly partnered with farmers and slaughterhouse groups to source sustainable down that is also leading to animal welfare practices.
Scope of Report
Attribute

Details

Forecast Period

2021-2031

Historical Data Available for

2016-2020

Market Analysis

USD Million for Value

Key Regions Covered

North America, Latin America, Europe, East Asia, South Asia, Oceania, and the Middle East & Africa

Key Countries Covered

US, Canada, Germany, U.K., France, Italy, Poland, Hungary, Netherlands, Spain, Russia, China, Japan, South Korea, India, Thailand, Malaysia, Indonesia, Australia, New Zealand, GCC Countries, Northern Africa, and South Africa

Key Segments Covered

Product Type, Origin, Application, and Region

Key Companies Profiled

Pan Pacific Company Ltd.
Allied Feather & Down
Down-Lite International Inc.
KL Down
Chunli International Co Ltd.
Bettfedern Handelsgesellschaft mbH & Co. KG (Rohdex)
Heinrich Häussling GmbH & Co.
Norfolk Feather Company
Feather Industries
Treude & Metz GmbH & Co. KG
Sustainable Down Source
Navarpluma
Shin Joo Won D&G Co.

Report Coverage

Market Forecast, Company Share Analysis, Competition Intelligence, DROT Analysis, Market Dynamics and Challenges, and Strategic Growth Initiatives

Customization & Pricing

Available upon Request
Key Questions Answered in the Report
How much is the down and feather market worth?

In 2021, the down and feather market is expected to reach a valuation of over US$ 6.6 Bn, rising at a CAGR of 7.7% through 2031.

What was the rate of growth for down and feather sales in the last 5 years?

The down and feather market grew at a CAGR of 5.0% from 2016 to 2020.

What is the share of the top players in the down and feather market?

Down-Lite International Inc. and Pan Pacific Company Ltd., Allied Feather & Down, and Peter Kohl KG are leading market players, cumulatively accounting for a 6% value share.

Which are the top countries driving demand for down and feather?

The U.S., the U.K., Germany, and China are major countries reflecting consistently high demand for down and feather.

Which countries are key producers of down and feather?

China, the U.S, Germany, and Hungary are the leading manufacturers of down and feather.

What are the global growth statistics for the down and feather market between 2020 and 2021?

The down and feather market grew 6% by 377.7.1 Mn between 2020 and 2021.

What is the North America down and feather market outlook?

The market in North America is set to rise at a 4.8% CAGR through the end of 2031.

How fast will the sales of down and feather grow in Europe?

The Europe down and feather market is set to rise at a 3.0% CAGR through the assessment period.

What are the key statistics of the South Korea and Japan down and feather market?

Japan and South Korea account for 33.5% and 26.2% of the East Asia down and feather market in 2021.

Who are the leading exporters of down and feather products?

Desipro Pte Ltd., Norfolk Feather Company, Treude & Metz GmbH & Co. KG, and Chunli International Co Ltd. are the top global exporters of down and feathers.
Market by Category
By Product Type :
By Origin:
By Application:
Apparels
Bedding Products
Sleeping Bags and Outdoor Gear
By Region:
North America
Latin America
Europe
East Asia
South Asia
Oceania
Middle East and Africa (MEA)
Need specific information?
Talk Show:
The Rise of Intelligent Packaging
Personalized, Connected and Sustainable
November 18, 2021
11:00-11:45 AM PST (USA & Canada)
This is a LIVE session