An Incisive, In-depth Analysis on the Endoscope Reprocessing Device Market
This study offers a comprehensive, 360 degree analysis on the Endoscope Reprocessing Device market, bringing to fore insights that can help stakeholders identify the opportunities as well as challenges. It tracks the global Endoscope Reprocessing Device market across key regions, and offers in-depth commentary and accurate quantitative insights. The study also includes incisive competitive landscape analysis, and provides key recommendations to market players on winning imperatives and successful strategies.
Regional trends governing the global endoscope reprocessing device market
MEA- Rising technological advancement and spending on healthcare facilities
Increasing demand for advanced healthcare services, increase in purchasing power, lower pricing in the region and green field opportunities for the development of medical infrastructure are factors fuelling the demand for endoscopes reprocessing devices in the Middle East and Africa region. Mandatory insurance schemes is a priority of various countries' governments in the region which is also expected to drive patients to seek better healthcare treatment over the forecast period. The Middle East and Africa region is considered to be the fastest growing region in the next few years as the healthcare spending in the region is anticipated to rise by 10 % annually.
Western Europe- Expansion via partnerships and collaborations
Original Equipment Manufacturers (OEMs) lay greater emphasis on collaboration and partnership activities with local and regional players from Europe to expand sales and after sales services for endoscope reprocessing devices. The companies also focuses on establishing new set ups in Europe to support manufacturing and sales activities. Through partnerships and collaborations with regional players and third party service vendors, companies transfer technology and rights of after sales service to strengthen their brand recognition in the market, which is anticipated to fuel growth of the endoscope market as well as the endoscope reprocessing device market.
Japan- Increasing awareness among medical practitioners and public about incidents of infection and disease transmission threats
Outbreaks of bacterial infection associated with endoscopes is due to improper reprocessed endoscopes. Growing concern of technicians and physicians about patient safety is expected to drive the growth of endoscope reprocessing device market in Japan. Rising awareness regarding the use of endoscope reprocessing for securement of exogenous and endogenous infections is associated with flexible endoscopy which is expected to fuel an overall demand for endoscope reprocessor systems, particularly in Japan.
APEJ- Increasing Demand of the automated reprocessing over manual cleaning Procedures
The demand for automated reprocessing of endoscope over conventional procedures in the region is increasing, due to various benefits, such as less procedure time, shorter hospital stay, effectiveness and surety of contamination free procedures. The rising demand for endoscopy related surgical procedures, i.e. the minimally invasive procedures is fuelling demand for endoscopes in the region. The demand of endoscopes primarily stems from countries, such as Singapore, India, China, Korea and Japan that have developed medical infrastructure. Increased affordability for endoscopes also contributes towards the increased number of endoscopes. The APEJ market is expected to be the most lucrative market for endoscope reprocessing devices, due to the increasing demand for endoscopes in the region.
North America- Increasing Government Spending on Healthcare in the U.S
Increasing government spending in North America is expected to boost growth of the endoscope and endoscope reprocessing device markets. As per the centres for Medicare and Medicaid Services, the overall healthcare spending in North America is expected to increase at an average of 4.6 percent per year during the period 2016–2019. National health spending in the U.S. is projected to grow at an average of 5.6 percent per year, due to the large health insurance coverage impact of the Affordable Care Act. This act resulted in growth of the insured share of the population and is projected to be 91.5 percent in 2025. As a result of the increasing trend of government spending, the U.S. is going to see expanding interest for overall medical devices including endoscopes in 2017.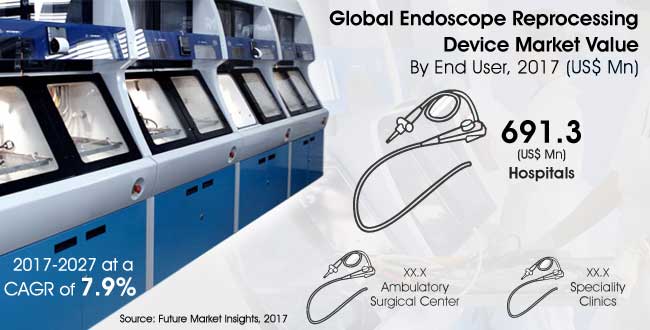 With 8.2% CAGR, the hospital segment of the end user type dominates the global endoscope reprocessing device market
Hospitals segment dominated the global endoscope reprocessing device market in revenue terms in 2016, and the trend is projected to continue throughout the forecast period. The hospitals segment is expected to be the most lucrative among all end user segments, with attractiveness index of 2.1. Ambulatory surgical centres segment is expected to be the second largest market for endoscope reprocessing device market, with market share index of 0.6. Speciality clinics segment remain third-most largest market and represents market share index of 0.3.
Before coming up with this brand new report on global endoscope reprocessing device market, the analysts in Future Market Insights have thoroughly inspected the global as well as regional markets. One of the most important aspect of this report is, our expert team of analysts who are working extensively in healthcare domain have focused on forecast factors and have offered the unique perspective and assumptions on the market force. Pricing analysis, value chain analysis and list of active key participants are some of the other features of this recently published report titled, "Endoscope Reprocessing Device Market: Global Industry Analysis (2012–2016) and Opportunity Assessment (2017–2027)."
To give the crystal clear picture of the market to our clients our analysts went extra miles to give detail information about market size, forecast, drivers, restraints, trends and opportunities of all the seven regions that have been covered in this report. Apart from regional insights, we have also given comprehensive information on various segments and its sub-segments. For the better understanding of the entire market, we have divided the market based on product, end user, and region segments.
Market Size and Forecast Factors
We have considered market consolidation activities such as merger and acquisition, collaborations, partnerships, license agreements, patent transfer, which may influence the market growth over a forecast period. Capital expenditure on healthcare infrastructure in the developing economies is also a factor, expected to drives the market. It also rules out impact of extreme events in specific countries. Regulatory impositions such as the rules and regulations by the various regulatory authorities such as China Food and Drug Administration, U.S. Food and Drug Administration and European Commission could affect the market. Currency fluctuations and changing taxation policies would have a significant impact on forecasting of Endoscope Reprocessing Device market over the forecast period.
Report Structure
This report includes global endoscope reprocessing device market overview which consists of market size and forecast, Y-o-Y growth and absolute $ opportunity. The analysts have taken 3600 views of market dynamics and have also taken a glance at various micro-economic factors, supply and demand side drivers, restraints, opportunities and key trends which are affecting the global endoscope reprocessing device market. Another section of the report consists of market definition and taxonomy. Product-wise Weighted Average Selling Price (ASP) has been considered to deduce market values. Top-down approach has been used to assess market numbers for each product category, while bottom-up approach has been used to counter validate the market estimations. All the currencies are converted to US$ at an average conversion rate of 2015. We have taken help from sources such as World Bank, various companies' annual and financial reports while inspecting this report.
Market Segmentation
Product Type

End User

Region

Automated Endoscope Reprocessor

Washer Disinfector

Sterilizer

Ultrasonic Washer

Drying and Storage Cabinet

Hospitals

Ambulatory Surgical Center

Specialty Clinics

North America

Latin America

Western Europe

Eastern Europe

Asia Pacific excluding Japan

Japan

Middle East & Africa
Research Methodology
Each interview is thoroughly analysed and average market volume is deduced and reconfirmed prior to incorporating in the report. The price of endoscope reprocessing device is deduced on the basis of the product type, where the average price of each endoscope reprocessing device type is inferred across all the seven assessed regions. The market value of the global endoscope reprocessing device market is thus calculated from the data provided by the average selling price and market volume.
For the 10-year forecast of the global endoscope reprocessing device market, various macroeconomic factors and changing trends have been observed, giving an idea about the future of the market. Other important factors considered to arrive at market forecast are the size of the current market, inputs from the supply side and the demand side and other dynamics shaping the scenario of the market. In the compilation of the report, the forecasts are conducted in terms of CAGR, while other important criteria such as year-on-year growth and absolute dollar opportunity have also been incorporated presenting the client with crystal clear insights and future opportunities as far as the global endoscope reprocessing device market is concerned.
COVID -19 : Impact Analysis
Request the coronavirus impact analysis across industries and markets
Request Covid -19 Impact
CASE STUDIES
See how our work makes an impact.
At FMI, we design strategies that are adaptive, impactful, and implementable.