An Incisive, In-depth Analysis on the Etmf Market
This study offers a comprehensive, 360 degree analysis on the Etmf market, bringing to fore insights that can help stakeholders identify the opportunities as well as challenges. It tracks the global Etmf market across key regions, and offers in-depth commentary and accurate quantitative insights. The study also includes incisive competitive landscape analysis, and provides key recommendations to market players on winning imperatives and successful strategies.
According to the research report on global electronic trial master file (eTMF) market, it is expected to show exponential growth during the period of forecast, 2017-2027. The global market had witnessed high growth since the period 2012-2016 and this trend is likely to enhance in the coming years, till 2027. The global electronic trial master file (eTMF) market is estimated to reach a value more than US$ 190 Mn by the end of the assessment year from an estimate of US$ 51.7 Mn in 2017. This market valuation is supported by a high CAGR of 14.0% during the period of forecast. The high growth of the global electronic trial master file (eTMF) market can be attributedto growing number of clinical trials across the globe and government regulations keeping the eTMF mandatory for clinical trials.
North America to show higher lucrativeness for growth of eTMF market
The North America region is expected to show high market attractiveness during the forecast period. Electronic trial master file (eTMF) market in North America is projected to grow at a high CAGR of 13.5% throughout the period of assessment to showcase an estimation of more than US$ 125 Mn by the end of the assessment period. The market in this region has been growing consistently showing high revenue generation since 2016. In 2017, the North America eTMF market reflected a higher revenue of about US$ 35 Mn and dominated the market in other regions that reflected a revenue not even close to US$ 15 Mn. The main aspect driving the growth of the eTMF market in North America is the business benefits associated with eTMF that are spurring its adoption. For instance, in 2016, Veeva Systems conducted a survey, in which it was said that improving inspection readiness (67%), speeding study start-up (53%), and providing remote oversight of the TMF (48%), are the most cited business benefits driving the adoption of eTMF among sponsors.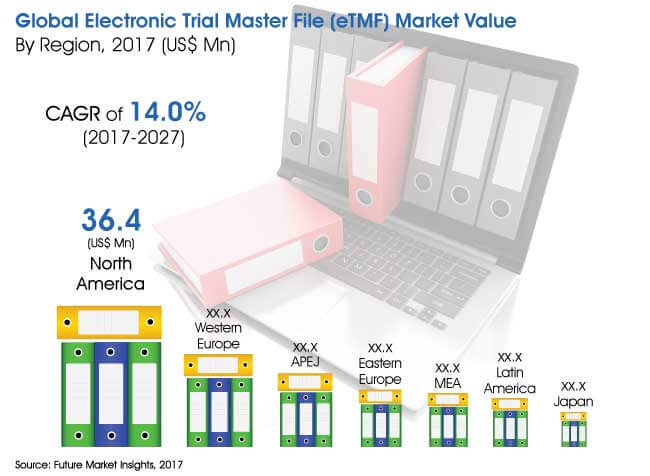 United States sub region in North America is expected to highly contribute to the growth of the market in the region, followed by Canada. The revenue from United States is expected to reach a high valuation of more than US$ 100 Mn by the end of 2027, thus supporting the dominance of the North America region in the electronic trial master file (eTMF) market in the coming years.
Asia Pacific excluding Japan to show high potential for growth in the electronic trial master file market
Several key players are focusing on the Asia Pacific excluding Japan (APEJ) region in order to tap the emerging economies in this region. The main advantage of this region is its high potential for growth as compared to matured economies. Several end use industries are showing interest in this region owing to which the supply side players are focusing their attention on APEJ to gain business expansion. Electronic trial master file (eTMF) market in Asia Pacific excluding Japan (APEJ) region is expected to grow at the highest pace in the coming years to register a stellar CAGR of 17.6% and is estimated to reach a valuation of about US$ 18 Mn by the end of the period of assessment, thus becoming the third largest region in the eTMF market after Western Europe.
The research study titled "Electronic Trial Master File (eTMF) Market: Global Industry Analysis (2012-2016) and Opportunity Assessment (2017-2027)" by Future Market Insights uncovers every single aspect of the global market with the help of a strong research platform. It assists the reader in implementing and devising key strategies to gain stability in the market and maintain hold against the changing dynamics of the market. The research report includes vital forecast projections of 10 years that can give a realistic picture of the global electronic trial master file (eTMF) market.
An all-inclusive approach portrayed in this research study
Research report on electronic trial master file (eTMF) market includes a global perspective. Analysis on key regions across the globe are covered along with the trends, drivers, developments, restraints as well as challenges influencing the growth of the market across these regions. This delivers a 3600 perspective to the reader which can assist him/her in gaining intelligence on various regional markets for electronic trial master file (eTMF). Numerous revenue pockets can be identified he help of this research study along with regions with high potential. Moreover, the global analysis is carried out without biasness which delivers the much needed value addition to the reader.
Unique research methodology implemented
Future Market Insights implements a one of a kind research process to garner key insights of the market. This research methodology has two main arms, namely, primary research and extensive secondary research. Secondary research is used to gain a clear market understanding based on which the entire market is segmented and major players are identified. At the same time, primary research is carried out in parallel to the secondary research, with respect to the region, end user, deployment method and functionality. Moreover, the data and statistics obtained from one primary interview is again verified in the second and this process continues till the completion of the final research study. These multiple validation and verification funnels ensure high level of accuracy of the researched data thus portraying a real picture in front of the reader. A systematic approach is followed that starts with market profiling, formulation of discussion guide, identifying key respondents, collection of data, validation of collected data, analysis of data gathered and draw key insights based on the statistical data gleaned so far pertaining to key market segments.
Market Segmentation
The research report on global electronic trial master file (eTMF) market includes weighted market segmentation that covers functionality, component, deployment mode, end user and region.
By Component

By Deployment

By End User

By Functionality

By Region

Clinical Operations

Records Management

Auditing

IT Operations

North America

Western Europe

Eastern Europe

APEJ

Japan

Latin America

MEA
Competitive assessment is vital to set foot on the growth path
The analytical research report covers an in-depth competitive landscape wherein profiling of key players is done. Details such as key financials, general company overview, weighted SWOT analysis, key developments, innovations, geographical spread and strategies of major players in the electronic trial master file (eTMF) market are studied and have been skilfully crafted in this comprehensive research report. This can support the reader in making informed decisions and slate key strategies. The pulse of the market is revealed in this section which can help the reader in implementing key tactics to gain competitive advantage.
Such an in-depth, comprehensive research study delivers the much needed value addition, with unbiased statistical analysis and key recommendations which can be used to plan future expansions and improve current position in the market in a particular region. Just a click away, the reader can gain intelligence on key companies and entire market segmentation across regions. All the data and insights are skilfully crafted and presented in a systematic order for reader's convenience.
COVID -19 : Impact Analysis
Request the coronavirus impact analysis across industries and markets
Request Covid -19 Impact
CASE STUDIES
See how our work makes an impact.
At FMI, we design strategies that are adaptive, impactful, and implementable.