Key Research Findings:
Future Market Insights (FMI) forecasts the stain remover market to surge at over 4.7% CAGR between 2020 and 2030
With more countries banning synthetic chemicals, focus on the production of eco-friendly stain removers will surge
Demand for better convenience will boost sales in spray stain remover product category at a higher rate
Among indirect channels, online sales will surge at a comparatively higher rate than others
Marketing spent on digital platforms has increased three fold in last six months
From All-Natural Ingredient List to Innovative Formula, Inventions Remain Key to Success in Fabric Stain Remover Market
Most companies are focusing on innovations to woo consumers. From all natural composition to compact packaging, there is abundance of options to choose from. Biodegradability for instance is currently enjoying the limelight in the market.
Leading brands and upstart companies alike are aiming at capitalizing on this trend to gain competitive advantage. Consequently a slew of biodegradable detergent liquids and fabric stain removers are launched.
Even the leading brands are highlighting the non-toxicity of their products to gain an edge amid a fiercely competitive market. Researches are conducted on removing halogenated compounds from stain removers to make them less toxic and offer simpler and faster ways of stain removal from fabric.
Meanwhile, paradigm shift to eco-friendly ingredient list has encouraged market players to introduce all natural concoctions. Brand names such as Puracy and Ecover are repeatedly appearing on market surveys conducted to find the most effective stain removers with an eco-friendly ingredients list.
Producers are also focusing on innovative formulas. Besides conventional liquid and powder types, the spray and gel variants in stain remover are introduced. Tide for instance has launched Togo Non Toxic Stain Removal Gel in pen form as an easy to carry solution for removing stains, especially during travels.
While several types of solvent-based products are already available in the market, currently there is focus on introducing water-based stain remover. These fabric removers do not contain any chlorinated solvent however are proven effecting in removing stains from a wide variety of fabrics.
Innovative Packaging Catering to Specific Consumer Needs and On-the-go Lifestyle is a Defining Trend
Despite the natural tendency of consumers towards conservatism, innovation is likely to play a key role in the fabric stain remover market. Driven by changing consumer preferences, investment in innovative packaging is consistently increasing.
One of the leading market brands, Unilever's Surf Excel for instance is considerably investing towards product design. The uniqueness of this brand's packaging lies in its functionality. The shape of the bottle and transparent cap on top, embossed with measurements, are designed to ensure stain remover is poured in precise quantities.
Most companies are impelled to tailoring their products as per specific consumer needs. Besides ease of use, consumers tend to look for personalization. According to FMI, several stain remover products are targeted towards portability and functionality to support on-the-go lifestyle of an increasing number of consumers.
Reckitt Benckiser, one of the key market players have launched their liquid stain remover under the brand name Vanish. Through its unique user-friendly packaging and design, Vanish has acquired a unique position in the stain remover market.
Prevailing trends are a clear indication of diverse consumer needs. Innovations are therefore expected to play a crucial role in determining the success of a brand. Diversifying needs of consumers may offer new brands lucrative opportunities of leaving a mark with cutting-edge designs.
Companies Are Expected to Capitalize on Digital Marketing and M-commerce to Reach Target Audience
Since companies operating in the market are leveraging their resources to specialize in consumer-oriented products, there is ample focus on reaching the target audience. Digital campaigns have become a mainstay, as brands aim at creating a larger appeal.
Aggressive advertisement and promotional strategies are thus undertaken by companies to market their products. Their marketing propaganda often involves brand ambassadors and endorsers across digital platforms. For some of them, their efforts are successfully reflected in increasing sales.
Since the market is a highly competitive one, product and price comparisons are common. To counter prevailing competition, most companies are therefore strengthening their online presence.
Online visibility might even help companies to sail through the negative implications of the unprecedented COVID-19 outbreak. Physical retail sales is significantly curtailed under ongoing circumstances. Against this backdrop, FMI projects focus on online sales channels to increase.
Digital marketing and m-commerce activities will be allotted more budget. In a way this is indicative of changing consumer preference. FMI reveals that companies maintaining a healthy online present will have a clear advantage over others.
Advertisement Paradigm is Gradually Shifting from Women to Men
Earlier most companies in the laundry and household sector followed women-specific target strategies. This practice is transforming at a faster rate than expected. Modern brands are acknowledging preferences of men, who in many cases are actual buyers of products.
Their campaigns are no longer limited to the women audience instead they carefully designing stories-boards to consider men. There is a conscious effort of eliminating gender inequality in their campaigns, especially when it comes to household chores.
FMI forecasts more companies to join this bandwagon of breaking stereotypes. An increasing number of brands are changing their marketing and promotion strategies to reflect the changing mindset of modern consumers.
Stringent Regulations Curtailing the Use of Enzymes May Create Bottlenecks for the Market
Some of the enzymes used in detergents might trigger allergic reactions, causing skin and eye irritations and other health issues in consumers. Since most detergents and laundry products use enzymes, this could be a key challenge for the market.
Agencies such as the International Association for Soap, Detergent and Maintenance Products (AISE) have laid down specific guidelines for handling enzymes during manufacturing process for companies operating in EU.
These guidelines monitor the use of enzymes while manufacturing to ensure that they do not cause any harm to nature or human. While enzymes are considered important to improve performance of detergents, their application is curtailed due to their potential side effects.
Stringent regulations such as this however are creating scope for innovation in the market.
Fabric Stain Remover Market: Region-wise Analysis
According to Future Market Insights, the rising demand for laundry care products will seal Europe's dominance in the fabric stain remover market. The fabric stain remover market in Europe is monitored by several organizations such as AISE and others. Since the market operates under stringent guidelines, new players might find it difficult to penetrate in Europe.
North America as well has emerged as a lucrative market. The presence of several leading companies are aiding the expansion of the market in the region. Future Market Insights offers a comprehensive overview of factors enabling growth in the market across various regions.
A key point to note here is that the threshold of the impact of prevailing market trends varies from one region to another. As depicted in the chart below both Europe and North America markets experience a fiercer competitive environment.
Besides the presence of several leading brands, the higher purchase power of consumers make both these regions more lucrative. On the downside, both regions exhibit a higher resistance to the entry of new players than East Asia and the Middle East & Africa markets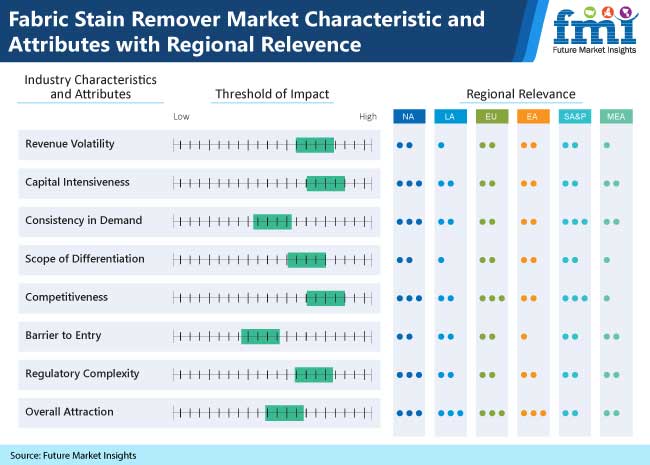 Fabric Stain Remover Market Top Players
The fabric stain remover market primarily depends upon how hygienic the product is, the use of quality raw materials in the product, and many others. Companies operating in the market are therefore driven by changing consumer needs and preferences. FMI profiles some of the leading companies operating across key regional segments. These include:
Americas
The Procter & Gamble Company
Colgate-Palmolive Company
S.C. Johnson & Son Inc.
Amway Corporation
Church & Dwight Co., Inc.
AlEn USA LLC
Europe
Unilever PLC
Henkel corporation
Reckitt Benckiser Group plc
Asia Pacific
Kao Corporation
LG Household & Healthcare
Lion Corporation
Oxychem Corporation
Wings Corporation
Blissful Industrial Corporation
*The list is not exhaustive, and only for representational purposes. Full competitive intelligence with SWOT analysis available in the report.
Fabric Stain Remover Market: The Way Forward
FMI predicts impressive growth of the fabric stain remover market between 2020 and 2030. The rising demand for eco-friendly products will be a defining trend in the near future. Driven by increasing awareness about harmful chemicals that go in production, more consumers will willingly spend on products with cleaner list of ingredients.
As a result of the COVID-19 outbreak, an increasing number of companies are likely to focus on strengthening their online presence. FMI projects expansion of ecommerce businesses will be one of the positive influences of the outbreak. Spurred by aforementioned factors, the global fabric stain remover market will rise significantly in the coming years.
World's Most Profilic Intelligence Engine
Get Access To The World's Largest Market Research Database. Ngage with a revolutionary intelligence engine that scale and pricing that flexes as per your needs
Sign Up Now
Market Segmentation
Product Type
Powder
Bars/Blocks
Pacs & Tablets
Liquid
Others (Sprays, Gels, etc.)
Nature
Price Range
Economy/ Mid-Range
Premium
End-user
Households
Commercial

Hotel & Restaurants
Hospitals
Long Term Care Centers
Others
Sales Channel
Direct
Indirect

Supermarkets/Hypermarkets
Convenience Stores
Independent Small Stores
Discounted Stores
Online Sales Channel
Others
Region
North America
Latin America
Europe
South Asia
East Asia
Oceania
MEA
Need specific information?