Vaginal slings to hold an attractive spot in the global female pelvic implants market
Female pelvic implants are used to treat pelvic organ prolapse and stress urinary incontinence. Vaginal disorders are prevailing among elderly population. The disorder causes many problems in day to day routine life, e.g. women may feel sensation of vaginal fullness or pressure, back pain while standing, coital difficulty, lower abdominal discomfort, etc. Therefore, such pelvic implants, vaginal implants, vaginal graft and vaginal slings are being adopted. According to Association for Pelvic Organ Prolapse Support, POP is anticipated to impact 50% of women at some point in their life, therefore, requirement for its treatment or prevention may encourage the researchers to develop different innovative techniques.
The research article published in August 2020 reports the clinical and urodynamic outcomes of single incision mesh surgery using the Uphold system for the treatment of pelvic organ prolapse. The medical records of 140 women who underwent uphold mesh surgeries were reviewed. The evaluation included a pelvic examination, a urodynamic study and a personal interview to evaluate lower urinary tract symptoms. The follow up time took 12-30 months and the results demonstrated the reduction of anatomical rates were 100% and 96.4% for the apical and anterior compartments. The rate of vaginal mesh extrusion was 2.8%. The research concluded that the anatomic correction of uphold system was satisfactory with a low rate of mesh extrusion.
Bulkamid Therapy for Stress Urinary Incontinence (SUI) is an innovative, non-mesh and long lasting therapy proved as safe and effective for SUI. Bulkamid has been used in Europe since many years and got FDA approval in August 2020. Bulkamid is a water based gel which is injected into the soft tissue of the urethra using a syringe. The gel softens the urethral tissue close to the opening of the bladder and creates a seal that stops the loss of urine during sudden pressure. It is just a small series of injections which just takes 10 to 15 minutes in doctor's office. It does not affect day to day life in most women.
Female Pelvic Implants is a procedure to treat disorders such as pelvic organ prolapse and stress urinary incontinence. The three main types of products or implants used in the procedure are vaginal mesh implants, vaginal sling and vaginal graft implants.
Among these, vaginal slings are expected to hold the highest market value of over US$ 188 Mn by the end of 2027. These types of implants are generally made from a narrow 'tape' of polypropylene mesh that is placed under the urethra like a sling or hammock to keep the urethra in the correct position.
Vaginal slings have been in the market for about 20 years and can be implanted in a half-hour, minimally invasive surgical procedure under local anaesthesia as an outpatient. Vaginal grafts are also expected to be an attractive product in the market and are expected to grow at a significant rate of 3.5% during the forecast period.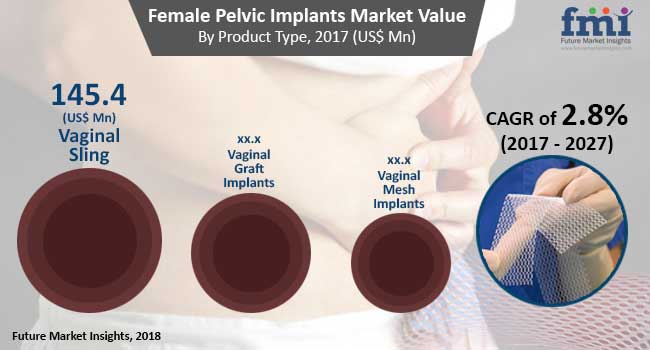 Alarming procedural failure rates to become a huge barrier in the growth of the female pelvic implants market
The female pelvic implants market is witnessing a sluggish growth mainly due to the increase in the number of complications in the implant procedures. According to the NHS data, thousands of women have undergone a surgery for removal of vaginal mesh implants since 2011. This explains the severity of traumatic complications associated with vaginal mesh.
According to the NHS, 1 in 15 women who underwent surgery also required another surgery to remove mesh implants. There are also reports that over 75,000 procedures were performed in the U.K for removal of mesh implants during 2006–2016. Such failures have made people and medical experts lose trust on pelvic implants. The procedure is comparatively better than any other treatment option for disorders like SUI and POP; yet there is no existing data on the safe long-term use of mesh implants.
This has resulted in considerable decrease in sales of SUI and POP implants over time and the trend is expected to continue unless the clinical efficiency and safety of these products is established.
Despite serious issues emerging due to complications in pelvic implants, surgeons support usage owing to the high cure rates
Due to non-availability of any other successful treatment process for SUI and POP, surgeons are supporting mesh and sling implants as these products come with a high cure rate as compared to traditional reconstructive surgery.
According to the recent clinical studies for comparison between standard native tissue repair vs. prosthetic material implants, the group with prosthetic material implants showed better anatomical outcomes. Another major factor supporting the female pelvic implants market is that there is currently no implementation of a legal ban on the procedure.
At present, there is no legal ban on these devices in matured markets of the U.S. and Europe, which is encouraging manufacturers to sell these devices in the global market. This gives evidence to surgeons as well as the general population that these devices are safe for use and thus patients and physicians are still opting for surgical mesh implant procedures, which is keeping up the global demand for pelvic implants.
However, the landscape may change in the future if manufacturers fail to submit safety data requirements for pre-market approval of surgical mesh implants for trans-vaginal pelvic organ prolapse.
Market Taxonomy
Product Type
Vaginal Mesh Implants
Vaginal Sling
Vaginal Graft Implants
Indication
Pelvic Organ Prolapse
Stress Urinary Incontinence
End User
Hospitals
Ambulatory Surgical Centres
Speciality Clinics
Region
North America
Latin America
China
Western Europe
Eastern Europe
APECJ
Japan
MEA
Need specific information?