Female Pelvic Implants Market By Product Type (Vaginal Mesh Implants, Vaginal Sling, Vaginal Graft Implants), Indication (Pelvic Organ Prolapse, Stress Urinary Incontinence), End User (Hospitals, Ambulatory Surgical Centres, Speciality Clinics) & Region - Forecast to 2021- 2031
Female Pelvic Implants Market - Analysis, Outlook, Growth, Trends, Forecasts
July 2021

REP-GB-3422

252 pages
Female Pelvic Implants Market Snapshot
The female pelvic implants market will reach a valuation of US$ 245 Mn in 2021, according to the latest Future Market Insights (FMI) analysis. The overall sales outlook remains positive with female pelvic implant demand forecast to total US$ 322.6 Mn by 2031, as the market continues to exhibit growth at a CAGR of 2.8% between 2021 and 2031.
As per FMI, the top five players comprising Johnson & Johnson, Coloplast A/S, Becton, Dickinson and Company, Boston Scientific Corporation, and Cook Medical constitutes around 75% of the overall market.
Key Points Covered in Female Pelvic Implants Market Study
Market estimates and forecast 2016-2031
Key drivers and restraints impacting market growth
Segment-wise, Country-wise, and Region-wise Analysis
Competition Mapping and Benchmarking
Brand share and Market Share Analysis
Key Product Innovations and Regulatory Climate
COVID-19 Impact on Female Pelvic Implants Market and How to Navigate
Recommendation on Key Winning Strategies
2016-2020 Female Pelvic Implants Market Outlook Compared to 2021-2031 Forecast
According to Future Market Insights (FMI), the demand for female pelvic implants has grown at a 2.5% CAGR between 2016 and 2020. According to the Division of Female Pelvic Medicine and Reconstructive Surgery in the Northwestern University Chicago, women with normal life expectancy have an average 30–50% chance of developing pelvic organ prolapse.
Approximately 19% of these women need to undergo at least one surgical intervention for POP or SUI and 30% of them undergo reoperation for recurrence. Despite such high prevalence, there is no definite cure or restoration of anatomical defects for pelvic organ prolapse or stress urinary incontinence. Over the past two decades, attempts have been made to improve the outcomes of surgery.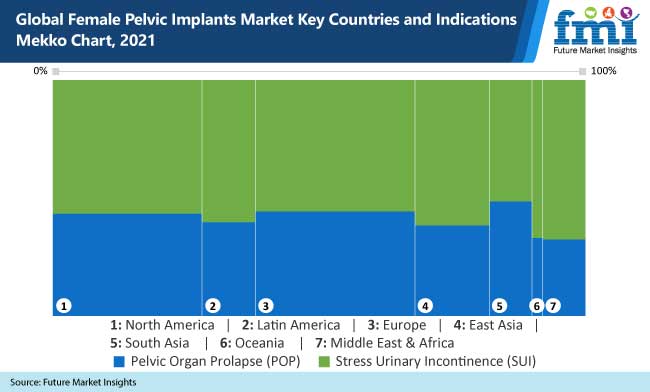 However, the majority of such efforts have resulted in the use of vaginal mesh and grafts. So far, surgical options with mesh implants and slings are proving to be the best option for such disorders which imply a heavy social and economic burden. Other surgical options such as allografts and xenografts are costly and carry the potential of transmission of infectious disease and synthetic meshes.
Thus, the market for female pelvic implants is expected to see continuous growth in the use of mesh and sling implants until definite alternatives are available for these products.
Future Market Insights expects the global female pelvic implants market to rise at 2.8% CAGR between 2021 and 2031.
How will the Market Gain from Novel Tissue Engineering Launch for Female Pelvic Floor Reconstruction?
Ongoing post-marketing surveillance of approved devices and the introduction of novel tissue engineering in female pelvic floor reconstruction creates huge opportunities in the female pelvic implants market. The majority of manufacturers are selling their products in the global market despite strict regulations.
After Food and Drug Administration (FDA) reclassification of vaginal mesh implants from Class II to Class III medical devices, the FDA has advised 33 manufacturers to conduct 3-year studies to assess the impact of organ damage and other complications of mesh implants. After assessing the risks, the manufacturers can reintroduce their devices and can get pre-market approval from the FDA.
This allows manufacturers to re-launch mesh implants, which is expected to enter the market by 2022. Similarly, the introduction of novel tissue engineering with growth factors, biomaterials, and drugs implanted into tissue damage or loss is set to boost repair time, stimulating the regeneration of damaged tissue.
Studies initiating tissue engineering for pelvic organ prolapse have reported the use of novel designed knit material fabricated from FDA?approved non-degradable polyamide dip?coated in gelatin for MSC seeding and delivery. Polypropylene mesh commonly used in clinical practice has good mechanical properties, but there are long?term complications. This validates the need for tissue engineering technology in the treatment of pelvic organ prolapse and promotes an innovative approach to pelvic implantation.
What are the Factors Restraining Demand for Female Pelvic Implants?
As per the USFDA, the transvaginal placement of surgical mesh can be risky in women with POP mesh complications. Some of the common complications reported include mesh erosion, infections, vaginal scarring, discomfort and pain during sex, and even resurgence of urinary incontinence.
Through January 31, 2019, over 139,000 adverse events have been reported for mesh products of which over 69,000 events were reported for POP mesh products, as per FDA, 2020. This restricts the patients from taking surgeries to implant vaginal mesh, thereby deterring market growth. This growing awareness towards surgical complications is curbing patients from opting for vaginal mesh implants in the high growth markets of Europe and the U.S.
What is the impact of the COVID-19 Crisis on the Female Pelvic Implants Market?
There are several long-term and short-term impacts on the industry caused by the COVID-19 crisis. Some industries have shown no impact on their sales while some have been adversely hit. The medical device industry is hampered due to supply chain disruption in the 1st quarter of 2020.
The global female pelvic implants market is affected to an extent due to supply chain disruption. The sale of female pelvic implants has slumped due to the cancellation of elective surgeries and procedures.
Country-wise Insights
How is the Female Pelvic Implants Market Faring in the U.S?
The U.S. holds over 83% share of the female pelvic implants market in North America. According to the Association for Pelvic Organ Prolapse Support, about 34 million women suffer from pelvic organ prolapse (POP) across the globe currently.
In the U.S., the total number of patients with POP is 3.3 million. According to the National Association for Incontinence, 25 million peoples in the U.S. suffer from some form of urinary incontinence, out of which 75% are women. Stress urinary incontinence (SUI) is the most prevalent form.
In the U.S., approximately 15 million people are suffering from SUI. Thus, the rising prevalence of pelvic organ prolapse and stress urinary incontinence is driving the U.S. female pelvic implants market.
How is Support for Women Post-Operation Driving Demand for Female Pelvic Implants in the U.K.?
The U.K. market accounts for over 13% of the Europe market through the assessment period ending in 2031. The governments of various countries of Europe like the U.K. are forming committees that can address the issues of women suffering from peri-operative complications of surgeries for pelvic implants. These programs are expected to raise awareness among the patients, hospitals, and GPs and can increase the penetration of female pelvic implants over the forecast period.
For instance, hospitals in the U.K are forming a multidisciplinary team (MDT) consisting of specialists from urogynecology, urology, radiology, pain management, and more, to provide advice and treatment. This MDT assesses complications and advises the patient if surgery to treat mesh complications is needed.
What is the Scope of Growth of Female Pelvic Implants Sales in the India Market?
The India market accounts for more than 30% of the sales registered in South Asia in 2021. Most developing countries have patients that are not aware of conditions such as pelvic organ prolapse and stress urinary incontinence.
Perception of pain associated with surgery evokes considerable anxiety in patients resulting in reluctance to consider surgical options to cure SUI or POP. Many women delay or do not seek treatment for these diseases in India due to a lack of awareness, which is foreseen to be the biggest challenge for the growth of female pelvic implants in the Indian market.
What Factors are Driving Revenue Generation in the Australia market?
The market for female pelvic Implants in Australia is exhibiting a 2.8% CAGR and is projected to account for more than 86% of the Oceania market throughout the projection period. Growing government initiatives to create awareness is anticipated to boost growth in the region.
For instance, the Australian government has developed the Continence Aids Payment Scheme (CAPS) to support patients with severe incontinence problems. Furthermore, professionals, such as urologists, urogynecologists, gynecologists, nurses, and other skilled organizations have actively promoted awareness of urinary continence in all care settings.
A growing number of awareness programs, regarding pelvic floor diseases and the increasing incidence of urinary incontinence (UI), by different government and non-profit organizations are fueling growth.
Category-wise Insights
Why are Vaginal Sling/Tapes Key to Revenue Generation?
Vaginal sling/tapes have a higher potential for growth. The segment is likely to grow with a relatively high CAGR of 2.5% in the near future. Vaginal sling/tape implants are generally made from a narrow 'tape' of polypropylene mesh which is placed under the urethra like a sling or hammock to keep the urethra in the correct position.
Vaginal slings have been in the market for about 20 years and can be implanted in half-hour. The minimally invasive surgical procedure under local anesthesia is preferred for outpatient applications. Owing to these advantages, demand for vaginal sling/tapes is increasing during the forecast period.
Will Stress Urinary Incontinence (SUI) Continue Fuelling Female Pelvic Implants Demand?
The stress urinary incontinence (SUI) segment is expected to contribute maximum revenue share in the global female pelvic implants market. In terms of revenue, the stress urinary incontinence (SUI) segment accounts for around over 58% share in 2021.
The demand for female pelvic implants is likely to witness strong growth on account of the prevalence of stress urinary incontinence and rising awareness among women regarding treatment options on a global scale.
What is the Scope of Sales across Hospitals?
Hospitals are currently the leading end users of female pelvic implants with a 2.2% CAGR through the forecast period. Similarly, hospitals can impact higher investment abilities and capital, with the surge in the number of emergency admissions, which will enhance growth prospects for the long term.
Competitive Landscape
Manufacturers are primarily focusing on developing new products to bolster the acceptance of female pelvic implants, thus anticipating the surge in sales figures. The companies are focusing on outsourcing the production of female pelvic implants to reduce manufacturing costs, thereby challenging the market with reduced costs. Key players are entering into collaborations, partnerships, mergers and acquisitions to expand their product portfolio and global market.
Coloplast acquired Nine Continents Medical, Inc. in November 2020 and aimed to expand its medical device product portfolio.
Betatech Medical participated in Expomed 2018 which was held in Istanbul on the 28th of February. Betatech developed uterine and pelvic surgical slings and mesh.
In August 2020, InterStim announced the receipt of FDA approval for its Micro neurostimulator and SureScan MRI for non-obstructive urinary retention, overactive bladder, and fecal incontinence.
Scope of the Report
Attribute

Details

Forecast Period

2021-2031

Historical Data Available for

2016-2020

Market Analysis

USD Million for Value in Million

Key Regions Covered

North America, Latin America, Europe, East Asia, South Asia, Oceania Middle East & Africa

Key Countries Covered

US, Canada, U.K., Germany, Italy, France, Spain, Benelux, Russia, India, Thailand, Malaysia, Indonesia, China, Japan, South Korea, Australia, New Zealand, GCC Countries, Turkey, South Africa and North Africa

Key Segments Covered

Product Type, Indication, End-User, and Region

Key Companies Profiled

Johnson & Johnson Services, Inc.
Coloplast A/S
Dipromed Srl
Boston Scientific Corporation
pfm medical ag
Betatech Medical
Promedon Group
Caldera Medical
Cook Medical

Report Coverage

Market Forecast, Competition Intelligence, DROT Analysis, Market Dynamics and Challenges, Strategic Growth Initiatives

Customization & Pricing

Available upon Request
World's Most Profilic Intelligence Engine
Get Access To The World's Largest Market Research Database.
Sign Up Now
Market Taxonomy
Product Type
Vaginal Mesh Implants
Vaginal Sling
Vaginal Graft Implants
Indication
Pelvic Organ Prolapse
Stress Urinary Incontinence
End User
Hospitals
Ambulatory Surgical Centres
Speciality Clinics
Region
North America
Latin America
China
Western Europe
Eastern Europe
APECJ
Japan
MEA
Need specific information?
Our Clients