Feminine Hygiene Products Market by Product Type (Sanitary Napkins, Tampons, Menstrual Cup, Panty liners, Feminine Hygiene Wash), Distribution Channel (Hypermarket, Supermarket, Convenience Stores, Department Stores, Retail Pharmacies, Online Purchase) & Region - Forecast to 2021-2031
Feminine Hygiene Products Market - Analysis, Outlook, Growth, Trends, Forecasts
July 2021

REP-GB-13350

257 pages
Feminine Hygiene Products Market Snapshot
[257 pages] The global feminine hygiene products market revenue is estimated to reach US$ 27,605.8 Mn in 2021, according to Future Market Insights (FMI). The overall feminine hygiene products sales are likely to surpass US$ 54,189.6 Mn by 2031, growing at a CAGR of 7.0% for the period 2021 - 2031.
The demand for sanitary napkins will accelerated growt, accounting for approximately 50% of the overall value share in 2021. Demand for sanitary napkins is forecat to rise at a CAGR of over 8% through the forecast period.
Growth forecasts remain optimistic for the market. As per FMI, it is expected to register year on year sales growth at 6.5% in 2021.
Key Points Covered in Feminine Hygiene Products Market Study
Feminine Hygiene Products Market estimates and forecast 2016-2031
Key drivers and restraints impacting market growth
Segment-wise, Country-wise, and Region-wise Analysis
Competition Mapping and Benchmarking
Feminine Hygiene Products Market Share Analysis
Key Product Innovations and Regulatory Climate
COVID-19 Impact on Feminine Hygiene Products and How to Navigate
Recommendation on Key Winning Strategies
2016-2020 Feminine Hygiene Products Demand Outlook Compared to 2021-2031 Forecast
According to Future Market Insights (FMI), the sales of feminine hygiene products have grown at a 5.8% CAGR between 2016 and 2020. Increasing customer awareness in terms of personal hygiene promotes feminine hygiene product sales. Expansion and product launches in emerging markets also boost the market.
Companies are focusing on the development of innovative feminine hygiene products targeting specific female demographics. Strategic mergers and acquisitions to strengthen their position in the personal care market are likely to gain traction. Major players in the market are focusing on the launch of new products, providing comfort and support on typical menstruation days.
In June 2021, Kimberly-Clark announced a partnership with the RWDC Industries to advance sustainable technology for consumer products. On a similar note, in Feb 2021, Diva International, launched the DivaProtect line, a new product development effort with anti-bacterial lotion.
Hygiene product companies are dedicated to developing new choices for women to expand their portfolio. Companies are focusing on the development of super-absorbent materials and smart solutions for menstruation.
In May 2021, the Poise® Brand by Kimberly-Clark Corporation launched One By Poise® 2-in-1 Liners and Pads and announced a partnership with Whitney Port.
Future Market Insights expects the global market to grow at a CAGR of 7.0% over the forecast period by 2031-end. The growth is attributed to many majors companies that are actively participating in acquisitions to expand their product portfolios.
In May 2020, Ontex announced plans for its first U.S. manufacturing facility and the acquisition of U.S.-based feminine hygiene assets.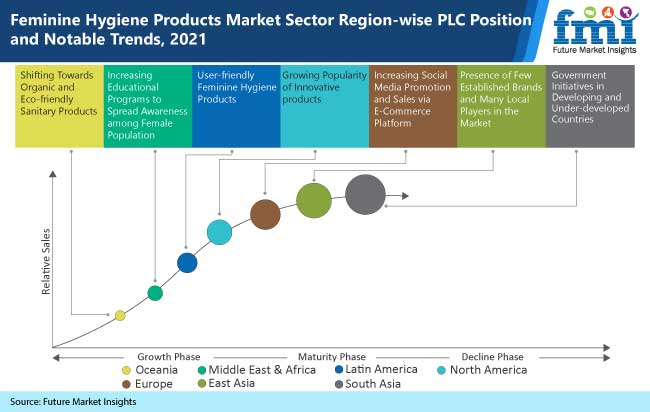 How is Increasing Awareness Regarding Female Health and Hygiene Affecting Growth?
Over the past few years, a significant transformation has been observed in the overall personal care products industry. Adoption of feminine hygiene products has increased notably owing to growing awareness regarding menstrual hygiene etiquette, availability of low-cost and easy-to-use disposable products, and increasing government initiatives in developing countries to promote the usage of hygiene products in rural areas.
Women are currently widely adopting biodegradable sanitary pads and menstrual cupsin addition to feminine hygiene wash for daily vaginal grooming activities. Also, in order to reduce the volume of sanitary napkin waste and to comply with government environmental laws, companies are adopting biodegradable raw materials made of bio-actives extracted from plants.
For an Instance, in Aug 2020, Kimberly-Clark Corporation Introduced Pull-Ups® and New Leaf™, a super soft training underwear with plant-based* ingredients.
What are the Key Opportunities Available to Feminine Hygiene Product Producers?
Social media is the fastest growing channel to connect with customers and bolster product sales. Investments into online retail is making a mark particularly in the U.S. and Europe. Key players are adopting social media campaigns, promotion, and advertising. The rapid penetration of the internet creates great opportunities for small and large players.
Kimberly-Clark, Procter & Gamble, and Johnson & Johnson increasingly focused on social media platforms in 2019 to promote their products and brands, recognizing the fact that women who use digital media often tend to be in tune with their menstrual cycle by using apps.
For instance, In January 2020, Johnson & Johnson Services Inc. announced its collaboration with the internationally-acclaimed social change organization, The MTV Staying Alive Foundation, on a youth-focused "edutainment" campaign in India, MTV Nishedh, which aimed to raise awareness and reduce stigma around critical health and social issues faced by young women.
What are the Factors Restraining Demand for Feminine Hygeine Products?
Product recall due to chemicals used in the production of feminine products can adversely affect sales prospects. Various chemical and medical grade materials are being used for producing disposable feminine hygiene products. Taking women's health into consideration, these products are FDA approved and are well regulated. In recent years however, hazardous materials that cause allergies and rashes were found in pads, tampons, and panty liners, due to which companies were required to recall these products in bulk.
In 2018, Kimberly-Clark announced a voluntary product recall of its U by Kotex® Sleek® Tampons, Regular Absorbency, sold throughout the U.S. and Canada for a quality-related defect that could impact the performance of this product
What is the Impact of the COVID-19 Crisis on the Market?
The COVID-19 pandemic is expected to have a negligible impact on the growth of the market owing to the role of these products as consumer essentials. Essential products were supplied to consumers throughout the crisis period.
Supply chains were hampered due to transportation issues occurring during lockdown. However, these issues have been largely mitigated and growth is expected to continue in the coming decade, with improvements to transport and logistics processes.
Feminine Hygiene Products Market - Country-wise Insights
How Lucrative is the Opportunity for Feminine Hygiene Product Brands in the U.S?
The U.S. holds over 86% of the overall value share in North America. In the U.S., growth is primarily led by research activities and technological advancements in the industry. Rising technological advancements provide opportunities to manufacturers to deliver novel consumer products.
Hygiene products companies are dedicated to developing new choices in the female hygiene market. Advanced absorbent technologies with the use of multiple layers of different superabsorbent polymers and acceptance of such advance products by the U.S. female population is projected to drive the market for the foreseeable future.
What are the Factors Driving Feminine Hygiene Products Sales in Germany?
The Germany market is projected to account for over 18% of the Europe market in 2031. Lifestyle changes among German women drive demand. Hygiene products have incorporated no-leak systems including imprinted lines and patterns, colored zones, and flexible centers, which attract consumer attention.
This products are accepted by women owing to comfort and flexibility improvements. Women choose innovative products to reduce the discomfort and inconvenience of their menstrual periods, maintaining comfort through the menstruation period.
What are the Key Factors Enabling Feminine Hygiene Products Market Growth in France?
France market will exhibit an 8.7% CAGR throughout the forecast period. Emergence of social media has created great opportunities in in the country. Promotion from a wide range of feminine hygiene products has become easier due to social media.
Demand for menstrual cups had been rising in the country, primarily fueled by digital influencers highlighting their benefits such as reusability and eco-friendliness over traditional sanitary protection products, especially among tampon offerings.
Will Favorable Government Policies Continue Driving Feminine Hygiene Products Sales in India?
The Indian market for feminine hygiene will account for more than 70% of the sales registered in South Asia in 2021. Increasing healthcare spending and government initiatives has improved the quality of healthcare, while boosting the demand for consumer products.
The Indian government is focused on the launch of new oxo-biodegradable sanitary pads to reduce the burden of mensuration with the vast female population of the country. In 2018, the Indian Government introduced biodegradable sanitary pads priced at Rs 2.50 per pad, on the eve of International Women's Day. These sanitary napkins are available at 'Pradhan Mantri Bhartiya Janaushadhi Pariyojana Kendras' sold under the brand name Suvidha.
What is Scope for Feminine Hygiene Products Sales Growth in China?
The market for feminine hygiene products in China is exhibiting an 8.0% CAGR, and is expected to account for a share of 82% in 2031 of the East Asia market. Large emerging markets, especially in China have a great opportunity in expansion towards product sales.
The growth is attributed to continuous improvements in feminine products, the availability of innovative feminine products, and increasing presence of local players. Local hygiene product manufacturers have also invested in research and development (R&D) for consumer satisfaction.
Feminine Hygiene Products Market - Category-wise Insights
How are Sanitary Napkin Sales Set to Fare?
Sanitary napkins show steady growth in the historical and forecast period. The segment is likely to have a high CAGR of 8.1% in the near future. Innovation in sanitary napkins and advances in adsorbing material drive demand
Developments of sanitary napkins to make products leak free and comfortable to use are important to adoption rates. Sanitary napkins are cost effective compared to feminine hygiene products as it is adapted extensively by emerging countries.
What is the Scope of Growth for Online Purchases?
Despite, retail pharmacies currently leading the market, online purchases have a very positive growth prospects in the market with a 7.9% CAGR in the forecast period.
This growth can be primarily attributed to higher acceptance of online sales channels which provides discounts and and a wider product choice for consumers.
Feminine Hygiene Products Market - Competitive Landscape
Manufacturers in this market are primarily aiming to carry out strategic collaborations and invest in R&D to consolidate growth in a competitive market landscape.
For Instance, In May 2020, Diva International announced the launch of a unique menstrual education partnership with Plan International Canada to reach Indigenous youth. In May 2019, Edgewell Personal Care collaborated with Harry's, Inc. to create a next generation consumer products platform.
In July 2021, pH Care announced the launch of phcaretolearn.com, a digital pl,atform for feminine health education for access to people of all ages.
In November 2020, Santex Products announced a partnership with Institute of Business Administration (IBA) in Karachi to set up vending machines for the companies Butterfly Breathable range of feminine hygiene products.
Feminine Hygiene Products Market - Scope of the Report
Attribute

Details

Feminine Hygiene Products Market Forecast Period

2021-2031

Historical Data Available for

2016-2020

Feminine Hygiene Products Market Analysis

USD Million for Value/ Units in Million for Volume

Feminine Hygiene Products Market - Key Countries Covered

US, Canada, Germany, U.K., France, Italy, Spain, Russia, China, Japan, South Korea, India, Thailand, Malaysia, Indonesia, Australia, New Zealand, GCC Countries, Turkey, South Africa

Feminine Hygiene Products Market - Key Segments Covered

Product Type, Distribution Channel, and Region

Feminine Hygiene Products Market - Key Companies Profiled

Procter and Gamble
Johnson & Johnson
Kimberly-Clark Corporation
Svenska Cellulosa Aktiebolaget SCA
Sanofi S.A
Lil-lets UK Limited
Ontex
Unicharm Corporation
Diva International Inc.
Edgewell Personal Care

Report Coverage

Market Forecast, Competition Intelligence, DROT Analysis, Market Dynamics and Challenges, Strategic Growth Initiatives

Customization & Pricing

Available upon Request
World's Most Profilic Intelligence Engine
Get Access To The World's Largest Market Research Database.
Sign Up Now
Feminine Hygiene Products Market by Category
Product type
Sanitary Napkins
Tampons
Menstrual Cup
Panty liners
Feminine Hygiene Wash
Distribution Channel
Hypermarket
Supermarket
Convenience Stores
Department Stores
Retail Pharmacies
Online Purchase
Region
North America
Latin America
Europe
East Asia
South Asia
Oceania
Middle East and Africa (MEA)
Key Questions Answered in the Report
How much is the feminine hygiene products market worth?
The feminine hygiene products market will reach a worth US$ 27,605.8 Mn in the year 2021 and is expected to reach US$ 54,189.6 Mn by 2031 driven by favorable government initiatives taken towards creating awareness programs about importance of menstrual hygiene.
Which are top-selling feminine hygiene products?
Sanitary napkins will register high demand on a global scale during the forecast period at CAGR of 8.1%.
What was the last 5 year market CAGR in the feminine hygiene products market?
Historically, the market has grown at a CAGR of 5.8% between 2016 and 2020.
What are the key trend influencing the feminine hygiene products market?
Research for innovative products, adoption of this novel offerings, and adoption of modern lifestyles by women key trends prevailing in the market.
What is driving demand for feminine hygiene products?
Increasing adoption of sanitary napkins in developed and developing countries owing to low production cost supports growth prospects. Selling costs of sanitary napkins is made affordable to all women of all demographics. These factors drive the market during the forecast years.
What is the share of the top 5 playersin the feminine hygiene products market?
The cumulative market share of the top 5 players including Procter & Gamble, Johnson & Johnson, Svenska Cellulosa Aktiebolaget SCA, Kimberly Clark Corporation, and Unicharm Corporation constitutes around 62.1% of the overall market.
Which are the top 5 countries driving demand in the feminine hygiene products market?
India, China, U.S., Brazil, and Germany are the top 5 countries driving the demand for feminine hygiene products.
What is the East Asia feminine hygiene products market outlook?
East Asia holds around 24.6% revenue share in the overall feminine hygiene products market in 2021. China remains the fastest growing country over the U.S. exhibiting a CAGR of 8.0% over the forecast period.
At what rate will feminine hygiene products demand rise in Europe?
The Europe market is set to exhibit a CAGR of 7.4% during the forecast period owing to high social media promotion and high adoption of online platforms for buying consumer products.
Which companies are key producers of feminine hygiene products?
Procter and Gamble, Kimberly-Clark Corporation, Johnson & Johnson, Unicharm Corporation, and Svenska Cellulosa Aktiebolaget SCA are key producer of this market.
What is the key market statistics in South Korea and Japan?
Japan's market for feminine hygiene products is expected to hold a value shareof 3.4% during the forecast period. South Korea holds a revenue share of 1.5% in the global feminine hygiene products market.
Need specific information?
Our Clients