Demand from Aquaculture to Remain High, Enabling Growth Amidst Troubled Times
The demand for fishmeal and fish oil is expected to remain in high in the aquaculture segment, despite the ongoing turmoil. In addition to this, the swine and poultry segments are likely to show high demand for fishmeal and fish oil in the coming years.
Despite positive outlook, the rising demand for alternative protein in animal feed could emerge as a key challenge for the market players. Moreover, aquaculture has been in focus for the use of alternatives sources of proteins in animal feed. Rising investment in the production of these alternative sources could hamper the market's growth prospects in the coming years.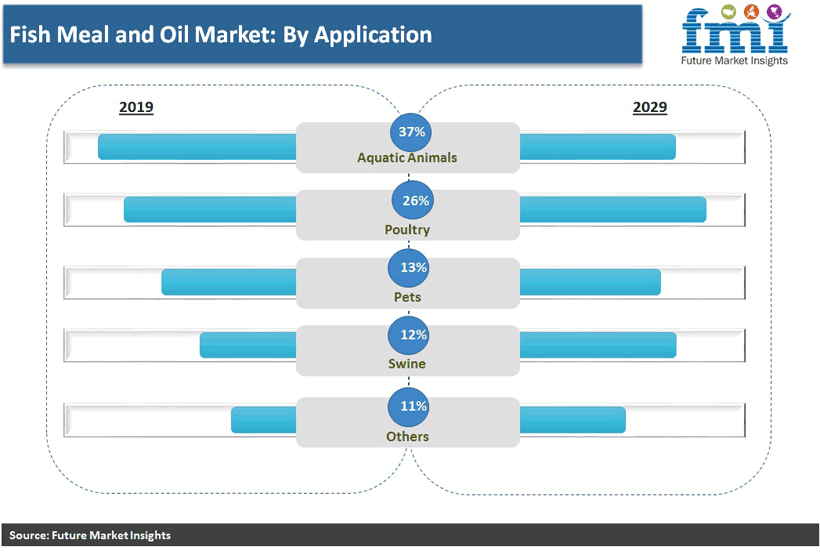 Rising Demand from Pharmaceutical Industries to Offer Major Growth Opportunities in Developing Nations
The rising awareness among consumers about the benefits of consumption of omega 3 fatty acids will drive fishmeal & fish oil market. Fish oils are very essential for human health. Carotenoids and astaxanthin derived from fish help in building the immune system in human body.
Besides this, omega 3 fatty acids are primarily extracted from fish oils have numerous health benefits. Increasing awareness about aforementioned health benefits of fish oil will aid in the overall expansion of the market in the coming years.
The market will also gain the support of various economic factors. For instance, the gradual rise in the purchasing power of the consumer and their subsequent willingness to spend on their and their family's health and wellness will support the growth of the market.
Also, fish oil finds increasing application in the pharmaceutical industry raw material for making medicines. These medicines are used for treating various health disorders. Spurred by these factors, the market will exhibit a steady growth over the forecast period.
Salmon and Trout Segment to Exhibit High Demand
Fish oils are mainly extracted from fishes such as anchovy, salmon and trout. These fishes are rich in astaxanthin and carotenoids that have diverse uses in pharmaceutical industries. For instance, they are used in the manufacturing of different medicines for human and animal consumption. Fish oil is a rich source of both energy and essential fatty acids like omega 3 which are important for human body therefore, its consumption in the aquaculture industry has progressed.
In terms of source the market can be segmented into salmon and trout, crustaceans, cyprinids, marine fish and others. Of these, the demand in salmon and trout segment is considerably high. Trailing it is the marine segment.
How Growth will Unfold
Key market players have adopted expansion and investments as key strategies to expand their presence in the fishmeal & fish oil market. Their growth strategies will enable growth in the market in the coming years. Regionally, Western Europe has emerged as a key market for fishmeal and fish oils. The market will also witness lucrative growth opportunities in Asia Pacific excluding Japan.
The global fish and seafood market is undergoing transformation with big firms and government organizations collaborating will smaller fisheries at both inter and intra-region levels. These collaborations have created scope for increased demand for aquatic feed additives market. This in turn will fuel demand in the fishmeal and fish oil market. Furthermore, the rising use of fish oil in health supplements will open attractive avenues of growth for the market.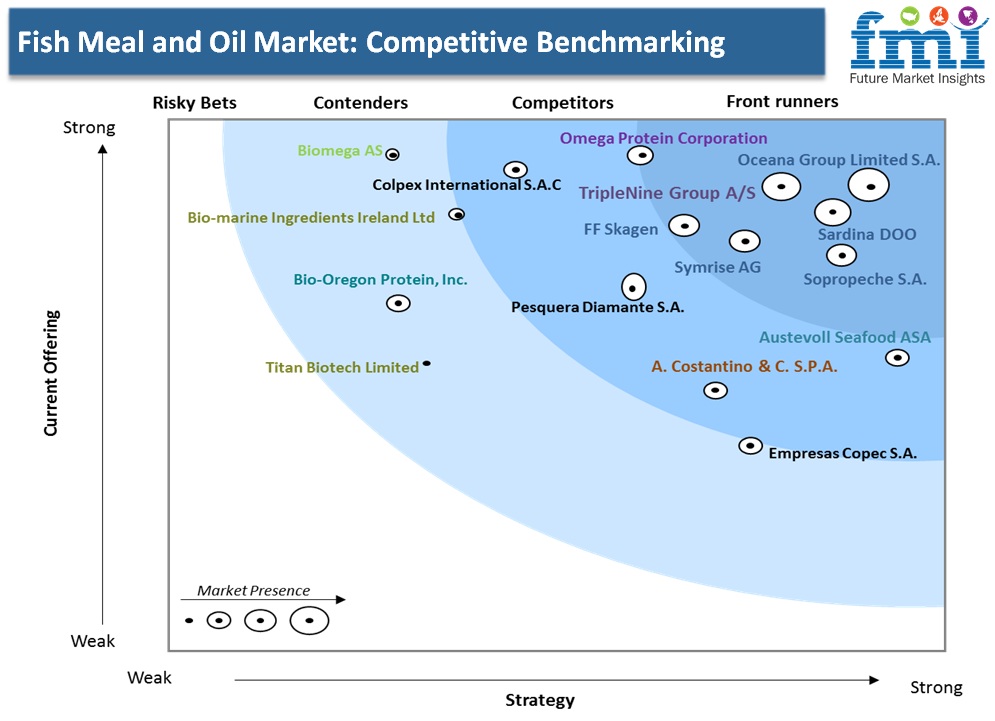 FISHMEAL & FISH OIL MARKET TAXONOMY
The global Fishmeal & Fish Oil market is segmented in detail to cover every aspect of the market and present complete market intelligence to readers
Source
Salmon & Trout
Marine Fish
Crustaceans
Tilapia
Carps
Others
Application
Aquaculture & Aquatic Feeds
Land Animal Feeds
Fertilizers
Pharmaceuticals
Dietary Supplements
Others
Region
North America
Latin America
Europe
East Asia
South Asia
Oceania
MEA
Need specific information?
Talk Show:
The Rise of Intelligent Packaging
Personalized, Connected and Sustainable
November 18, 2021
11:00-11:45 AM PST (USA & Canada)
This is a LIVE session