An Incisive, In-depth Analysis on the Food Grade Phosphates Market
This study offers a comprehensive, 360 degree analysis on the Food Grade Phosphates market, bringing to fore insights that can help stakeholders identify the opportunities as well as challenges. It tracks the global Food Grade Phosphates market across key regions, and offers in-depth commentary and accurate quantitative insights. The study also includes incisive competitive landscape analysis, and provides key recommendations to market players on winning imperatives and successful strategies.
Food grade phosphate finds applications in agriculture, food and beverages and animal feed industries. The agriculture segment by application shows dominance over the other application areas. A rapidly growing food industry worldwide and technological advancements over the last few years are some factors expected to boost growth of the global food grade phosphate market. Food grade phosphate is widely used in bakery and confectionery, meat and seafood, and dairy and nutrition products. Moreover, the application of phosphate as a preservative in the food industry is driving market demand for food grade phosphate.
Retail sales sector bound to have a significant impact
There are several macroeconomic factors that impact the global food grade phosphate market, of which the retail sales sector has a significant influence over the market. The retail sales sector is becoming well organised and is anticipated to expand across several domains, especially food and non-food consumer products. The expansion of worldwide retail chains coupled with swelling product lines and hence product portfolios is expected to drive the growth of the food products market – in a way impacting the global food grade phosphate market. Retail sales is one element driving market growth; however, rising urbanisation, per capita consumption expenditure and GDP growth have a fairly moderate impact on the growth of the food grade phosphate market.
Agriculture sector by application shows dominance
The agriculture segment reflects a significant growth rate as compared to other application segments, and is anticipated to register a CAGR of 2.1% during the period of forecast (2017 to 2027). This segment fairs well with respect to incremental opportunity and is expected to reach a market value of about US$ 25 Bn by the end of 2027. The animal feed and agriculture segments go hand in hand showing a similar growth pattern and pace. However, the agriculture segment is a shade better in terms of value and volume share in the global food grade phosphate market and shows higher incremental opportunity than the animal feed segment.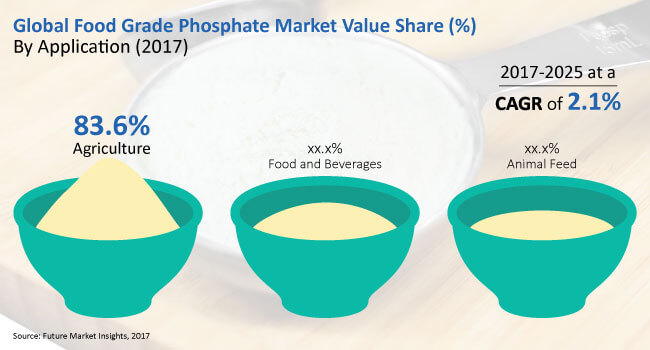 APEJ region to grow at a faster rate with the agriculture segment supporting this growth
The Asia Pacific excluding Japan (APEJ) region reflects dominance in the global food grade phosphate market over other regions and is expected to grow at a higher rate. One of the major contributors to this growth is the agriculture sector. Food grade phosphate being widely used in agriculture, this application segment finds itself at the peak of the value share in the APEJ region and is expected to retain its high share during the forecast period. Our research indicates that the agriculture segment by application in the APEJ food grade phosphate market will hold a huge market value share of 85.4% by 2017 end and is expected to reach 86.6% share by the end of 2027. It is also poised to enjoy a huge gain in the BPS (125 basis points) by the end of 2027. Revenue generated by the agriculture segment in the APEJ regional market is estimated to be more than US$ 7 Bn by the end of 2027.
There are many drivers and trends lurking in the market that have a positive impact on the growth of the global food grade phosphate market. The diversity in "ready to eat" food as well as convenience food is driving the market. In the food processing sector, food grade phosphate is used extensively as a texturizing agent, stabilising agent and also as a thickener. Demand for ready meals and food products is increasing, which is expected to increase the demand for food grade phosphate significantly. The rising demand for mineral enriched and fortified food products given the shifting consumer preference towards mineral rich and fortified food products is yet another fuelling factor positively impacting revenue growth of the global food grade phosphate market.
Key opportunities and trends that support the growth of the global food grade phosphate market
Potential growth opportunities exist in the market for synthetic food additives. Food additives include various natural and synthetic food additives that are used to preserve freshness, texture and flavour of food products

Growing consumer concerns regarding the food products they consume on a routine basis have created the need for using food grade phosphate in a variety of food products. Consumers are more informed than before regarding food labels and ingredients, and are either looking for food with "E" number or labels stating natural, organic, or non-GMO

Manufacturers of phosphates are expanding their business presence in countries in Asia Pacific, Latin America and Western Europe to cater to growing applications in food, feed and agriculture industries. This expansion in emerging economies is yet another opportunity that should be grabbed to gain competitive advantage with respect to price and delivery time

Manufacturers of food grade phosphate are focussing on expanding their business in order to enhance production capacity and cater to increasing customer demand in various regions

Key players are focussing on the millennial segment. Millennials are the major group preferring consumption of healthy food products. Increased corporate culture owing to busy schedules has shifted consumer preferences for healthy food and beverages
In a recent market intelligence outlook released by Future Market Insights, titled "Food Grade Phosphate Market: Global Industry Analysis and Opportunity Assessment 2017–2027," the global market for food grade phosphates has been thoroughly assessed for a 10-year period, 2017-2027 – on the basis of the insights drawn for the historic assessment period, i.e. 2012-2016.
Comprehensive assessment of global food grade phosphates market
The research report has been prepared by seasoned market research analysts and comprises valuable information on the global food grade phosphates market that has been included with an objective to help industry participants arrive at important decisions regarding their strategic development. As the industry landscape reflects a dynamically evolving market scenario, it becomes imperative for businesses to acquire the most actionable insights on the market to forge ahead and gain an edge over the competition. This report offers detailed and comprehensive, yet precise projections of the performance of global food grade phosphates market over the next decade - through deep dive market analysis.
Digging deep into macros and key dynamics of global food grade phosphates market
The FMI report on global market for food grade phosphates offers detailed examination of a series of macroeconomic aspects associated with the market performance. Moreover, the market dynamics section of the report discusses in detail all the high-impact and low-impact factors that are likely to influence both positively and negatively on market growth. While the report offers qualitative information about market growth drivers and restraints, readers can also comprehend the extent of impact they are expected to pose on market condition over the next few years – with the help of quantified research analysis in the report. The report section that throws light on the factorial analysis and representation offers an unbiased, holistic view of the global market for food grade phosphates. With relevant statistics and data points, this part of the report helps infer the direction of market growth over the 10-year projection period.
In-depth tracking of market opportunities and trends to stay ahead of the competition
The next section of the report provides an extensive market opportunity assessment and recent trends analysis. While this section focuses on the opportunities created by shifting consumer perceptions regarding healthy food products, it also includes a few other significant revenue generation opportunities that are expected to arise with fluctuating popularity of naturally sourced and synthetic food additives. The opportunity assessment section further elaborates on the possibilities of market entry scenario in developing economies and offers recommendations to players in the food grade phosphates market for a firmer footprint and competitive edge in the marketplace. Trends analysis provides information about the latest market trends observed among both consumers and market stakeholders.
Taxonomical categorization of global food grade phosphates market
The report further provides detailed taxonomical analyses of global food grade phosphates market – on the basis of type, application, and region. Based on the type, the report classifies market in seven segments. Whereas, on the basis of application, the market has been categorized into three segments, which are further sub-segmented for better understanding of the food grade phosphates consumption patterns. Regional segmentation analysis of the food grade phosphates includes detailed assessment of seven key geographies across the global market, viz. North America, Latin America, Western Europe, Eastern Europe, Asia Pacific excluding Japan (APEJ), Japan, and Middle East and Africa (MEA). The report provides deep segmental analysis of each of the regional markets to unravel the current and upcoming opportunities for manufacturers and other market participants in respective regions.
Detailed competition tracking to help reach decisive strategic points
In its next section, the global food grade phosphates market report includes exhaustive competitive landscape analysis emphasizing various aspects of a wide range of players operating in the market – such as market share and revenue, existing product offerings and portfolio analysis, developmental strategies, high-impact M&A, supply chain assessment, key strengths, and potential marketing strategies. This extensive competition profiling section aims to help market participants devise appropriate developmental strategies and take informed decisions with a unique competitive advantage.
Market sizing in terms of value and volume, forecasting, yearly and compound annual growth rate analysis, incremental opportunity assessment, and BPS calculations are performed by expert research analysts with the help of a powerful primary and secondary research approach. Expert opinions gathered from a wide range of industry experts, domain specialists, market observers, and a variety of secondary sources are referred to triangulate actionable insights. With effective market forecasting for the projection period – 2017-2027, this report is intended to enable global food grade phosphates market participants to reassess their current business decisions and strategize future moves.
COVID -19 : Impact Analysis
Request the coronavirus impact analysis across industries and markets
Request Covid -19 Impact
CASE STUDIES
See how our work makes an impact.
At FMI, we design strategies that are adaptive, impactful, and implementable.