Introduction
Food grade phosphate finds applications in agriculture, food and beverages and animal feed industries. The agriculture segment by application shows dominance over the other application areas. A rapidly growing food industry worldwide and technological advancements over the last few years are some factors expected to boost growth of the global food grade phosphate market.
Food grade phosphate is widely used in bakery and confectionery, meat and seafood, and dairy and nutrition products. Moreover, the application of phosphate as a preservative in the food industry is driving market demand for food grade phosphate.
Retail sales sector bound to have a significant impact
There are several macroeconomic factors that impact the global food grade phosphate market, of which the retail sales sector has a significant influence over the market. The retail sales sector is becoming well organised and is anticipated to expand across several domains, especially food and non-food consumer products.
The expansion of worldwide retail chains coupled with swelling product lines and hence product portfolios is expected to drive the growth of the food products market – in a way impacting the global food grade phosphate market. Retail sales is one element driving market growth; however, rising urbanisation, per capita consumption expenditure and GDP growth have a fairly moderate impact on the growth of the food grade phosphate market.
Agriculture sector by application shows dominance
The agriculture segment reflects a significant growth rate as compared to other application segments, and is anticipated to register a CAGR of 2.1% during the period of forecast (2017 to 2027). This segment fairs well with respect to incremental opportunity and is expected to reach a market value of about US$ 25 Bn by the end of 2027.
The animal feed and agriculture segments go hand in hand showing a similar growth pattern and pace. However, the agriculture segment is a shade better in terms of value and volume share in the global food grade phosphate market and shows higher incremental opportunity than the animal feed segment.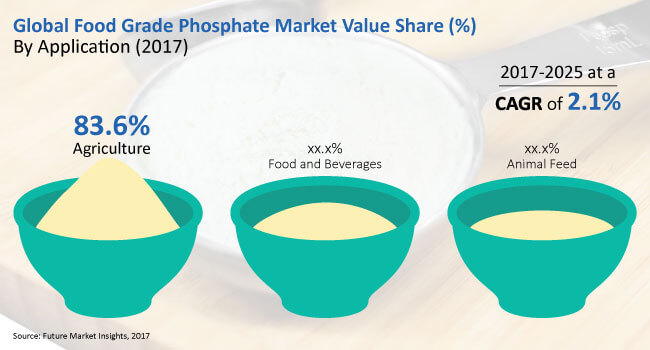 APEJ region to grow at a faster rate with the agriculture segment supporting this growth
The Asia Pacific excluding Japan (APEJ) region reflects dominance in the global food grade phosphate market over other regions and is expected to grow at a higher rate. One of the major contributors to this growth is the agriculture sector. Food grade phosphate being widely used in agriculture, this application segment finds itself at the peak of the value share in the APEJ region and is expected to retain its high share during the forecast period.
Our research indicates that the agriculture segment by application in the APEJ food grade phosphate market will hold a huge market value share of 85.4% by 2017 end and is expected to reach 86.6% share by the end of 2027. It is also poised to enjoy a huge gain in the BPS (125 basis points) by the end of 2027. Revenue generated by the agriculture segment in the APEJ regional market is estimated to be more than US$ 7 Bn by the end of 2027.
There are many drivers and trends lurking in the market that have a positive impact on the growth of the global food grade phosphate market. The diversity in "ready to eat" food as well as convenience food is driving the market. In the food processing sector, food grade phosphate is used extensively as a texturizing agent, stabilising agent and also as a thickener. Demand for ready meals and food products is increasing, which is expected to increase the demand for food grade phosphate significantly.
The rising demand for mineral enriched and fortified food products given the shifting consumer preference towards mineral rich and fortified food products is yet another fuelling factor positively impacting revenue growth of the global food grade phosphate market
Key opportunities and trends that support the growth of the global food grade phosphate market
Potential growth opportunities exist in the market for synthetic food additives. Food additives include various natural and synthetic food additives that are used to preserve freshness, texture and flavour of food products
Growing consumer concerns regarding the food products they consume on a routine basis have created the need for using food grade phosphate in a variety of food products. Consumers are more informed than before regarding food labels and ingredients, and are either looking for food with "E" number or labels stating natural, organic, or non-GMO
Manufacturers of phosphates are expanding their business presence in countries in Asia Pacific, Latin America and Western Europe to cater to growing applications in food, feed and agriculture industries. This expansion in emerging economies is yet another opportunity that should be grabbed to gain competitive advantage with respect to price and delivery time
Manufacturers of food grade phosphate are focussing on expanding their business in order to enhance production capacity and cater to increasing customer demand in various regions
Key players are focussing on the millennial segment. Millennials are the major group preferring consumption of healthy food products. Increased corporate culture owing to busy schedules has shifted consumer preferences for healthy food and beverages
Key Segment
Need specific information?