An Incisive, In-depth Analysis on the Gas Cylinders Market
This study offers a comprehensive, 360 degree analysis on the Gas Cylinders market, bringing to fore insights that can help stakeholders identify the opportunities as well as challenges. It tracks the global Gas Cylinders market across key regions, and offers in-depth commentary and accurate quantitative insights. The study also includes incisive competitive landscape analysis, and provides key recommendations to market players on winning imperatives and successful strategies.
COVID -19 : Impact Analysis
Request the coronavirus impact analysis across industries and markets
Request Covid -19 Impact
Transportation of high value gases remains to be a critical operation that fuels the utility of safe and regulated gas cylinders. Advancements in technologies for compressing volatile as well as inert gases in cylinders has influenced the manufacturing of gas cylinders. New cylinder designs and enhanced safety provisions have optimised the handling and storing abilities of gas cylinders. Robust materials are being used to build gas cylinders that can sustain the mechanical abrasion of dropping, tipping over and undue exposure to heat. Gas cylinder manufacturers are remaining firmly focused upon building robust cylinders to meet the diverse safety precautions of toxic, flammable, corrosive, oxidising, and inert gases. Gas cylinders are being equipped with high-grade sealants to eliminate the risks of hazards associated with valve breaks or lethal projectiles that can cause cracks in the cylinder shells.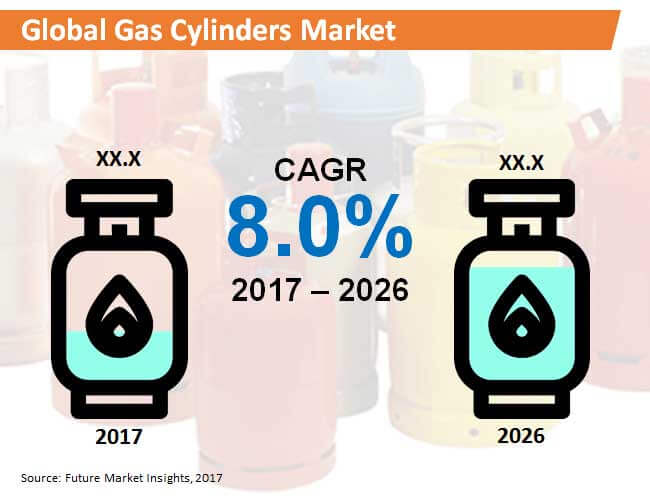 Future Market Insights' forecast study foresees a substantial growth for the global gas cylinders market during the assessment period, 2017-2026. Over this period, it has been forecasted that the global gas cylinders market will register a robust expansion at an estimated 8% CAGR in terms of value. The report further projects that the global sales of gas cylinders will rake in more than US$ 11 Bn revenues by the end of 2026.
Demand for Type I Cylinders to Remain Predominantly High
Considering the high stakes associated with bulk gas transportation, consumers and end-users are demanding for the safest gas cylinders that can provide maximum protection against the hazards of accidental gas leaks. Type I gas cylinders are recognised for their superior safety features, wherein their lightweight also contributes towards fuel-efficient gas transportation. Advanced fabrication employed in the production of type I gas cylinders give them a competitive advantage against other types of cylinders. Several gas cylinder manufacturers are adopting powder coating technologies to make type I gas cylinders extremely corrosion resistant. It has been estimated that through 2026, approximately 40% of the global market value will be arising from the revenues procured through sales of type I gas cylinders.
Gas Cylinders Wrapped with Aramid Fibres to Register Rapid Revenue Growth
In 2017, more than US$ 2.8 Bn worth of gas cylinders sold worldwide were wrap less in nature. The demand for wrap less gas cylinders will continue to translate highest amount of revenues in the global market throughout the forecast period. However, the report observes a rapid growth in demand for gas cylinders wrapped with aramid fibres. Thermal stability of aramid fibres plays an instrumental role for wrapping the openings of gas cylinders. With high strength and low weight, the global demand for gas cylinders wrapped with aramid fibres is expected to register high revenue growth at a CAGR of 9% over the forecast period. Likewise, the report further reveals that carbon fibre wrapping of gas cylinders will translate fastest revenue growth and account for 20% of the overall market value by the end of 2026.
Absolute Adherence of Manufacturers to Gas Cylinder Safety Regulations
Storage capacity and the type of gas have a governing influence over the safety regulations developed for manufacturing of gas cylinders. On the basis of size, it is observed that sales of gas cylinders weighing 14kgs and 5kgs will register highest demand by collectively accounting for nearly one-third share of global market value by the end of the forecast period. In addition, gas cylinders are likely to be widely used for storing flammable gases. By the end of 2026, nearly US$ 3 Bn worth of gas cylinders sold in the global market will be storing flammable gases. Such statistics will continue to impose a remarkable influence on the global gas cylinder manufacturing landscape. Companies such as Luxfer Gas Cylinder, Hexagon Composites ASA, Quantum Technologies, Worthington Cylinders, Drägerwerk AG & Co. KGaA, Time Technoplast, Faber Industrie S.p.A., Beijing Tianhai Industry Co., Ullit, and Everest Kanto Cylinder Ltd., which are widely recognized as global leaders in gas cylinder manufacturing, will be firmly adhering to the global and regional standards of gas cylinder safety in 2018 and beyond.
Gas cylinders have sought applications across various industrial sectors, ranging from automotive compressed natural gas (CNG) to imperative processes of medical, beverage, and fabrication. Future of the global gas cylinders market seems positive with the development opportunities in the gas carriers & storage, recreation industries, life support, and transportation. Growing demand for gas cylinders with greater capacity, proliferation in natural gas vehicles, and high requirement for lightweight cylinders are key factors propelling the market for gas cylinders worldwide.
Future Market Insights (FMI) has recently developed and published an exhaustive research report, titled "Gas Cylinders Market: Global Industry Analysis (2012-2016) & Opportunity Assessment (2017-2026)". The report tracks expansion of the global gas cylinders market, imparting dynamics and forecasts on the market for the period between 2017 and 2026. Key players in the market can avail this exclusive report to assess the inferred forecast for better understanding the market's current conditions, and developing informed strategies for future expansion of their businesses. Revenues from the market players over the historical period have been benchmarked for developing baselines to forecast the market size for the forecast period. Infusing quantitative intelligence with qualitative insights, the report delivers an accurate forecast on growth of the global gas cylinders market.
Report Synopsis
The report has been composed for catering concerns of every gas cylinder manufacturing industry across the global landscape. Key areas addressed in the report include the market dynamics, opportunities, drivers and restraints, which are likely to have a significant impact on the market expansion in the foreseeable future. An exhaustive analysis has been offered on these factors to provide better understanding on the ways that gas cylinders is produced and distributed among end-users, along with a presumptive study on the likely future transformations in the gas cylinders market globally.
Cost structure, pricing analysis, and supply chain of gas cylinders have been elucidated comprehensively in the report, along with intelligence on regulatory standpoint of gas cylinders for identifying remunerative avenues and restrained aspects in the market landscape. An executive summary, which initiates the report, offers a concise yet insightful analysis on key market segments coupled with relevant market numbers. The overview chapter, trailing the executive summary, offers a complete scenario of the global gas cylinders market, including a succinct market introduction and a formal definition of "gas cylinders".
Market Taxonomy
| Region | Cylinder Type | Wrap Type | Size | Gas Types |
| --- | --- | --- | --- | --- |
| | | | | |
| | | | | |
| | | | | |
| | | | | |
| | | | | |
| | | | | |
| | | | | |
| | | | | |
| | | | | |
| | | | | |
Competition Landscape
FMI's report on the global gas cylinders market conveys an outlook on the engaged scenario of the market, featuring rivalry prevalent among key companies and elucidating future circumstances of the market in its concluding chapter. This chapter of the report profiles key market players and offers intelligence on them in terms of product overview, company overview, key financials, key developments and SWOT analysis. Companies mentioned in the report have been minutely examined, covering novel strategies employed, product innovations being undertaken, and impending or likely mergers & acquisition activities between the market players. This chapter is crucial for the report readers as it imparts an in-depth analysis on the competitive scenario of the global gas cylinders market, which can be leveraged by the market players for planning their future business direction.
Research Methodology
Credibility of the researched statistics and data is backed by the unique research methodology employed by the analysts at FMI, which ensures higher accuracy. FMI's research report on the global gas cylinders market can assist its readers in gaining detailed insights on many different aspects governing the market around key regional segments included in the report. The report readers can further slate key strategies for tapping into vital revenue pockets and gaining benefits over the intensifying competition in the market. Information presented in the report has been scrutinized and monitored thoroughly by FMI's industry experts. Figures and numbers offered in the report have also been validated by the analysts in order to facilitate strategic decision making for the report readers.
Harish Tiwari
Global Head - Business Development
Akshay Godge
Client Partner - Global Business Development
CASE STUDIES
See how our work makes an impact.
At FMI, we design strategies that are adaptive, impactful, and implementable.