An Incisive, In-depth Analysis on the Glass Tempering Systems Market
This study offers a comprehensive, 360 degree analysis on the Glass Tempering Systems market, bringing to fore insights that can help stakeholders identify the opportunities as well as challenges. It tracks the global Glass Tempering Systems market across key regions, and offers in-depth commentary and accurate quantitative insights. The study also includes incisive competitive landscape analysis, and provides key recommendations to market players on winning imperatives and successful strategies.
Building & construction and civic infrastructure/architecture segments are expected to hold significant market shares during the forecast period
As a significant share of demand for glass is driven from the building & construction/architecture industry, the glass tempering technology is expected to witness high growth across these industries. The market value generated from architectural segment is estimated to be valued more than US$ 65 Mn by 2017 end and is projected to reach close to US$ 95 Mn by the end of 2027 while expanding with a CAGR of 3.6% over the forecast period. In terms of value, the architectural segment alone is expected to capture more than 70% of the market share in 2017 end.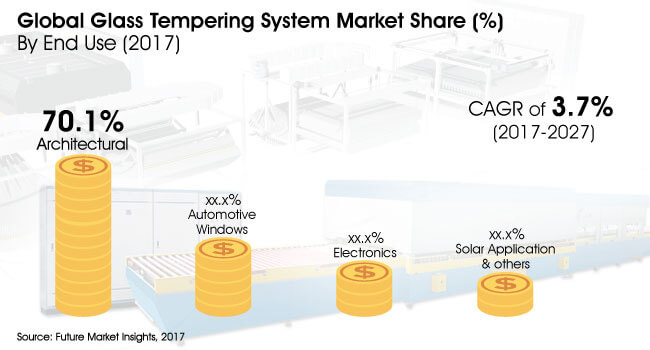 Factors restraining the growth of the global glass tempering system market
North America
Requirement of huge investments to set up glass manufacturing industry is one of the prominent restraints that can adversely affect the growth of the glass market in the upcoming years. Moreover, continuous innovations are required to maintain competitive advantage and to generate new applications in the glass industry. This factor is also responsible for huge investments, which in turn, is expected to hinder the growth of the glass tempering system market in North America.
Latin America
The slow rate of recovery after an economic crisis in Mexico in 2009 is likely to decelerate the demand growth of glass. The Mexican economy is vulnerable to the U.S. economic trends. Hence, substantial changes in consumer spending are likely to hamper glass consumption in the furniture segment. Additionally, national consumption of glass furniture in Mexico is steadily decreasing. Widespread unemployment and high inflation are some of the other factors that are hampering the growth for the glass tempering system market in Latin America.
Europe
While glass sub-sectors are highly automated, some are still labour intensive. Stringent regulations regarding material handling is responsible for potential competitive losses for the Western European manufacturers as compared to companies located in regions with less stringent rules. In Eastern Europe due to the economic crisis, the purchasing power has come down drastically and subsequently, the demand for new real state and infrastructural development has also been suffered. All these factors are creating obstacles in the growth of glass tempering system market in Europe
APEJ
Some of the solar manufacturers in APEJ are going through a phase of financial crisis. This is the reason that Chinese manufacturers are now offering cheap prices for glass against tempered one. The government is also prioritizes cheap power over domestic manufacturing. This increase in sales of Chinese manufacturers in APEJ and the APEJ subcontinent affects the market for local manufacturers.
MEA
There are many types of glasses available in the MEA glass market and the investment in research and development of glass is still going on to make it better and effective for more applications. But consumers are not aware of the type of glass and its advantages. This lack of awareness can act as a restraint to the growth of glass tempering system in MEA market.
Global glass tempering system market size between 2017 and 2027
The market value generated from the sales in the global glass tempering system market is estimated to be valued close to US$ 95 Mn by 2017 end and is projected to reach little more than US$ 135 Mn by the end of 2027 while expanding with a CAGR of 3.7% over the forecast period. The incremental opportunity created by the Global glass tempering system market over the forecast period is expected to be close to US$ 45 Mn.
Competitive landscape scenario
The market share of Glaston is approximately 30% in the U.S. Through its continuous product development and regularly renewed product, the company is looking to further strengthen its position and competitiveness in the market as well as in new machine sales and services. In order to expand business and increase the market share, the players in the U.S. market will be targeting opportunities into new segments and areas such as development of smart glass.
With over 55 primary interviews across five continents to provide better information to the clients about the global glass tempering system market, Future Market Insights has come up with a new report titled "Glass Tempering System Market: Global Industry Analysis (2012-2016) And Opportunity Assessment (2017-2027)" that tracks the performance of the market for the forecasted period of 10 years. While gathering data for this report, around 40% interviews were given by the experts from America, while 28% and 25% interviews were given by the experts in Europe and Asia Pacific respectively.
What are the market participants saying?
While conducting primary interviews our analysts talked with product managers of manufacturer of glass tempering system in North America and Europe regions. According to them, R&D is going on in the glass industry to increase its functional application where strength of the glass is one of the major factors. Therefore the growth in the application of glass will also contribute towards the development of advance glass tempering system.
Technical Representative of Japan's manufacturing company of glass tempering system said that unlike other glass markets, the market for smartphones and solar energy will directly impact the thin glass market. As a result, the demand for glass tempering system that would be capable to manufacture high-quality thin glasses will increase in the near future.
While speaking about the overall scenario of glass tempering system market in APEJ, the Sales Director in China's glass tempering system manufacturing company stated that China is the biggest market of glass tempering system and these equipment are generally imported from China as it offer products at a price which is even less than the wholesale price. Moreover, these manufacturers of China are primarily focusing on manufacturing international quality products so as to gain significant attraction from end users in the target region.
Annual reports, presentations and interim reports published by market participants are our reference sources to make this report comprehensive
We have taken reference from reports published by glass manufacturing associations such as All India Glass Manufacturers' Federation, Architectural Glass and Metal Association and Glass Association of North America. We have also taken reference government publications apart from Factiva, MorningStar and other paid databases for company profiling section and to analyses macro-economic factors. Market sizing and growth has been anticipated by tracking individual company revenue, historical growth and future expectation. Primary responses have also extended from manufactures, suppliers, service providers and end users. Various press releases have also been followed to know the news related to global market for glass tempering system.
Market Segmentation
By Tempering Technology

By Application

By End Use

By Region

Controlled Heating and Quenching Equipment

Standard Configuration

Advanced Configuration

· Chemical Treatment

Flat

Bent

Combined Flat and Bent

Automotive Windows

Architectural

Windows and Doors

Mirror and Partitions

Furniture

Electronics

Solar Applications

Others

North America

Latin America

Western Europe

Eastern Europe

APEJ

MEA

Japan
Research Methodology
We have adopted systematic research approach while inspecting this report. In-depth secondary research is used to arrive at an overall market size, top industry players, top products and industry associations. Our analysts have formulated a detailed discussion guide in order to conduct expert and industry interviews. We also have conducted interviews with industry experts, industry players, distributors and retailers. Data is validated by triangulation method, wherein primary, secondary, and Future Market Insight's analysis contribute to the final data. We have also analysed the various companies annual report, investor presentation, SEC filings, reports and press release to fetch substantial information about the market size, trends, opportunity, drivers, restraints and to analyse key players.
COVID -19 : Impact Analysis
Request the coronavirus impact analysis across industries and markets
Request Covid -19 Impact
CASE STUDIES
See how our work makes an impact.
At FMI, we design strategies that are adaptive, impactful, and implementable.