An Incisive, In-depth Analysis on the Healthcare Laboratory Labels Market
This study offers a comprehensive, 360 degree analysis on the Healthcare Laboratory Labels market, bringing to fore insights that can help stakeholders identify the opportunities as well as challenges. It tracks the global Healthcare Laboratory Labels market across key regions, and offers in-depth commentary and accurate quantitative insights. The study also includes incisive competitive landscape analysis, and provides key recommendations to market players on winning imperatives and successful strategies.
Pharmaceutical labels stay ahead of laboratory labels, as projected by the research on global healthcare and laboratory labels market
Labeling market comprises foremost demand from the healthcare and laboratory labels market. It is a result of the rapidly growing research industry. The introduction of new products as well as the demand of pharmaceutical products marks growth of healthcare and laboratory market. Generally, pharmaceutical, nutraceutical, blood banks, and hospital services are included under the healthcare label segment. Whereas, the labels for laboratories, are used on general equipment & lab spaces, glassware & containers, vials & tubes and slide labels, among others.
According to projections presented in a new research report, pharmaceutical market is way ahead of all the other industries in terms of demand for labeling. The pharmaceutical label segment is expected to dominate the market with a value of over US$ 5,500 Mn by the end of 2028. It is also anticipated to witness a CAGR of 4.7% during the forecast period, which is higher than the growth of any other product in the global healthcare and laboratory labels market.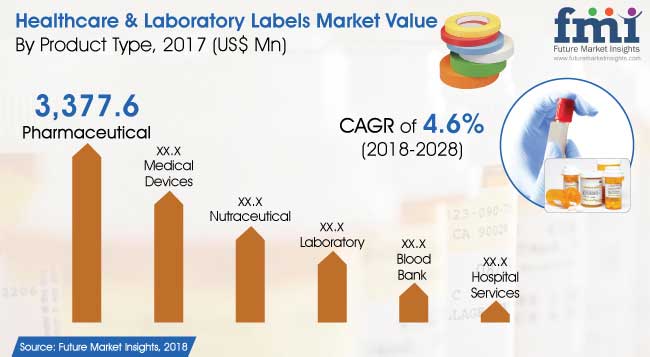 Counterfeiting ignorance to stand out as key factor leading to the prevalence of labels in pharmaceutical market
Counterfeiting has become a significant challenge for companies as well as enforcement agencies in the pharmaceutical and healthcare sector. Many fraudulent practices are surrounding the markets currently. The same has been a scenario of healthcare and laboratory labels market too. The fake labeling has mislead people and also degraded brand image of many companies. One of the ideal solutions for the counterfeiting peril is proper labeling and packaging. Aside from endangering consumer health and safety, counterfeiting negatively impacts the companies, mainly in terms of revenue loss and damage to the brand image. Ongoing developments in labeling technologies are playing a major role in staying one step ahead of the risk, which is driving the overall healthcare and pharmaceutical label market.
The labels are helping in keeping the track of products as well as ensuring the originality of the products with necessary signs on the labels. This also includes tamper-evident packaging which alerts the consumers of possible safety concerns before they purchase a product. Tamper-evident packaging provides a visual indication of package truthfulness when handled in a particular manner, supply, distribute or retail. Such factors are expected to make manufacturers to completely depend on labels and drive sales of healthcare and laboratory labels market.
Certain challenges continue to restrict growth of healthcare and laboratory labels market
Packaging and labeling of many products has become a major issue for manufacturers who are looking for exporting these products. The major concern is the language printed on these products. Every country has its own language, which people in that area are used to. However the exported products are printed with the labels in language of the countries it is exported from. For devices and diagnostics that are to be sold across the EU and non-EU European Union countries, this poses practical and legal difficulties. There is limited space on labels and large information needs to be included.
Translations need to be technically accurate, but most of the time they are literal and not sensible or idiomatic. Many products are even difficult to label, due to its small size and different shapes. Ever-changing end user requirements pertaining to medical device or pharmaceutical labels, material, dimension, printing, etc. encompass a major restraining factor for the label manufacturers. Variable data printing, text font formats and state regulations might pose significant challenge for the producers.
Global Healthcare and Laboratory Labels Market Outlook
This is an all-inclusive research report that covers different aspects of healthcare and laboratory labels market. It revolves around the market study for products that uses labeling or tagging, and provides an analysis of the factors impacting the sale of products and in turn on the labels market. The report also consists of a brief on different application areas for these labels and its market importance, which forms the basis of market's growth globally.
Research Methodology
FMI utilizes robust methodology and approach to arrive at market size and related projections. The research methodology for this report is based on 3 dimensional model. We conduct about 45-60 min duration detailed interviews with product manufacturers; apart from this we also collect market feedback from industry experts. To validate this data, we interact with senior panel members having more than 10 years of experience in relevant field. The panel members help in validating the findings and fill the gaps if any. In addition, we leverage on our existing pool of information, paid database and other valid information sources available in public domain. Usually industry interactions extend to more than 50+ interviews from market participants across the value chain.
Data Collection
FMI collects data from secondary sources including company annual reports, association publications, industry presentations, white papers, and company press releases apart from these we leverage over paid database subscriptions and industry magazines to collect market information and developments in exhaustive manner. After being done with desk research, detailed questionnaire and discussion guide is formulated to initiate primary research with key industry personnel; the discussion aims at collecting key insights, growth perspectives, prevalent market trends and quantitative insights including market size and competition developments. Both of these research approaches help us in arriving at base year numbers and market hypothesis.
Data Validation
In this phase, FMI validates the data using macro and micro economic factors. For instance, growth in electricity consumption, industry value added, other industry factors, economic performance, growth of top players and sector performance is closely studied to arrive at precise estimates and refine anomalies if any.
Data Analysis and Projection
Data analysis and projections were made based on proprietary research frameworks and statistical analysis, which was further validated from industry participants. These frameworks include Y-o-Y growth projections, macro-economic factor performance, market attractiveness analysis, key financial ratios, and others.
For public companies we capture the data from company website, annual reports, investor presentations, paid databases. While for privately held companies, we try to gather information from the paid databases (like Factiva) and based on the information we gather from databases we estimate revenue for the companies. In addition, the team tries to establish primary contact with the companies in order to validate the assumptions or to gather quality inputs.
Standard Report Structure
Executive Summary

Market Definition

Macro-economic analysis

Parent Market Analysis

Market Overview

Forecast Factors

Segmental Analysis and Forecast

Regional Analysis

Competition Analysis
Target Audience
Production Companies

Suppliers

Channel Partners

Marketing Authorities

Subject Matter Experts

Research Institutions

Financial Institutions

Market Consultants

Government Authorities
Key Questions Answered
How the market has performed over the past few years?

What have been the challenges for market participants and how did they overcome them?

How has the technology landscape evolved over the past years?

How the competitors have performed and what have been their growth strategies?

What is the market potential expected to look like in near future across the globe?

How to sustain and grow market share?

What should be the future course of action?

Where do I currently stand?

Which are the segments, factors, regions offering promising growth potential?

What are the trends in the market and am I ready for them?
Market Taxonomy
By Product Type

By Material

By Region

Pharmaceutical

Nutraceutical

Medical Devices

Blood Bank

Hospital Services

Laboratory Labels

Nylon

Polyester

Polyolefin

Vinyl

Paper and Others

North America

Latin America

Western Europe

Eastern Europe

SEA & Pacific

India

China

Japan

Middle East &

Africa
COVID -19 : Impact Analysis
Request the coronavirus impact analysis across industries and markets
Request Covid -19 Impact
CASE STUDIES
See how our work makes an impact.
At FMI, we design strategies that are adaptive, impactful, and implementable.