IBC Rental Business: Market - Key Research Findings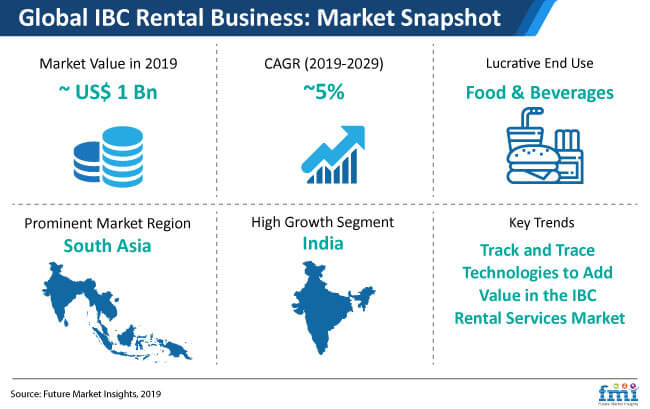 The global market size of IBC rental business is estimated to reach the 1 billion mark in 2019.
The IBC rental business is projected to grow at a CAGR of ~ 5% during the forecast period of 2019-2029.
The growing demand for IBCs from chemical and rubber manufacturers are enhancing the growth of IBC rental business. The improved manufacturing sector from emerging economies is expected to be a key factor in the growth of the market.
Europe is estimated to account for around 40% revenue share in the IBC rental business in 2019.

Increased export activities from the chemical industry is expected to propel the growth of the IBC rental business in the United States, China, Benelux, and India.
The European transportation regulations and the need of end-users for advanced industrial packaging solutions are major aspects that makes Europe the leading market in IBC rental business.

The industrial chemical is expected to be the most lucrative end-use segment for IBC rental business, followed by the petroleum & lubricants segment.

Need of secured containers for shipping & storage of hazardous chemicals is creating high demand for rental IBCs from the chemical industry.
Key Factors Shaping the IBC Rental Business
Steel IBCs Gaining Preference in the Global IBC Rental Business

The high durability and security against flammability is making steel IBCs as a vastly preferred IBC in the rental business. The additional features such as temperature control and stringent product compatibility are offered by steel IBCs. The global IBC rental business market players are likely to witness maximum demand for flexitanks, due to rapid adoption in the beverages industry.

IBC Rental Business to Attract Numerous End users

The IBC rental business industry is expanding, owing to an increased export from the emerging economies. The end users with minimum capital and unwillingness to invest in industrial packaging containers are creating high growth opportunity for the IBC rental business. Along with cost savings, the rental IBC business reduces cleaning and maintenance challenges incurred in handling and shipping. The benefits to rent over buying IBCs are attributed to be the key aspects in overall growth of the market.

Key players in rental IBC business are looking forward to expanding their footprints in the emerging economies of Asian continents such as China, India, Indonesia, Thailand, and Malaysia. The developments regarding tracking of IBCs are anticipated to attract new clients towards rental IBCs, due to high safety offerings.

Temperature-controlled Stainless Steel IBCs to Gain Traction in Coming Years

Carbon steel IBCs are estimated to be popular for chemical materials, owing to low cost and high durability as compared to stainless steels. Pharmaceuticals and personal care & cosmetics industries are expected to be the quick adopter for stainless steel IBCs in the coming years, due to temperature-controlled facilities. Flexitanks are expected to increase in rental business for beverages shipping. Plastic IBCs with folding facilities are projected to increase rapidly in the rental business as compared to composite IBCs.

Chemical Industry as Key Driver in Incrementing IBC Rental Services

The chemical industry is furbishing the industrial packaging solutions by leasing and pooling of IBC containers and drums. The U.S. department of transportation (DOT), the United Nations regulations, and several country level regulations structured the standards to use many types of IBCs. Chemical companies are adopting IBCs to ship and store hazardous and non-hazardous products due to its high safety and easy warehousing.

In the global industrial packaging market, IBCs are highly-used packaging products for liquid chemicals. The chemical is estimated to accounts for more than 75% of the IBCs rental business, and projected to witness fast-paced demand in the next five years, owing to favourable international trade and transportation regulations.

Track and Trace Technologies to Add Value in the IBC Rental Business

IBCs are playing vital role in providing transportation solutions in different industries such as chemical, pharmaceuticals, food and beverages, and cosmetics. It are cost-effective, but also difficult to maintain accountability. To reduce the problems regarding accountability, most of the companies are opting IBCs with the tracking systems.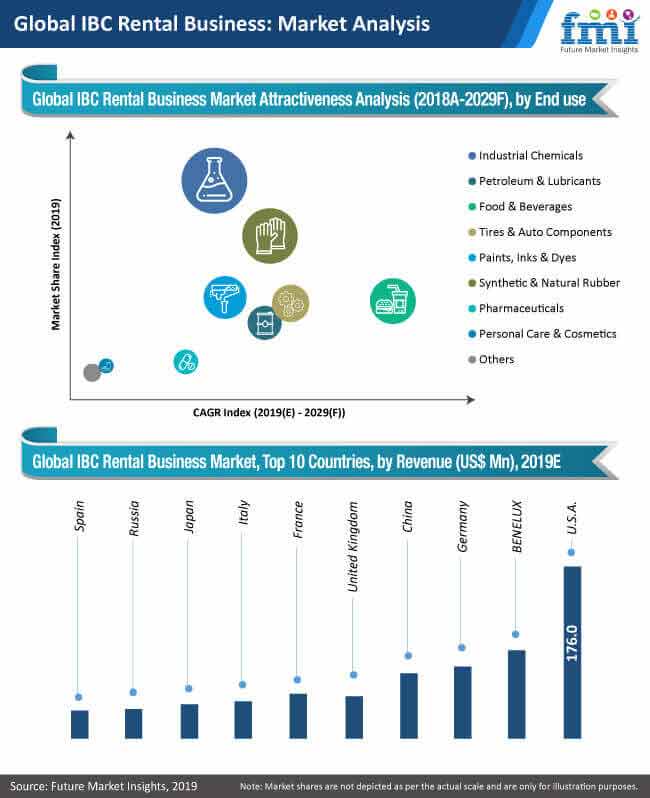 IBC Rental Business: Market Structure Analysis
Brambles Ltd. and Goodpack Ltd. are the leading companies operating in the global IBC rental business market worldwide.
In 2018, expansion and recognition strategies was adopted by key players to expand their business and product portfolio.
Innovation & development is estimated to be key strategy adopted by players operating in IBC rental business market.
Increased adoption of rental IBCs by chemical companies from India, Brazil, China, and ASEAN countries is creating lucrative opportunity for IBC rental business manufacturers.
IBC Rental - A Potential Game Changer for Industrial Transportation
Transportation of hazardous chemicals and liquids is a daunting task and involves high degree of risk to human lives as well as the environment. Thus, strong provisions and guidelines were formulated to regulate and monitor transportation of substances that are toxic in nature. Over the last decade, intermediate bulk containers (IBCs), especially stainless steel IBCs have gained significant acceptance as one of the most reliable and efficient ways to transport liquid substances especially chemicals.
Further, apart from safe transportation of toxic substances, IBCs also offer efficient warehouse storage. The growing adoption of IBCs for bulk transportation of chemicals coupled with surge in the global exports volume have created numerous opportunities for the IBC rental business market players.
In addition, IBC end-users are gradually recognizing the potential benefits of renting IBCs in terms of efficient use of space, save on labor, storage, and freight costs, and elimination of wasteful drum disposal. As a result, the IBC rental business has witnessed a noteworthy growth in recent years and the trend is expected to continue in the coming years.
IBC Rental - Flexible Renting Programs Propel Demand
The onset of IBC rental business in the market has played an imperative role in transforming the overall transportation landscape for low-capital end-users of IBCs, offering significant long-term benefits. The demand for IBC rental services witnessed a significant growth from end-users that consistently faced hurdles including, seasonal fluctuation, unexpected deliveries, and underutilized IBCs causing space constraints in warehouses and more.
Thus, as renting IBCs solves the aforementioned problems and simultaneously enhances inventory management significantly, it emerged as a viable alternative for users who do not solely rely on IBCs for their transportation requirements.
The IBC rental business has evolved in recent years in accord with the evolving end-user adoption patterns. Thus, the market players active in the IBC rental business offer flexible rental plants to their customers which is a win-win situation for both parties. Further, some of the other benefits of renting IBCs such as no capital investment, no disposal costs, and flexible rental programs offered by IBC rental companies are likely to drive the market growth in the foreseeable future.
The evolving industrial and commercial landscape in both developed and developing regions will further contribute towards the growth of the IBC rental business, owing to high demand for chemicals from the construction, paint & coating, and other related industrial verticals.
Robust Regulations and Flourishing Industries in Europe Likely to Propel Market Growth
In the last decade, stringent rules and regulations pertaining to the transportation of hazardous chemicals have played a key role in shaping the IBC rental business in Europe. Further, the booming chemical and food industry in Europe have resulted in growing exports from the region which is a major factor contributing towards the growth of the IBC rental services in the region.
In addition, amendments made by Russia in their export policies have favored the IBC rental business market players in Europe. Further, the established export framework in Europe coupled with presence of prominent IBC manufacturers in the region are likely to create lucrative opportunities for IBC rental companies.
Overcoming Existing Challenges with Stainless Steel IBCs
In the past decade, stainless steel IBCs have garnered significant amount of popularity owing to a range of benefits they offer over cylindrical drums. Further, stainless steel IBCs are easier to fill & empty, relatively simple to drain & clean, and most importantly, offer optimum space utilization. Besides, as stainless steel IBCs are easier to handle, the risk of accidents is significantly lower.
Thus, there was a considerable demand for rental stainless steel IBCs in the recent years and the trend is set to continue in the coming years. As stainless steel IBCs are highly versatile, reusable, and resistant to corrosion, rental demand for the same from the end-use industries including chemicals, paints & dyes, food & beverage, and synthetic & natural rubber among others will continue to witness a rapid growth.
How Growth Will Unfold
Growth opportunities within the global IBC rental business will primarily rely on the growth of the chemical industries in developed as well as developing economies. In addition, stringent regulations governing the transportation of chemicals will play an imperative role in the growth strategies of the existing and the upcoming IBC rental business market players.
For instance, the Department of Transportation in the U.S. formulated guidelines related to the use of different types of IBCs. Moreover, the growing adoption of stainless steel IBCs for efficient transportation of hazardous chemicals will provide an impetus to the growth of the IBC rental businesses.
Several companies operating in the IBC rental market are seeking avenues to tackle problems pertaining to accountability by deploying track and trace technology. Thus, by integrating tracking systems, companies operating in IBC rental business can track, monitor, and maintain their inventory.
The economic development of the developing nations such as India, China, Malaysia, Thailand, and more has resulted in rapid modernization, urbanization, and revolution of industries. Thus, the demand for paints, dyes, and coatings has witnessed a paramount growth in recent years which in turn, has created numerous lucrative opportunities for market players active in the IBC rental business.
Key Segments
By Material Type
Carbon Steel
Stainless Steel
Plastic
By Product Type
Flexitanks
Stainless Steel IBC
Carbon Steel IBC
Plastic IBC
Composite IBC
By Content
Liquid
Solids & Semi-solids
By Capacity
Up To 1,000 liters
1,001-1,500 liters
1,501-2,000 liters
Above 2,000 liters
By End Use
Industrial Chemicals
Petroleum & Lubricants
Paints, Inks & Dyes
Food & Beverages
Personal Care & Cosmetics
Synthetic & Natural Rubber
Tires & Auto Components
Pharmaceuticals
Others
By Region
North America
Latin America
Europe
Middle East and Africa (MEA)
East Asia
South Asia
Oceania
Need specific information?
Talk Show:
The Rise of Intelligent Packaging
Personalized, Connected and Sustainable
November 18, 2021
11:00-11:45 AM PST (USA & Canada)
This is a LIVE session