This Isothermal Bags market study offers a comprehensive analysis of the business models, key strategies, and respective market shares of some of the most prominent players in this landscape. Along with an in-depth commentary on the key influencing factors, market statistics in terms of revenues, segment-wise data, region-wise data, and country-wise data are offered in the full study. This study is one of the most comprehensive documentation that captures all the facets of the evolving Isothermal Bags market.
Isothermal Bags Market – A historical analysis
Isothermal bags are one of the ideal packaging solutions for temperature-controlled last mile transit of perishable and heat sensitive products
Isothermal bags are efficient only for smaller transits of no more than 3 hours. Therefore, they are widely used for distributing small volume of products over short distances, such as pharmacy – home, wholesaler – home, and shop – home, among others. Effective cold chain management plays a critical role in ensuring consistency in the quality of the product across the distribution channel. The use of isothermal bags has significantly improved cold chain efficiency. One of the key purposes of cold chain management is to keep a check on the temperature to which vaccines and diluents are stored. The need for isothermal arose with the increasing need for temperature controlled storing solutions. The introduction of isothermal bags significantly aided those suffering from chronic diseases, such as diabetes, rheumatoid arthritis or multiple sclerosis. Over the years, there have been several design level transformations in isothermal bags, with consumer convenience, being at the epicenter. Nowadays, manufacturers of isothermal bags focus on solutions, which are practical, lightweight, and discreet.
Market Growth Analysis
Disclaimer: This data is only a representation. Actual data may vary and will be available in the report.
COVID -19 : Impact Analysis
Request the coronavirus impact analysis across industries and markets
Request Covid -19 Impact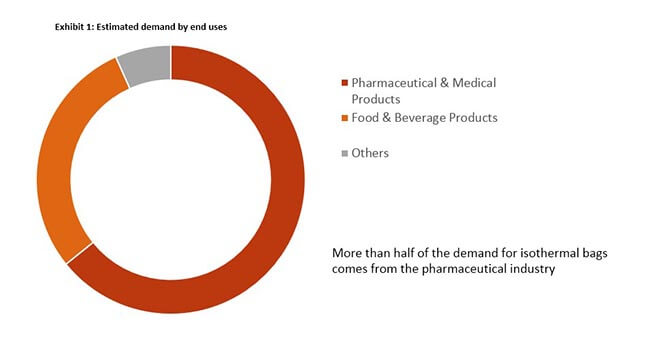 Isothermal bags offer excellent insulation, and can keep the products hot or cold for hours. Therefore, critical products, such as vaccines, insulin, and drug, which get denatured due to change in temperatures, can be safely carried during last mile transportation. In addition, the ongoing growth in consumption of frozen food.
Global isothermal bags market – Key Players
Some of the key players operating in the global isothermal bags market are – Tempack Packaging Solutions S.L., Advanced Products Portugal, Cold & Co SPRL, Tecnisample s.l., Emball Iso, Greiner Bio One International GmbH, Medactiv, and Deltalab SL, among others.
Tier 1 (Revenue > US$ 10 Mn)
Greiner Bio One International GmbH
Medactiv
Advanced Products Portugal
Tier 2 (Revenue < US$ 10 Mn)
Emball Iso
Tempack Packaging Solutions S.L.
Deltalab SL
Tecnisample s.l.
Cold & Co SPRL
Global isothermal bags market – Significance
Over the years, isothermal bags have undergone substantial design level changes. Many manufacturers are now adding cold packs to the isothermal bag to extend transport autonomy. There are several drugs which lose their effectiveness above 8°C. Therefore, maintaining the temperature is of key importance, during the last mile to ensure quality retention of the product. Pharmaceutical and drug monitoring companies across geographies are in the process to frame stringent legislations for handling and distribution of pharmaceutical products.
As of 2017, eight out of the top ten selling pharmaceutical products require storage and distribution at 2-8 degree Celsius. Therefore, there is an absolute need for storage solutions such as isothermal bags.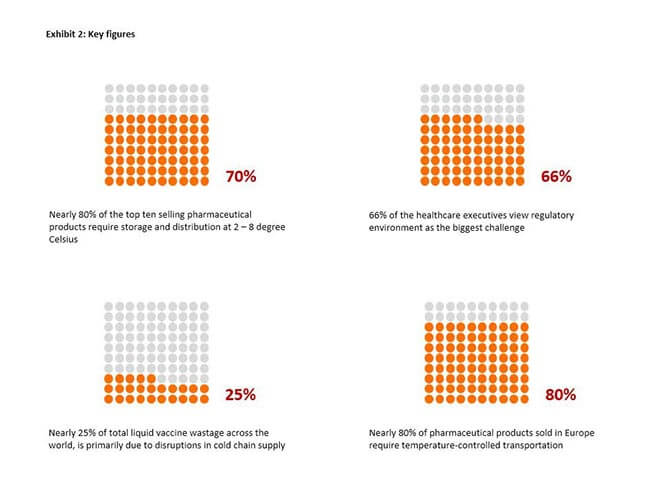 Key developments shaping the market
The global isothermal bags market is characterized by several new product launches, and modifications in terms of design and content.
For instance, the iCool isothermal bags are specially developed for the transport of fragile medications. This aided those suffering from chronic diseases such as diabetes, polyarthritis, or multiple sclerosis, in traveling with their medications.
The iCool bags are padded with isolating materials, which contain frozen gel packs. These isothermal bags keep the medication at a controlled temperature between 2 and 8°Celsius, for up to 36 hours.
The road ahead
The need for product integrity at controlled temperature during last mile transit is expected to play a key role in the growth in demand for solutions such as isothermal bags. Increasing R&D in the field of biotechnology has boosted the demand for appropriate cold chain solutions to transport biological samples such as blood plasma, and serum, among others. Therefore, with advancement in the pharmaceutical sector, as well as the food & beverages industry, the global isothermal bags market is anticipated to face lucrative opportunities for growth, during the forecast period.
The research report presents a comprehensive assessment of the market and contains thoughtful insights, facts, historical data, and statistically supported and industry-validated market data. It also contains projections using a suitable set of assumptions and methodologies. The research report provides analysis and information according to market segments such as geographies, application, and industry.
The report covers exhaust analysis on:
Market Segments
Market Dynamics
Market Size
Supply & Demand
Current Trends/Issues/Challenges
Competition & Companies involved
Technology
Value Chain
Regional analysis includes:
North America (U.S., Canada)
Latin America (Mexico. Brazil)
Western Europe (Germany, Italy, France, U.K, Spain)
Eastern Europe (Poland, Russia)
Asia Pacific (China, India, ASEAN, Australia & New Zealand)
Japan
Middle East and Africa (GCC Countries, S. Africa, Northern Africa)
The report is a compilation of first-hand information, qualitative and quantitative assessment by industry analysts, inputs from industry experts and industry participants across the value chain. The report provides in-depth analysis of parent market trends, macro-economic indicators and governing factors along with market attractiveness as per segments. The report also maps the qualitative impact of various market factors on market segments and geographies.
Unique Requirements? Customize this Report
Customize by Region, Country, Application, Product, & other segments
Integrate our Insights with your Existing Data
Determine the scope of the study to suit your requirements
Gain Insights on Key Isothermal Bags Market Impacting Forces
Know the Winning Strategies of Market Leaders
Get Deep-Dive Analysis on Each Segment
Identify the Sources that will Drive Top-Line Revenue
Global isothermal bags market – Segmentation
The global isothermal bags market has been segmented as –
On the basis of material, the global isothermal bags market has been segmented as –
PET
Nonwovens
Polyethylene (PE)
Polyurethane (PU)
Polypropylene (PP)
Fabric
On the basis of end use, the global isothermal bags market has been segmented as –
Pharmaceutical products
Drugs
Insulin
Vaccines
Biological Product Samples
Food
Others
On the basis of capacity, the global isothermal bags market has been segmented as –
0 L – 5 L
5 L – 10 L
10 L – 15 L
15 L – 20 L
20 L – 25 L
25 L – 30 L
>30 L
Report Highlights:
Detailed overview of parent market
Changing market dynamics in the industry
In-depth market segmentation
Historical, current, and projected market size in terms of volume and value
Recent industry trends and developments
Competitive landscape
Strategies of key players and products offered
Potential and niche segments, geographical regions exhibiting promising growth
A neutral perspective on market performance
Must-have information for market players to sustain and enhance their market footprint
Frequently Asked Questions
---
Why choose FMI?
With a global presence and a trusted partner to several Fortune 500 firms, FMI covers 1 billion+ data points to build a diversified portfolio for market benchmarking
Market Reports researched and peer reviewed by industry experts from across the globe
We follow a multi-dimensional method of analysis monitoring a three-layer data validation process
In addition to demand-side market assessment, our data triangulation methodology involves supply-side research
Primary research includes mandatory field interviews with stakeholders involved
Customizing reports according to client specification is also our forte
What will you discover from Isothermal Bags Market report?
The current and future market size, covering each aspect and nuanced trends across key national and geographic markets
An overview of the market report, providing an imperative visual of the varied market subdivisions and overall forecast statistics in terms of value and volume
Extensive database and key dynamics elevating the market with varied verticals associated
Underlying Isothermal Bags Market forces that are compelling consumers or businesses to purchase the product
How novel technologies and consumer-centric innovations will create new value-adding opportunities for companies active in the Isothermal Bags Market
What will be environment and regulatory impacts on the market over the next decade
Which framework has been used to develop the Isothermal Bags Market report?
Investment Feasibility Matrix - It shows returns on investment, level of competition, success rate of investment, and potential risks associated with the market. The analysis shows that the competition is high in the established market, while the returns for short-term investment are also taken into consideration
Relative Maturity Mapping – The relative maturity is measured according to three growth phases (growth, maturity, decline)
Relative PLC (Product Life Cycle) – Analysis of the emergence of prominent players and competitive test prices which are driving factors behind every market. (expected market behavior, observed market behavior, expected market performance, observed market performance)
Harish Tiwari
Global Head - Business Development
Akshay Godge
Client Partner - Global Business Development