An Incisive, In-depth Analysis on the Machine Mounts Market
This study offers a comprehensive, 360 degree analysis on the Machine Mounts market, bringing to fore insights that can help stakeholders identify the opportunities as well as challenges. It tracks the global Machine Mounts market across key regions, and offers in-depth commentary and accurate quantitative insights. The study also includes incisive competitive landscape analysis, and provides key recommendations to market players on winning imperatives and successful strategies.
Leveling mounts to maintain dominant market position in the coming years
Machine mounts makes leveling machinery and equipment easy, also reducing noise and vibration in the process. The global machine mounts market comprises three main types of machine mounts, which include anti-vibration mounts, sandwich mounts, and leveling mounts. Anti-vibration mounts mainly work in reducing the vibration that passes to the foundation and ground. These are commonly used in drilling machines, lathe machines etc. Sandwich mounts also works as a vibration isolator. Leveling mounts are pads or feet designed to look like discs with varying shapes, which have an additional feature of setting the level of the machine, and help in achieving accurate results. Given its multi-functional properties it is the most widely used product. According to the market analysis, leveling mounts machine type is projected to reach a market value of US$ 1,200 Mn by the end of 2027, growing at a CAGR of 5.9% during the forecast period. Anti-vibration mounts is also expected to gain traction in the coming years and witness growth at a CAGR of 5.0% during the forecast period, giving tough competition to leveling mounts.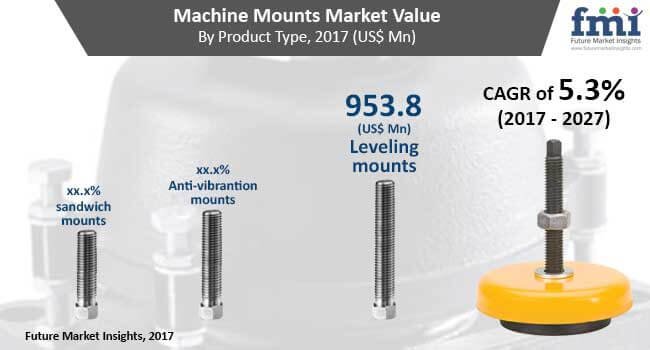 New innovative technologies to create substantial opportunities for manufacturers dealing with machine mount products
End user industries are more inclined towards the use of innovative technologies in their products. There is also a growing impact of automation on the global machine mounts market. This is a result of increasing number of oil and gas industries across the globe. Similar demands are expected to arise from every sector in the foreseen future. This has given an exceptional boost to the demand for machine mount products. Manufacturers are experimenting on integration of isolation rubber pads infused in machine mounts. The growth is also a result of increase in awareness among people regarding the safety and leveling of machine tools across the world.
Another important aspect of automation growth is the Internet of things (IoT) that has been introduced to the industrial sector as well. IoT is being used in the industrial machinery industry for easy operation of the machines, controlling machine movement during the metal working process. For instance, CNC machines have reduced human interaction and have removed the need for manual work to make complicated mathematical calculations required to produce shapes with accuracy and high complexity. However, these advanced machineries require machine leveling and vibration pads to isolate vibration and ensure their effective working.
Global trade policies is a crucial factor driving as well as restricting revenue growth of the machine mounts market in various regions
Many regions depend on trade for improving their economic growth. As these regions become manufacturing hubs, they also look for ways to improve their exports in order to maximize profits. Foreign trade has high influence on several countries in the region wherein manufacturing, construction, tourism, agriculture are major contributors to the GDP. Latin America is one of the largest trade partners of North America due to its demographic preference and trade agreements among countries. In the recent past, regional governments have opened doors for investors from other countries and this can highly influence the sales of machine mounts and thereby implement market growth. However some regions still follow strict rules including imposition of VAT, which may hinder the trade of machine mount products.
Global Industrial Automation Market Outlook
Players in the industrial automation and equipment industry continue to face an environment that remains hyper-competitive. Evolution in end-user demand is influencing players in the industrial automation and equipment landscape to optimize their manufacturing process. Sluggishness in the oil & gas industry, muted growth in automotive sales, and stagnancy in the agriculture sector have posed challenges to players in the recent past.
With the increase in oil rigs and natural gas projects being quoted, various companies are making reinvestments, to either cater requirement of preventative maintenance or for generating a better ROI. Investing in infrastructure development remains a top priority for the industrial automation and equipment companies, with improvements in energy- and operational-0efficiency gaining centre stage. The development of streamlined 2-3 layer automation systems helped the industry in lowering maintenance costs and enhancing performance. The trend towards simplification of 5 layer system model, which the automation industry has been focusing on over the years, is witnessing acceleration. Innovation in development of controllers, sensors and intelligent devices has meant that today's computing processes are more effective.
Continuous advances are witnessed in the progressive integration of information technology (IT) and operational technology (OT), along with the evolution of business systems for handling real-time transaction processing. Building blocks are being offered by innovators, designed specifically for accomplishing the aim of 'connected enterprise'. New intelligent nodes, operating at the network edge for improving efficiency and performance of manufacturing processes, are offered by rapid propagation of technologies & concepts associated with Internet of Things (IoT).
A major challenge encountered by the global industrial automation and equipment industry is absence of multi-vendor application portability. Innovation is stifled without open ecosystems offering portable applications to vendor platforms. On account of this, non-traditional suppliers have embarked on launching next-generation products that are embedded with IoT software.
List of factors tracked in our industrial automation market reports
Manufacturing and electrical machinery industry value add

Penetration of semi-autonomous and autonomous technologies

Industry spending on automation

Infrastructure Spending

Historical growth of top players

Growth in associated markets

Cumulative growth in installed base
Research Methodology
FMI utilizes robust methodology and approach to arrive at market size and related projections. The research methodology for this report is based on 3 dimensional model. We conduct about 45-60 min duration detailed interviews with product manufacturers; apart from this we also collect market feedback from industry experts. To validate this data, we interact with senior panel members having more than 10 years of experience in relevant field. The panel members help in validating the findings and fill the gaps if any. In addition, we leverage on our existing pool of information, paid database and other valid information sources available in public domain. Usually industry interactions extend to more than 50+ interviews from market participants across the value chain.
Data Collection
FMI/PMR collects data from secondary sources including company annual reports, association publications, industry presentations, white papers, and company press releases apart from these we leverage over paid database subscriptions and industry magazines to collect market information and developments in exhaustive manner. After being done with desk research, detailed questionnaire and discussion guide is formulated to initiate primary research with key industry personnel; the discussion aims at collecting key insights, growth perspectives, prevalent market trends and quantitative insights including market size and competition developments. Both of these research approaches help us in arriving at base year numbers and market hypothesis.
Data Validation
In this phase, FMI validates the data using macro and micro economic factors. For instance, growth in electricity consumption, industry value added, other industry factors, economic performance, growth of top players and sector performance is closely studied to arrive at precise estimates and refine anomalies if any.
Standard Report Structure
Executive Summary

Market Definition

Macro-economic analysis

Parent Market Analysis

Market Overview

Forecast Factors

Segmental Analysis and Forecast

Regional Analysis

Competition Analysis
Global Machine Mounts Market Taxonomy
By Sales Channel

By Product Type

By Machine Type

By Region

Leveling Mounts

Anti-Vibration Mounts

Sandwich Mounts

CNC Machines

General Machine Tools

Cutting Machines

Injection Molding Machines

Forming Presses

EDM Machines

Air Compressors

Others

North America

Latin America

Eastern Europe

Western Europe

China

Japan

South East Asia & Pacific

Middle East & Africa
Report Methodology
To get an accurate account of machine mounts market, the analysts have taken two categories in consideration, i.e. OEM and aftermarket. OEM gives a count of new machine tools being produced and aftermarket gives the machine tools installed base. The process of analysing also requires identification of the machine replacement rate. The data gathered in this examination results in curating accurate data and understanding the market scenario or demand for machine mounts.
COVID -19 : Impact Analysis
Request the coronavirus impact analysis across industries and markets
Request Covid -19 Impact
CASE STUDIES
See how our work makes an impact.
At FMI, we design strategies that are adaptive, impactful, and implementable.