Machine Glazed Paper – The Convergence of Strength and Appeal
Machine glazed paper is emerging as a new benchmark of the perfect combination of strength and appeal. Machine glazed papers are known to combine high tensile strength with an ideal balance of smoothness and shine, which, in turn, provides ample scope for superior printability. Future Market Insight's perspective sheds light on how the machine glazed paper landscape will evolve through 2029.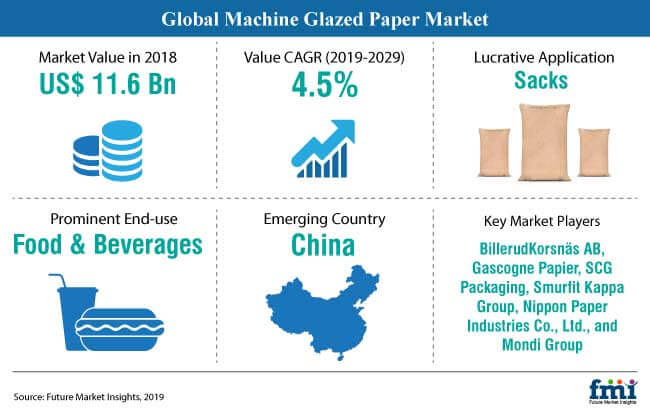 Machine Glazed Paper Market - Key Research Findings
Global machine glazed paper market size in 2018 – Over US$ 11 Bn

The machine glazed paper market is projected to expand at a CAGR of 4.5% during 2019-2029.

The rise in energy costs incurred affects paper manufacturing and cost of papers.

The East Asia region is expected to remain dominant in the global market for machine glazed paper.
The East Asia machine glazed paper market is expected to have a large number of packaging manufacturers and consumption of machine glazed paper in countries such as China.

China is one of the leading countries in terms of offering packaging products at cost-effective prices. These factors are anticipated to create a high growth scenario in the region.
The North American region is anticipated to witness moderate growth for machine glazed paper.
Primary raw material used in the manufacturing of machine glazed paper is virgin wood pulp. Hence, it possesses high recyclability. More than 95% of corrugated boxes are recycled in the North American region.

Moreover, these are reusable, which makes them an ideal choice for storage solutions for a variety of applications. Reusability helps in cutting down energy expenses that would have been required in the production of a new box every time.
Top 3 Factors Shaping the Machine Glazed Paper Market
Machine Glazed Paper: Preferable Choice for Food Wrapping and Packaging
The global demand for machine glazed paper is anticipated to expand by 4-4.8% annually. Machine glazed wrapping paper is prominently supplied by key players in the developed regions such as North America and Europe. The food wraps market in developed countries such as the U.S., Germany, Italy, and France is moderately consolidated in nature.
Most of the leading fast food companies procure their packaging needs from these key manufacturers. However, the market is slightly fragmented in emerging economies of China, India, Brazil, and Mexico due to the presence of large number of small-scale manufacturers offering machine glazed wrapping paper for food service outlets.
In May 2017, the Verso Corporation introduced GlazeBag NK and GlazeWrap NK Families of lightweight natural kraft machine glazed papers for foodservice and flexible packaging.
Escalating Demand from the Building & Construction Sector to Drive Machine Glazed Paper Market Growth
The building & construction sector is expected to be one of the leading contributors to the growth in the machine glazed paper market, especially for cement sacks manufacturing. The impact is expected to be more intense in regions such as Asia Pacific and Middle East. In the Asia-Pacific region, there has been substantial growth in the number of real estate and infrastructure development projects in the past few decades. In the last three decades, the population of MENA countries has almost doubled.
The high rate of urbanization in the region has led to a strong demand for construction materials. In addition, the region has witnessed an increasing number of Public-Private Partnership (PPP) projects in recent years, which have boosted investments, both local and foreign, in the construction sector. These factors are further anticipated to augment the demand for machine glazed paper during the forecast period.
Manufacturers are investing in sustainable and biodegradable packaging as a promotional activity
Global packaging manufacturers such as machine glazed paper manufacturers are promoting sustainable packaging. They are using paper materials as sustainable packaging alternatives to conventional packaging products used in food and beverages, personal care & cosmetics, healthcare, automotive, textiles, electrical & electronics, building & construction, and household sectors.
Initiatives by the global paper packaging market players will further encourage consumers to use sustainable packaging products such as machine glazed paper. Sustainable packaging market is thus expected to create enormous opportunities for machine glazed paper manufacturers in the upcoming years.
Bags, sacks, wraps, envelopes, labels & release liners, etc. produced from viable packaging materials such as machine glazed paper are paving way for efficient environment-friendly packaging solutions in the global market. Companies are working under strategic partnerships to launch new products in the market.
For instance, Billerud Korsnäs has opened up one of Europe's largest and most efficient machine glazed paper machines for producing machine glazed paper for a variety of end-use industries such as food packaging and healthcare packaging.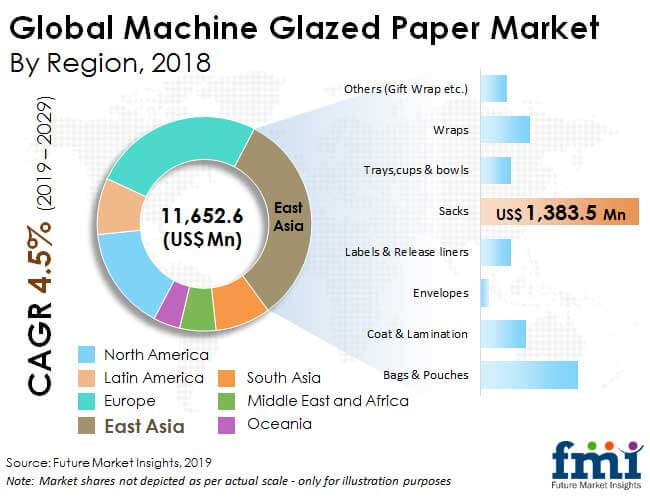 Machine Glazed Paper Market Structure Analysis
The global market for machine glazed paper represents a fragmented competition landscape wherein Tier 1 companies hold an approximate revenue share of over 10%, whereas a large number of smaller players account for the maximum revenue generated in the machine glazed paper market landscape.
A majority of key players operating in the global machine glazed paper landscape are focusing on production capacity expansion to cater to the burgeoning demand for machine glazed paper.
Several prominent companies are also prioritizing investments in the development of innovative products featuring enhanced properties, emphasizing the cost competitiveness as a strong differentiation strategy.
Machine Glazed Paper Sales Upheld by Operational Benefits
Demand for machine glazed paper continues to be driven by the multimodal operational benefits offered. Machine glazed papers are increasingly used in food and beverage applications, as they are considered to be relatively safe to be in direct contact with the food products. In addition, machine glazed paper possess impressive machinability and compatibility, which makes them a great investment for varying applications, ranging from soap wrappers to butter wraps.
Use of Machine Glazed Paper in Food Packaging Scales Great Heights
Machine glazed paper finds extensive use in packaging that comes in direct contact with food products, such as breads, hamburgers, cakes, cookies and others. Packaging formats made of machine glazed paper offer a sleek and smooth look and, most importantly, ensure high safety, sterility, and hygiene. Such particulars lay the groundwork for adoption of machine glazed paper in food & beverages, healthcare, electrical & electronics, automotive, and many other end use verticals.
The Broader Perspective
Key players of machine glazed paper market are focusing on attain quality certifications on their products, which will help them gain consumer confidence and ensure repeated sales. Manufacturers are introducing newer additions to their existing product portfolios and overseeing the technical specifications, including tensile strength, durability, and tearing strength, which will help in improvement of product positioning.
Kraft machine glazed paper to continue as the top-selling type
Sales of tissue machine glazed paper type to see steady growth
Adoption of machine glazed paper for sacks to witness notable leap
High demand for machine glazed paper for envelopes to gain grounds
How Growth will Unfold
East Asia is likely to emerge as the leading market for machine glazed paper in 2019 and beyond, for the fact that the regional demand for machine glazed paper is exceptionally high. China is estimated to be the largest consumer of machine glazed paper in East Asia, followed by several other flourishing economies of the region.
East Asia | South Asia | Middle East & Africa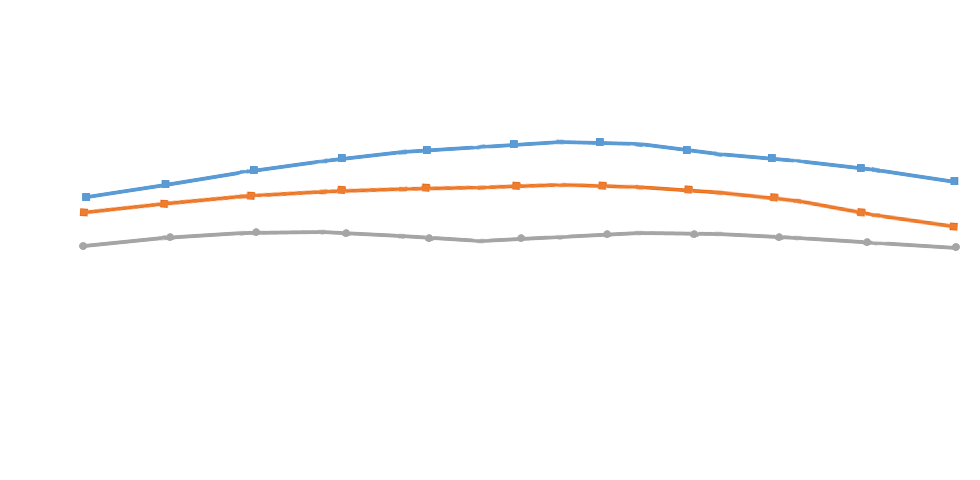 * This data is only a representation. Actual data may vary and will be available in report.
Click Here To Know How The Growth Will Unfold
Custom Market Research Services
FMI offers custom market research services that help clients to get information on their business scenario required where syndicated solutions are not enough.
Overview
Machine Glazed Paper Market: Global Industry Analysis 2014-2018 & Opportunity Assessment 2019-2029
A recent market study published by FMI, "Machine Glazed Paper Market: Global Industry Analysis 2014-2018 & Forecast 2019-2029" offers a comprehensive assessment of the most important market dynamics. After conducting thorough research on the historical, as well as current growth parameters of the machine glazed paper market, the growth prospects of the market are obtained with maximum precision.
Machine Glazed Paper Market Taxonomy
The global machine glazed paper market is segmented in detail to cover every aspect of the market and present complete market intelligence to the reader.
By Basis Weight
Up to 40 GSM
41 to 70 GSM
71 to 100 GSM
Above 100 GSM
By Application
Bags & Pouches
Sacks
Wraps
Labels & Release liners
Envelopes
Coating & Lamination
Trays, cups & bowls
Others (Gift Wrap etc.)
By End-use
Food & Beverages
Healthcare
Electrical & Electronics
Automotive
Personal care & Cosmetics
Textile
Building & Construction
Household
Region
North America
Latin America
Europe
South Asia
East Asia
Oceania
Middle East & Africa
How the research was conducted?
Primary Research
Primary research interviews with key opinion leaders and other participants were conducted for data collection and validation of the below information:
Key Segments in the Machine Glazed Paper Market
Market Share Analysis
Average Selling Price (US$) and Market Growth
Comparative Analysis of Several Machine Glazed Paper Available in the Market
Market Size
Key Trends & Developments
Competition & Key Vendor Strategies
Secondary Research
Flexible Packaging Association
Paper Manufacturing Association
Industry Journals
Food Service Packaging Industry Growth
Annual Reports/SEC filings/Investor Presentations
Primary Interview Splits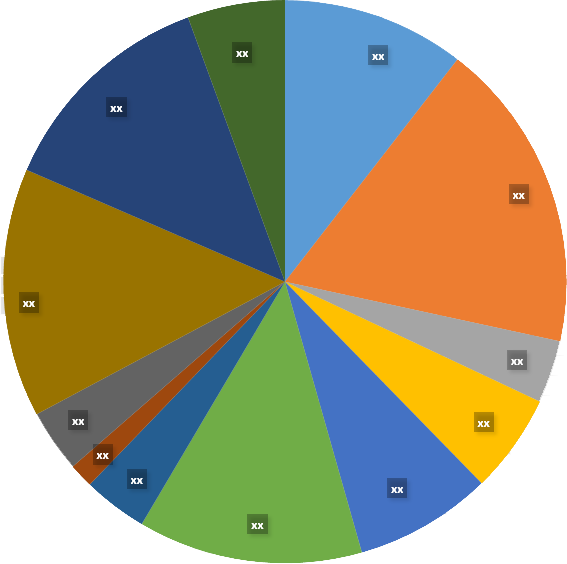 To Learn More About our Comprehensive Perspective on Machine Glazed Paper Market,
Get in touch
COVID -19 : Impact Analysis
Request the coronavirus impact analysis across industries and markets
Request Covid -19 Impact
CASE STUDIES
See how our work makes an impact.
At FMI, we design strategies that are adaptive, impactful, and implementable.