Medical Physics Market - Key Research Findings
Global medical physics market size in 2018 – Approximately US$ 3.5 Bn
The medical physics market has been estimated to expand at a healthy CAGR of 6.4% over 2018-2028.
North America and Europe will remain the most lucrative regional markets for medical physics.

Most medical physics companies are densely concentrated in the North America and Europe regions. However, in regions such as Brazil, India, Malaysia, China, Japan, Australia, Turkey, and others, there are significant opportunities for the growth of the medical physics market due to the increasing adoption of teleradiology equipment for diagnosis & treatment, and the ever-increasing medical tourism in these regions.
Furthermore, in emerging countries, there has been an increase in the number of hospitals, which is boosting the number of growth opportunities in these regions.
However, the adoption of medical physics in emerging regions is expected to result in market growth only towards the end of the forecast period.

Medical tourism is reportedly a major impact factor associated with the medical physics market growth.

The growing trend of medical tourism, especially for cancer therapy in countries, such as Brazil, Thailand, Malaysia, and China, is expected to drive the medical physics markets in these regions.

Diagnostics is expected to remain the most preferred type of service in medical physics market.

Rapidly increasing adoption of diagnostic devices, such as PET, SPECT, mammography, CT, & MRI, and advancements in technology, such as the development of hybrid imaging systems including PET-CT and SPECT-CT, is expected to continue during the forecast period.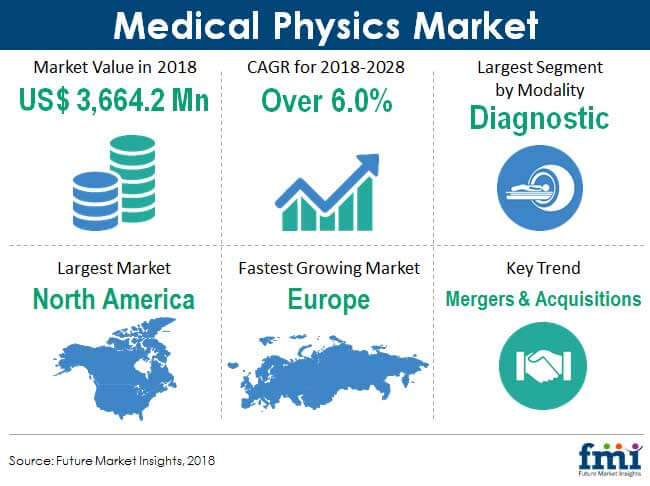 Top 3 Factors Shaping Medical Physics Market
Increasing outsourcing is expected to drive the medical physics market

Healthcare facilities are looking to cut expenses, due to which they outsource a number of services, which include medical physics. This can be attributed to the high cost involved in training or skill update certification, which is not likely to be possible in an in-house setup. In several medium or large facilities, a hybrid arrangement exists, which includes an in-house medical physics department that is supplemented with contracted services.

Increasing mergers & acquisitions in the medical physics market is one of the leading trends

A highly fragmented market, enhanced regulatory protocols, and increased consolidation of healthcare systems & hospitals are some of the factors driving the trend towards increasing mergers and acquisitions. There has been a significant increase in mergers and acquisitions in the medical physics market. For instance, in 2014, West Physics acquired Medical Physics Inc.

Increasing acceptance of nuclear medicine in developing economies is estimated to drive the medical physics market in these regions

In the past decade, there have been remarkable advancements in the nuclear medicine practice owing to noteworthy advancements in information technology, instrumentation, and radio pharmacy. These factors are significantly boosting the medical physics market.

The emergence of new technologies, which include SPECT/CT and PET/CT, has encouraged the adoption of nuclear medicine. In addition, other hybrid modalities, which include the development of new radiopharmaceuticals as well as SPECT/MRI, are also expected to drive new therapeutic and diagnostic applications.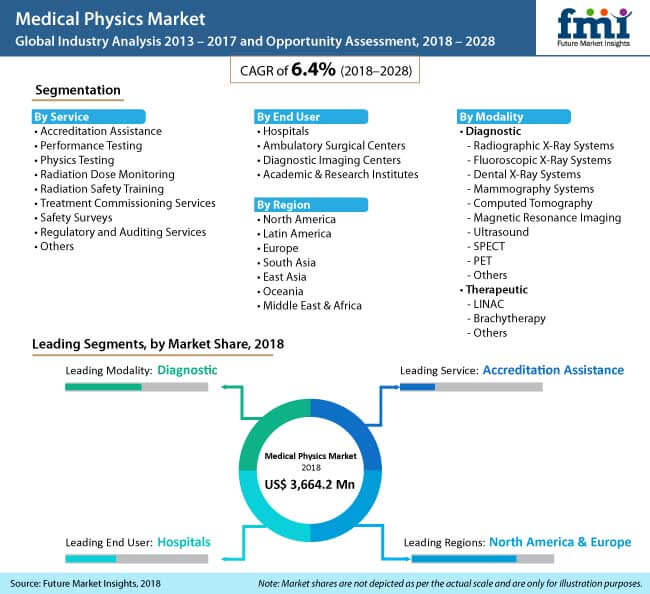 Medical Physics Market Structure Analysis
The global medical physics market is categorized by strong presence of several small independent companies.
Most of the key players maintain a strategic focus on markets in North America and Europe.
The trend of hospital consolidation in developed nations is boosting the demand for larger-scale operators to reduce the number of contracted service providers. Leading players in the medical physics market are thus concentrating on the acquisitions and mergers strategy to cater to the requirements of healthcare providers.
Important entrants in the medical physics market such as Aloka and Sonosite are strategizing on new product launches, such as the introduction of the Aloka ProSound SSD-5500 Ultrasound Machine and SonoSite NanoMaxx Ultrasound Machine to expand their product portfolios.
Global Medical Physics Market: Segmentation
Analysis by Modality
Diagnostic

Radiographic X-Ray Systems
Fluoroscopic X-Ray Systems
Dental X-Ray Systems
Mammography Systems
Computed Tomography
Magnetic Resonance Imaging
Ultrasound
SPECT
PET
Others

Therapeutic

LINAC
Brachytherapy
Others
Analysis by Service
Accreditation Assistance
Performance Testing
Physics Testing
Radiation Dose Monitoring
Radiation Safety Training
Treatment Commissioning Services
Safety Surveys
Regulatory and Auditing Services
Others
Analysis by End User
Hospitals
Ambulatory Surgical Centers
Diagnostic Imaging Centers
Academic and Research Institutes
Analysis by Region
North America
Latin America
Europe
East Asia
South Asia
Oceania
Middle East & Africa
Need specific information?