An Incisive, In-depth Analysis on the Medical Physics Market
This study offers a comprehensive, 360 degree analysis on the Medical Physics market, bringing to fore insights that can help stakeholders identify the opportunities as well as challenges. It tracks the global Medical Physics market across key regions, and offers in-depth commentary and accurate quantitative insights. The study also includes incisive competitive landscape analysis, and provides key recommendations to market players on winning imperatives and successful strategies.
Medical Physics Market - Key Research Findings
Global medical physics market size in 2018 – Approximately US$ 3.5 Bn

The medical physics market has been estimated to expand at a healthy CAGR of 6.4% over 2018-2028.

North America and Europe will remain the most lucrative regional markets for medical physics.

Most medical physics companies are densely concentrated in the North America and Europe regions. However, in regions such as Brazil, India, Malaysia, China, Japan, Australia, Turkey, and others, there are significant opportunities for the growth of the medical physics market due to the increasing adoption of teleradiology equipment for diagnosis & treatment, and the ever-increasing medical tourism in these regions.

Furthermore, in emerging countries, there has been an increase in the number of hospitals, which is boosting the number of growth opportunities in these regions.

However, the adoption of medical physics in emerging regions is expected to result in market growth only towards the end of the forecast period.

Medical tourism is reportedly a major impact factor associated with the medical physics market growth.

The growing trend of medical tourism, especially for cancer therapy in countries, such as Brazil, Thailand, Malaysia, and China, is expected to drive the medical physics markets in these regions.

Diagnostics is expected to remain the most preferred type of service in medical physics market.

Rapidly increasing adoption of diagnostic devices, such as PET, SPECT, mammography, CT, & MRI, and advancements in technology, such as the development of hybrid imaging systems including PET-CT and SPECT-CT, is expected to continue during the forecast period.
Top 3 Factors Shaping Medical Physics Market
Increasing outsourcing is expected to drive the medical physics market
Healthcare facilities are looking to cut expenses, due to which they outsource a number of services, which include medical physics. This can be attributed to the high cost involved in training or skill update certification, which is not likely to be possible in an in-house setup. In several medium or large facilities, a hybrid arrangement exists, which includes an in-house medical physics department that is supplemented with contracted services.
Increasing mergers & acquisitions in the medical physics market is one of the leading trends
A highly fragmented market, enhanced regulatory protocols, and increased consolidation of healthcare systems & hospitals are some of the factors driving the trend towards increasing mergers and acquisitions. There has been a significant increase in mergers and acquisitions in the medical physics market. For instance, in 2014, West Physics acquired Medical Physics Inc.
Increasing acceptance of nuclear medicine in developing economies is estimated to drive the medical physics market in these regions
In the past decade, there have been remarkable advancements in the nuclear medicine practice owing to noteworthy advancements in information technology, instrumentation, and radio pharmacy. These factors are significantly boosting the medical physics market. The emergence of new technologies, which include SPECT/CT and PET/CT, has encouraged the adoption of nuclear medicine. In addition, other hybrid modalities, which include the development of new radiopharmaceuticals as well as SPECT/MRI, are also expected to drive new therapeutic and diagnostic applications.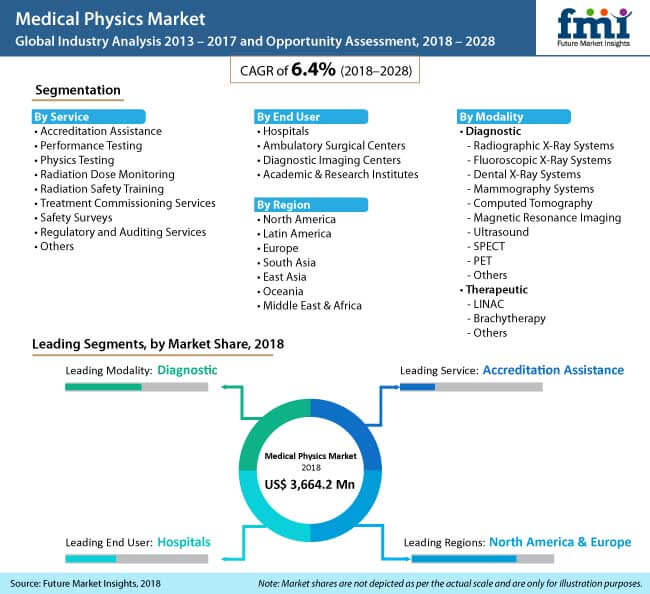 Medical Physics Market Structure Analysis
The global medical physics market is categorized by strong presence of several small independent companies.

Most of the key players maintain a strategic focus on markets in North America and Europe.

The trend of hospital consolidation in developed nations is boosting the demand for larger-scale operators to reduce the number of contracted service providers. Leading players in the medical physics market are thus concentrating on the acquisitions and mergers strategy to cater to the requirements of healthcare providers.

Important entrants in the medical physics market such as Aloka and Sonosite are strategizing on new product launches, such as the introduction of the Aloka ProSound SSD-5500 Ultrasound Machine and SonoSite NanoMaxx Ultrasound Machine to expand their product portfolios.
FMI has compiled a study on the medical physics market, which offers an analysis and forecast of the medical physics market in its publication titled 'Medical Physics Market: Global Industry Analysis 2013 – 2017 and Opportunity Assessment 2018 – 2028.' This report on the medical physics market covers some of the key influencing factors on the demand and supply of medical physics over the next several years.
An in-depth review of the growth drivers, potential challenges, unique trends, and opportunities for the market participants is expected to equip readers to fully comprehend the overall landscape of the medical physics market. The report on the medical physics market also covers an analysis of the key regions and countries of particular interest, which are estimated to become frontrunners or remain laggards over the forecast period. The report covers a historical analysis of the market from 2013 to 2017, and provides forecasts from 2018 to 2028 in terms of revenue in US$.
The medical physics market offers services to the healthcare community. These services assist healthcare providers to diagnose and treat patients safely through radiation-producing technology. Some of the services offered by medical physics service providers include, accreditation assistance, performance testing, physics testing, radiation dose monitoring, radiation safety training, treatment, commissioning services, safety surveys, regulatory and auditing services, and other services.
This report on the medical physics market has been broken down into different chapters to enhance clarity and provide context. A brief executive summary at the beginning of the report consists of some of the key findings of the study on the medical physics market, as well as market estimates and growth rates for important segments. The following chapter presents the definitions and scope of the study, as well as the coverage in terms of the way in which the medical physics market is structured.
Subsequently, the chapter on the market background contains relevant economic indicators, such as per capita healthcare spending and increase in cancer cases, which elaborate the dynamics impacting the medical physics market, as well as provides an explanation of the factors considered important to develop forecasts and estimates. The following chapters dive deep into the global medical physics market, covering detailed information based on modality, service, and end user. The next set of chapters provide a region-wise analysis and forecasts of the medical physics market, which cover the vital aspects of the market in North America, Latin America, Europe, East Asia, South Asia, Oceania, and the Middle East and Africa.
A dashboard view of some of the key companies operating in the medical physics market in terms of their offerings, regional presence, and other metrics is a precursor to the detailed profiles of these participants, which include their financial information, strategy overview, and services offered, as well as analyst commentary.
Some of the key players analyzed in the medical physics market report include Krueger-Gilbert Health Physics, Inc., LANDAUER, Medical Physics Services, Medical Physics Services Consultants, Inc., Alyzen Medical Physics Services, Radiation Safety & Control Services, Inc., Upstate Medical Physics Services, Dade Moeller & Associates, Versant Medical Physics Services & Radiation Safety, Alliance Medical Physics Services LLC, West Physics Consulting, LLC, Associates in Medical Physics Services, Radiation Services, Inc., Jaeger Corporation, and Petrone Associates, LLC.
To develop the estimates for the medical physics market, the global adoption of medical physics services was taken into account, which was followed by tracking key players and their service offering globally. This is then cross-referenced with the revenue generated from the sales of medical physics for top companies globally.
Our team of analysts reviews and interpret data from a variety of sources. The data attributed to 'FMI' is derived by using a combination of various approaches, which are then consolidated, interpreted, and extrapolated by FMI analysts. Data is sourced from government statistics, trade associations, company annual reports, investor presentations, press articles & directories, technical publications, and online databases, which are cross-referenced with FMI's reports and internal repository of data to filter and validate the collected information.
The intelligence gathered from desk research is supplemented by extensive interviews with selected key expert participants across the value chain not only to gain information specific to their role and operations, but also to obtain their perspective and insights of the issues impacting the medical physics market.
Global Medical Physics Market: Segmentation
Analysis by Modality
Diagnostic

Radiographic X-Ray Systems

Fluoroscopic X-Ray Systems

Dental X-Ray Systems

Mammography Systems

Computed Tomography

Magnetic Resonance Imaging

Ultrasound

SPECT

PET

Others

Therapeutic

LINAC

Brachytherapy

Others
Analysis by Service
Accreditation Assistance

Performance Testing

Physics Testing

Radiation Dose Monitoring

Radiation Safety Training

Treatment Commissioning Services

Safety Surveys

Regulatory and Auditing Services

Others
Analysis by End User
Hospitals

Ambulatory Surgical Centers

Diagnostic Imaging Centers

Academic and Research Institutes
Analysis by Region
North America

Latin America

Europe

East Asia

South Asia

Oceania

Middle East & Africa
COVID -19 : Impact Analysis
Request the coronavirus impact analysis across industries and markets
Request Covid -19 Impact
CASE STUDIES
See how our work makes an impact.
At FMI, we design strategies that are adaptive, impactful, and implementable.