An Incisive, In-depth Analysis on the Model Based Manufacturing Technologies Market
This study offers a comprehensive, 360 degree analysis on the Model Based Manufacturing Technologies market, bringing to fore insights that can help stakeholders identify the opportunities as well as challenges. It tracks the global Model Based Manufacturing Technologies market across key regions, and offers in-depth commentary and accurate quantitative insights. The study also includes incisive competitive landscape analysis, and provides key recommendations to market players on winning imperatives and successful strategies.
What is the competition trend in the global model based manufacturing technologies market?
Among the key players profiled in our report, global partnerships is one of the key strategies adopted by market players, with approximately 50% of the leading players entering into collaborations in the last three years. This trend is projected to continue over the next five years. Most of the model based manufacturing technologies providers are entering into strategic partnerships to improve their product offerings. One such player is Autodesk, which has entered into a partnership with Vera Security, Inc., a data-centric security solutions provider and PTC, which is a Computer-aided design (CAD) solutions provider with an objective to provide data protection for CAD and product lifecycle management (PLM) and to control access and permissions for CAD files. Another key strategy followed by top market players is new product launch with about 25% of the leading players having launched new products in the past three years. Companies such as SAP SE, Dassault Systemes, Ibaset Inc. and Aspen Technology Inc. are heavily adopting the new product launch strategy.
MEA regional market for model based manufacturing technologies is expected to witness significant growth owing to increasing plant productivity and reduced inventory costs
Software-as-a-Service (SaaS) ERP systems are expected to drive the growth of the model based manufacturing technologies market in the Middle East. Companies in this region are more focussed on the adoption of SaaS ERP systems. SaaS vendors are investing significantly in SaaS ERP systems to succeed and grow in this highly competitive and lucrative market and are also making strategic investments and implementing stringent security infrastructure in order to safeguard customer data. They also provide SaaS contracts to ensure a high level of transparency so that customers own their data and can retrieve it on demand.
Increasing plant productivity and reduced inventory costs is another factor which is fuelling the growth of the model based manufacturing technologies market in MEA. Due to advancement in technologies, manufacturing companies are installing new software and tools for optimum resource utilisation. An increasing variety in product development is likely to eventually lead to increase in production capacity, which will ultimately lead to lack of quality in products. To overcome this inherent quality challenge, automatic manufacturing equipment and technologies help in the production process by reducing inventory costs as the inventory will be tracked using automated information technology systems. This will subsequently lead to decreasing capital costs due to decreased inventory levels and optimal use of production resources.
Mobile device explosion is anticipated to drive Enterprise Resource Planning growth in the MEA region. Increasing usage of smart mobile devices such as smartphones and tablets in the Middle East countries is expected to offer opportunities to Enterprise Resource Planning (ERP) vendors looking to tap the market in this region. The staff working in logistics, warehouse management, manufacturing and field sales depends primarily on mobile ERP apps. ERP apps are enabled on workers' devices in all departments that facilitate easy access to data and enable the initiation of ERP processes from anywhere. Companies are looking to ERP vendors to deliver assurances surrounding application and data security integration and management in smartphones/tablet PCs.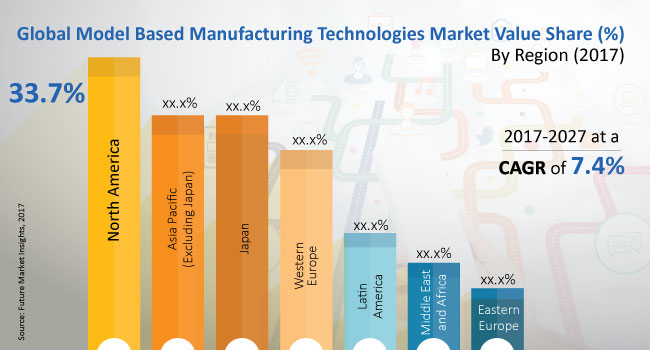 MEA is the second largest region in term of CAGR in the global model based manufacturing technologies market during the period of assessment
Although MEA is projected to grab a tiny share of the global model based manufacturing technologies market in 2017, it is the second largest region in terms of CAGR. The MEA model based manufacturing technologies market is expected to expand at a CAGR of 11.7%. In 2017, the market in MEA is estimated to be valued at more than US$ 1,300 Mn and is expected to witness steady growth in terms of revenue throughout the forecast period.
North America and Europe were the dominant markets in 2016 in terms of revenue sales of model based manufacturing technologies. We have observed that in the coming years, countries in North America and Europe such as U.S., U.K., and France are expected to be key markets for sustainable revenue generation from model-based manufacturing. Besides our analysts have noticed that partnerships with software vendors, platform providers, and other OEM players is expected to remain as the main strategy of key vendors in this market to increase their sales growth. After a thorough inspection of the model based manufacturing market, we have published our key findings in a new report titled "Model Based Manufacturing Technologies Market: Global Industry Analysis (2012–2016) and Opportunity Assessment (2017–2027)." Our expert analysts have observed that long-term contracts with business partners help in increasing business revenue and in identifying new innovation strategies, thereby enabling model based manufacturing vendors to reach new potential customers in emerging markets. We have targeted the primary regions across the globe to get a broader picture of the market. Our findings indicate that the U.S. is expected to remain a key market in the global model based manufacturing technologies market owing to the presence of large market players such as HCL, Siemens and PTC. Besides, a significant market potential exists in countries of Asia Pacific such as China, India, and Japan.
Our exclusive recommendations to clients who are keen to know the future of the global model based manufacturing technologies market
Evaluation of various model based manufacturing platforms in detail to help users take decisions regarding adoption of model based manufacturing solutions

Details of profiled companies include current and new products and key strategies to enable readers to understand how key players strategise to earn profits

Vendors can focus on expanding their businesses across countries in APAC such as India and China, where governments of such countries are offering investment opportunities

Cloud enabled model based manufacturing software is expected to witness substantially high demand during the forecast period due to its advantages including CAD software tools and improvement in manufacturing quality
The global model based manufacturing technologies market is witnessing significant growth due to increasing global ICT spending. There has been a growth in adoption of model based manufacturing technologies by manufacturing companies due to the growing usage of manufacturing technologies such as Manufacturing Execution Systems (MES), Enterprise Resource Planning (ERP), Material Requirement Planning (MRP), Computer-aided Design (CAD) systems and others. This has increased manufacturing revenue contribution to the GDP.
Cost analysis: ERP/MRP initial adoption costs include spending on human resources, software, infrastructure and system management costs
The cost of ERP system modules depends on the installation plan as well as the end-user requirement. Thus, software costs consist of the license fee of ERP per user. Further, hardware/infrastructure cost is also considered while installing ERP/MRP software; such costs include purchase of systems/laptops, servers, security devices and others. A large portion of ERP systems implementation costs is on re-engineering the software based on business requirement. It consists of customizations, data conversion, data migration, testing and maintenance for the current year. In MES, the initial adoption cost and services cost accounts for the highest share as compared to other components because the enterprise spends on training, implementation and planning to procure MES software. The enterprise spends on the procurement of MES software licenses based on the number of initial users and number of modules as well as for the necessary customization involved.
Market Segmentation
End-user Industry

Software Type

Region

Automotive

Electronics and Semiconductor

Aerospace and Defence

Oil and Gas

Other Industrial Sectors

MES (Manufacturing Execution Software) Based Systems

ERP (Enterprise Resource Planning) Based Systems

MRP (Material Requirements Planning) Based Systems

CAD (Computer Aided Design) & PLM (Product Lifecycle Management) Based Systems

Other MbM Software (Combined Systems/Technologies)

North America

Latin America

Western Europe

Eastern Europe

Asia Pacific Excluding Japan (APEJ)

Japan

Middle East & Africa (MEA)
Detailed primary and secondary research provides the vital data inputs required for market estimations
While inspecting this market in detail, we have referred to company annual reports, publications, and presentations. Our analysts have also considered key winning strategies followed by the manufacturers in this market. We have done systematic and exhaustive secondary research to analyse the required data points to arrive at the overall market numbers. Exhaustive questionnaires have been developed for each node in the value chain to extract the required market information through primary research interviews.
COVID -19 : Impact Analysis
Request the coronavirus impact analysis across industries and markets
Request Covid -19 Impact
CASE STUDIES
See how our work makes an impact.
At FMI, we design strategies that are adaptive, impactful, and implementable.