Odour Control System Market - Key Research Findings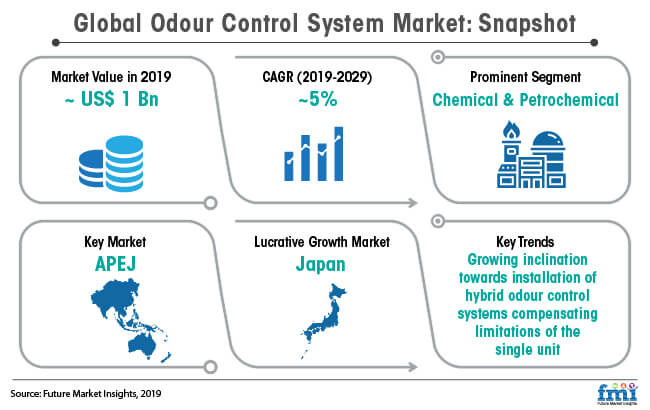 The market value of global odour control system in 2019 is estimated at ~ US$ 1
During the forecast period of 2019-2029, the odour control system market is anticipated to grow at a CAGR of ~5%.
Adoption of odour control systems in chemical & petrochemical industry is likely to account for relatively high sales over the forecast period.

The growth in demand for odour control systems in the chemical and petrochemical industry can be primarily attributed to their increasing usage in existing as well as new industrial plants.

APEJ (Asia Pacific Excluding Japan) is anticipated to hold more than one third of the revenue shares in the odour control system market by the end of 2029.

APEJ will continue to be an opportunistic market for odour control system manufacturers and distributors, owing to increasing industrial and infrastructure development.
The odour control system market in Japan is also anticipated to grow at significant rate, complying with the stringent regulations imposed by the government for controlling odour emissions through industrial as well as municipal sectors.

Growing concerns towards E-waste maanagement and waste recycling services across the globe are anticipated to drive growth in odour control system installations
Key Factors Shaping the Odour Control System Market
Advanced Technologies Emerging as Product Differentiators among Manufacturers

Due to the growing integration of automation in industrial sector, the demand for cost-effective and advanced products is increasing, which is creating pressure on manufacturers to offer technologically advanced and unique product offerings. Noteworthy investments in research and development to develop unique technologies by manufacturers of equipment can be seen, which will help them differentiate their products in the market.

Manufacturers of odour control system are focusing on automated monitoring systems for consistent supervision and optimization of the performance of odour control systems.
Inclination towards Hybrid Odour Control System

Most of the odour control systems work on the principal of chemical reaction or physical adsorption. However, these technologies are now getting inefficient to adhere the current regulations imposed by several countries and environmental organizations. Also, these technologies are feasible under certain conditions and can eliminate only a few specific compounds, which vary among industries and processes.

This, in turn, has raised the need for developing systems, which are effective over a wide spectrum of odorous compounds. Complying with demands, several market players are developing systems, which use integrated technology working on dual or triple stages to eliminate all possible odorants.

These systems are available in different combinations, which can be chemical- adsorption, adsorption-biological, and hybrid of all three, if required. This, in turn, is estimated to project significant opportunities in the global odour control system market.
Environmental Concerns and Stringent Regulations

As the waste generation has turned out as one of the major point of concern affecting water, land, air and scenic quality, several countries are now emphasizing to craft environmental regimes for proper balance between industrial development and environmental impact. Waste to energy initiatives are being undertaken with utmost importnace across the globe in order to reduce carbon emissions and conserve environment.

Countries such as China, India, Iran, Saudi Arabia, and others, which are suffering from intense air pollution are strategizing to control the air pollution by imposing stringent regulation and mandating installation of air quality monitoring systems at all new and existing potential emitters. Such initiatives by government are expected to fuel the demand for odour control systems in the above mentioned countries.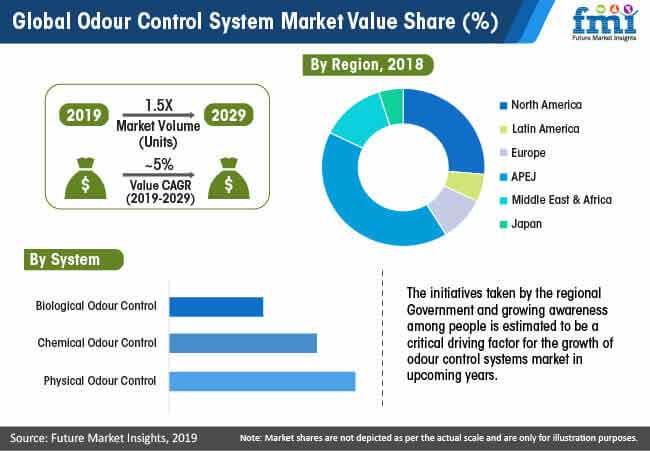 Odour Control System Market Structure Analysis
The odour control system market is a moderately competitive market, globally.
Strategies followed by key players in the odour control system market are business expansion by acquisitions and mergers, product launches, collaborations and alliances. Key market players focus on strategies such as product expansion and innovation through new dealership networks and collaborations.
Noteworthy investments in research and development for novel and sturdy products are anticipated to boost the growth prospects of the odour control system market.
Key players in the odour control system market are Babcock & Wilcox Enterprises, Inc., CECO Environmental., Anguil Environmental Systems, Inc., Evoqua Water Technologies LLC, Scotmas Limited, Ecolab Inc., Tholander Ablufttechnik GmbH, etc.
Key Segment
System
Physical Odour Control

Adsorption System
Ozone Generators

Chemical Odor Control

Chemical Scrubbers
Thermal Oxidizers

Biological Odour Control

Biofilters/Biotrickling Filters
Bio Scrubbers
Application
Waste Treatment Facilities
Food & Beverages
Pulp & Paper
Chemical & Petrochemical
Other Industries
Region
North America
Latin America
Europe
APEJ
MEA
Japan
Need specific information?