Packer Bottle Market By Material (Plastic, Glass), Capacity (100cc & Below, 200cc, 300cc, 400cc), Application (Tablet & Capsules, Powder & Granules, Liquid), End Use (Pharmaceuticals, Chemicals, Food & Beverages Ingredients, Other Industrial) & Region – Forecast 2021 – 2031
Packer Bottle Market - Analysis, Outlook, Growth, Trends, Forecasts
March 2021

REP-GB-3098

200 pages
About the Report
Increasing use of packer bottles in daily use packaging applications and rising preference for light weight yet cost effective packaging solutions in industrial and non-industrial sectors have been fuelling the demand for packer bottles. The future outlook for the global packer bottles remains bullish as the adoption of convenient and protective packaging solutions is on a significant surge.
In its new study, ESOMAR-certified market research and consulting firm Future Market Insights (FMI) offers insights about key factors driving demand for packer bottles. The report tracks the global sales of packer bottles in 20+ high-growth markets, along with analyzing the impact COVID-19 has had on the packer bottle industry.
How do Historic and Future Outlook for Packer Bottle Market Match Up?
Rigid packaging is the top-choice for end users when it comes to the safety of the product and leakage proofing. Packer bottle is therefore considered one of the ideal packaging solutions as it offers good damage and puncture resistance. An increasing number of end users are opting for packer bottles for the packaging of products such as tablets, liquid medicines, syrups, etc.
With advancements in recycling technologies and increasing use of bio-plastic material, the demand for packer bottle is expected to rise over the forecast period. According to FMI, sales will increase at an accelerated pace in developed regions such as North America and. In Asia Pacific, the market will gain from expansion of activities in food, beverages and pharmaceutical industries. According to the report, packer bottle sales will grow at 5.5% CAGR Between 2021 and 2031
Packer bottles come with several advantages. For instance, they are recyclable and can be customized as per need of potential customers. Also, the introduction of transparent packaging with a glossy finish for product authentication has raised the bar for packer bottles as preferred packaging solution. Spurred by these factors, packer bottle sales are expected to pick up in the coming years.
What is Driving Plastic Packer Bottles Sales?
Glass has been traditionally used in the manufacturing of pharmaceutical bottles as it offers protection and resistance to the chemical content of pharmaceutical products. However, the fragile and heavyweight characteristics of glass pose challenges for transportation and shipping of products, which ultimately affect the revenue of manufacturers. As an alternative solution, manufacturers substituted their raw material with plastic, which is lightweight and unbreakable such as High-Density Polyethylene (HDPE), Polyethylene terephthalate (PET) and other forms of plastic owing to its cheap cost than glass.
Furthermore, the ability of plastic packer bottles to provide exceptional alcohol, solvent, gas, and moisture barrier ultimately fuels its demand among the end users. In addition to this, the ease of availability of plastic raw material facilitates the overall manufacturing process of plastic packer bottles enabling a cost-effective value chain. The rapidly shifting preference of manufacturers towards such cost-effective and lightweight packaging solutions is anticipated to boost the global packer bottle market growth during the forecast period.
What is Impact of Growing Sales of Anti-Counterfeit Packer Bottles?
The threat of counterfeit medicine is prevalent across the globe including North America and Europe which is majorly affecting the pharmaceutical packaging market. In recent years, counterfeit medicines have affected more than US$ 80 Bn revenue of global pharmaceutical companies. This has compelled pharmaceutical packaging manufacturers to offer packaging products or labels with covert features that render them tamperproof and ensures a longer shelf-life for these medicines.
To tackle such issues, packer bottle manufacturers across the globe are extensively spending on manufacturing facilities, which has helped to increase the demand for authentic packer bottles. Such bottles are traceable and provide information to stakeholders such as wholesalers, retailers, manufacturers, distributors, suppliers, and end-users. Moreover, it has increased the profit margin of the packer bottle value chain. Rising demand for such authentic and traceable packer bottle in pharmaceutical and other industries is reinforcing the market growth to a significant extent.
How Availability of Alternative Packaging Solutions Limits the Packer Bottle Sales?
Manufacturers operating in the global pharmaceutical and food packaging market are ready to switch to alternative packaging solutions to reduce overall packaging and transportation cost. Although a major portion of the end-users is using packer bottles to pack and store food and non-food products, there are adequate availability alternative packaging solutions such as blister pack, big containers & jars and others in the market.
Flexible packaging solutions such as blister packs are predominately used to pack and store tablets and capsules. This is expected to affect the sales of packer bottles to a great extent. Also, for bulk food and pharmaceutical packaging, manufacturers preferred containers and jars which further reduces the demand for packer bottles. Development and adoption of such alternative packaging solutions are likely to hinder the packer bottle market growth during the forecast period.
How Increasing Research and Development in Pharmaceuticals Sector Redefined the Market Growth?
Packer bottles are frequently used in the pharmaceutical sector for packaging powders, granules, liquids, tablets and others. Considering the ongoing market scenario, leading pharmaceutical players are investing significantly to upgrade their current product pipelines. They also are spending heavily on new drug and product development to fulfil the current requirement.
In addition to this, the increasing involvement of the private sector in the pharmaceutical industry have given confidence to small scale pharmaceutical companies to spend on new product development. This rising R & D activities among the big as well as small scale pharmaceutical industries to launch new pharmaceutical products including tablets and capsules and other powder & liquid form drugs is anticipated to create the enormous demand for packer bottles.
Country-wise Insights
What are the Factors Driving Packer Bottle Sales in the U.S.?
As per the report, the U.S. is one of the leading countries in terms of registering the demand for packer bottles. The future outlook for the market is expected to remain bullish in the U.S. backed by the presence of prominent packer bottle manufacturers such as Amcor Plc, Berry Global Group, Inc, Gerresheimer AG, Comar LLC.
Strong manufacturing capabilities and an extensive network of packaging players are escalating the packer bottle market growth in the country. Furthermore, rising disposable income and healthcare spending by individuals in the U.S. are among the key factors fuelling the demand for pharmaceutical packaging including packer bottles.
How is the Pharmaceutical Sector Contributing to Growth in India?
The increasing demand for packer bottles in India can be attributable to the application in the country's expanding pharmaceutical sector. Since the last couple of years, India has emerged as one of the leading pharmaceutical manufacturing nations and exporters. The low cost of active pharmaceutical ingredient and packaging in India has pushed manufacturers to expand their manufacturing facilities.
As per India Brand Equity Foundation (IBEF) organization, India's pharmaceutical drug export stood at US$ 16.2 Bn in 2019. Indian pharmaceutical industry distributes over 50% of the global demand for vaccines, 40% generic demand in the United States and 25% of medicines in the United Kingdom.
Moreover, rising private and government sector investment in pharmaceutical research and development in India has strengthened the production of drugs on a significant scale. Furthermore, India is focusing on high scale production of branded as well as generic drugs. Back on these factors, manufacturers operating in the market are shifting their focus towards expansion in India.
How Rising Healthcare Spending is Supporting Packer Bottle Sales in Germany?
According to FMI, Germany leads the Europe packer bottle market. Packer bottles are used in the packaging of tablet, capsules, powder, and liquids. The sales of plastic and glass packer bottles have increased substantially due to the strong consumer sentiments, which is supported by well-directed fiscal perspectives. Rising healthcare expenditure in Germany along with penetration of pharmaceutical sector is amplifying the demand for packer bottles.
As per the Organization for Economic Co-operation and Development (OECD), in 2019, the total healthcare spending per capita in the Germany was US$ ~6,646 which is far more than other European countries. This high spending and awareness associated with healthcare in Germany is likely to reinforce the packer bottle market growth significantly.
What are the Factors Driving United Kingdom Market?
The significant portion of the demand for plastic and glass packer bottles in the U.K. is generated from chemical sector. Packer bottles with heat and chemical resistant packaging, used on a frequent basis to pack, store and ship variety of chemicals and solvents. As per the European Chemical Industry Council, with over US$ 65.6 Bn of revenues and US$ 21.8 Bn value added in 2019, U.K.'s chemical industry is second largest manufacturing industry by value added and third by turnover.
Also, the sector has outpaced other industries in terms of research and development with annual investment over US$ 6 Bn. The rising manufacturing output from chemical sector in the U.K. creates astonishing demand for rigid packaging solutions. Back on these factors, the future growth perspective for U.K's chemical sector seems positive, which further augment the sales of packer bottles during the upcoming years.
Why Packer Bottles Manufacturers Targeting Canada?
As per FMI, Canadian packer bottles market is anticipated to experience steady market growth during the next decade. The market is primarily driven by the increasing demand from the food and beverage industry. Packer bottle manufacturers are eyeing on Canadian food industry and its packaging needs.
The consistently rising demand for packer bottles for packaging of food and beverage ingredients in Canadian market is providing opportunities to manufacturer to raise their packer bottle sales and expand business boundaries in Canada.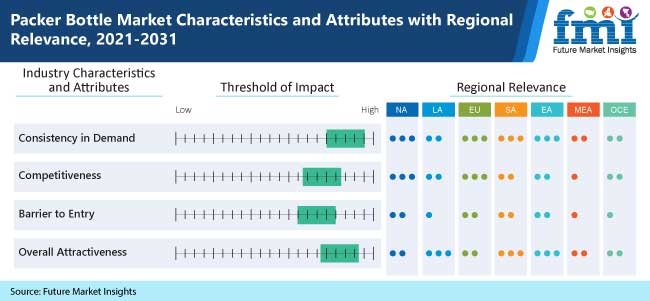 Category-wise Insights
Why are Plastic Packer Bottles in High Demand?
As per the report, by material, plastic segment among others is the most preferred choices among the end users. Packer bottles made up of high density polyethylene (HDPE) and polyethylene terephthalate (PET) are economical compared to glass packer bottles. They are light in weight and crack and break resistant. Back on these factors, the target segment is projected to hold around 70% of the market share by the end of 2031.
Why are Tablet & Capsules Considered Key Applications?
Rising consumption of unit oral dosage form such as tablet and capsules is fuelling the demand for packer bottles. Manufacturers are keeping eye on the segment and designing packer bottles to suits packaging requirements of the pharmaceutical sector. Tablet & capsules segment is projected to enjoy consistent demand in coming years and is projected to expand by 1.8x times of its value.
Who is the Leading End User of Packer Bottles?
As per FMI, pharmaceuticals segment has emerged as the most lucrative end user and is expected to remain dominant through the foreseeable future. Globally rising medicinal drug production and rapidly growing demand for pharmaceutical packaging solutions including packer bottles are fuelling the demand from the industry. The target segment is estimated to offer total incremental opportunity of US$ 1.1 Bn during the next five years.
Competitive Landscape
As the substantial portion of demand for packer bottles is generated from pharmaceutical industry, the packaging manufacturers began emphasizing on design and manufacture packaging bottles with child resistant packaging. Companies operating in the global packer bottles market are offering packer bottles as per the industry requirement. For instance, packer bottles manufacturers such as Aaron packaging solution and O.Berk Packaging started manufacturing CR packaging for pharmaceutical drug and food manufacturing companies, since 2016.
Some of these manufacturer are even trying to match up with green trends. These packer bottle manufactures are manufacturing highly recyclable packer bottles to upgrade their recyclability programme. This can be exemplified by Amcor plc's recyclable PET packer bottle, specially designed for oral dose and nutraceuticals packaging. Packer bottles manufacturers are also generating substantial financial revenues by offering packer bottles which meets all industry specifications and standards.
Some of the leading companies operating in the market are:
Amcor Plc
Berry Global Group, Inc
Comar, LLC
Graham Packaging Company
Maynard & Harris Plastics
O.Berk Company, LLC
CL Smith
Aaron Packaging, Inc
Clarke Container Inc
*The list is not exhaustive, and only for representational purposes. Full competitive intelligence with SWOT analysis available in the report.
Scope of the Report
Attribute

Details

Forecast Period

2021-2031

Historical Data Available for

2016-2020

Market Analysis

USD Million for value and Mn Units for Volume

Key Regions Covered

North America, Latin America, Europe, South Asia, East Asia, MEA and Oceania

Key Countries Covered

US, Canada, Brazil, Germany, U.K., France, Italy, Spain, Poland, Russia, China, India, GCC, South Africa, Northern Africa, Australia & New Zealand

Key Segments Covered

Material, Capacity, Application, End Use, and Region

Key Companies Profiled

Amcor Plc
Berry Global Group, Inc
Gerresheimer AG
Comar, LLC
Graham Packaging Company
Maynard & Harris Plastics
Alpha Packaging, Inc
O.Berk Company, LLC
CL Smith
Aaron Packaging, Inc
United States Plastic Corporation
Clarke Container Inc

Report Coverage

Market Forecast, Brand share analysis, Competition intelligence, DROT analysis, Market Dynamics and Challenges, Strategic Growth Initiatives

Customization & Pricing
World's Most Profilic Intelligence Engine
Get Access To The World's Largest Market Research Database.
Sign Up Now
Packer Bottle Market by Category
Material
Plastic

High Density Polyethylene (HDPE)
Polyethylene terephthalate (PET)
Polycarbonate (PC)
Others (PVC, PS, etc.)

Glass
Capacity
100cc & Below
200cc
300cc
400cc
Application
Tablet & Capsules
Powder & Granules
Liquid
End Use
Pharmaceuticals
Chemicals
Food & Beverages Ingredients
Other Industrial
Region
North America
Latin America
Europe
South Asia
East Asia
Oceania
Middle East and Africa (MEA)
Key Questions Answered in the Report
Which is the Most Lucrative Market for Packer Bottle?
Europe currently leads the global market packer bottle. Sales of packer bottles in Europe will account for over ~25 % of total demand throughout the forecast period.
Which is the Top-Selling Packer Bottle by Capacity?
Packer bottle with 200 cc capacity is the most selling and preferred packer bottle in the market. The demand for 200 cc packer bottle is expected to increase significantly during forecast period owing to precise sizing and handy outlook.
Which are Preferred Materials for Manufacturing Packer Bottle?
Plastic is a highly preferred materials for manufacturing packer bottles. This segments will hold over 3/5th % market share throughout the forecast period.
Which are Some of the Leading Companies Offering Packer Bottle?
Some of the leading companies offering packer bottles are Amcor Plc, Berry Global Group, Inc, Gerresheimer AG, Comar, LLC, O.Berk Company, LLC among others.
Which is the Key Application of Packer Bottles?
As per FMI, by application, tablet & capsules segment is exhibits high demand for packer bottles. This segment is projected to out space other segments, and account for 45% of the overall share by 2031.
Need specific information?
Our Clients