Patient Lateral Transfer Market Outlook & Key Findings
The global patient lateral transfer market is expected to witness a CAGR of over 7.1% between 2020 and 2030
is the largest, followed by Europe patient lateral transfer market
Covid-19 outbreak is turning the tide in favor of patient lateral transfer market
Branding by key players to be a key growth driver as of now. Inorganic growth expected to take over in the forecast period
Market at a Glance
Patient lateral transfer implies repositioning of a patient with least stress to caregiver. Reduced friction helps in raising the comfort level of patients and healthcare workers alike.
The healthcare personnel are emphasizing on usage of patient lateral transfer devices for avoiding back injuries out of forceful exertions and awkward postures.
Also, patient lateral transfer devices aid in efficiently transferring the patients as they improve the postures while moving partially or entirely dependent patients.
Besides, home healthcare services are proving to be cost-effective. This is another factor asking for lateral transfer devices to ensure patients' efficient transfer.
The patient lateral transfer devices include sliding sheets, transfer mattresses, and accessories. The demand for air-assisted lateral transfer mattresses has been increasing due to the convenience (in terms of weight) and comfort offered.
Patient Lateral Transfer Market Dynamics
There has been a growing risk to healthcare professionals while implementing rules and regulations on manually handling patients at hospitals.
The WHO states that presence of musculoskeletal conditions differs by diagnosis and age. On an average, 20-30% of the people globally live with musculoskeletal ailments.
The growth of the market can also be attributed to geriatric population growing at an astounding rate. According to WHO, in the US alone, people aged 65 and above will cross 98 Mn by 2060 (~46 Mn as of the year 2019). In Europe, close to 19% of the total population is aged 65 and above.
In Asia-Pacific, those aged 60 and above are likely to account for around 1.3 Bn by the year 2050. Another factor propelling demand in Asia-Pacific is the high incidences of stroke in economies like Australia.
For instance – Stroke Foundation, Australia estimated that in the year 2017 close to 475,000 people survive the stroke therein and out of them, 65% suffered from disabilities.
At the same time, lack of trained caregivers in this regard acts as a restraining factor.
Covid-19 Impact
The outbreak of Covid-19 has bolstered the demand for patient lateral transfer devices. As of Apr 24, 2020, cumulative hospitalization in the wake of Covid-19 crisis was 29.2/100,000. This data was released by Centers for Disease Control and Prevention.
Likewise, patient lateral transfer market has witnessed an upswing since Mar 2020 and the geometric progression is expected to result in an unprecedented growth on this count in the subsequent quarters as well.
Patient Lateral Transfer Market Dynamics
Share of patient lateral transfer devices differs with respect to key markets.
In the top 5 regions, which include North America, Latin America, Europe, South Asia and East Asia, share of North America is high, in comparison with the other regions.
Air-assisted transfer device is a mass category product, as it holds the first position in terms of demand across all the geographies.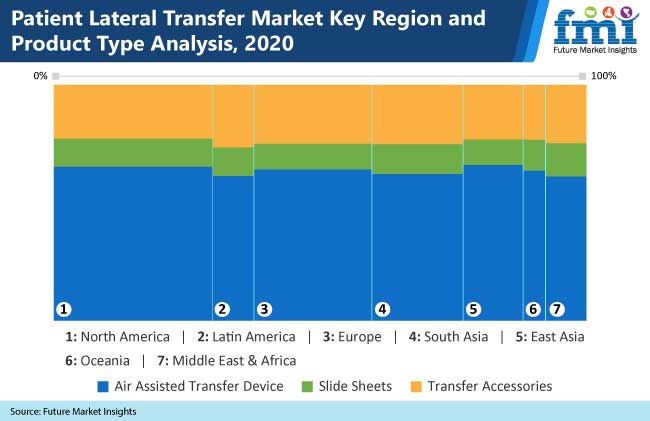 Region-wise Analysis
North America patient lateral transfer market is the largest globally, followed by Europe patient lateral transfer market.
Asia-Pacific, Latin America, and MEA are also picking up pace due to increasing awareness in this regard.
Patient Lateral Transfer Market Players and Competitive Intelligence
Patient lateral transfer market players have tabled their brands to strengthen the users' mindshare.
For instance –
Prism Medical's "Prism Patient Transfer System" is an ideal solution when the patient is confined to a space that is not accessible through the hoist.
AirPal, Inc. is amongst the pioneers of air-assisted patient lateral transfer system. The "AirPal SPS Disposable TransferPad" is a cost-effective "One Patient, one pad" transfer system that does have rugged design holding up for numerous lateral transfers all through the stay of the patient.
EZ Way's EZ Roller/Tube Slide Sheet comes across as a manual transferring, friction-reducing, and repositioning aid that could be used by two or even more caregivers.
The other key players operating in the patient lateral transfer market include:
McAuley Medical, Inc.
Patient Positioning Systems LLC
HoverTech International
Stryker Corporation (Sage Products LLC)
Getinge AB (ArjoHuntleigh)
The Way Forward
The global patient lateral transfer market is expected to witness a stupendous CAGR of ~7.2% between 2020 and 2030, as stated by FMI analysts.
The ongoing pandemic has catalysed the demand for patient lateral transfer devices due to increase in hospitalization all across.
This scenario is expected to persist till the end of 2020. On the other hand, the market will also gain traction due to the continuous increase in chronic ailments and rise in geriatric population.
The key players have their own branding, but they need to look for inorganic modes of approach as well.
Collaborations at local level will help the patients as well as healthcare professionals as varied options would be available for transfer (for patients) and choices would be available regarding patient lateral transfer devices (for healthcare personnel).
Patient Lateral Transfer Market: Segmentation
The global Patient Lateral Transfer Market is segmented in detail to cover every aspect of the market and present a complete market intelligence approach to the reader.
Product Type
air-assisted transfer devices
slide sheets
transfer accessories
Usage Type
single patient use
reusable
End-user
Hospitals
Cllinics
Ambulatory Surgical Centres
Geography
North America
Latin America
Europe
East Asia
South Asia
Oceania
Middle East and Africa
Need specific information?