Premium A2P and P2A Messaging Market By Application (Inquiry and Search Related Services, Customer Relationship Management Services, Authentication Services), Traffic (National, International), Tools (Cloud API Messaging Platforms, Traditional and Managed Messaging Services), End User (BFSI, IT and Telecom) & Region - Forecast to 2019 - 2029
Premium A2P and P2A Messaging Market - Analysis, Outlook, Growth, Trends, Forecasts
December 2019

REP-GB-2776

419 pages
KEY FACTORS SHAPING PREMIUM A2P AND P2A MESSAGING MARKET
Robust Growth in Demand for OTT Applications
E-commerce enterprises need to reach each operator individually to sign an agreement or work with numerous aggregators to roll out services, along with solutions that create service differentiation and improve end-user experience to run their businesses efficiently. Operators using solutions from messaging exchange providers gain an edge over competitors. Messaging exchange providers offer a single source for global mobile messaging with guaranteed excellence of service, along with one-stop billing and support.
This allows over-the-top (OTT) application providers to concentrate on their core businesses. With the help of mobile messaging exchange providers, SMS traffic can be efficiently monitored and filtered to meet specific requirements of operators. This is anticipated to limit spam messages and enable operators to focus on catering to genuine enterprises, OTTs, and application providers.
Increasing Preference of Enterprises for Mobile Engagement Platforms
Premium A2P and P2A messaging is widely used by many industry verticals, which is anticipated to create significant opportunities for mobile network operators as well as enterprises. Mobile network operators can offer mobile engagement platforms to enterprises, which will eliminate the need for an aggregator that acts as a bridge between mobile network operators and enterprises.
Mobile engagement platforms made possible by use of premium A2P and P2A messaging will enable enterprises to directly communicate with customers and network operators, and significantly boost revenues of players offering premium A2P and P2A messaging solutions.
Heightening Demand for SMS-powered Two-factor Authentication (2FA)
SMS-powered two-factor authentication (2FA) is an efficient tool that requires customers to enter a password along with the shortcode delivered via SMS to a handset. The 2FA authentication method is becoming the most preferred security option among OTT apps and brands. SMS-based 2FA is particularly essential for mobile applications and internet services. Google Inc., Facebook, Inc., LinkedIn, Yahoo Inc. and PayPal Holdings, Inc., are some of the sites that integrate SMS authentication for user validation.
In direct response to security concerns, this supplementary authentication method offers a more secure user experience and is poised to grow steadily during the forecast period. Players in the premium A2P and P2A messaging market are anticipated to gain significant profits by focusing on efficient 2FA solutions.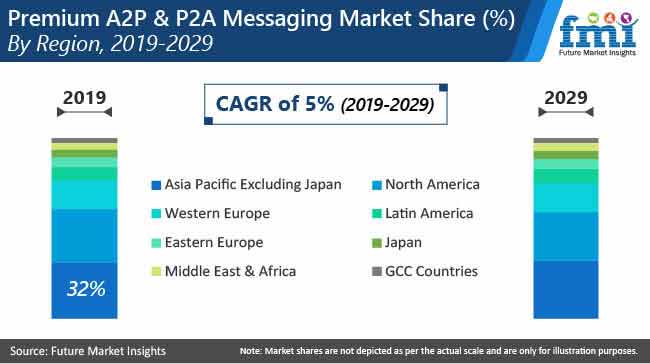 Latin America to Create New Growth Opportunities
Premium A2P and P2A messaging solution providers are focusing on increasing their business opportunities across countries in Latin America, which hold lucrative business opportunities and growth prospects due to increasing mobile subscriber base and the introduction of GSMA's 7th RCS A2P future messaging lab with the objective to convene the leading stakeholders in the Latin American A2P messaging industry.
PREMIUM A2P AND P2A MESSAGING MARKET STRUCTURE ANALYSIS
The global premium A2P and P2A messaging market represents a moderately concentrated competition landscape, where prominent key players focus on the development of IP messaging solutions, and integration of hybrid cloud-based messaging platforms for premium A2P and P2A messaging.
Majority of the key players in the global premium A2P and P2A messaging market are strategically focusing on new product innovation, mergers & acquisitions, strategic partnerships, and collaborations to gain a strong global footprint. Leading providers of premium A2P and P2A messaging solutions account for 31% of the overall market value.
Key participants such as CLX Communications, Twilio Inc., Mahindra Comviva, Syniverse Holdings Inc., Mavenir, and OpenMarket Inc. are among the largest and most experienced companies in the premium A2P and P2A messaging market, with a significant regional coverage across the globe.
Opportunities Abound in CRM Services
Accounting for about a fourth of total market value, customer relationship management (CRM) services continues to remain the top application category of premium A2P and P2A messaging. Promotional and marketing services, following CRM services in terms of revenue generation, are also leveraging the solution significantly. On the other hand, usage of premium A2P and P2A messaging in authentic services is increasing rapidly.
U.S. Emerging Strongest Despite Continued Lead of Asian Economies
Asia Pacific (APAC) will maintain its supremacy in the global premium A2P and P2A messaging market, where profits currently worth of around US$ 25 Bn are capturing attention from stakeholders. China and Australia continue to spearhead their respective regional markets. Despite APAC's primacy, the market in the U.S. will remain the most profitable, exceeding US$ 26 Bn towards the end of 2029. However, the report discovers lucrative prospects hovering around Latin America, especially in Brazil and Mexico.
Stakeholders Compete Based on IP-Based Messaging Services
A majority of enterprises are moving from conventional messaging systems to IP-based messaging services on the back of their enhanced security, multi-media interaction, and reduced traffic. Further, they can be integrated with circuit-switched SMS. Google has launched e-mail to SMS and vice-versa service in Nigeria, Kenya, and Ghana, while Facebook utilizes SMS service to send notifications on feature phones. Such trends are offering potential opportunities to premium A2P and P2A messaging market players.
How Growth will Unfold
Market players continue to reap higher profits from the banking, financial security, and insurance (BFSI sector), where demand for premium A2P and P2A messaging is estimated to reach revenues worth of about US$ 17 Bn in 2019. IT & telecom industry, in addition, is also showcasing wide acceptance for premium A2P and P2A messaging services. While adoption in media & entertainment (gaming) remains modest, stakeholders are tapping white spaces in the retail and e-commerce vertical.
World's Most Profilic Intelligence Engine
Get Access To The World's Largest Market Research Database.
Sign Up Now
PREMIUM A2P AND P2A MESSAGING MARKET TAXONOMY
The global premium A2P and P2A messaging market is segmented in detail to cover every aspect of the market and present a complete market intelligence approach to readers.
Application
Inquiry and Search Related Services
Customer Relationship Management Services
Authentication Services
Promotional and Marketing Services
Notifications and Alerts
Voting and Entertainment
Pushed Content Services
Interactive Messages
Others
Traffic
Tools
Cloud API Messaging Platforms
Traditional and Managed Messaging Services
End User
BFSI
IT and Telecom
Media and Entertainment (Gaming)
Travel and Transportation
Retail and e-Commerce
Healthcare
Government
Utilities and Logistics
Others
Region
North America
Latin America
Western Europe
Eastern Europe
Asia Pacific Excluding Japan
Japan
Middle East & Africa
GCC Countries
Need specific information?
Our Clients