Introduction
Global rules and regulations have drastically impacted the demand for and adoption of enterprise A2P SMS. For instance, In July 2014, Canada's Anti-Spam Law (CASL) was imposed on bulk SMS providers for a three-year transition period. This law dictates that administrative authorities need to obtain the necessary user permissions before sending any Commercial Electronic Message (CEM) including instant messages and text messages in Canada.
Another case in point can be witnessed in numerous countries in the Middle East, including the UAE and Saudi Arabia, where messages are comprehensively filtered by network operators. In several circumstances, even legitimate enterprise A2P SMSes are blocked. Therefore, cheap signalling/roaming links do not deliver well, especially for high value content such as delivery of password or alerts.
North America is expected to lead the global market in the long run owing to the prevalence of numerous leading players
North America has observed steady telecom subscriber evolution and quick adoption of 4G smartphones, while maintaining an upward revenue trend in the last couple of years. The A2P SMS market in North America is governed by a wide range of dynamics such as the presence of leading players, increasing demand for A2P messaging platforms largely by financial institutions and banks, and rising number of enterprises swiftly moving from a desktop-first to a mobile-first strategy. Major banks such as Bank of America, JP Morgan Chase, Citi Group, Bank of New York Mellon and HSBC Bank USA make use of A2P SMS for customer relationship management services.
Enhancement in end-user involvement and the endowment of a reliable and secure operator channel are the basic factors responsible for growth of the market in this region. Key players in the A2P SMS market in North America include mblox, Inc., Syniverse Technologies, LLC, and Ogangi Corporation. A2P SMS for interactive services is also gaining traction in the North America market – interactive services make use of A2P SMS technology for voting, election, and donations. For instance, TV shows such as American Idol use A2P messaging services for public vote confirmation of their contestants.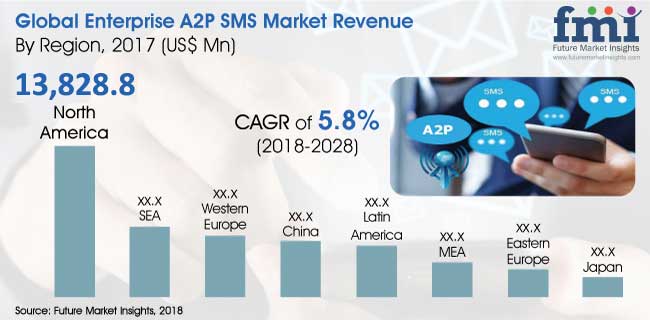 SEA and Western Europe are expected to have a neck-on-neck competition
E-commerce and banking are the two major areas that have a pivotal impact on the growth of the market in the SEA region. CRM applications incorporate billing and transactional messages. Growth of e-commerce and banking sectors in the region plays a major role in revenue growth of CRM applications.
The e-commerce sector currently caters to all the leading end-use sectors, including tourism, transport, hospitality, healthcare, and entertainment. E-commerce penetration is surging rapidly in the region and is further estimated to fuel the growth of the regional enterprise A2P SMS market. SMS is the most convenient way to carry out promotional activities to reach the masses in this region.
SEA has recently been witnessing a vast number of changes in the deployment of enterprise A2P SMS with new collaborations and innovations. For instance, in November 2017, leading communications platform provider Infobip Limited announced the provision of four billion A2P SMS on a monthly basis across India – accounting for almost 30 percent of all A2P SMS traffic in the region.
Infobip has witnessed an upsurge in demand for A2P SMS owing to the deployment of the technology by enterprises in the finance and retail sectors. Other regions such as Western Europe and China are also striving to catch up in the game with the deployment of enterprise A2P SMS across diverse industry sectors.
Market Taxonomy
By Tool
Cloud API Messaging Platforms
Traditional &Managed Messaging Services
By Application
Pushed Content Services
Interactive Services
Promotional Campaigns
Customer Relationship Management (CRM) Services
Others
By End User
BFSI
Gaming
Travel & Transport
Health & Hospitality
Retail
Others
By Region
North America
Latin America
Western Europe
Eastern Europe
SEA & others of APAC
China
Japan
MEA
Need specific information?
Talk Show:
The Rise of Intelligent Packaging
Personalized, Connected and Sustainable
November 18, 2021
11:00-11:45 AM PST (USA & Canada)
This is a LIVE session