An Incisive, In-depth Analysis on the Professional Gear Bags Market
This study offers a comprehensive, 360 degree analysis on the Professional Gear Bags market, bringing to fore insights that can help stakeholders identify the opportunities as well as challenges. It tracks the global Professional Gear Bags market across key regions, and offers in-depth commentary and accurate quantitative insights. The study also includes incisive competitive landscape analysis, and provides key recommendations to market players on winning imperatives and successful strategies.
Professional gear bag sales projected to expand steadily through 2026
Predominantly driven by a growing number of outdoor recreational activities worldwide, the global market for professional gear bags is presumed to be progressing at a moderate pace through the next decade. Over 2018-2028, the market will possibly exhibit a CAGR of 4.6%, attaining the revenue sales of nearly US$ 24 Bn by 2028 end.
As indicated by OIA's (US) recently published Outdoor Recreation Economy report, the comprehensive expenditure for vehicles, gears, and accessories used for hunting, approached a value of US$ 27 Bn in 2017, of which around US$ 16 Bn was accounted by the US alone. The US, as the research reaffirms, will continue its lead over all other regional markets for professional gear bags.
Business traveler bags & recreational shooter bags continue to spearhead
Growing consumer inclination towards carrying multifunctional gear bags daily, will play a crucial role in popularizing the demand for various gear bags, globally. With a traveler-friendly design and cabin-friendly dimensions with a series of additional features, business traveler carry-on bags are anticipated to bag the largest shareholder's position in the global professional gear bags market. As the number of passengers in developing regions shifting their regular travel preference to airlines, the demand for business carry-on bags is expected to be on the rise in next few years. An added benefit of not being required to go through the check-in process, will further attract consumer interest in near future.
The sales of recreational shooter bags will also represent a constantly growing trajectory, maintaining a significant share throughout the projection period. Rapidly growing demand for drone and quad devices over among both consumer and industrial channels is attributed to a promising growth rate of drone and quads bags between 2018 and 2028.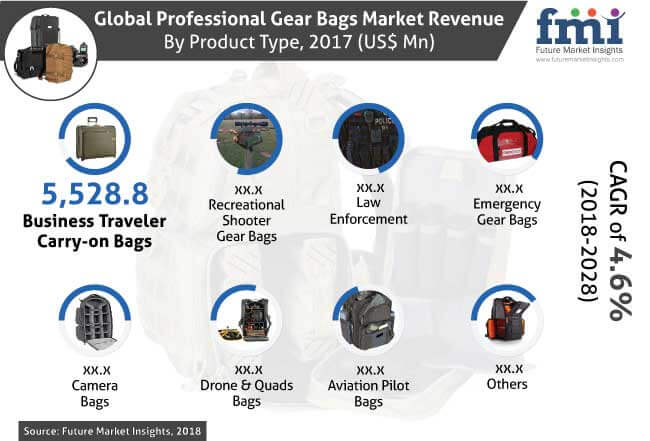 Progressing scenario predicted for emergency bags & other 'niche' bags
On the other hand, emergency gear bags are expected to emerge as a lucrative segment, owing to impressively growing sales of consumer bags such as go bags, ready bags, and bug-out bags. This segment will continue to gain maximum support from indirect sales through retail stores, online stores, and specialty stores. Apart from the aforementioned types of gear bags, the market will also benefit from some other niche gear bag segments targeting both businesses and consumers, such as equipment cases/bags, carry cases/bags, protective cases/bags, and logistical solutions.
Growing Internet penetration and rapid growth of Ecommerce have been the key factors accelerating the promotion and popularity of outdoor activities and accessories such as gear bags. Although trip-related spending has been on a higher side, expenditure in activities such as hunting and wildlife watching will also continue to hold considerably large shares by value. As several governments are focusing on investing more in public safety in order to haul down the fatality rates in respective regions, it is most likely that the sales of gear bags will witness a surge in next few years.
Future Market Insights offers 10-year forecast for the global Professional Gear Bags market between 2018 and 2028. In terms of value, the market is expected to register a CAGR of 4.6% during the projected period. The primary objective of the report is to offer insights on the advancements in the professional gear bags market. The study demonstrates market dynamics that are expected to influence the current environment and future status of the global professional gear bags market over the forecast period. The primary objective of this report is to offer updates on trends, drivers, restraints, value forecasts, and opportunities for manufacturers operating in the global professional gear bags market.
Professional gear bags are specially designed bags in soft and hard format to enhance user's function while on the move with his/her equipment/gears. The bags are engineered for the environmental conditions under which the equipment is going use and protection from damage. Also, the bags are designed by keeping in mind how often the equipment is taken out by adding quick release locks, easy access pouches, and other characteristics. N 600D fabric, ballistic nylons, and other tough fabrics are common for soft bags. The professional gear bags market includes products that strictly claimed to have functional benefits on the use and stated to be professional gear bag for an equipment.
The report analyses the market share of the professional gear bags on the basis of product type. A section of the report highlights professional gear bags demand, product wise. It provides the market outlook for 2018–2028 and sets the forecast within the context of the professional gear bags ecosystem, including the new technological developments as well as product offerings in the global professional gear bags market. This study discusses key trends contributing to growth of the global professional gear bags market, as well as analyses the degree to which drivers are influencing the global market.
In the final section of the report, a competitive landscape has been included to provide report audiences with a dashboard view. Key categories of providers covered in the report are professional gear bags' key players of the global professional gear bags market. Detailed profiles of the providers are also included in the scope of the report to evaluate their long-term and short-term strategies, key offerings and recent developments in the Professional Gear Bags space. Key players in the global professional gear bags market includes Garmin Ltd., Jeppesen Sanderson, Inc., Aviation Supplies & Academics, Inc., Samsonite IP Holdings S.ar.l, VF Corporation, LVMH group, VIP Industries Ltd., ACE Co., Ltd., The Vitec Group PLC, The Tiffen Company, LLC, Go Professional Cases Inc., 5.11 Tactical, Blackhawk!, Fechheimer Brothers Company, Beretta Corp., Oakley Inc., Drago Gear, North American Rescue LLC., Conterra Inc. and Rothco Inc.
Key Segments Covered
By Product Type

Recreational Shooter Gear Bags

Buisness Traveller Carry-on Bags

Law Enforcement

Aviation Pilot Bags

Emergency Gear Bags

Emergency Responder Bags

Consumer Bags

Camera Bags

Drone & Quads Bags

Others
In addition, it is imperative to note that in an ever-fluctuating global economy, we not only conduct forecasts in terms of CAGR, but also analyze on the basis of key parameters such as year-on-year (Y-o-Y) growth to understand the predictability of the market and to identify the right opportunities.
Also, another key feature of this report is the analysis of all key segments in terms of absolute dollar. This is traditionally overlooked while forecasting the market. However, absolute dollar opportunity is critical in assessing the level of opportunity that a provider can look to achieve, as well as to identify potential resources from a sales and delivery perspective in the global professional gear bags market.
Key Regions/Countries Covered
North America

Western Europe

Eastern Europe

Latin America

APEJ

Japan

MEA
COVID -19 : Impact Analysis
Request the coronavirus impact analysis across industries and markets
Request Covid -19 Impact
CASE STUDIES
See how our work makes an impact.
At FMI, we design strategies that are adaptive, impactful, and implementable.