KEY RESEARCH FINDINGS
Small kitchen appliances market is a consumer-driven market. The market primarily dominated by small cooking appliances followed by beverage making appliances
Rising health issues associated of outside eating, growing cooking trend, frequent innovative product launches and competitive pricing are considered as the major factors to drive the global small kitchen appliances market.
East Asia is currently dominating the global small kitchen appliances market, followed by Europe. In the coming years, South Asia & Pacific is likely to emerge as most lucrative markets for small kitchen appliances. Surging number of population, especially in India is expected to grow the market to a substantial height.
Residential sectors is in dominating position in the global small kitchen appliances market however commercial sector is expected to expand at highest CAGR during the forecast owing to increasing number of hotel & restaurants.
Online platforms will see the highest growth rate during the forecast owing to low price & high product availability, product comparison and door step delivery.
KEY FACTORS SHAPING THE SMALL KITCHEN APPLIANCES MARKET
Rising Trend of Kitchens Renovation to Propel Small Kitchen Appliances Market
Kitchens are one of the most expensive rooms in a house when considering the cost of appliances, countertops, cabinets, and other features. At present, the technology used in the kitchen appliances raises the cost further in the kitchen appliances category. Currently, modern kitchens are open to the living spaces of the home, and customers want this room to appear as centre of attraction for the entire house. This has led consumers to spend more on renovation of their kitchens.
Moreover, consumers are using expensive kitchen appliances, which further increases the need for renovation of old kitchen, as they want their kitchens to amplify the expensive feel. The two major trends that have been seen in the recent past in terms of kitchen renovation are renovation of kitchen cabinet and replacement of older small kitchen appliances. Stainless steel kitchen appliances have been using by consumes from the past few years, though consumers are now inclined towards non-stick small kitchen appliances and small automatic kitchen appliances.
Product Variants & Lucrative Price will Uptick the Sales of Small Kitchen Appliances
Consumer's lower brand loyalty, higher product penetration and increased competition have forced the manufacturers to come up with more variants in small kitchen appliances market. Due to high competition, the manufacturers are bound to introduce new variants which attracts the consumers as they are more inclined towards choices. The companies have shifted their focus from high income group to low and mid income group people.
Intense competition and higher demand for economy small kitchen appliances have forced companies to introduce variety of products with competitive pricing. Moreover, advance technology have also helped the manufacturers in reducing the price of small kitchen appliances. The challenge has also come from online giants such as Amazon, Walmart which offer products at low rate.
Food Preparation Appliances Market will see Robust Growth in Forecast Period, 2020-2030
Food preparation appliances which include food processors, stand mixers, blenders etc. are expected to see an upsurge in sales across the globe. These small kitchen appliances which are used to prepare food prior to cooking or in lieu of cooking, getting traction among consumers owing to growing cooking trend. Growing cooking trend is not only motivated by health & fitness concern but also encouraged by the home food recipes. Health associated risk of outside easting have also fuelled the trend of home cook food.
The number of television programs devoted to food & recipe, motivates large number of consumers, especially house wife and elderly persons to try for new recipes which in result, increase the use of food preparation appliances. Moreover, increasing disposable income, appliances that match their lifestyle and frequent & innovative product launches by manufacturers in competitive price range boost the sales of food preparation appliances across the globe.
COVID-19 Impact on Global Small Kitchen Appliances Market
Covid-19 pandemic which has started from China, now affected more than 210 countries along with 3,442,234 infected people and 239,740 deaths till 5th May, 2020. Social distancing and full or partial lockdown in countries have interrupted business operations, production and supply of goods or raw materials which in resulting to shut down of manufacturing units. The National Association of Manufacturers conducted a survey of its member companies on the impact of the COVID-19 outbreak to manufacturers.
The survey was conducted from Feb. 28 to March 9, 2020 on 558 respondents, who have mentioned the crisis will have a financial impact (78.3%), anticipate a change in operational (53.1%), and facing supply chain disruption (35.5%). The sales disruptions also can be seen from demand side. Most of the retail operations are shut down temporarily.
Except essential products and services, all businesses are temporarily closed. This has resulted to a lower sales of small kitchen appliances sales in the first quarter of 2020. As per the International Monetary Fund (IMF), the market is expected to recover in 2021. East & South Asia market are expected to recover with higher growth rate as compared to other regions in 2021.
STRUCTURE ANALYSIS
Some of the leading players operating in the Small Kitchen Appliances market are Panasonic Corporation, Groupe SEB, Electrolux AB, BSH Hausgeräte GmbH, Whirlpool Corporation, Haier Group, LG Electronics, Dongbu Daewoo Electronics, Samsung Electronics, Breville, Miele, Koninklijke Philips N.V., Conair Corporation and others.
REPORT SCOPE?
Base year considered - 2019
Actual estimates/Historical data - 2015 - 2019
Forecast period - 2020 - 2030
Forecast units - Value (USD) Bn
Segments covered - Product Type, Price Range, End User, Sales Channel and Region
Regions covered - North America, Latin America, Europe, East Asia, South Asia & Pacific and Middle East & Africa (MEA)
Key Players - Groupe SEB, Electrolux AB, BSH Hausgeräte GmbH, Whirlpool Corporation, Haier Group, Panasonic Corporation, LG Electronics, Dongbu Daewoo Electronics, Samsung Electronics, Breville, Miele, Koninklijke Philips N.V., Conair Corporation
Report coverage - Revenue forecast, company share, competitive landscape, growth factors, and trends
Small Cooking Appliances Segment Holds Dominance with 63.0% Share in 2020
Small cooking appliances which includes rice cooker, electric griddles, grills, hot plates, roasters, and others are one of the daily use utensils. Thus, a large number of consumers prefer small cooking appliances due to daily cooking activity. Moreover, growing cooking interest among consumers are propelling the demand for small cooking appliances.
Growing consumer awareness about product harmful chemical or non-stick coating has also led for stainless steel, ceramic or other cooking pots and small appliances. The availability of product variants and brands have also fuelled the market for higher sales. Due to high competition, manufacturers have to come up with new alternatives that attracts consumers as they are more inclined towards product varieties.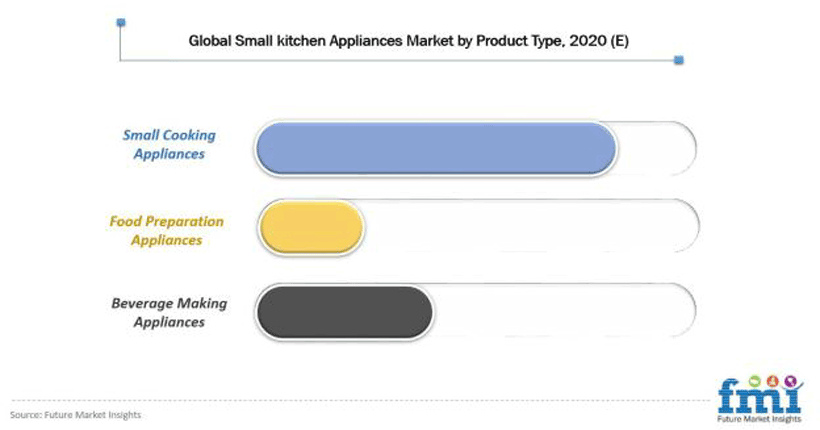 East Asia to Dominate the Global Small Kitchen Appliances Market
Regionally, the global small kitchen appliances market covers North America, Latin America, Europe, East Asia, South Asia & Pacific, and the Middle East and Africa (MEA). Among these regions East Asia holds the largest share in the global small kitchen appliance market.
Growing consumer health consciousness related to outside food, cooking trend, product variants & lucrative price, celebrity endorsement, and large number of consumer base in East Asia are the factors propelling the small kitchen appliances market in the region. Europe and North America small kitchen appliances market also hold a significant market share in the global small kitchen appliances market.
Countries in South Asia & Pacific however offers substantial growth opportunities for small kitchen appliances market. India is expected to drive the South Asia & Pacific market owing to country's growth opportunity, large number of consumer base and high sales of small appliances in the country.
Consumer Inclination towards Technology Led Products & Online Purchases are Driving the Sales
The living standard of consumers has been improving around the world. Automation and technology increases the standard and quality of living as well. It helps companies to produce cost-effective products. Technological advancement not only helps in manufacturing but also helps consumers with greater products that is beneficial for them. The advancement in technology helps manufacturers to bring more effective products & solutions. Smart Cooker which can are used for pressure cooking, slow cooking, searing, sauteing, steaming and other cooking essentials.
Multi-layered coating technology is an example for technological advancement and its benefits in the non-stick cookware industry. The consumers are now a days are more informed and well aware about products. Thus, consumers prefer online shopping as it provides them in product comparison, price comparison, door step delivery, product review and easy exchange policy. Consumer's inclination towards online purchases are increasing and expected to drive the industry during the forecast.
How Growth will Unfold
According to the report, increasing focus on small kitchen appliances which keep the valuable food ingredients intact and growing preference for less oily food are contributing to the build-up of small kitchen appliances market through 2030. An increasing number of television programs on cooking and celebrity endorsements for the same also boost the demand for home food.
Product strength and durability, even heat distribution and optional colors are considered as other factors that provide a fillip to the sales of small kitchen appliances in 2020 and beyond. The use of small kitchen appliances will dominate the market however the market is gaining pace owing to the profound growth of the regional end-user ecosystem such as the commercial sector.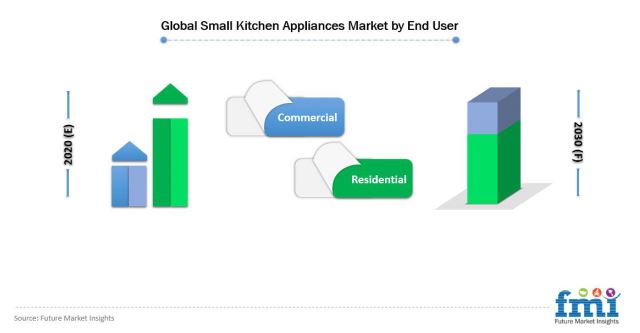 GLOBAL SMALL KITCHEN APPLIANCES MARKET TAXONOMY
The global small kitchen appliances market is segmented in detail to cover every aspect of the market and present complete market intelligence to readers.
Product Type
Small cooking appliances
Food preparation appliances
Beverage making appliances
Price Range
End User
Sales Channel
Wholesalers/ Distributors
Hypermarkets/ Supermarkets
Multi-Brand Stores
Independent Stores
Online Stores
Others
Region
North America
Latin America
Europe
South Asia & Pacific
East Asia
Middle East & Africa (MEA)
Need specific information?
Talk Show:
The Rise of Intelligent Packaging
Personalized, Connected and Sustainable
November 18, 2021
11:00-11:45 AM PST (USA & Canada)
This is a LIVE session