Small Bore Connectors Market - Key Research Finding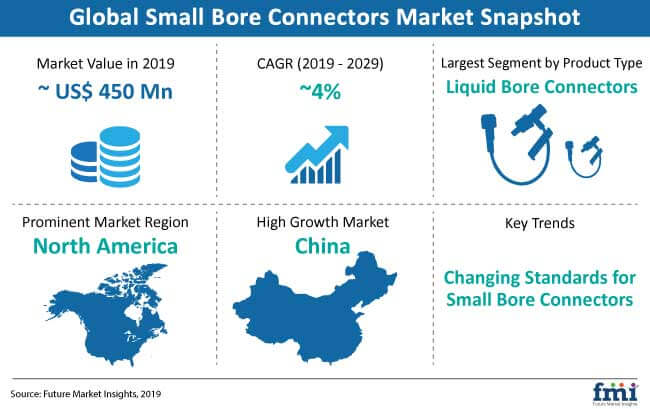 The global small bore connectors market size in 2018 was ~US$ 450 Mn.
The small bore connectors market is expected to grow at a CAGR of ~4% during the forecast period of 2019-2029.
The Federal Drug Administration (FDA) continues its collaboration with standards organisations, federal partners, professional societies, patient advocacy groups, individual patients and other stakeholders on an important patient safety issue—reducing the chance of medical device misconnections which further drive the sales of small bore connectors.
Collectively, Europe and North America are likely to account for three fourth of the revenue shares in small bore connectors, by the end of 2029.

North America, attributing to the strong presence of major players operating in the market, will continue to be a prominent regional market for small bore connectors manufacturers.

The liquid bore connector is expected to remain the prominent product type to invest in, for small bore connectors market players.

The liquid bore connector has witnessed significant growth over the recent past, owing to growing number of use of liquid connectors for intravascular connections and enteral connections

The small bore connectors market is majorly driven by the growing standards set up by the International Organization for Standardization and FDA to reduce the risk of misconnections. This is expected to boost the overall revenue of the small bore connectors market.
Increasing awareness among healthcare workers and patients in underdeveloped and developing economies is a major factor responsible for the growing demand for small bore connectors in the recent years. The high potential for manufacturers to enter emerging markets through the acquisition of local players to expand their product reach and regional presence is another factor that is likely to boost the small bore connectors market.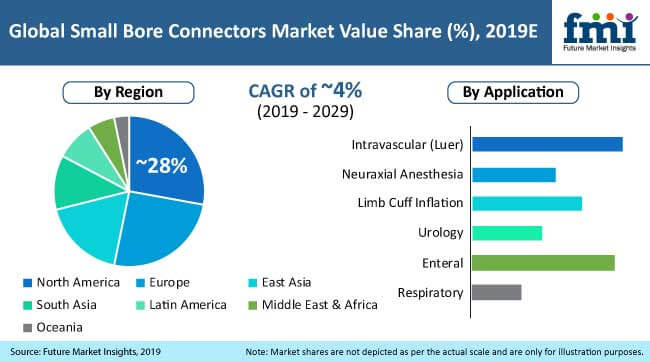 Top Factors Shaping the Small Bore Connectors Market
Changing Standards for Small Bore Connectors
Owing to the rising interest in patient safety and risk mitigations, the FDA, the international standards community, and the medical device industry are taking actions to reduce the likelihood of tubing misconnections. Global collaborations are focused on the development of standards for mating halves of clinical therapeutic system connect.
The International Organization for Standardization has been at the centre of these changes. In the new regulations published in 2010, ISO 80369 outlined the general requirements for small bore connectors for liquids and gases in healthcare applications that include design, material, selection, and testing methods.
Changes in regulations for reducing the risk associated with the misconnections of tubes in critical patients are expected to significantly boost the small bore connectors market in the near future.
Increase in Number of Surgeries
Surgical care is essential to manage diverse health conditions, such as injuries, malignancy, infections and cardiovascular diseases. In low- and middle-income countries, communicable diseases and injuries comprise a growing proportion of the disease burden, which will further drive the demand for small bore connectors
Increase in the number of surgical procedures will have a direct impact on the sale of small bore connectors. According to a WHO study, in 2010, around 321.5 million surgical procedures were used to address the burden of different diseases for a global population of 6.9 billion
The number of surgical procedures vary across regions, ranging from 3,383 operations per 100,000 in Central Latin America to 6,495 operations per 100,000 in Western Sub-Saharan Africa
The global surgical need also varies based on the sub-categories of diseases, ranging from 131,412 procedures for nutritional deficiencies to 45.8 million procedures for unintentional injuries
Growing Focus on Improving Medical Equipment
Medical devices are serving a crucial role in the clinical practice and in improving patient health and quality of life. The increasing sophistication of medical devices and equipment has resulted in regulatory challenges. Manufacturers are focusing on therapeutic areas and the development of new and innovative medical equipment with increased safety and reduced risk of infection during the time of hospital admission.
The development of disposable products and growing concerns regarding the delivery of better healthcare outcomes is another factor driving the growth of healthcare sectors. Investments on the development of new equipment by manufacturers, which are approved by regulatory bodies, are expected to help reduce the disease burden globally.
Rising focus on the reduction of infection related to hospital admission with the use of new and highly sterilised equipment is also expected to reduce the global healthcare burden in the coming years.
Small Bore Connectors Market Structure Analysis
The global small bore connectors market is a moderately consolidated market owing to the presence of major players
Some of the prominent companies in the Small Bore Connectors market include Baxter International Inc., B. Braun Melsungen AG, Becton, Dickinson and Company, Smiths Medical - Smiths Group Company, ICU Medical, Inc., Merck KGaA, Merit Medical Systems, Inc., Nordson Corporation, Elcam Medical, and CardioMed Supplies Inc. (Nipro Corporation)
Most of the key players are emphasising on developing new connectors that follows the ISO standards
Various programs are being organised to improve patient safety by reducing the risk of medical device tubing misconnections
ISO, AAMI, and an international joint group are making advances towards reducing the potential for tubing misconnections and increasing patient safety, which is a major focus of the small bore connector initiative
Small Bore Connectors Landscape - The Rise of New Standard Products
New design and performance standards for medical device connectors are being developed to mitigate the risks of tubing misconnections and improve patient safety. The global standards organisations are putting efforts to make great advances in eliminating potential risks and introducing new standard small bore connectors.
Some of the crucial aspects, including stress cracking, fluid leakage, resistance to overriding, and others, are being actively checked by manufacturers before commercializing their offerings, given that these requirements would confirm on product readiness for and compatibility with diverse applications. With the rapid shift of healthcare spaces toward 'value-driven' models, manufacturers of small bore connectors will spectate multi-fold increase in demand in 2019 and beyond.
Leveraging Innovative Technology to Mitigate Wrong Route Errors
The standards community, in collaboration with the medical device industry, is taking actions toward the development of standardised, application-specific connector designs. New and safer small bore connectors are being introduced to ebb risks of wrong route errors during oral/enteral and neuraxial administration of medication.
Adoption of international standards for small-bore connectors continues being a cynosure, which, in turn, will ensure consistency and compatibility, while fending off the probability of misconnections.
Players to See Measurable Returns from Developed Markets
The lucrativeness of the US and Europe for small bore connector manufacturers remains intact, governed by the actions of companies and government, in terms of regulation and competitive pricing. These two regions collectively account for ~50% sales of small bore connectors, presenting measurable returns for the market stakeholders.
Developing economies remain fairly benign for small bore connector manufacturers to abate the struggle of increasing aging demographic and rising chronic disease prevalence.
The Broader Perspective
Manufacturers of small bore connectors are resorting to new materials, which ward off the instances of rough use that is regularly experience by medical devices and equipment. As the materials used in small bore connectors continue to evolve, it is highly likely that new products developed will offer fatigue-deprived performance under pressure.
Flow rates, clinical requirements, air pressures, and several other performance characteristics will remain some of the key particulars to guide manufacturers in crafting effective small bore connector formats.
How Growth Will Unfold?
Improving medical infrastructure worldwide alludes significant investments by hospitals and other settings. Hospitals continue to lead the way in adoption of small bore connectors, however sales will grow relatively faster in ambulatory surgical centres and home care settings.
Before supplying small bore connectors for hospitals, ambulatory surgical centres, home care settings, manufacturers will continue to zoom in their focus into testing methods in a bid to fix design issues and make the connectors 'market-ready' for use in various applications.
Key Segment
By Product
Liquid Bore Connectors
Gas Bore Connectors
By Application
Respiratory
Enteral
Urology
Limb cuff inflation
Neuraxial Anesthesia
Intravascular (Luer)
By End User
Hospitals
Clinics
Ambulatory Surgical Centers
Home Care Settings
Others (Nursing Home, Dialysis Centers)
By Region
North America
Latin America
Europe
East Asia
South Asia
Oceania
Middle East & Africa
Need specific information?
Talk Show:
The Rise of Intelligent Packaging
Personalized, Connected and Sustainable
November 18, 2021
11:00-11:45 AM PST (USA & Canada)
This is a LIVE session