Introduction
The global market for small satellite is foreseen to expand at a stellar pace during the next decade. Over the assessment period 2018-2028, global sales of the US$ 2.31 Bn market are expected to attain a value worth US$ 8.94 Bn.
By satellite type, nano-satellites are presumed to stay dominant, whereas by end-use, defence sector will continue to generate the highest demand for small satellite over the next few years. By region, North America has been identified to be the dominant market, while Western Europe and SEA and others of APAC are apprehended to witness robust growth in the course of assessment.
Quick Overview: Key Market Influencers
Increasing government funds, growing private entity support, and steady demand for satellite for R&D purposes will collectively drive the market for small satellite on a global level.
Moreover, surging adoption for low-earth orbit services is said to be a prominent factor that will foster the market growth over 2018-2028. The market is likely to encounter with a few challenges during the assessment period, including space debris problems, lack of skilled resources, and multiple regulatory limitations. However, advent of space technology and favourable government policies will continue to boost the market to thrive at a rapid pace in near future.
Rapid development of manufacturing and assembling techniques has resulted in reduced development and operational costs, which is compelling several countries to take efforts in the development of space technologies. This has been said to be an important factor creating a heap of opportunities for the global small satellite market.
Regional Segmentation Analysis Identifies Continued Dominance of North America and Robust Growth in Western Europe, SEA & others of APAC
All regional markets for small satellite are anticipated to exhibit healthy growth at promising double-digit CAGR values over the forecast period 2018-2028.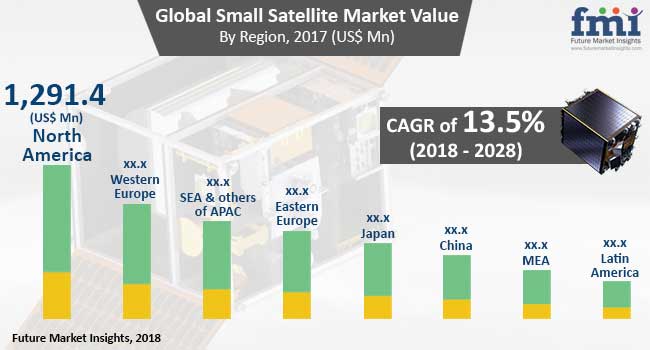 As per the regional segmentation analysis, North America will remain the largest market share contributor through to 2028. Holding more than 55% of the market value share in 2017, North American market for small satellite is expected to grow at a significant CAGR of 13.1% by 2028 end. US will remain dominant in global small satellite market accounting for an estimated value share of around 54% in 2018. The increasing number of collaboration with the US government, and prominent presence of various key players in the region constitute the factors which are driving the growth of small satellite market in the region.
In addition, increasing use of satellite images, growing surveillance demand in defence sector, growing awareness about space situation, and falling launch prices are foreseen to collectively provide traction to the growth of small satellite market in North American region. North America is projected to create a total incremental $ opportunity of US$ 3,426.5 Mn between 2018 and 2028, and this growth is owing to the growing number of small satellite missions in collaboration with the US Government.
Western Europe, and SEA and others of APAC will exhibit significant growth over the decade. Western Europe is projected to create a total incremental $ opportunity of US$ 1,030.1 Mn between 2018 and 2028. The increase in number of small satellites projects in collaboration with European Space Agency for scientific research and technology demonstration is creating potential opportunities for small satellite market in this region. Similarly, SEA and others of APAC segment is also projected for huge incremental $ opportunity of US$ 594.9 Mn between 2018 and 2028.
Space infrastructure development in emerging economies such as India and growing interest in small satellites for crop and natural disaster monitoring are found to be predominantly driving the growth of the market in this region. The research also recognizes potential growth opportunities in China, Japan, and India on account of favourable governmental policies in these countries related to spectrum allocation, debris mitigation standards, and space traffic management.
World's Most Profilic Intelligence Engine
Get Access To The World's Largest Market Research Database. Ngage with a revolutionary intelligence engine that scale and pricing that flexes as per your needs
Sign Up Now
Market segmentation
The market has been segmented in two broader categories: satellite type and end user. The satellite type segment is further segmented into mini-satellites, micro-satellites, nano-satellites, and pico-satellites. Among these, the nano-satellites segment is expected to grow at a relatively higher CAGR during the forecast period, owing to an increase in the demand for nano-satellites in various applications such as earth observation, research & development, and remote sensing. The nano-satellites segment is also expected to capture a market share of 43.0% during the forecast period.
Among the end user segments, the commercial segment is expected to grow at a CAGR of 13.9% during the forecast period, as small satellites are now being increasingly used in several commercial applications such as air & maritime monitoring, communications, land use monitoring, agriculture monitoring, and disaster monitoring.
The decrease in the prices of launch services and the increasing need for surveillance in defense are some of the primary factors which are fuelling the growth of the small satellite market. North America is expected to hold more than 50% of the market share in 2018. One of the major reasons for the dominance of North America is that, most satellite manufacturers are based in the U.S., and are delivering small satellites to various public and private organizations across the globe.
However, the SEA & others market in the APAC region is expected to create more potential growth opportunities for the small satellite market in the coming few years, owing to the increasing demand for small satellites in India and ASEAN countries.
The final section of the report focuses on the profiles of leading companies in the global marketplace for small satellites. The market study also presents some recommendations for market stockholders. In brief, these recommendations encourage consultation between small satellite manufacturers, for which technological advancements should be an agenda issue, and professional bodies in non-satellite manufacturing sectors, such as media & entertainment and telecommunication services. All stockholders in the small satellite industry should work in collaboration and exchange their resources in order to improve the quality of services that are being offered through small satellites.
Need specific information?