Soda Ash Market By Density (Dense, Light), End-use Industry (Glass & Ceramics, Soaps & Detergents, Metallurgy, Paper & Pulp, Chemicals, Water Treatment) & Region - Forecast to 2019-2029
Soda Ash Market - Analysis, Outlook, Growth, Trends, Forecasts
February 2020

REP-GB-11085

200 pages
Soda Ash Market Sales Exhibit Significant Uptick; Market to Grow Steadily Through 2029
[200 Pages Report] Global sales of soda ash marketwill surpass a whopping US$ 17.5 Bn by 2029. Glass & ceramics industry continues to underpin the growth of soda ash market. Further, soda ash is witnessing a demand upswing in soaps & detergents industry which is bolstering the growth of its market.
Manufacturers in variegated industries use soda ash as a chief ingredient. For instance, soda ash is used as a fluxing agent in metallurgy. Moreover, soda ash market is receiving tailwinds from construction &building materials industry. Hence, leading players are capitalizing on stupendous demand for soda ash to serve various industries.
Asia Pacific Soda Ash Market Soars on Back of Increased Soda Ash Uptake, Europe Closing in
Asia Pacific accounts for more than 50% share in soda ash market. Developing nations are witnessing a demand upsurge for soda ash across diverse industries such as chemicals, soaps and detergents. China and India collectively hold a leading market share in Asia Pacific soda ash market.
This growth is attributed to greater per capita consumption and concentration of leading manufacturers in the region. Furthermore, high net worth income of consumers in emerging economies is contributing to market growth. In developed regions, Europe will generate substantial demand for soda ash through the forecast period.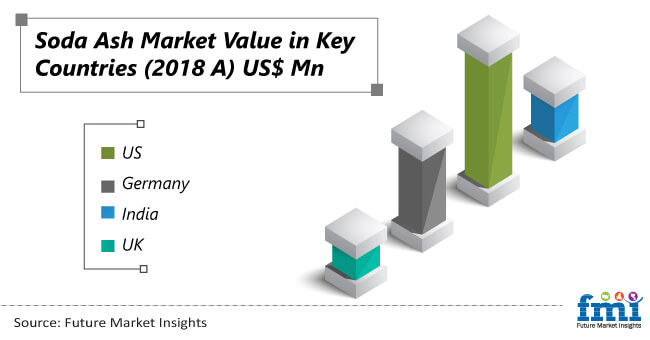 Sustainability to Remain Key Agenda for Reaping Growth-oriented and Operational Benefits
Soda Ash is favoured by leading manufacturers on account of its ability to reduce atmospheric acid content, after being emitted from power plants. Acid rain alters the alkalinity of lakes. Soda ash in turn helps refine alkalinity. Hence, leading players are undertaking sustainable initiatives to establish long-term value.
For instance, Tata Chemicals Limited has pledged to scale up their sustainable initiatives by utilizing highly-efficient turbines, thereby reducing carbon footprint. Additionally, the energy-conservation policies of governments worldwide is prompting manufacturers to opt for soda ash as an eco-friendly alternative. Hence, enhanced government emphasis on reduced carbon emissions and industrial waste is compelling manufacturers to adopt soda ash on a wider scale.
Sustainability will have a major impact amidst rising prices in a turbulent soda ash market. It will be a key differentiating factor over the forecast period. One segment which will be predominantly influenced by rising sustainable activities is the container glass segment. Glass is infinitely recyclable, which is a major factor driving adoption.
Technological Innovations to Remain Key Soda Ash Market Tenet for Sustained Growth
Global soda ash market is a highly consolidated landscape with prominent players capturing over 70% market share. Leading players profiled in this report include, but are not limited to, Tata Chemicals Ltd., DCW Ltd., Genesis Energy, LP, Nirma Ltd., Ciner Group, Novacap Group, and CIECH SA.
Key players are capitalizing on advanced extraction processes such as pillar and room mining techniques. The innovative extraction techniques allow manufacturers to boost their production capacity. The conventional soda ash extraction techniques account for 30% yield. However, the new methods have boosted overall yield to 45%.
Furthermore, strategic collaborations remain vital for key stakeholders to reinforce their market leadership. For instance, Tronox Limited was acquired by Genesis Energy Ltd. (2017) making the latter a leading producer of natural soda ash.
World's Most Profilic Intelligence Engine
Get Access To The World's Largest Market Research Database.
Sign Up Now
Soda Ash Market: Segmentation
The global soda ash market is segmented in detail to cover every aspect of the market and present a complete market intelligence approach to readers.
By Density
By End-use Industry
Glass & Ceramics
Soaps & Detergents
Metallurgy
Paper & Pulp
Chemicals
Water Treatment
By Region
North America
Latin America
Europe
MEA
Asia Pacific
Need specific information?
Our Clients