Sustainable Tourism Market Snapshot (2022 to 2032)
The tourism industry in the past couple of decades has attracted a high number of investments in various tourist attractions across the globe. Subsequently, the increasing number of tourist arrivals and flocking at such destinations have alternatively resulted in the degradation of scenic attractions. Various such factors have led to increasing ecological awareness regarding tourism activities at such destinations.
Future Market Insights (FMI) has estimated the market to register a year-on-year growth rate of 33.3% in 2022. As per the FMI analysis, the sustainable tourism market size will surpass US$ 1.0 Trillion in 2022. Between 2022 and 2032, the market is expected to exhibit a compound annual growth rate (CAGR) of 23.4%. The share of the global sustainable tourism market in the parent market (travel and tourism industry) is estimated to be at 2%-5%.
| | |
| --- | --- |
| Attribute | Details |
| Estimated Sustainable Tourism Market Size 2022 | US$ 1.0 Trillion |
| Projected Market Size (2032) | US$ 8.4 Trillion |
| Value CAGR (2022 to 2032) | 23.4% |
| Sustainable Tourism Market Top Players' Share in 2021 | 2%-5% |
Don't pay for what you don't need
Customize your report by selecting specific countries or regions and save 30%!
Key Points Covered in the Sustainable Tourism Market Report
Market Estimates and Forecast 2017 to 2032
Key Drivers and restraints impacting market growth
Segment-wise, country-wise, and region-wise analysis
Competition mapping and benchmarking
Brand share and market share analysis
Key product innovations and regulatory climate
COVID-19 Impact on Sustainable Tourism Market and How to Navigate
Recommendation on key winning strategies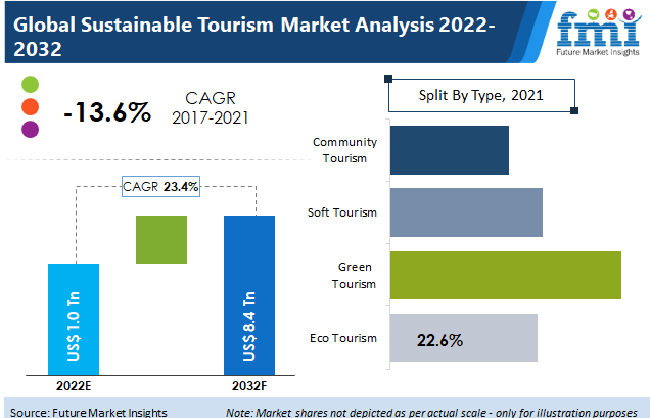 Historical Market Review (2017 to 2021): Sustainable Tourism Market
The historical market witnessed a growth curve till 2019, throughout. The outbreak of the pandemic and various governmental restrictions in the tourism industry led to a decline in the year-on-year growth rate in 2020 by a big margin. As a result, the historical market from 2017 to 2021 experienced a downfall leading to a negative compound annual growth rate throughout the historical period.
The steady slack in the various activities in the year 2021 saw a gradual recovery in the market. The advent of vaccinations and numerous precautionary actions is expected to witness a full market revival in the coming years.
How is Increasing Awareness among Tourists Driving the Market Growth?
The increasing fad of environmental and ecological awareness in tourists' perception has birthed the concept of sustainability towards an ascending trend. Increasing economic activities in developing countries result in more energy and consumption demand, which generally lead to environmental degradation.
A change of awareness could bring to a behavioral change in the long term, making tourism more sustainable. The human ecological footprint is continuously increasing and human activities play a great role in environmental change, from climate change to pollution and biodiversity loss. Among human activities, tourism is one of the largest economic sectors in the world with a remarkable long-term growth rate in the scale and value of international tourism.
How is Over-tourism Hampering the Sustainable Tourism Industry?
Over-tourism is a big menace because it creates negative environmental as well as social impacts. In terms of environmental impact, over-tourism results in an increase in water consumption, air pollution, litter, and waste in tourism destinations. Cheap flights, easy accommodation, and enthusiastic and digitally driven customers have together led to over-tourism.
In 2017, there were marches on the streets of Budapest, an exhibition of graffiti saying tourists go home. In some cases local authorities responded to over-tourism by increasing fees, refusing to issue permits for more tourist-focused businesses in city centers, and also by closing away entire islands to visitors, making headlines. The social limits to tourism growth are becoming more apparent.
Get the data you need at a Fraction of the cost
Personalize your report by choosing insights you need
and save 40%!
Country-wise Insights
How is the Sustainable Tourism Market Striving in the USA?
In the North American region, the USA is expected to account for a significant market share in the sustainable tourism market with regard to the high number of scenic locations available and the availability of the best facilities.
The constant increase of tourism in the region has determined positive impacts on the economic growth and expansion of many related industries. Awareness about sustainable tourism aims to respond to the negative effects of mass tourism on the environment by making optimal use of resources, maintaining essential ecological processes, and helping to conserve natural heritage and biodiversity.
How is the Sustainable Tourism Market faring in Spain?
Sustainable tourism has had many positive effects on the Spanish economy and society, but part of practicing sustainable tourism in Spain is recognizing the influx of millions of visitors that have had plenty of downsides for locals.
Some of the most obvious signs are clear in the central neighborhoods such as the districts like Madrid's Malasaña and Barcelona's Gothic Quarter which were once very residential, full of small businesses and homes. Currently, they're being taken over by chain stores and eateries, and tourist accommodations. Such trends in the region might adversely affect local and community businesses.
What is the Future of the Sustainable Tourism Industry in India?
India is one of the most prominent countries in the South Asia region that is aimed at achieving sustainable tourism owing to its varied cultural and regional practices. Sustainable tourism is becoming more and more important in the region.
According to research conducted by Booking.com in 2020, 96% of Indian travelers identified sustainable travel as important to them, while 76% said they were more determined to make sustainable choices when looking to travel again in the future. Furthermore, witnessing the impact that tourism has on the environment while on vacation has resulted in 73% of travelers making more eco-friendly choices in their everyday life.
Category-wise Insights
Which type of Booking Channel is mostly preferred by Tourists?
The phone booking channel holds a significant share of the market. The ease of usability and the privilege of transparent communication with the service provider are the primary factors for the preference of phone booking channels.
Online booking is another segment that is gaining prominence among the booking channel due to its ability to showcase and experience the venues virtually. The segment is anticipated to take over the phone booking channel over the forecast period.
Who are the Leading Travelers Based on Age Group?
The 26 - 35 years age group segment dominated the market with a significant share in 2021. This can be interrelated to the increased awareness about sustainability among this demographic. The dominant population of millennials and their increasing concern and care towards the environment has resulted in the growth of this age group segment.
Which is the Leading Segment in Sustainable Tourism Based on Tour Type?
The domestic tour type dominates the tour type segment in the sustainable tourism market. The primary factor for the growth of this segment is cheap flights and budget-friendly tours that are opted for by most tourists. Further, various initiatives by the regional governments in developing local tourism have contributed significantly towards the growth of domestic tours and are expected to hold a significant share throughout the forecast period.
What are the Factors Contributing to the Growth of Independent Travelers?
The increasing number of individual enthusiasts in the millennial and Gen-Z population is a major factor that has resulted in the growth of independent travelers. The quest to explore unknown areas has pushed independent travelers to travel to remote areas. Moreover, with the advent of social media channels such as YouTube, where an increasing number of such travelers are opting for full-time work by posting videos in remote places and unexplored regions to the whole world has gained prominence and is anticipated to be the dominant segment throughout the forecast period.
Competitive Landscape
The players are principally engaged to establish a new standard for sustainable tourism. Further, several players are using various promotional strategies for the same, such as reporting sustainability methods, practices, and resources to the global sustainable tourism council.
Scope of Report
Attribute
Details
Forecast Period
2022 to 2032
Historical Data Available for
2017 to 2021
Market Analysis
USD Billion for Value
Key Regions Covered
North America, Latin America, Europe, East Asia, South Asia, Oceania, and the Middle East & Africa
Key Countries Covered
USA, Canada, Germany, United Kingdom, France, Italy, Spain, China, Japan, South Korea, India, Thailand, Malaysia, Indonesia, Australia, New Zealand, GCC Countries, Turkey, Northern Africa, and South Africa
Key Segments Covered (% of Demand)
Type, Tourism Type, Tourist Type, Booking Channel, Customer Orientation, Age Group, and Region
Key Companies Profiled

Bouteco
Kind Traveler
Responsible Travel
Wild Frontiers Adventures Travel
Wilderness Holding Limited
Beyonder Experiences
Undiscovered Mountains
Gondwana Ecotours
Row Adventures
Natural Habitat Adventures
Cheeseman's Ecological Safaris
Sustainable Travel International
NATIVE TOURS, INC.
Other Players (As Per Request)

Report Coverage
Market Forecast, Company Share Analysis, Competition Intelligence, Drivers, Restraints, Opportunities and Threats Analysis, Market Dynamics and Challenges, and Strategic Growth Initiatives
Customization & Pricing
Available upon Request
Market by Category
By Type (% of Demand), Sustainable Tourism Market is segmented as:
Ecological Tourism
Eco Tourism/ Green Tourism
Soft Tourism
Community Tourism
By Booking Channel (% of Demand), Sustainable Tourism Market is segmented as:
Phone Booking
Online Booking
In Person Booking
By Consumer Orientation (% of Demand), Sustainable Tourism Market is segmented as:
By Tourism Type (% of Demand), Sustainable Tourism Market is segmented as:
By Tourist Type (% of Demand), Sustainable Tourism Market is segmented as:
Independent Traveler
Tour Group
Package Traveler
By Age Group (% of Demand), Sustainable Tourism Market is segmented as:
15-25 Years
26-35 Years
36-45 Years
46-55 Years
66-75 Years
By Region (% of Demand), Sustainable Tourism Market is segmented as:
North America
Latin America
Europe
East Asia
South Asia
Oceania
Middle East and Africa (MEA)
Frequently Asked Questions
In 2022, the sustainable tourism market is expected to reach a valuation of over US$ 1.0 Trillion.
Bouteco, Kind Traveler, Responsible Travel, Wild Frontiers Adventures Travel, and Wilderness Holding Limited are some of the leading market players, cumulatively accounting for a 2%-5% value share.
The USA, United Kingdom, France, Spain, Switzerland, and Australia are major countries reflecting consistently in terms of sustainable tourism practices.
The sustainable tourism market grew by around US$ 159.3 Billion between 2020 and 2021.