US Non-Commercial Acrylic Paints Market: Key Research Findings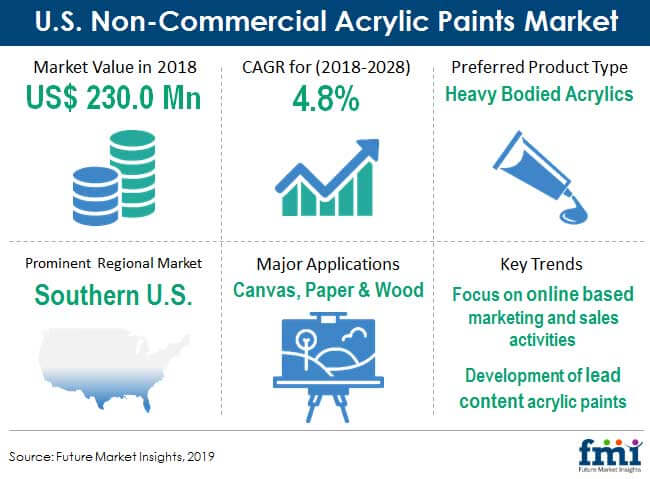 The US non-commercial acrylic paints market size in 2018Nearly US$ 230 Mn
The non-commercial acrylic paints market in the US is expected to observe a decent growth rate of 4.8% over 2018-2028.
Regulatory pressure is increasing, regarding the VOC content of acrylic paints -

There is increasing pressure from regulatory authorities, such as the US Environmental Protection Agency (EPA) and Coatings and Consumer Products Group (CCPG) in particular, to reduce the volatile organic compound (VOC) content as well as lead content in all types of non-commercial acrylic paints.
This regulation is intended to safeguard the health and safety of consumers as well as producers. Till date, this has resulted in the meagre use of conventional paints, with their use limited to a few states.

Southern U.S. is projected to hold a relatively prominent share in the overall US non-commercial acrylic paints market.

Owing to the emergence of a healthy amount of professional artists and academic institutions, where regional governments have encouraged the promotion and sales of artefacts, the market for non-commercial acrylic paints will reportedly witness high growth in Southern US.
In the coming years, other regions in the country such as the Western and Midwest parts are expected to be key markets for sustainable value generation from the non-commercial acrylic paints market.

FMI expects the non-commercial acrylic paints market in the U.S. to be a high-volume high-value market, unaffected by pricing volatility.
Top 3 Factors Shaping the US Non-Commercial Acrylic Paints Market
Increase in the Number of Artists and Students Across Different States in the US

In the past few years, the U.S. has witnessed a significant rise in the number of artists and students. There has been a rise of ~5% of artists and students, cumulatively, in the previous few years, and the same roadmap is expected to continue in the coming decade.

Students in high schools are showing inclination towards opting for arts & designing as part of their curriculum, creating huge a demand space for acrylic paints. Increasing number of competitions and exhibitions in the country molds and encourages young artists to participate, which has been driving a considerable number of youngsters toward aspiring career in painting.

Market Consolidation to Intensify Pricing Pressure on Manufacturers and Threat from Substitute Innovations

As the paints and coatings market in the North American region is moving towards consolidation, pricing pressure has started to build up, tightening the profit margin scope for manufacturers. In addition to this, raw materials, both, petroleum and non-petroleum based, account for a major share in the overall cost of sales for paints and coatings. The effects of volatile and fluctuating crude oil prices are also expected to get reflected on petroleum-based raw materials, all the more exaggerating the pricing burden on US non-commercial acrylic paints market players.

Also, new emerging technologies such as powder paints and nanotechnology hold the potential to replace existing products in the market, posing significant challenges to global manufacturers. Manufacturers also find it cost intensive to produce products in sync with government regulations, leading to decreased profitability.

DIY – A New Forerunner in the Decorative Acrylic Paints Industry

DIY (do-it-yourself) is emerging as a major trend in some states in the US, as it saves significant labor cost and gives customers an opportunity for creative painting on their own property. Application in new materials have provided impetus to the growth of the non-commercial acrylic paints market in the US.

The development of acrylic paints that can be used on multiple substrates, such as metals, flat glass, ceramics, woods, etc., with robust physical and chemical properties, providing consumers the freedom to use them as per their suitability, can provide significant opportunities for the growth of US non-commercial acrylic paints market players.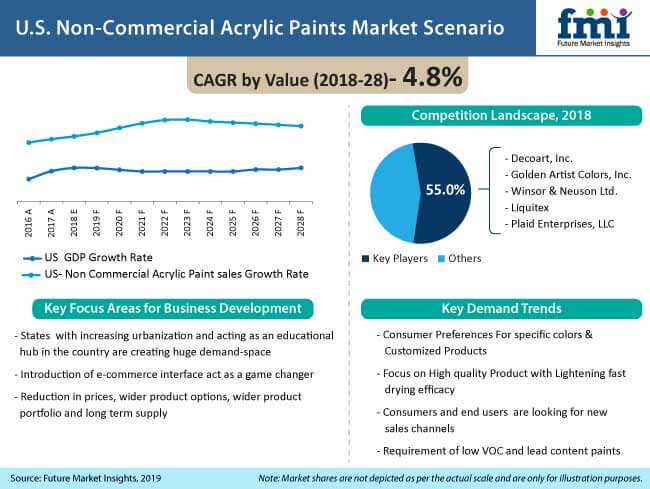 US Non-commercial Acrylic Paints Market Structure Analysis
The US non-commercial acrylic paints market is highly consolidated, wherein, tier 1 companies hold more than 50-55% of total revenue share.
Top companies in the US non-commercial acrylic paints market include Liquitex Artist Materials, Decoart Inc., Winsor & Newton, Reeves, Faber-Castell, Plaid Enterprises Inc., Crayola LLC, and Golden Artist Colors, Inc.
As part of their business strategies, prominent players are focusing on increasing the product portfolio of non-commercial acrylic paints to their existing products in order to satiate the unmet challenges from consumers and introduce new application-based products.
Some of the US non-commercial acrylic paints market players have been emphasizing on R&D for improving the quality and efficacy of acrylic paints, by enhancing properties like fast drying and better opacity in colours.
As a differentiating strategy, manufacturers are opening new service centers and distribution centers in order to intensify their presence to the proximity of consumers.
Participants are indulging in tradeshows, seminars, and webinars in order to market and introduce their newly commercialized products.
U.S. Non-Commercial Acrylic Paints – DIY Activities Set the Pace for Growth
Pursuit of DIY activities for recreation purposes is laying a robust foundation for the U.S. non-commercial acrylic paints landscape. Demand for non-commercial acrylic paints remains maximum in the region of southern United States, which makes it a lucrative target area for sales of non-commercial acrylic paints.
Painting Techniques & Target Applications - The Key Determinants of Customer Decisions
The type of non-commercial acrylic paints sought by end users is predominantly determined by the target application and associated painting technique. In addition, end users will also pay utmost attention to multiple factors while purchasing non-commercial acrylic paints, some of the prominent ones being color, viscosity, paint quality, permanence, and drying time.
U.S. Non-Commercial Acrylic Paints - Wider Applications Set the Tone for Influx of New Varieties
Non-commercial acrylic paints are widely used for canvas painting, paper painting, and wood painting purposes, thereby setting the tone for influx of acrylic paint new varieties offering fine-tuned finishing and appearance. In addition, manufacturers are also focusing on packaging types and formats that will boost the product appeal and sales performance alike.
Customers to Continue Purchasing from Offline Stores, Online Stores to Pick Pace
Sales of non-commercial acrylic paints in the US will continue to shoot upwards via offline sales channels, for the fact that acrylic paints sold at offline platforms are easily available at affordable prices. However, online channels are likely to pick pace, owing to a wide range of product assortments available at favorable deals and discounts.
Key Segment
Type
Fluid Acrylics
Heavy-Body Acrylics
Slow-Drying Agents
Grade
Artist Grade
Student Grade
Application
Wood
Metal
Fabrics
Ceramics
Canvas
Paper
Sales Channel
Region
South
Midwest
Northeast
West
Need specific information?
Talk Show:
The Rise of Intelligent Packaging
Personalized, Connected and Sustainable
November 18, 2021
11:00-11:45 AM PST (USA & Canada)
This is a LIVE session