Waste-derived Pyrolysis Oil Market By Fuel Type (Unrefined, Refined), Pyrolysis Process (Fast, Flash, Others), Source (Plastic), End Use (Heat & Power) & Region - Forecast to 2019 - 2029
Waste-derived Pyrolysis Oil Market - Analysis, Outlook, Growth, Trends, Forecasts
February 2020

REP-GB-11058

380 pages
Biomass Remains the Preferred Manufacturing Source
As various end-use industries are toiling hard to achieve carbon-neutrality, with the oil & gas sector at forefront, biomass would remain the preferred source for generating waste-derived pyrolysis oil. Incorporating a high amount of hydrocarbon, biomass continues to capture prominent share in total market stack.
Plastic-derived pyrolysis oil, on the flip side, will see gradual stagnancy in its consumption, due to high costs as well as limited reusability of catalysts. Moreover, players in the waste-derived pyrolysis oil market are viewing rubber as an oil source to stay relevant in the competitive landscape.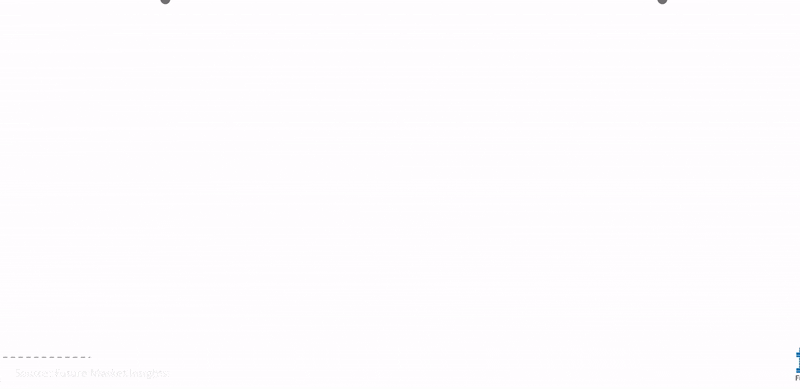 Markets in East Asia and Europe Stays in Vanguard
East Asia and Europe would remain the epicenter of growth opportunities for waste-derived pyrolysis oil manufacturers, accounting for nearly one-third of market revenue, respectively. Strong presence of leading and emerging manufactures in these regions is offering the opportunity to establish a flexible system of collaboration. Furthermore, governments are making their move towards a zero-emission future, especially in China and the Netherlands. As such, WDPO manufactures continue to seek opportunities to better serve customers and make progress.
Manufacturers to Tap White Spaces in Aviation Industry
Waste-derived pyrolysis oil is making its foray in the aviation sector as aviation biofuel for generators and motors for aviation and industrial machinery. The aviation industry requires jet engine fuel as well as aviation kerosene, which contribute to environmental deterioration. Consequently, industrial executives are looking for better alternatives to replace these polluting fuels that help them achieve cost- and energy-efficiency. This preferential shift towards cleaner fuels is likely to offer a new horizon of growth and profitability for manufacturers of waste-derived pyrolysis oil.
How Growth will Unfold
By procuring over half of overall market stack, refined grade continues to shape the revenue of the waste-derived pyrolysis oil market. Also referred to as heavy pyrolysis oil (HPO), stakeholders are likely to scale up their investments in this refined form of pyrolysis oil. Under the fuel category, diesel and petrol/ pyrolysis gasoline (Pygas) would witness sustainable increase in demand, while the market share of fuel oil would gradually take a dip in the coming years.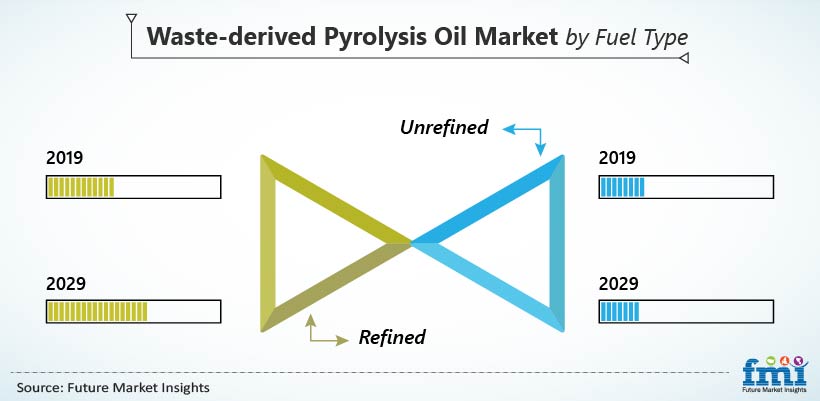 FREQUENTLY ASKED QUESTIONS ABOUT WASTE-DERIVED PYROLYSIS OIL MARKET
How will waste-derived pyrolysis oil be relevant in the future?
Major dependence on non-renewable energy resources has resulted in their depletion over the due course of time. Hence, more emphasis on alternative energy and renewable energy sources is being exerted by global organizations. Waste-derived pyrolysis oil offers dual benefits - alternative energy source and waste management. The market holds immense potential; however, it is in its nascent stage.
Will the waste-derived pyrolysis oil market witness new entrants?
Definitely. The waste-derived pyrolysis oil market is anticipated to witness more tier II & tier III entrants. Cost-effective manufacturing set-up, and abundance of waste sources such as plastic, tyres, and biomass, are expected to be major factors aiding the entry of new players.
Which end-use area holds potential growth opportunities for waste-derived pyrolysis oil market players?
While the heat & power segment continues to influence growth strategies, new end uses in the field of automotive fuel as well as bio refineries are anticipated to deliver multiple growth opportunities over the coming years.
What is the degree of competition in the waste-derived pyrolysis oil market?
The market portrays a competitive nature with the presence of a large number of regional and local players. However, no market player has established real dominance across the global market, even though the process is being practiced since a few decades.
Which region is expected to lead the global sales of waste-derived pyrolysis oil?
Europe and North America are projected to lead the market with the emergence of countries such as the Netherlands, Canada, and Finland. However, East Asia and South Asia are anticipated to witness an increment of small-scale manufacturers and seasonal units of pyrolysis plants over the coming years.
World's Most Profilic Intelligence Engine
Get Access To The World's Largest Market Research Database.
Sign Up Now
WASTE-DERIVED PYROLYSIS OIL MARKET TAXONOMY
Fuel Type
Unrefined
Refined

Diesel
Petrol/Gasoline
Fuel Oil
Others
Pyrolysis Process
Source
Plastic

LDPE
HDPE
Polystyrene
Others

Rubber
Biomass
End Use
Heat & Power

Boilers
Gas Turbines
Diesel Engines

Automotive Fuel
Bio Refineries
Food Flavouring
Region
North America
Latin America
Europe
South Asia
East Asia
Oceania
Middle East & Africa
Need specific information?
Our Clients