Water Flosser Market - Key Research Findings
Global water flosser market size in 2018 – Nearly US$ 785 Mn.
The water flosser market is expected to grow at a CAGR of approximately 6.8% over 2019-2027.
North America will be the leading regional market for water flosser products.

Widespread availability of new and innovative specialty oral care products, coupled with high consumer awareness about maintaining oral health, is among the key factors driving substantial demand for water flosser across the region.

The Asia Pacific Excluding Japan (APEJ) region holds a high growth potential for the water flosser market.

Growing awareness about oral health and hygiene among consumers, increasing per capita spending, and improving product visibility via online retail channels are cited to be the prominent boosters for water flosser sales across emerging economies in the APEJ region.

Household usage of water flosser to remain more prominent, when compared to the commercial usage.

Water flossers are gaining popularity in the market as an expanding consumer base is getting aware of a wide range of oral health conditions and the availability of innovative products that can potentially help protect and prevent oral diseases.
As water flossers are available in multiple convenient designs, including portable & cordless, countertop, and attachable, a considerably large consumer base is developing interest in purchasing personal water flosser.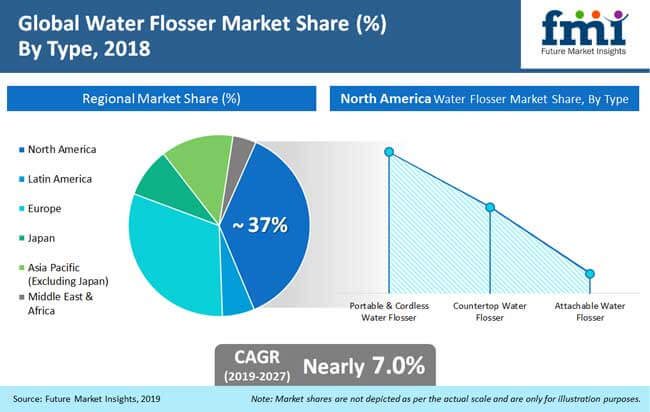 Top 3 Factors Shaping the Water Flosser Market
High demand for teeth whitening products and mouthwash is driving the global water flosser market

The global market for water flossers is witnessing growth due to certain advantages associated with the usage of these products over conventional toothbrushes. One of the unique benefits of using water flossers is that they provide instant cleanliness, remove of bits of food and plague, which is very hard to achieve with the help of conventional toothbrushes.

Consumers are very conscious about their oral health and hygiene these days, and teeth whitening is one of the important parts of oral care. Portable and cordless water flossers are very useful as they are very easy to carry for travel. The demand for oral care is expected to provide a huge opportunity to the manufacturers of water flossers. According to FMI, this is expected to remain a key factor driving the demand for water flossers across the world.

Shift in consumer needs to more innovative and trendy products

Increased disposable income of consumers, changing lifestyle, and improved standard of living in developing countries is projected to drive the oral care market. Consumers are moving towards innovative and trendy products because the manufacturers of dental water floss are introducing new and trendy designs to cater to their different needs. With technological advancements, competitors are able to produce multi-functional and durable products that help them maintain their competitive edge.

The usage of dental care products is limited in developing and under-developed nations

Oral care products are very popular these days in the market, however, they are priced high as compared to conventional products. This is forcing consumers to opt for lower-priced products, which is likely to affect the growth of the water flosser market. Moreover, most consumers in developing and under-developed countries are unaware about the importance of maintaining oral hygiene, due to which the sale of water flossers is likely to be low in these regions.
Water Flosser Market: Structure Analysis
The global water flosser market represents a consolidated competition landscape. The tier 1 & tier 2 companies hold a revenue share of more than 36%.
A majority of the key players maintain a strategic focus on the look and feel of the water flossers offered by them, as they provide better technology as compared to other players.
According to the report, the introduction of innovative products will be an important developmental strategy followed by these companies
Leading players in the water flosser market are also concentrating on introducing innovations in technology products in their existing product portfolio to reach new customers, along with expanding their sales channel.
Water Flossers – An Evolving Suitable-for-Everyone Alternative to Traditional Flossing
The awareness about the importance of dental flossing for preventing infections and gum diseases is only increasing with time, and the need for more convenient flossing substitute to manual flossing is triggering the adoption of water flossers among individuals. A diverse group of end-users, including individuals with uneven teeth, braces, dental implants, or gum diseases, are switching from string flossing to water flossers owing to their ease-of-use and improved efficiency at offering gum disease prevention.
Water Flosser Market Set to Envisage Incremental Growth through 2027
The global water flosser sales are growing at a healthy rate with increasing popularity of portable and rechargeable water flossers among consumers seeking convenience and efficiency at dental flossing. The future looks bright for water flosser market players, as per capital dental care expenditure is increasing across te world. In addition, water flosser manufacturers are aiming to earn the ADA (American Dental Association) Seal of Acceptance to further improve sales potential of water flossers.
Developed Regions to Remain Most Profitable; Untapped Potential in APEJ Attracts Stakeholders
High product penetration and increasing oral care awareness among consumers in developed regions has been triggering sales of water flossers in North American and European countries. Manufacturers are adopting innovative marketing campaigns to further expand profitable sales in these region.
Meanwhile, developing nations in the Asia Pacific region excluding Japan (APEJ) have emerged as lucrative markets for water flossers with ongoing awareness dental care campaigns in the region. Leading stakeholders are adopting strategies to invest in emerging economies to capitalize on untapped sales potential in developing regions, in the upcoming years.
The Broader Perspective
Water flossers with additional functionality, such as teeth whitening, bad breath prevention, and gum disease prevention, are gaining popularity among end-users, especially in developed economies. Manufacturers will continue to leverage the convergence of technology with the dental care industry to launch water flossers with technologically-advanced control features.
How Growth will Unfold
High consumer preference for convenience and ease at maintaining oral hygiene is increasing popularity of portable and cordless water flossers among individuals. Manufacturers are likely to incorporate battery technologies to introduce innovation in the design of water flossers and ultimately, gain a competitive edge in the market. In addition, increasing popularity of countertop water flossers in household applications will influence future business strategies of market players in the coming years.
WATER FLOSSER MARKET TAXONOMY
The global water flosser market is segmented in detail to cover every aspect of the market and present a complete market intelligence approach in front of the reader.
By Product Type
Portable & Cordless Water Flosser
Countertop Water Flosser
Attachable Water Flosser
By End Use
By Price
Economy
Mid-Range
Premium
By Sales Channel
Hypermarkets / Supermarkets
Specialty Stores
Drug Stores & Pharmacies
Convenience Stores
Online Retailers
Region
North America
Latin America
Europe
Japan
APEJ
MEA
Need specific information?