Global Air Mattress Market to Reach ~US$ 330 Mn by 2029
The global air mattress market is projected to reach ~US$ 330 Mn by the end of 2029. The market was valued at ~US$ 138 Mn in 2019. If these figures hold true, the market will exhibit a CAGR of ~9.0% between 2019 and 2029. Regionally, North America is expected dominate the market.
However during the forecast period, East Asia will exhibit more lucrative growth opportunities. In terms of product size, the market can be classified into full size, twin size, king size, queen size, and other size. By Product Type, no medicated air mattress holds the highest market share while medicated air mattress is expected to expand at highest CAGR during the forecast.
Key Factors Driving the Market
Commercial Sector to Dominate whereas Residential Sector to Register Highest CAGR
The air mattress market is primarily dominated by commercial sector such as hotels, hospitals, and holiday homes etc. The growing consumer demand for extra bed in hotels have opened up opportunities for air mattress market however growing number of nuclear family, small room sizes in urban areas have limited the room space which further creates demand for space saving. Air mattress which is filled by air, provides the option of usage upon requirement and thereafter can be folded in any space.
This feature of air mattress provides it an advantage over mattress or bed and fuelled the demand in residential sector. It is expected to expand at highest CAGR during the forecast owing to its space saving feature along with its easy availability both in online and offline platforms.
Twin Size Air Mattress to Hold Prominent Market Share
Twin size air mattress holds a major market share in the global air mattress market. It occupies more than 40% of the total air mattress market. Large number of consumers prefer to buy twin size owing to their bed size, low price point, and easy availability at supermarkets/ hypermarkets, brand outlets, convenience stores, online platforms. Growing cost of living in urban areas have forced the consumers to go for small rooms which in result, fuels the demand for utility space saving mattress such as air mattresses.
How will Growth Unfold
Air mattress market is primarily dominated by North America market owing to higher usage in commercial sector such as hotels, hospitals etc. Medicated air mattress which helps in blood circulation and also relieves pressure while sleeping on it. The growing awareness about air mattresses and increasing use in commercial sector accelerate the air mattress market in North America.
The space saving feature, easy availability and nuclear family are the drivers for growth of air mattresses in residential sector. The residential sector is expected to expand at highest CAGR and open up opportunity in emerging markets such as China, India etc. Asia Pacific which includes East Asia & South Asia and Latin America are expected to see robust growth during the forecast, 2019-2029.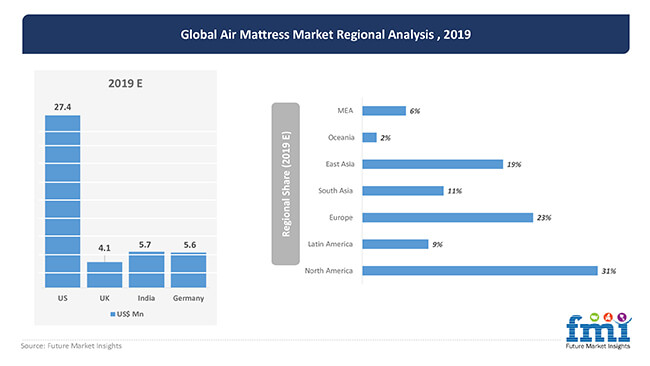 World's Most Profilic Intelligence Engine
Get Access To The World's Largest Market Research Database. Ngage with a revolutionary intelligence engine that scale and pricing that flexes as per your needs
Sign Up Now
Market Segmentation
The global air mattress market is segmented in detail to cover every aspect of the market and present complete market intelligence to readers.
By Product Type
By Size
Full
Twin
King
Queen
Other
By Pump Type
Electric
Battery Operated
Other
By Application
By Price Range
High/premium
Mid-range/economy
Need specific information?