Air-dried Food Market: Key Research Findings
Future Market Insights (FMI) forecasts impressive growth of the air-dried food market at over 7% CAGR between 2020 and 2030
Spurred by willingness among consumers to pay premium for convenience goods will enable market surpass a whopping US$ 93 Bn of worth by 2020
Advent of innovative packing technologies and materials will create incremental growth opportunities. Following this, the market will witness foray of wooden packaging and stand-up pouches
Based on form, powder and granules are likely to be in high demand and hold dominance in the global market
Coffee beans will continue dominating as the top product. Rising production of instant coffee and coffee powder will boost growth in the segment
Consistent Demand for Better Nutritional Value and Shelf-life in Food Boosts Air-dried Food Sales
Even as balanced diet remains key objective among consumers, there is increasing inclination towards mitigating nutritional deficiencies. There is visibly higher demand for food that offers better health benefits and reduces the risk of various diseases.
Future Market Insights has underscored the trend as an incredible opportunity for air-dried food suppliers.
High prevalence of health awareness among consumers has catapulted healthy food producers to the fore. Increasing level of consciousness is swaying them away from artificially preserved food. Evidently, organic food suppliers have founded a strong foothold in the market and so has air-dried food producers.
The demand for food with extended shelf-life without compromising on their nutritional value. Air dried foods are tasty, lightweight, nutritious, and are easy to prepare. Drying or dehydrating food is an efficient method of preserving them for an extended period.
The process removes unnecessary moisture from the food thus destroying the breeding ground for yeasts, molds, and bacteria.
Demand Across Diverse Segments will Enable Growth in Air-dried Food Market
The demand for air-dried food is witnessed in both commercial and household sectors. Breakfast cereals for instance are the most common kind of air-dried food found in homes. Besides this, air dried food is consumed as healthy snacks, desserts, and ready-to-eat meals.
Air-dried foods also are considered highly nutritional for pets. Air dried meat for instance is often fed to pets. These meats are not cooked, which means that most of nutrients present in real meat are left intact and there is minimal damage to proteins and vitamins, enzymes, and amino acids.
Because moisture is removed from air-dried food they last longer without pet owners having to worry about molds or deteriorating food quality. Increase focus on pet health and nutrition is one of the key drivers of air-dried pet food adoption.
Additionally, pet owners are looking for nutritious pet food without chemical preservatives, which brings them to air-dried food for pets.
Spurred by demand witnessed across various sectors, the air-dried food market is forecast to exhibit robust growth in the coming years. The launch of non-GMO varieties will further help the market gain impetus.
As represented in the image below the global air-dried market is characterized by moderate revenue volatility that too mostly limited to Europe and East Asia.
Companies operating in the air-dried market are claimed to witness impressive scope for differentiation. Perhaps this would give impetus to the growth witnessed. Graph below highlights some of the key attributes of the market with impression of regional variance of the same.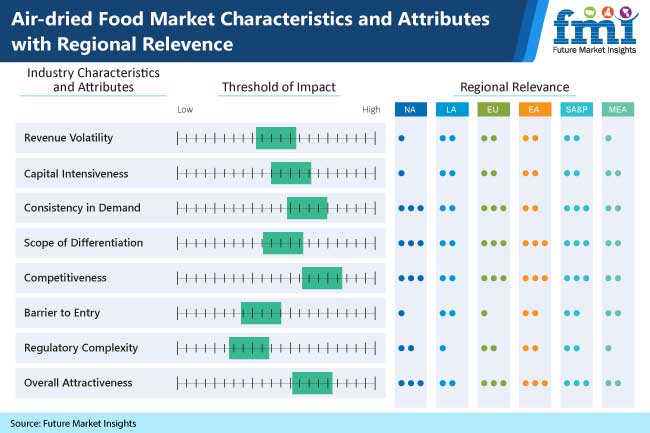 Producers Choose Packaging Materials that Offer Improved Inertness
Consumers are more than willing to spend on nutritious food. Their willingness is creating impressive scope for the expansion of the market, which is expected to demonstrate a positive growth trajectory between 2020 and 2030. Improving access to advanced packaging materials as well is expected to boost the market.
Air dried food is made available at a commercial scale. However, to ensure better efficiency it is a must for producers to investigate on suitable packing material and storage condition.
Packaging of dried food must help in retaining the nutritive properties of dried food and fruits. Packaging of air-dried food and fruits includes materials that prevent sweating. Insect food containers are used as well for the purpose of packaging.
The quality of air-dried food is often determined by the packaging and storage conditions. Consumer researches suggest that it is common among consumers to consider glass-packed products to be of high quality.
Producers therefore often use colorless glass derived from soda, silica, and lime for air-dried food packaging. The physical advantages of glass jars include their impermeability and inertness.
Glass is also considered excellent for preserving the quality of food for a longer time. However glass containers often take up enough space and is prone to breakage, which has encouraged manufacturers to look for alternative sources of packaging materials.
Both polypropylene and polyethylene offer an impressive combination of impermeability, flexibility, lightness, and strength besides providing an effective barrier to contamination.
Although air-dried food is inherently less perishable than fresh ones, risk of product spoilage persists compelling manufacturers to continue researches to modify packaging techniques and atmosphere and offer improved shelf life.
Manufacturers Look Beyond Conventional Techniques to Offer Better Shelf-life
Best methods of drying fruits and vegetables on a commercial scale include freezing, cabinet or tray, osmotic, vacuum, heat pump, fluidized bed, microwave drying, spouted beds, and combinations thereof. Besides these methods, producers are trying advanced technologies such as superheated steam drying, conduction drying, infrared drying, particulate medium drying, among others for drying of cereals and grains.
The cost of dehydration, availability of dryer, energy consumption, and the overall quality and purpose of dried foods like ready for consumption or ready-to-cook are key parameters determining the drying method preferred by producers. For instance, in case of artificial drying meat if often partially cooked before being dehydrated.
Depending upon the method of drying chosen, the quality of air-dried food may vary as will their costs. While drying technologies are undertaken to destroy the presence of microorganisms, the process might not be as lethal. The microbes that survive drying remain dormant for longer periods and become active only after the food is rehydrated. Manufacturers are therefore spending on hi-tech storage to offer better shelf life. Their efforts are reflected in improved growth opportunities for the market.
Fragmented Landscape of Air-dried Food Market is Indicative of Competitive Rivalry Between Companies of All Sizes
The presence of numerous companies has rendered the air-dried food market fragmented. The market showcases the presence of several small and medium-size companies competing against more established players. In order to gain competitive advantage, an increasing number of companies are seeking strategic collaborations.
Resultantly, FMI underscores the importance of mergers and acquisitions among key market players. For instance, BCFoods Inc. had acquired Culinary Farms, in 2017. The latter is a producer of dehydrated herbs & spices and fruits & vegetables.
Besides this, the market also witnesses frequent product launches, which is one of the key strategies among market players to lure consumers.
Air-dried Food Market: Region Wise Analysis
Europe currently the leading market for air-dried foods, driven by rising demand in Germany, France, and the U.K. The region exhibits high demand for ready-to-eat meal, which is one of the chief growth drivers of the market.
Additionally, presence of a sophisticated network of retail chain consisting of supermarkets, convenience stores, and hypermarkets has facilitated growth witnessed in the region.
In the coming years however, Asia Pacific is projected to showcase a higher rate of growth. The rising demand for made-ahead and ready-to-eat meals, spurred by changing lifestyle of consumers in the region, will support growth.
Also, demand in high potential markets such as India and China backed by the rising number of dual income household will enable growth in the region.
The expansion of food processing industry will enable the market to embark on its journey of penetrating deeper in Asia Pacific. The region also exhibits presents of robust packaging and consumer goods industries, which means the air-dried foods producers can access robust technologies to determine their growth strategies.
Leading Suppliers in Air-dried Food Market
Companies operate in a highly competitive environment in the air-dried food market. Besides collaborations and product launches, they are focusing on capacity expansion to gain competitive advantage. According to FMI, Nestle S.A. and Mondelez International Inc. are among the key market players. Some of the other leading companies operating in the market are:
DMH Ingredients, Inc.
Dehydrates Inc.
Berrifine A
La Frubense, BCFoods, Inc.
Saraf Foods Pvt. Ltd.
B-B Products (Australia) Pty Ltd.
Nestle S.A.
FREEZE-DRY FOODS
HOWENIA ENTERPRISE CO., LTD.
Air-dried Food Market: The Way Forward
Impressive growth is on card for the air dried food market, especially as consumers look for healthy food items with extended shelf life. Sales uptick is likely especially on account of the ongoing pandemic crisis.
The unprecedented COVID-19 outbreak has triggered consumer behavior of stockpiling on essential goods. This will have a positive impact on the air-dried food market especially since economies are on the verge of relaxing stringent lockdown measures to resume normal course of living.
The air dried food market will record growth, albeit at a stunted rate, which it is expected to recover as soon as the pandemic passes. In the last couple of years, the market has registered impressive growth thanks to improved access to technologies. Advent of ho-tech packaging and storage facilities also is expected to bode well for the market.
Key Segment
Form
Powder & Granule
Chunks & Pieces
Flakes
End User
Region
North America
Latin America
Europe
East Asia
South Asia and AEAN
MEA
Need specific information?
Talk Show:
The Rise of Intelligent Packaging
Personalized, Connected and Sustainable
November 18, 2021
11:00-11:45 AM PST (USA & Canada)
This is a LIVE session