Diverse Applications of Food Grade Gases will Boost Growth
Following coronavirus outbreak, companies operating in the food grade gases market are under pressure to deliver products to market in time. Even before this, market players had started investing high technologies of food preservation to ensure longer shelf-life in products.
Such strategies taken towards improving overall production will aid the expansion of the food grade gases market. According to studies, the market will continue witnessing steady demand on account diverse applications of food grade gases. These include, freezing and chilling, packaging, carbonations, and others.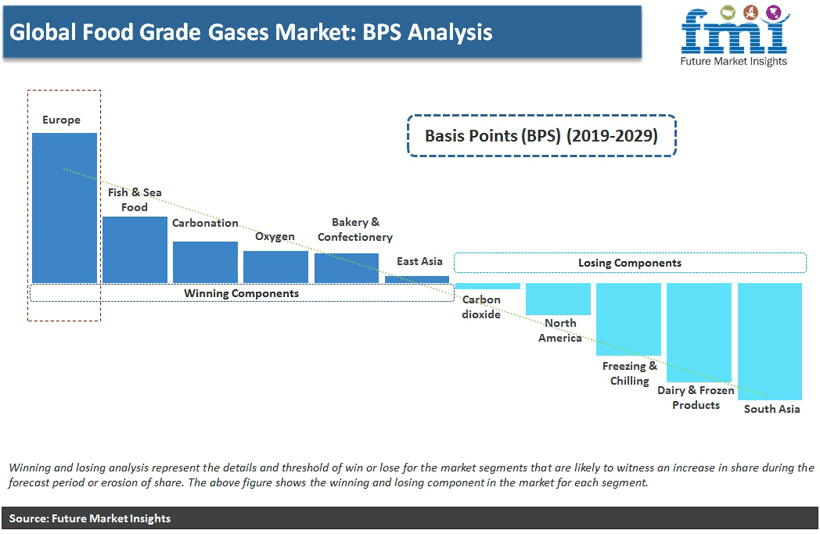 Strict Government Regulations to Meet Quality Standards is Restraining Growth of the Market
Legislations have been sanctioned in most countries in North America and Europe to protect food products from spoilage and contamination due to inferior manufacturing and refrigerated storage processes. Therefore, each country has appointed agencies to inspect consumer health issues and also inspect the type of material and processes used to deem whether they are considered safe for food & beverage operations.
In the US, this is done by the FDA and in Canada, by the Food Inspection Agency. Regulations for food-grade gases are not uniform, even between countries in close proximity such as the US and Canada.
Therefore, the Compressed Gas Association has created the standards document: CGA M-10 (2012) Food Safety Management Systems and Good Manufacturing Practices for food gas manufacturers.
The document is to be used in combination with the federal, state, and provincial legal standards concerning food gas implementation. Also, the increasing prices of raw materials required for the manufacturing these chemicals are hampering the growth of the market.
Shift Towards Convenient Rising Demand for Packaged Food Owing to on-the-go Lifestyles is Driving Market Growth
Food-grade gases such as carbon dioxide (CO2), nitrogen (N), and oxygen (O) are majorly used in the packaging of convenience food to enhance the shelf life of fresh food products. Consumers are increasingly focusing on their diet and health, which is likely to bode well for the overall market. The increasing health concerns among consumers, especially in North America and Europe, have led to a shift toward the consumption of safer, healthier, and higher-quality food products.
Owing to the rising concerns about food safety amongst consumers, manufacturers are compelled to focus on on various advanced packaging technologies such as oxygen scavenger, modified atmosphere packaging (MAP), controlled atmosphere packaging (CAP), and active packaging. These technologies help in maintaining the levels of gases such as oxygen and nitrogen inside the packaging and prevent the oxidation of food products and reduce the need for additives while maintaining product quality.
Furthermore, the global food-grade gases market is majorly driven by the increasing demand for packaged food. The increase in utilization of these packaging technologies in the food packaging industry will lead to the growth of the food-grade gases market.
How Growth will Unfold
The paradigm shift in customer preference in favour of packed food is the dominant factor bolstering growth the market. Furthermore, the growing demand for packaging technologies such as modified atmospheric packaging, chilling and freezing are increasingly being adopted by food & beverage manufacturers is also projected to influence the food grade gases market significantly.
Emerging microbreweries, fuelled by advancement in the food and beverage industry, are expected to capitalize on untapped opportunity in the food grade gases market. Consumer demand for fresh vegetables and foods throughout the year is anticipated to fuel the global market for food grade industrial gases.
Food grade industrial gases are extensively used in the various applications such as shelf life extension, freezing and chilling, preservation and carbonation, and packaging of various drinks. Increasing health concerns is the major driving factor of the global food grade industrial gases market. Customers need food products in the natural form, without chemical treatments, with minimal preservatives, or less processed; this, in turn, propels the global market growth.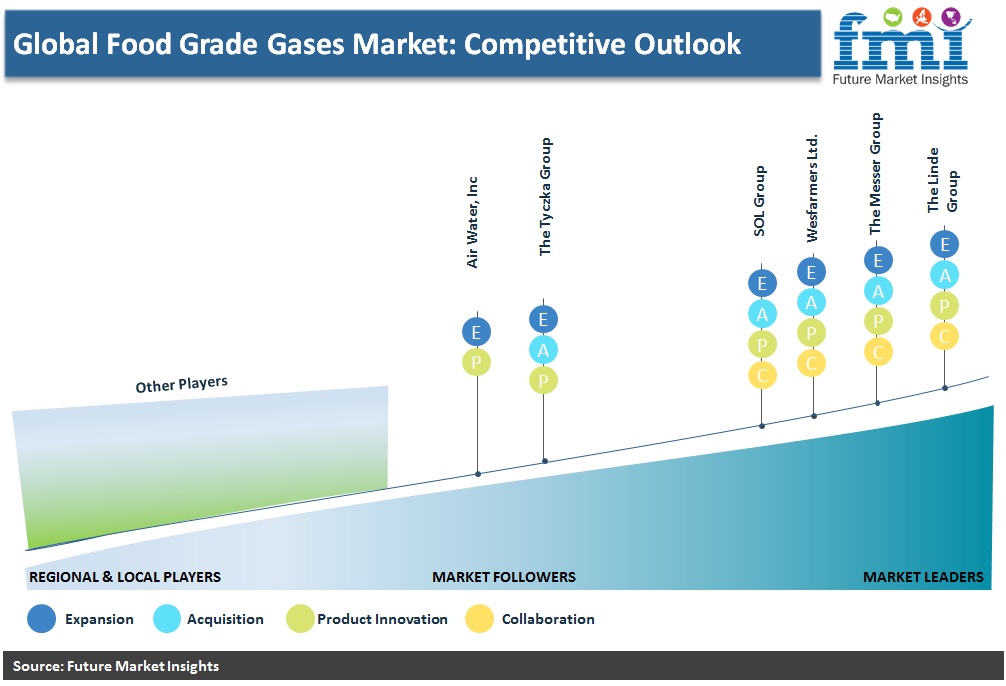 FOOD GRADE GASES MARKET TAXONOMY
The global Food Grade Gases Market is segmented in detail to cover every aspect of the market and present complete market intelligence to readers.
Gas Type
Nitrogen
Carbon dioxide
Oxygen
Others
Product Type
Dairy and frozen products
Beverages
Fruits & vegetables
Meat
Fish & seafood
Bakery and confectionery
Others
Application
Freezing and chilling
Packaging
Carbonation
Others
Region
North America
Latin America
Europe
East Asia
South Asia
Oceania
MEA
Need specific information?