Allergen Free Food Market Outlook & Key Findings
FMI forecasts the market for allergen free food to grow at an impressive 8.6% CAGR between 2020 and 2030
Weaker brick & mortar retail inventory in first half of 2020, pushed consumers to online stores, which witnessed over 60% amplified demand for allergy-friendly food products
Ad Spend in the first half of 2020 on three leading social media platforms increased by an average of 32% by top 50 brand, comparing against the first half of 2019
Consumers evaluated brand familiarity, labelling and price of at least three brands before making the final purchase decision, revealed in Buyer's Journey section of the FMI report
Surprisingly, peanut free products were among top three sought after allergen free food product categories, apart from gluten free, dairy free
Finding niches and frequent product launch are strategic priority of new entrants in the market, whereas established brands leverages on existing portfolio
Don't pay for what you don't need
Customize your report by selecting specific countries or regions and save 30%!
Brand Distinction is Key to Success in the Fragmented Allergen Free Food Market
As per FMI report, the global allergen free food market is estimated to surpass the valuation of US$ 46.4 Bn by the end of 2020. The industry is well positioned to register at least 4% higher growth rate than the overall food & beverage sector.
The combined attribute of behemoth size and rapid growth has captivated leading companies in global food & beverages sector as well as new entrants. This has created perplexed consumer preferences, and brands experience challenge in creating a differentiator in the global allergen free food market.
"Average frequency of product launch reduced to three months, leaving marginal scope of brand distinction. Though companies continuing exploring niches in the fragmented allergen friendly food market" said the analyst.
Survey conducted on 540 consumers of allergen friendly food by FMI reveals that online buyers are more forgetful. Such customers have relatively less brand recall than the customers buying allergy friendly food products frequently from brick and mortar retail stores.
Finding Niches to Become Common in Allergy Friendly Food Market
The market for allergen-free foods is ripe with opportunities and companies are in no mood of wasting any time capitalizing on them. Also bolstering growth of the market is the expansion of organized retail alongwith customer's drift to online platforms. This necessitated brands to remain visible and dynamic to stay longer as consumer's preferred brand.
Brands dive a level deeper in consumer psyche and understand their archetype - to offer the allergy friendly product they are interested in by creating a niche category. Allergy Free Granola bar, allergy free baking mixes, allergy free tofu, allergy free noodles etc., are some examples of niche categories created by companies.
Allergy friendly food brands also invest resources on educating consumers about their products. Consequently, spending on advertising and marketing has surged significantly.
As much as 45% of allocated annual budget on OOH (out of home) advertisement and promotional activity have been routed to online promotions. A whooping sum of this budget has been absorbed by social media platforms.
Expansion of online channels will give impetus to the allergen free food market, which according to FMI will offer incremental growth opportunities, enabling the market reach US$ 108.0 Bn by the end of 2030.
There is increasing focus on allergen-free food products, containing organic ingredients as companies intend to woo new consumers while retailing the existing ones. These consumer oriented strategic initiatives undertaken by allergy free food companies will usher a new dawn of health food category.
Gluten-free and "Free-from" Foods Emerge as Consumer Favorites
Better access to information has made consumers highly skeptical about ingredients that go into their food. An increasing number of them are moving away from products containing synthetic ingredients to ones containing organic ingredients. According to FMI, approximately 65% of customers prefer gluten-free foods because they believe they are healthier.
Globally the demand for customized meat and dairy alternatives has thus skyrocketed and so has per capita spending on healthcare. Thanks to better awareness, consumers are realizing the importance of allergen free foods in maintaining a good and healthy living. In addition to this, government initiatives aimed at encouraging the use of natural ingredients have created an environment conducive to the growth of the allergen free food market.
To capitalize on prevailing trends, some of the leading companies are aiming at strategic collaborations. For instance; in July 2017, Cargill Incorporated and Delacon signed a strategic partnership to boost their presence in the artificial free-from-food market.
Meanwhile, the rising demand for gluten free food is identified by FMI as a chief growth driver. Due to the rising incidence of foodborne illnesses modern consumers are more comfortable re-evaluating their food choices.
There is a considerable high demand for food with "free-from" label. For instance, gluten-free beetroot powder is an instant hit in certain sections of consumers. Also, fanning the trend are initiatives such as ServSafe, emphasizing the importance of safety and quality of food products.
Demand for Clean-labelling Spurs Use of Allergen-free, Botanical Ingredients
Clean label refers to food products containing natural, familiar, simple ingredients that are easy to recognize, understand, and pronounce, with no artificial ingredients or synthetic chemicals.
Consumers' preference for food with fewer ingredients has compelled food manufacturers to exclude artificial ingredients and chemical modifiers from their food production.
Leading certification and labeling authorities around the globe mandated companies to provide correct labelling on their food packaging. Incorrect packaging or labelling is one of the primary causes of product recalls.
Resultantly, some of the leading companies are developing a range of plant-based and organic food, without compromising on their functionality. For instance, last year Cargill had developed a range of plant-based lecithin to assist bread producers achieve allergen-free and clean label production.
Post COVID-19 outbreak, food labelling could be submitted to increased scrutiny. National food safety authorities and the International Food Safety Authorities Network (INFOSAN) Secretariat are seeking more information on the potential role of food in the transmission of the virus through local and international trade.
Meanwhile, the World Health Organization has recommended certain standards to maintain food hygiene and food safety practices to prevent transmission of COVID-19 through food. These trends will spur the demand for clean label, subsequently allergen-free foods.
Brandishing Certification is Most Commonly Used Differentiator
Although most consumers do not show any adverse symptoms to food allergens, there can be serious health consequences for sensitized individuals. Nearly 3% of adults and 6% of young children have one or more food allergies in the U.S.
Several international and national authorities have laid down a specific list of allergenic ingredients or substances needing mandatory declaration. Subsequently, several government affiliated as well as independently operating certifications have surfaced over the past half a decade. Gaining these certifications and brandishing those on packages is most commonly used differentiating strategy by brands.
Traditionally, enforcement agencies focus their attention on surveillance of prepackaged food items. However, there is surging need to implement a bottom-up approach to ascertain allergen risk management. This is imperative to minimize the risk of allergen contamination in end products.
Driven by implementation of stringent regulations, the allergen free food market is likely to expand considerably in the coming years. With an increasing number of consumers embarking on journey to healthy living, demand for allergen free foods is poised to surge.
Dominance of the West Continues, Yet East Follows Quickly : Allergy Free Food Market Regional Analysis
While Europe and North America are deemed leading markets for allergen free foods, East Asia and South Asia are anticipated to exhibit higher growth prospects. Nearly 15 million people in the U.S. have food allergies and nearly 6 million of them are children.
According to FMI, nearly 17 million people have food allergies in Europe. This, coupled with the rising prevalence of lactose intolerance, is fuelling demand for allergen free and non-GMO range of products in the region.
FMI further reveals that in the last three years the U.S. has witnessed a significant surge in the number of people identifying themselves as vegan. This creates ample opportunities for the expansion of the allergen free food market in North America.
In Asia Pacific the market will primarily gain from changing consumer preference. Meanwhile, Latin America is the fifth most important market for healthy food industry across the world, attracting some of the behemoths in the Brazilian market.
The global allergen free food market is characterized by high capital investment in developed markets. As depicted in the chart below, both Europe and North America exhibit high capital investment, despite a higher degee of revenue volatility than rest of the world.
Companies operating in this market also reported a higher degree of competition in Europe and East Asia.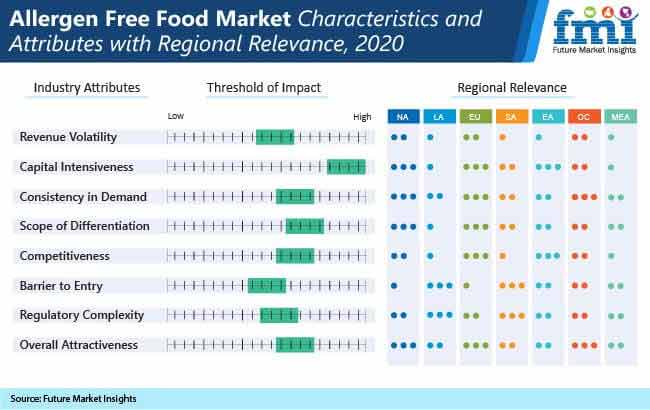 Several big brands such as Cheerios, Smart Balance, Ben & Jerry's, and Grape Nuts are now going GMO Free; subsequently driving allergen free food market
Top Allergen Friendly Food Brands
Allergaroo
Arrowhead Mills
Birkett Mills
Earth Balance
Eden Foods
Edward & Sons
Ener-G Foods
Enjoy Life Foods
Ian's Natural Foods
King Arthur Flour
Kinnikinnick Foods
Libre Naturals Inc.
Lundberg
Namaste Foods
Pacific Foods
So Delicious Dairy Free
Prominent Food Companies in Allergen Free Food Market
With an estimated 50+ allergen free food players with personalized packaging, innovative flavors, and variety of claims including clean-label claims, below are some of the key players in the Allergen Free Food market:
Americas
Abbott Laboratories
General Mills
Kellogg Co.
Kraft Heinz Company
Mead Johnson Nutrition
Boulder Brands, Inc.
Europe
*The list is not exhaustive, and only for representational purposes. Full competitive intelligence with SWOT analysis available in the report
Allergen Free Food: The Way Forward
Allergen free food market despite being a market worth over US$ 31 Bn, is still at growth stage of PLC curve. This indicates immense underlying potential in this fragmentally organized market. From established companies to new entrants, all are magnetized by latent opportunity in this market, which aligned with food & beverages sector but outperforming the later.
Brands are foreseen to adopt agile strategies from product development to operation, and promotion to acquisition. Till now companies have been aggressive with frequent product launch and achieving operational excellence.
For instance, machines are increasingly relied upon to reduce processing time and improve shelf-stability of packaged allergen free food. Then there is ample focus on textural properties as well.
Adopting modern and fast-paced lifestyle has surged commercialization of processed and pre-packed food. This has happened as a consequence to the need of keeping pace with the demand for better convenience and variety among consumers.
Get the data you need at a Fraction of the cost
Personalize your report by choosing insights you need
and save 40%!
Market Segmentation
The global allergen free food market is segmented in detail to cover every aspect of the market and present complete market intelligence to readers.
Product Type
Cereals & Grains
Edible Oil
Packaged Food
Bakery Products
Beverages
Dairy and Dairy Products
Frozen Meals
Flour mixes
Snacks
Tofu
Tempeh
Processed Milk Products
Pasta
Infant Formula
Seitan
Chocolate
Processed Meat & Poultry
Mayonnaise
Tortilla
Natto
Others
Form
GMO Free
Sugar Free
Gluten Free
Lactose Free
Dairy Free
Meat free
Preservatives-Free
Caffeine-Free
Soy Free
Nuts Free
Others (wheat, fish, shellfish, sesame, sulfites)
Nature
Distribution Channel
Modern Trade Channels
Specialty Stores
Convenience Stores
Direct-to-Customer Channels
Third Party Online Channels
Online Retailers
Other Sales Channels
Region
North America
Latin America
Europe
South Asia
East Asia
Oceania
Middle East & Africa
Frequently Asked Questions
The allergen free food market is likely to record a CAGR of 8.5% through 2032.
The allergen free food market size is expected to be US$ 123.5 Bn by 2032.
The allergen free food market share is likely to grow over US$ 54.62 Bn in 2022.
North America is the dominant allergen free food market.