Ammonium Phosphate Market Crossed Valuation of US$ 40 Bn in 2018; Fire Retardant Will Provide Thrust to Growth
Global ammonium phosphate market is invigorated by growing consumption in fire control applications. Despite environmental implications, inordinate utilization of ammonium phosphate in fertilizers will remain prevalent over the forecast period. Farmers are using ammonium phosphate based fertilizers on account of rising need for enhanced yield.
Having exceeded revenues of US$ 40 Bn in 2018, the market is projected to witness the upward growth trend during 2019-2029. Role of ammonium phosphate as firming agent and acidity regulator is driving the market growth. The global ammonium phosphate market is set to exhibit moderate growth at approximately 3.3% CAGR over the projection period.
Use of Ammonium Phosphate in Flame Retardant Applications to Gain Traction through 2029
Fire extinguishers are deployed in most frequented areas such as schools, offices, and homes. Flame retardant applications utilize monobasic ammonium phosphate which is a crucial ingredient in fire extinguishers based on dry chemical powder. Ammonium phosphate breaks off the oxygen supply and forms a coating over the source thereby smothering the fire.
Monobasic ammonium phosphate is present in pressurized form inside the fire extinguishers. These are also the most commonly used fire extinguishers, particularly in homes. Ammonium phosphate based fire extinguishers are increasingly being used to control electrical fires or fires generated from grease, gasoline or combustible substances such as wood.
Demand for Mono-ammonium Phosphate to Remain Rampant in Fertilizers
Mono-ammonium Phosphate (MAP) is a chief component of granular fertilizer. The pH regulation and water solubility are two most sought-after attributes of MAP. Farmers continue to prefer ammonium phosphate for sustained and healthy growth of plants. The augmented demand for MAP in high-pH soils is particularly fuelling the market.
In suspension fertilizers, ammonium phosphate is used in powdered form. Moreover, MAP has good handling and storage properties which are boosting its demand among consumers. However, the ongoing debate over the potential environmental impact of ammonium phosphate based fertilizers is limiting the market growth.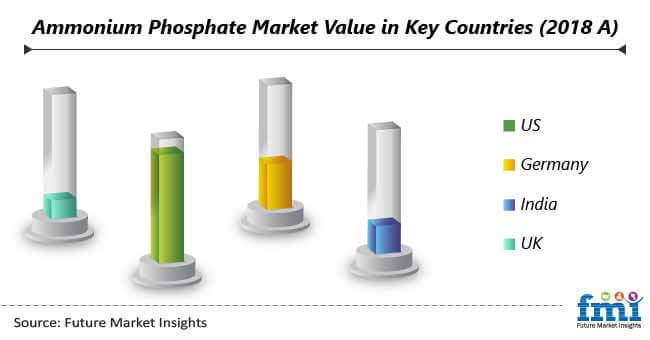 Asia Pacific to Lead Ammonium Phosphate Market through 2029
Rising population in Asia Pacific has led to an upheaval in demand for fertilizers in the region. Majority of the demand for ammonium phosphate will be generated from countries such as India and China. Moreover, proliferation of fertilizer plants in the region is supplementing the growth of ammonium phosphate market.
The ammonium phosphate market in Europe and North America is projected to witness relatively moderate growth during the forecast period. Stringent regulatory norms regarding the use of inorganic fertilizers are hindering the growth of ammonium phosphate market in the region. The primary focus of manufacturers in these two regions is on the use of organic fertilizers.
Forming Joint Ventures Remain Predominant Strategy of Market Leaders
Some of the market players featured in this report are Lanxess AG, Solvay S.A., OCP SA, Jordan Phosphate Mines Company, Wengfu Group, Yara International ASA, Coromandel International Ltd., Nutrien Ltd., Haifa Group, Innophos, Forbes Pharmaceuticals, Jordan Phosphate Mines Company, Israel Chemicals Ltd., and Prayon SA.
Most forward-thinking companies continue to form joint ventures for global operational expansion. For instance, National Fertilizers, a state-owned fertilizer firm of India, announced joint venture with a company in Algeria to build a Di-ammonium Phosphate plant in the country. Market players must shift their focus towards Asia Pacific region in view of enormous demand for ammonium phosphate.
Ammonium Phosphate Market: Segmentation
The global ammonium phosphate market is segmented in detail to cover every aspect of the market and present a complete market intelligence approach to readers.
Product Type
Mono-ammonium Phosphate (MAP)
Di-ammonium Phosphate (DAP)
Ammonium Polyphosphate
Application
Fertilizers
Fire Extinguishers
Food & Beverages
Water Treatment Chemicals
Detergents & Soaps
Region
North America
Latin America
Europe
MEA
Asia Pacific
Need specific information?