Automated Sortation System Market By Equipment (Pop-Up Roller & ARB Sorter, Pivoting Arm & Paddle Sorter, Tilt-Tray Sorter, Cross Belt Sorter), Component ( Hardware, Software ), Sorting (Linear Sorter, Divert System, Circular Sorter), System (Unit Sorter, Case Sorter, Combo Sorter ) & Region – Forecast 2020 - 2030
Automated Sortation System Market - Analysis, Outlook, Growth, Trends, Forecasts
July 2020

REP-GB-11931

250 pages
Automated Sortation System Market Outlook & Key Findings
The automated sortation system market is expected to grow at a CAGR of 7% by 2030
Market largely expected to benefit from growing sales through E-Commerce and logistics industry
Continued capital investment in manufacturing, power, cement and steel to sustain market growth rate in the long term
Established players account for 40% of the overall market
Hardware segment will gain 190 BPS through 2030
Courier and logistics will account for one-fourth market share through 2030
Automated Sortation System Market Analysis - Competition Heats up as Players Edge Each other Out on Equipment Capability
Automated sortation systems that would garner faster ROIs with the aim of meeting all objectives are slowly but steadily capturing attention.
Automated, high-speed sortation systems are doing a lot more than helping material handlers incur cost savings. The faster speeds accruing to them are helping companies achieve new delivery benchmarks through shorter lead times. Automated sortation also helps to place equipment and material with more precision with fewer items getting lost or misplaced. These help to:
Integrate returns handling
Reducing lead time from start to finish related operations in industrial process and logistical activities
Bring down energy consumption with higher uptake of drives that are more energy efficient
Help in batch picking that is more customized to increase efficiency
Better control of the order picking system
Future Market Insights forecasts that the automated sortation systems market will register 2X growth over the next five years driven by macro drivers such as logistics industry growth and high warehousing labor costs.
Higher competitiveness in the market comes with top players edging each other out in execution of deliveries as well as top notch capabilities of the equipment. What is seen is customers who are ready to pay a premium of at least 1%-2% on the price of a sortation system from a company with a proven track record as failure of equipment can greatly impact the customers' bottom line.
By end-use, courier and logistics are set to account for one fourth market share. The growth of courier and logistics in North America is forecast to be high with the proliferation of e-commerce. Following suit is air cargo.
However, demand for automated sortation systems is expected to plummet in near term with cessation of air travel amidst the pandemic.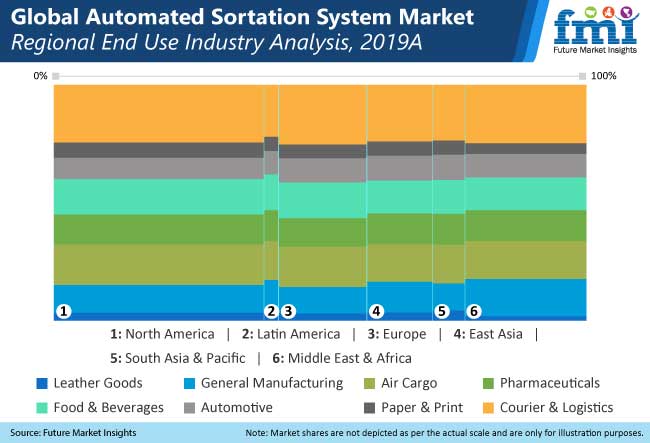 Manufacturers Incur Cost-Savings with IIOT- enabled Predictive Analysis
Newer equipment is coming with superlative features that are helping manufacturers to utilize the power Industrial Internet of Things (IIOT). Through this, stakeholders are not only able to gain better insights through the data collected from this equipment but are also able to incur cost reduction and have higher machine reliability.
Predictive analysis is helping stakeholders to accurately ascertain data machine related errors and faults which can then be successfully circumvented. Through embedded devices such as sensors, greater visibility is provided to operators.
Data once analyzed by software allows operators to identify the various trends of machine functioning. This also allows failures to be predicted more easily. Real-time alerts allow technicians to take corrective action almost immediately. With proper analysis of usage patterns, scheduling in maintenance also becomes very easy.
While the embedded devices that are used are many, processes that are related to scanning, analyzing and acting upon are reduced from several months to a few minutes.
As per research, such a process would yield cost savings as much as 4.1% especially when the data analyzed is helps in enhancing manufacturing efficiency or better management of the value chain.
Revenues are also purported to increase by as much as 3% due to greater customization of the final product. Not only this, but IIoT has also been found to lead to better asset and fleet management.
Automated Sortation System Market Regional Analysis – Europe Retains Market Hegemony
Europe represents nearly one-third of market share in the overall market. With productivity gains as much as 5x-6x, automated sortation systems are slowly but steadily gaining traction in this region.
This trend is also proliferating with mushrooming online business models taking up close to 300% more space than goods related to conventional store based business models.
Following suit with the second largest share is North America. Regionally, a large chunk of demand for automated sortation systems comes from North America. In countries such as the US, companies are employing close to 2 million people in ~90% of warehouse sorting and picking which was being done manually. With time, the country has slowly seen a shift to automated sortation systems.
A positive growth outlook is predicted for both East Asia and South Asia. Both these regions will have the highest growth rate. The $22 trillion retail industry is seeing a major transition with very robust growth in these regions.
These regions are also seeing shifting trends in customer behavior which are largely internet, social media and mobility driven. Many retailers here are looking at automated sorting solutions for greater inventory visibility and boosting supply chain operations.
Sorting Possibilities – Developing an Efficacious Sortation System
Customer satisfaction and expeditious delivery are the bedrocks of any automated sortation system. Enterprises that are sealing with myriad SKUs are leveraging sortation technologies. These technologies are gaining tremendous ground in sectors such as pharmaceutical, retail and mail/parcel delivery.
Need analysis – Automated sortation systems can be adopted as an add-on system to existing operations or as a key and integral part of your overall warehousing system, specially designed to meet business objectives
Assessing the positives – For this a comprehensive system audit must be done by the logistics stakeholders as sorting systems has many elements such as conveyor systems, product flow and the sortation process. The space where the system is to be installed and the carton/package size is also to be considered
Ascertaining level of automation required - Need for speed and accuracy will determine whether you need fully or semi-automated sortation system. Automation should be seriously considered when the following elements exist: 99% accuracy, damage of 1% or less and throughput rates of 3600 items per hour
Automated Sortation System Market Manufacturers
Action points of leading players in the market will be
Faster delivery times
Better productivity at a lower cost
And advanced handling capacity
Intralox is one of the industry giants holding a product contribution of 37% of the overall market. While it's overall market share stands at 2%-3%, it has extensively expanded in the North American market thus boosting the region's growth.
Last year, the company expanded its warehouse footprint in Louisiana USA. Its pioneering research in activated roller belt equipment will further allow the company to expand in the region.
OPEX Corporation, a US based company's Sure Sort automated sorting system is helping businesses rapidly scale up the sorting and handling of smaller items especially those related to parcels.
This fully automated solution is helping cut down the amount of contact needed to run the prevailing sorters. The sorter helps to sort small parcels and packages regardless of shape, sizing and packaging.
The sorter can handle parcels weighing up to 5 lbs with sort rates of 2400 parcels per hour delivered to their designated locations.
The most advantageous attribute of this is its fast ROI. While a large chunk of capEX investments have an average ROI of 5 years, the Sure Sort automated sorting system can see recovery of its original investment with payback in as less as two years.
The Beumer group headquartered in Germany, Europe is supplying highly advanced sortation systems to about 70 locations worldwide. Just a couple of months back the company strategically formed an alliance with Sparrow Networks which has helped it to supply spare parts for automated sorting systems such as sensors. This alliance will help both companies to obviate storage related hassles, reduce downtime and also significantly bring down logistical costs
Automated Sortation System Market - FMI's Conclusions on Where the Market is Headed
Technology disruption is still underway - Despite the fact that e-commerce is growing staggeringly at double-digit growth rates yearly, the penetration of these systems is still very low considering their potential. As technology for the same is still being explored and understood, it is proving to be neither completely cost-effective nor capable. A lot of progress still needs to be seen in sensors and software to enable automation
Across different regional borders, e-commerce to drive demand - As per FMI's estimates, almost 15% of e-commerce is spread globally surpassing geographical boundaries and this is likely to increase to 25%. The growth can be attributed to an expanding inventory cost which has to be well-matched and balanced against various shipping costs. Coupled with factories' automation, this will further get a boost
E-commerce is growing exponentially with critical labor challenges being the main pinch point of the US$ 5 trillion logistics industry. Online retail will fuel sales as it requires greater logistical prowess vis-à-vis brick and mortar stores.
In fully automated sortation systems, key focus of manufacturers will be choosing equipment and developing controls strategies at the induction, after sort and sortation stage
World's Most Profilic Intelligence Engine
Get Access To The World's Largest Market Research Database.
Sign Up Now
Automated Sortation System Market: Segmentation
Equipment Type
Pop-Up Roller & ARB Sorter
Pivoting Arm & Paddle Sorter
Tilt-Tray Sorter
Cross Belt Sorter
Pouch/ Pocket Sorter
Sliding Shoe Sorter
Narrow Belt Sorter
Flat Sorter
Push Tray Sorter
Component Type
Hardware

Drives & Power Units
Conveyor Belt
Rollers & Wheels
Trays
Scanners & Sensors
Auxiliary Components

Software

Monitoring and Visual Inspection
Control System
System Type
Unit Sorter
Case Sorter
Combo Sorter
Sorting Type
Linear Sorter
Divert System
Circular Sorter
End Use
Courier & Logistics
Paper & Print
Automotive
Food & Beverages
Pharmaceuticals
Air Cargo
Leather Goods
General Manufacturing
Load Capacity
Up to 5kg
5 to 20 kg
20 to 35 kg
Above 35 kg
Throughput Capacity
High Throughput Sorters (15000 sorts above)
Medium Throughput Sorters (5,000 to 15,000 sorts)
Low Throughput Sorters (less than 5,000 sorts)
Region
North America
Latin America
Europe
South Asia
East Asia
Oceania
MEA
Need specific information?
Our Clients