Automotive Lighting Market - Key Research Findings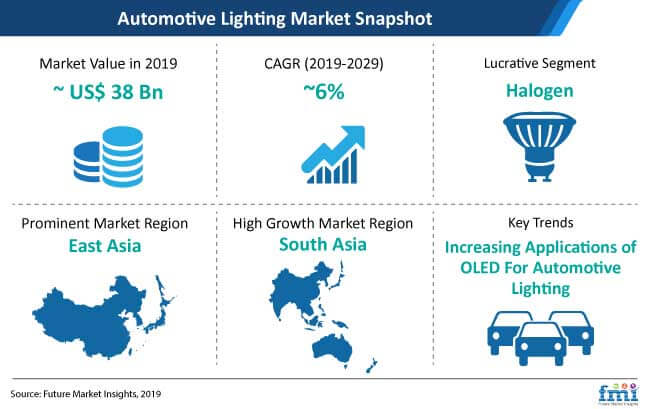 The global automotive lighting market size in 2018 was ~US$ 36 Bn.
The automotive lighting market is expected to grow at a CAGR of ~6% during the forecast period of 2019-2029.
Besides adoption for LED lights, increasing demand for halogen lights has been driving sales of automotive lighting.
Collectively, East Asia and South Asia are likely to account for half of the revenue shares in automotive lighting industry, by the end of 2029.

East Asia, attributing to the strong presence of automotive industry, will continue to be a prominent regional market for automotive lighting manufacturers.

The front headlight segment is expected to remain the prominent application area to invest in, for automotive lighting market players.

Noteworthy application potential of automotive lighting has been identified in the rear lights and fog lights.
Key Factors Shaping the Automotive Lighting Market
LED Lights Outweigh HID & Halogen in Premium Class Vehicles
The adoption of advanced technologies in automobile components has increased the overall efficiency of an automobile over the past few years. The automotive sector has been undergoing a fundamental transformation such as autonomous driving, electrification and digitalization for last five years. Due to these factors, automobile manufacturers are focusing on the components that consume less power and increases the efficiency.
In recent times, vehicles manufacturers are integrated LED headlights in their Luxury vehicles and SUVs as these lights consume less power and have long life as compare to Halogen & HID lights. Moreover, in terms of durability and toughness, high-quality light emitting diodes are superior to all other forms of lighting technology and also these lights are maintenance free.
Some of the prominent automakers such as Audi and BMW have also started using the LED lights in rear lighting module and front lighting has become a standard. In the nearby future manufacturers of autonomous cars will integrate different type of LEDs lights in their vehicles for various applications such as warning alarms in the front of the vehicle for pedestrian safety
Growing Traffic Congestion is Creating Opportunities for Two Wheelers
Various countries in Europe and Asia, such as India, China, France and Italy, have recently witnessed heavy traffic congestion and smog formation due to the large number of four wheelers and heavy vehicles present on the road. Increased traffic congestion has also significantly increased the commute time, which is a prominent concern for the working class population.
The governments of various countries in the region have adopted various solutions to handle this situation, such as limiting maximum driving speed. One effective solution to the problem of growing traffic congestion could be the adoption of small-size and compact two-wheelers. Thus the increasing demand for two wheelers in the global will in turn boost the growth of automotive lighting market
Growth in trade economics will aid the demand for HCV and LCV
HCVs & LCVs find a wide range of applications in the construction, logistic and e-commerce industries and are used to make tasks, such as transportation of machinery, equipment, goods and raw material, easier. The growing e-commerce industry output is expected to be one of the most significant drivers for the sale of HCV & LCV and will, in turn, fuel the growth of automotive lighting market.
Growing urbanization has resulted in new construction activities, which is expected to further boost the demand for new commercial vehicles for logistic application. This factor will directly propel the demand for automotive lightings.
Increased Electric Vehicle Deployment
A number of countries have been at the forefront of the electric vehicle trend – be it a case of cars, heavy vehicles, two wheelers or other vehicles. The regional municipalities are playing an important role in this transition to electric vehicles.
Further, volatile fuel prices, especially in developed economies of Europe and North America, increasing environmental awareness and increasing government regulations pertaining to reduction of emission of harmful gases will enhance the chances of consumers opting for Electric Vehicles. These factors fuel the growth of automotive lighting market over the forecast period.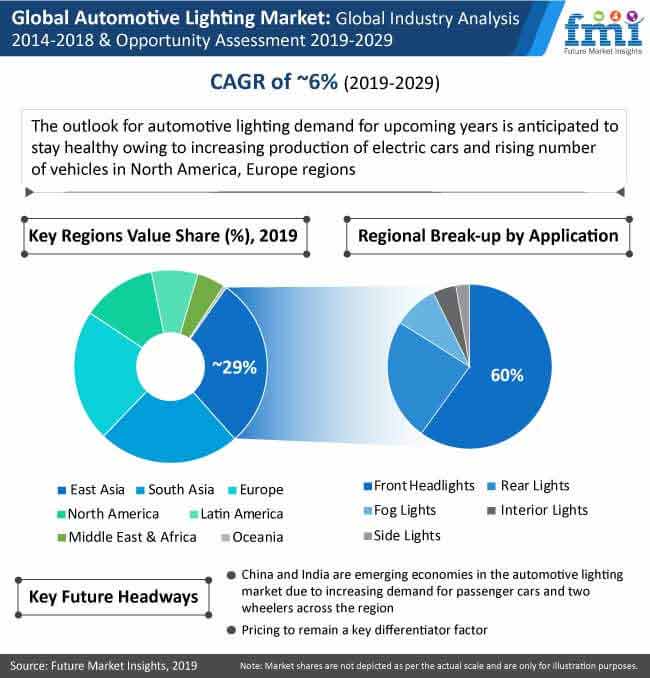 Automotive lighting Market Structure Analysis
The global automotive lighting market represents a fairly consolidated competition landscape, where a majority of key players maintain their strategic focus on the development of solid distribution partnerships and joint ventures, targeting a firmer global footprint.
The automotive lighting market is relatively moderate in size, which remains a key factor for its dynamic competitive nature.
Prominent manufacturers of automotive lighting are currently prioritizing R&D and new product launches in North America, Europe, and China.
Portfolio extension is also identified to remain one of the key developmental strategies adopted by manufacturers of automotive lighting.
For a stronger foothold in target markets, automotive lighting manufacturers will continue to rely on inorganic strategies, such as mergers and acquisitions.
Deeper understanding of the market trends and preferential shifts of end-use segments across various regions are likely to create a bottleneck for prominent players, looking forward to untapped opportunities in the automotive lighting market.
Automotive Lighting - Transformation Underway
As new technologies advance and the automotive industry grows, today's consumers are seeking out the latest innovations. Improved security, enhanced performance, and a memorable design remain key focal points of automotive trends and research. Consequently, modern automotive lighting has become a global megatrend. From incandescent and halogen bulbs to HID (high intensity discharge) bulbs and LEDs, automotive lighting has undergone a fundamental transformation over the years.
With connected cars plying on the roads and cars having algorithms that can take real-time decisions to make the drive safer, vehicle's light in the future will serve to improve safety and offer a means of interaction, rather than just classic illumination.
At present, the automotive industry enjoys an overwhelming variety of lighting systems. As vehicles move toward more enhanced and powerful autonomous systems, which heavily rely on advanced cloud computing for decision-making and on a clear forward vision, data transmission and automotive lighting are likely to have massive implications for drivers' safety.
Future Market Insights (FMI), in its new study, lays bare the undercurrents that are likely to remain instrumental for the growth of the automotive lighting market in the future.
Big Gains in LED and OLED Lights
Fast-paced urbanization and growth of mega cities along with technological innovations such as electrification, connectivity, and autonomy have been forcing automakers to rethink the way people commute today. The automotive lighting in particular is in a transformational stage, with various new technologies coming to fore, offering improved performance, safety, as well as aesthetics.
Considering the major improvements in LED technology, most car manufacturers are making LED and OLED lights a standard in their new models. Innovations have also been forthcoming for laser lights, bend lighting headlamps, high brightness LED headlamps and flexible OLED. However, the cost of LEDs is currently far greater than conventional halogen and HID lights, and hence are confined in premium class segments including luxury cars and SUVs.
As the regulatory landscape has made it difficult for OEMs to embrace and introduce futuristic designs in exterior lighting, interior segment has become a breeding ground for innovations. Owing to far greater freedom of design provided by LED and OLED technology, OEMs are introducing new concepts to interior lighting that not only adapts to the exterior conditions but also improves styling and marketability of the vehicles. Moreover, automotive lighting has been viewed as means of brand differentiation, while improving 'in-car ambience'.
Asia Pacific Remains the Promising Investment Pocket
With latest technologies on the road, notable lighting trends open up completely new horizons in the designs and performance of exterior and interior lights of automobiles. In addition to adopting innovative concepts, electronic modules, and modular components, automotive lighting market stakeholders continue to leverage new growth opportunities across different geographical regions.
Market consolidation in Asia Pacific remains a vital key to gain distinct competitive edge due to the emergence of China and India as the world's largest automotive markets. Europe will continue to provide significant opportunities, in the view of strong presence of automotive giants and increasing adoption of energy efficient lighting sources such as LED and laser light.
Notable Trends to Carve New Roads for Automotive Lighting Market
In the current scenario where automakers are constantly looking for technologies and components that can provide energy efficiency, weight reduction, and space saving attributes, automotive lighting manufacturers are focusing on fulfilling the newer demands. In recent times, a wide range of economic lamps, LED matrix headlamps, LED daytime running lights, and innovative interior lighting have taken the automotive space by storm.
Manufacturers are now placing their focus on next-generation laser lights and glare-free beam lighting that offer stronger lamination, reduce energy consumption, and even enhance the capabilities of headlamps without affecting the oncoming vehicles.
As the concept of 'autonomous vehicle' becomes a reality, automotive lighting manufactures are paying attention to the concept of using lights to communicate information to the driver as well as other road users. Personalized feature and customized pattern are further likely to emerge in the market space for improved exterior lighting conditions and comfortable light ambience for drivers and passengers.
Automotive Lighting Market – Powering the Future
As the global automobile fleets move forward to wean away from fossil fuels, automotive lighting sphere is showing intent to adapt to the evolutionary landscape and keep up with the latest trends. Leveraging technical advances, market players are centered on designing, prototyping, and testing ideas for innovative automotive lighting. LED and OLED technologies are being introduced among automakers at greater levels, and these technologies are likely to lead to new deigns and concepts that were otherwise inconceivable with the traditional automotive lighting.
Although the immediate future is not likely to be as smart as the other verticals due to stringent regulations, a regulatory change seems almost inevitable, considering the quick improvement in technologies.
Key Segments
By Application
Front Headlights
Fog Lights
Rear Lights
Side Lights
Interior Lights
By Vehicle Type
Passenger Cars
Light Commercial Vehicles
Heavy Commercial Vehicles
Electric Vehicles

Battery Electric
Plug-in Hybrid Electric
Hybrid Electric

Two Wheelers
By Light Source Type
By Sales Channel
By Region
North America
Latin America
Europe
South Asia
East Asia
Oceania
Middle East and Africa
Need specific information?